India is one of the most competitive and dynamic markets in terms of mobile usage. When it comes to smartphones, India's Mobilegeddon is happening right now, as 70-75% of its total web searches are performed from a mobile device.
So when talking about the upcoming Mobile-friendly era, India is the country that you should watch out for! Thus, here at SEMrush, we called up India's renowned Mobile SEO experts to ask what thoughts they have about the state of mobile affairs in India.
Rohan Ayyar, a startup-focused marketer, hosted a discussion with leading SEO experts: Suraj Gadage, Nitin Manchanda, and Mandar Marathe, we have broken down their comments and tips below. 
Key Points to Keep in Mind
Google's Mobile-first Index is coming, and this is inevitable. What does that mean? Google used to rank mobile sites based on signals from desktop sites. Now, this will change: Google will rank your mobile and desktop site based on signals from the mobile website.
Rohan: "In India, Google is the only search engine, so marketers need to take mobile-friendliness very seriously! We need to think about how it can affect search visibility, website performance, how people search for your website and how they find it." 
The impact has yet to be evaluated, but you should look at it from a user experience.
Nitin: "A happy customer equals a happy Google bot!"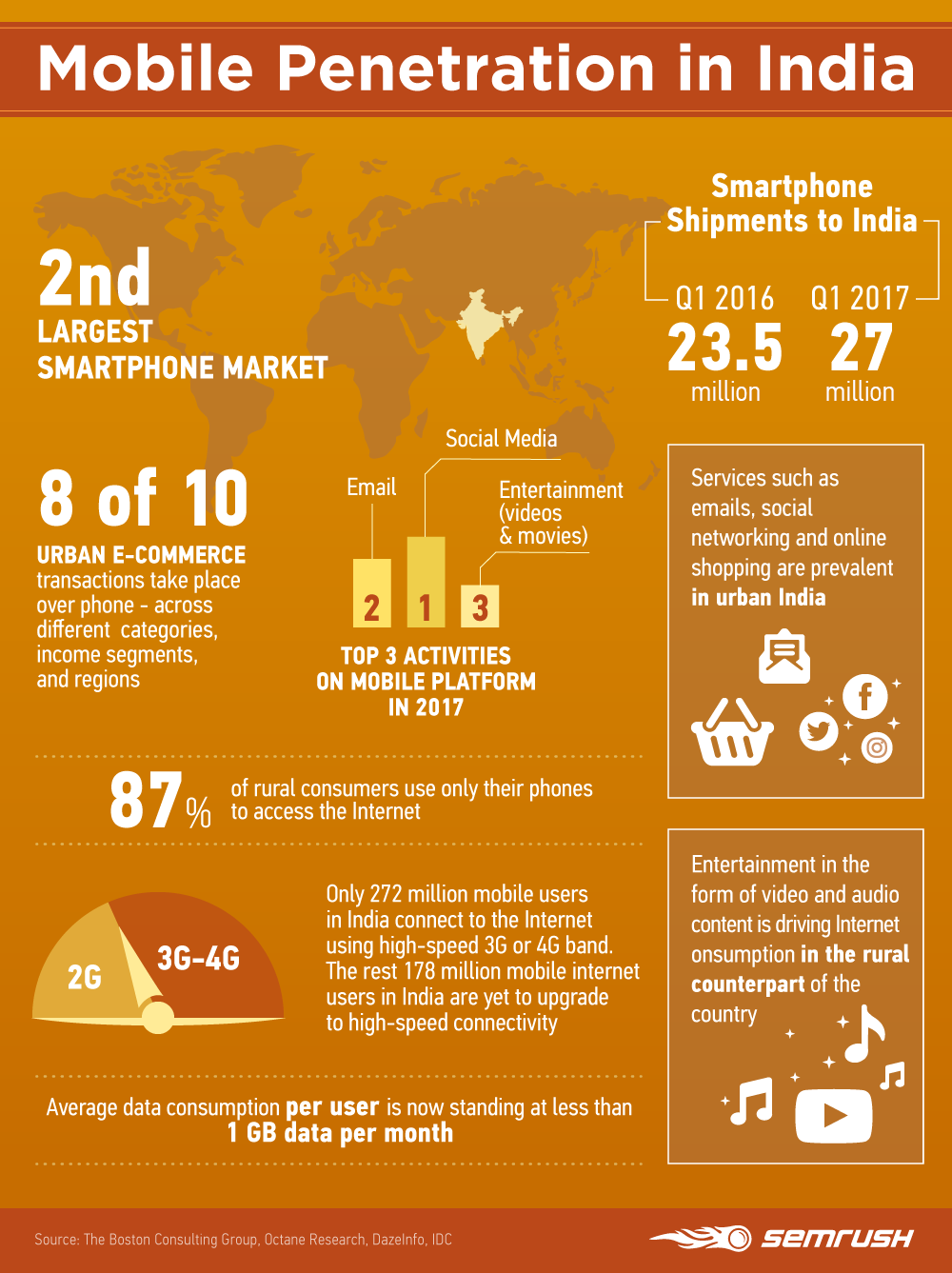 When you are talking about adapting to mobile, given that you are part of the Indian market, you should be aware of a couple of numbers:
Our recent study shows that over the last 12 months, on average, 66% of search queries in India were performed on mobile, and this trend is skyrocketing.
The smartphone market in India is growing exponentially: in 2015, 238 million people owned a smartphone vs. 340 million as of 2017.
As mobile usage grows - especially the use of smartphones - mobile carriers are constantly competing to provide even more affordable Internet access.
Projections say that by 2020, around a billion people will have smartphones with access to the Internet.
9 out of 10 new internet users will be Indian-language users, who we already know are mobile internet aficionados.
In India, one out of 10 mobile queries is related to the cinema or Bollywood. The second most popular type of search is related to food and beverage, and the next most popular concerns health, sports, and news. So if you are in any of these industries, mobile search is of primary importance to you.
Nitin: "Right now, India is the number two country worldwide for mobile usage, after China. According to some analysts, by 2020 India will be number one on the list. So now is the right time to invest in Mobile SEO – it's the biggest opportunity anyone could imagine!"
But don't be mislead by impressive numbers without looking at the key challenges that mobile-friendliness brings. Our experts have indicated key areas to keep in mind when entering the race towards optimization for mobile.
Don't Sacrifice Speed for Higher Functionality
Although India is one of the world's leading countries in mobile usage, mobile Internet speeds within the country are still substantially behind the global average. This is especially problematic since, according to Cisco, today around 50% of online content consumed on mobile is video content, and by 2020 mobile content will make up 60-65% of content consumption. And videos require a substantial loading speed.
Mandar: "The volume of consumption [of the use of mobile Internet] is slightly misleading because the average loading speeds are low. So marketers should take that into account when creating video content. Therefore, a mobile-responsive website should be a marketer's number one priority". 
But the dilemma: code/design/functionality versus speed – which one do you give up?
Mandar: "Speed always triumphs over design! If a site doesn't load fast, people will just leave. Speed will remain a constant in the years to come, whereas design methodologies might change. Speed is of primary importance to businesses that only sell/offer their products and services online, whereas businesses with both an online and an offline presence should focus on both speed and design. For instance, for an e-commerce website, a speed loss of even one second can result in a substantial decrease in sales." 
Speed is of primary importance to businesses that only sell/offer their products and services online, whereas businesses with both an online and an offline presence should focus on both speed and design.
Suraj: "There's no such thing as choosing between this or that. Both speed and design are essential. When someone is searching, and your website is not loading, they will leave. But even if they stay, if your design is not well-optimized – we're talking about the conversion experience – they will also leave. Google takes both factors into consideration. But for B2B sites for which desktop takes precedence in terms of profit, I would suggest looking at only speed and overlooking design".
Nitin: "Here's one example: there was one client who was tackling higher speeds and got more visitors, of course. But their conversion and engagement metrics were really bad. Make sure you don't annoy your users; you're looking for repeat visitors. So think about design, too".
 A balanced approach is key. First visitors may come due to speed, but returning visitors will come due to advanced functionality and an appealing design.
Maintain Conversion Rates
Nitin: "With the growth of mobile in the last five to six years, the biggest issue is conversion percentage."
Conversions are the endpoint for having a website in the first place., and in the battle for conversions between mobile and desktop, desktop is winning. Here is why:
Nitin: "Mostly, people struggle with navigation on a mobile website." Navigation on a desktop website is generally way better."
Nitin: "On a desktop, you can afford to have three or four steps to get to the destination page. But on mobile, people are not that patient!"
Load speeds on desktop tend to be faster than on mobile – yet again, mobile users have way less patience to wait for a page to load. They will simply call it quits! Again, Nitin emphasized that "you have to have the full functionality. You can't afford to have a dramatically different functionality on mobile!"
Adjust to Different Search Patterns
For years webmasters have been optimizing websites for certain search queries. However, mobile search patterns are different. User typing speed impacts search queries, so they become shorter and more conversational, especially when someone's on mobile.
Nitin: "When you're thinking about keyword strategy or comparative analysis, you'll see that for mobile searches, the search engine will have a fewer number of results per search query."
When you're thinking about keyword strategy, you'll see that for mobile searches, the search engine will have a fewer number of results per search query.
So at times, there is a need to rework your entire keyword strategy!
Voice Search Can Be Game-Changing 
Did you know that 20% of searches are voice searches, and that number is increasing? And, it is smartphones that are responsible for the largest share of voice queries. 
Nitin: "Voice search is not about fighting for the top 10 spots, it is about fighting for the very top spot. The competition is very intense!" 
Suraj: "Creating an FAQ (frequently asked questions) page or a page with a more conversational tone can really help!"
But let's look at what aspects of voice search are India-specific. A bit of a background story:
Rohan: "In India, Hindi is not a language that's used much on mobile or desktop. English is the predominant language in which websites are created. But with voice search, all of that can change."
So how does voice search alter the game?
Nitin: "With voice search, most of the time people are looking for something they need urgently. It can trigger a local search. If you focus on local content, it can add a lot of value to your site!"
Mandar: "In India, there's a diversification when it comes to languages and English accents. And Google is doing its best to understand those differences. When it comes to region-specific content, there's much less competition in SEO. Most Indian websites create content in English. Whereas, if you look at searches, 50% of searches occur in smaller Indian towns. And these people are very open to consuming content in their vernacular. So one key SEO area that everyone misses is not trying to win the game where there's no competition".
When it comes to region-specific content, there's much less competition in SEO. Most Indian websites create content in English. Whereas 50% of searches occur in smaller Indian towns, where people are very open to consuming content in their vernacular.
A Mobile-Friendly Website: The Right Approach
Of course, the biggest challenge is configuring a mobile-friendly website. So, here are three options:
Responsive design
Dynamic design
(Using?/Having?/Creating?) a separate URL for your mobile version
You can read up on each approach in this in-depth article: How to Stay Competitive in the Mobile-Friendly World.
There are plenty of pros and cons to each approach, but Suraj shared his unique approach for choosing a mobile website strategy. Ask yourself the following questions:
 "When visitors come to my website on their mobile devices, do they convert the same way as they do on a desktop website? If yes, then a responsive site is the best option."
"When you look at the search query data [for mobile devices] from Google Search Console compared to search queries from desktop devices, is there a difference? If yes, then you should consider having a separate URL (m.domain) with separate mobile-optimized content."
"Take development cost into consideration!" How much are you willing to invest in the maintenance of your mobile website? If your answer is not much, then choose the lowest-maintenance option.
Final Words
As one of the fastest-growing countries in terms of mobile usage, India is the biggest player in the race towards mobile-friendliness. To be a part of it, you need to:
Choose the right approach towards a mobile-friendly website. Look at the purpose of your domain and make sure your mobile version serves that purpose. Be it a responsive, dynamic or an m.domain website, keep in mind how much you are willing to spend on its maintenance, think of your users' search patterns, and also stay focused on the conversion journey. 
Increase your site's loading speed. People on mobile generally need an answer here and now. Don't count on user's patience. Thus, in the fight between speed and design, the former wins without any doubts.
Maintain a clear navigation. Even though speed is of primary importance, you cannot disregard functionality and design completely. You should provide a somewhat similar experience to both desktop and mobile users. This can be achieved with a well-designed navigation. Make sure your destination page is easy to reach and, in terms of design, make sure your buttons and contact forms – or anything else really – are easy-to-use, considering the average screen and finger size.
 Know everything about your conversions from mobile search. There is so much data available out there; you should simply learn to leverage it. Look at search queries that lead to your website, experiment with your keyword strategy, and find out what triggers conversions. Then simply follow your best practices.
Leverage regional/local factors in regards to voice search via mobile. Voice search opens the door to more local-specific content. In the world of globalization, going local might be your biggest competitive advantage.
To keep ahead of your competitors, you need to remain focused on mobile in all of your marketing actions. Anything you do, experiment with or add to your website has to pass one test: the mobile-friendly test!
Mandar: "We're living in a mobile-first world. And when it comes to technicalities, content or anything else, look at mobile first. If you're working with a developer, have them test your website on mobile first. If you're working for a CMO or a client, make sure you tell them to view the website on mobile first. That way, you'll have many users testing all your experiences on mobile devices, and this will lead to a much better mobile world, as we're all progressing towards it!"
Check out the full roundtable recording for more insights and a detailed explanation of each technique.