Do you know what makes up an effective content marketing strategy? If you think it starts and ends with a blog, you're mistaken. Sure, a blog can help any B2B brand achieve success but simply having a place to share detailed and high quality articles is not enough.
So what's the key to success?
It depends. I know that's an MBA-esque answer but it really does. It depends on your industry and it depends on the sales cycle of your prospects and leads. That said, there are a few key things you can do to drive meaningful and measurable results from your blog.
Here are four effective ways to drive more sales from your B2B blog:
Tactic #1: Collect Emails With Lead Bait
We've all fallen victim to click bait at least once in our lives. Whether it's an OMG article from BuzzFeed or a WTF video from WorldStarHipHop — we've all shared viral content!
Your blog can do the same, but instead of focusing on trying to get social shares, you should try to get emails from your leads. In the B2C world, shares can play a significant role in driving success, but in the B2B world it's more about driving conversion and offering value.
This example from Unbounce is a great demonstration of lead bait: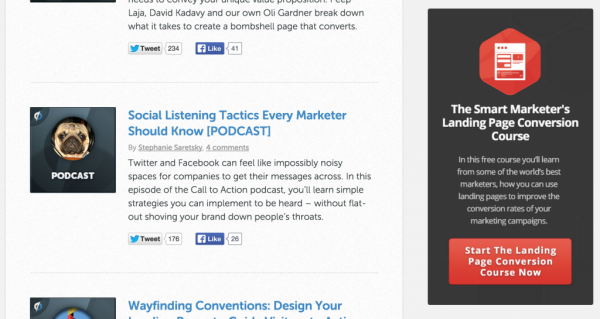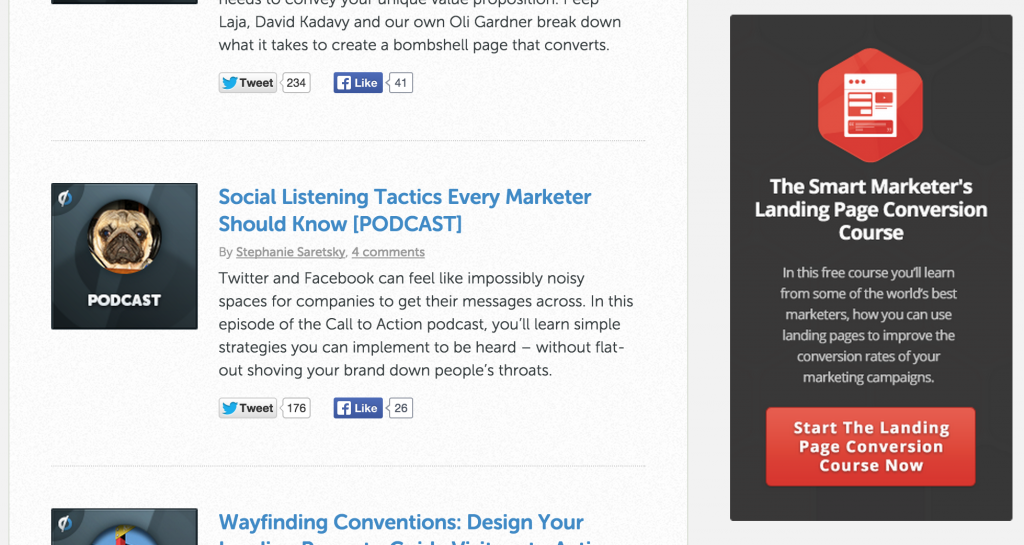 Unbounce is a software that helps marketers create compelling and conversion driven landing pages. If you're reading their blog, it's likely that you're a digital marketer or someone trying to learn about landing page optimization. Next to their blog is an example of great lead bait.
The title: "The Smart Marketer's Landing Page Conversion Course" is going to immediate drive intrigue and interest among their target audience. I mean, who wouldn't want to be considered a "Smart Marketer?" Signing up for this course will give Unbounce the ability to educate marketers on their product and ultimately move them further down the funnel towards a sale.
Tactic #2: Offer A Product-Centric Webinar
This is one of the oldest tricks in the book, but it's one that can be very effective for B2B marketers.
A lot of people wonder whether or not webinars are dead. Webinars are actually alive and well if you do them correctly. Today, the market is simply more cluttered than ever before making the webinar space more competitive. As more and more people have learned about the value of webinars; the number of webinars being held has gone up. With this increase in webinar content has come an increase in people who host them without actually knowing what they're doing.
Quick tips on how to host a great webinar:
Have an agenda and circulate it to the potential attendees beforehand.
Know your audience and ensure that the material you're covering is relevant to them.
Test your software and ensure that it works properly.
Don't allow questions throughout the webinar; only at the end.
Don't start the webinar with a sales pitch.
Remember to include details in your invite. "See below..."
Pro tip: If you're running a webinar, make the title descriptive. I have no idea what this webinar is on my calendar.
Tactic #3: Integrate Your Product Into The Blog
If you're a software company, you have an unfair advantage. You might be able to get creative and integrate your product directly into your blog. The image below is from the Semrush blog: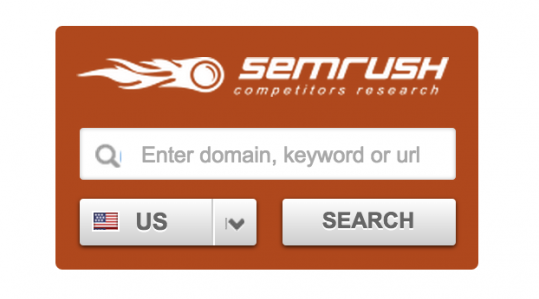 Using that little widget on the corner, Semrush has the ability to get users testing and trying the product immediately. A user can type in the domain for one of their competitors and within seconds have insights and information that can help shape their SEO and SEM strategy as a whole.
If your product doesn't offer an easy plug and play offering like Semrush — create one! Banks around the world do this with mortgage calculators; body building sites do it with custom weight loss plans; insurance brokers do it with algorithm based estimates. Injecting a layer of engineering into your blog is a great content marketing idea that can help turn your blog visitors into actual customers.
Tactic #4: Blog About Product Updates and Changes
"Today you are you that is truer than true, there is no one alive that is youer than you."
That Dr. Suess sure had some great lines didn't he? Who knew you would be able to apply that concept to deciding what to write on your blog?
Look, it's perfectly fine to talk about your product and what's going on within your company on your blog. Even if you work in what you would consider a boring niche — your customers and leads want to know what's going on.
The best ratio between general content and product-specific content is 90:10. For every nine blog posts you write focused on tactical application and thought leadership — write one about your actual product or company.
What are some topics you could write about surrounding your product?
Highlight stories surrounding the successes of your clients.
Discuss some of the latest practices that you're using to drive client success.
Share news surrounding new expertise and talent to your team.
Announce updates to your actual product or service.
Conclusion
Most B2B blogs have all the right elements to run a successful blog but often overlook some key opportunities that drive sales. The future of B2B marketing is found in our ability to leverage a combination of both the art and science of communications in our efforts.
Try using some of these tactics on your own B2B blog and see how quickly you're able to turn your visitors into customers.
So what do you think? What other tactics can B2B brands use to drive sales through their blog? Please leave your suggestions and feedback in the comments section.
Ross Simmonds
Ross Simmonds is the author of Stand Out: The Content Marketing Guide for Entrepreneurs and the Founder of Foundation, a B2B content marketing agency.