B2B companies that take the time to blog generate 67% more leads compared to those who don't. And more than a third of marketers say blogs are the most valuable type of content marketing. Taking the time to develop a content strategy for your company is paramount to creating a consistent, strong online presence across social media channels.
But, having the resources — time, money, staff — to create the various types of content you need to fulfill that content strategy can be a stretch, especially for startups and other small businesses.
That's where content curation, or updating existing content (either your own, or someone else's) saves the day. When done correctly, it's a win-win for everyone. You save time and money on content creation while still providing plenty of useful content for your audience based on your content strategy.
Luckily for you, there are several content curation tools on the Internet today, designed to help you find content that will resonate with your audience in no time. But, depending on your needs, one tool may work better than another.
FrontPageit
FrontPageit is a content curation platform with mobile apps for both Android™ and iOS®, to make content curation on-the-go easier. What makes this platform unique is the expert content curators working behind the scenes to deliver a collection of the best of the best in a number of niches, such as health, technology, relationships and celebrities.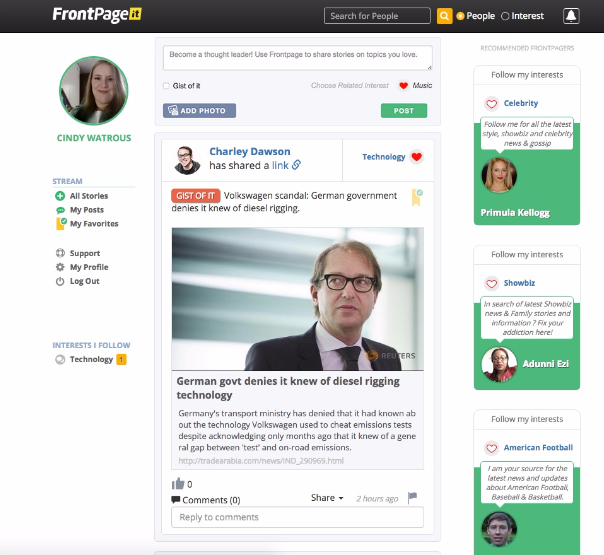 Choose the topics you want to follow and get a selection of content delivered in a Facebook newsfeed-style format. Organize them in folders to keep up with multiple clients if necessary. From there, choose to share on Facebook, Twitter, LinkedIn or by email.
An added bonus is the fact that you'll have your own profile where you can share content you find interesting, so it doubles as a content promotion platform, as well. Though there are a limited number of broad categories, you can search for more specific interests, and you can search for other people to follow on the network.
Feedly
Feedly is an RSS feed manager that makes a decent content curation tool. Search for a topic and find a number of blogs in the niche. Use it to organize RSS feeds for the top blogs you follow. With the Pro version, priced at $5/month, you'll get extra features, including the ability to search for articles within feeds, which can be incredibly useful if you have hundreds of feeds.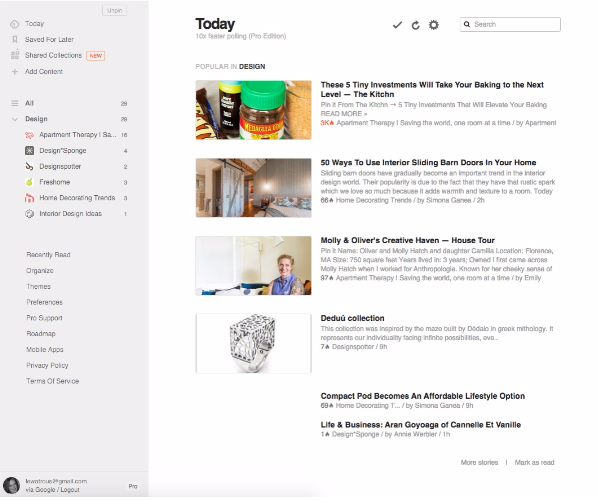 Plus, you'll have one-click integration with apps like: Buffer, Hootsuite, Dropbox, Evernote and Pocket. Combining Feedly with Buffer or Hootsuite will make social scheduling efforts simpler. The newest Pro feature, Shared Collections, allows you to share what you read with others – colleagues, friends and family. This can be especially helpful if you're part of a social media team and want to keep everyone on the same page. An app is available for iOS and Android.
ContentGems
ContentGems is a content curation platform similar to FrontPageIt. With more than 20,000 content sources, plus the ability to add your own, there is certain to be no shortage of content to share with your audience. Though the free account is limited to just two interests, or niches, with 50 keywords per interest and 20 custom RSS sources, it provides enough to get a decent start on content curation. The personal plan for $9/month allows for up to 10 interests, 50 keywords per interest, and 100 custom RSS sources.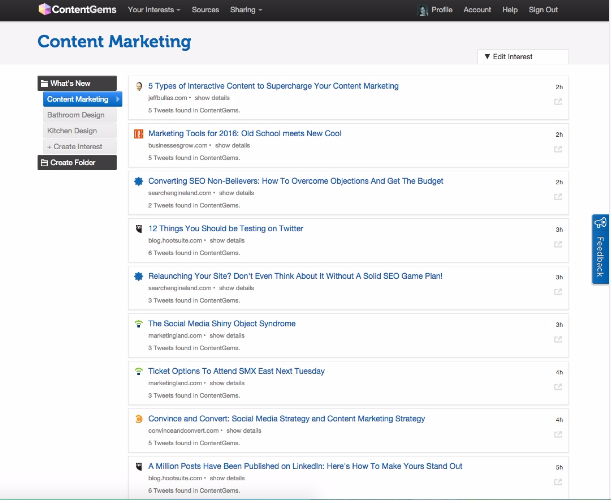 It also comes with real-time content suggestions rather than daily, an automated RSS feed to integrate content into your website or app and the ability to share to RSS, so you can distribute curated content with ease. Topics can be organized into folders for easier management. ContentGems integrates with Hootsuite, Buffer, InstaPaper and Pocket for easy social sharing and scheduling. Content can also be quickly emailed to others. It's a good choice for those who want a quick and easy way to integrate curated content with their own.
Scoop.it
Scoop.it can be used to curate content on any topic, from any source online. You'll have a profile where you can create your own scoops, so not only is this a great resource for finding content to share on social media, it's a promotional tool as well. Follow users to keep track of what they scoop regularly.
Install the Scoop.it button on your browser to scoop content as you find it. The free version is limited one topic hub where you can share content and two social account connections and only 10 scoops per day, but the pro version, priced at $11/month (billed annually) allows for five topics and five social accounts, with unlimited daily scoops.
Additional pricing levels are available for those who need additional topics. The service integrates with a number of platforms, including: Hootsuite, Buffer, MailChimp, Marketo and Hubspot, making sharing content easier.
PostPlanner
PostPlanner is an ideal choice for people who want to curate the content and schedule it to post on social media networks (Facebook and Twitter) on a single platform in just a couple of steps. The free version is limited to two social profiles, and has limits on the number of curated articles to choose from.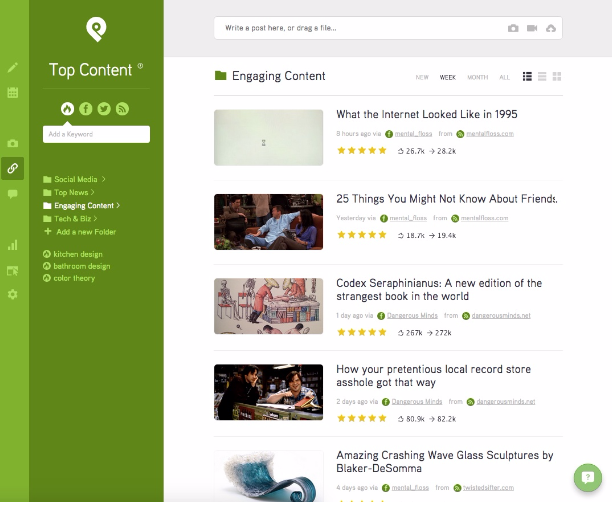 Several levels of paid memberships are available, but at the $9/month level, users not online get access to the large and ever changing library of content, but also to engaging questions to ask their audiences and a selection of viral memes to avoid constantly sharing links. This is a particularly helpful platform for those who are struggling with social media engagement, as it selects content based on its likeliness to engage an audience.
Depending on your content curation needs, it may be a good idea to use a combination of these tools on a regular basis. All of them do a great job of updating content, so there should be no shortage of options to work with. And, if you pride yourself on killer original content creation, it may not be a bad idea to submit your own content to these platforms. You never know who's out there looking to curate content just like what you're creating, and it can be a great way to increase traffic to your website.
Which content curation platform do you use? How much of your content strategy includes curated content? Let us know in the comments.
Image Credits: Screenshots taken 9/23/15