Apple decided to pull the plug on Topsy recently. The service was a 2013 acquisition. As an oft-used resource by marketers for social analytics and deep Twitter searches, it's time to take a moment to say RIP, Topsy. But this is also a good time to look at other social analytics tools you need to use now.
Analytics is slated to grow in the coming years, and not without a reason. As social media has become more pervasive, the need to ascertain ROI of social campaigns and consumer engagement is crucial.
Why Use Social Analytics?
Survey data shows marketers are using social media monitoring tools for managing campaigns, measuring engagement and also checking our competitors. Here's interesting data from MarketingProfs:
"The survey of 125 marketers found that 60% of respondents use social media analytics tools for campaign tracking, 48% for brand analysis, and 40% for competitive intelligence. A large number also use social media analytics tools for customer care (36%), product launches (32%), and influencer ranking (27%)."
And these were also the key reasons why social media practitioners were using Topsy. Now based on the needs, here are a few tools that'll fill in the Topsy space with their own set of capabilities
Social Analytics Tools You Need To Use NOW
#1: KeyHole.co
Keyhole allows you to search for hashtags and keywords on Instagram and Twitter. And dishes out dashboards of very valuable information – including influencers, top posts, reach, top pages and domains. They'll also slice the data by demographics, platforms, keywords, and hashtags. You can also save your searches for future.

Check the pro version as well, by getting a free trial available for everyone. What I find particularly interesting is the sophistication with which you can get your alerts. For any campaign keyword or hashtag, you can choose your influencers and drown out the noise in great details. Here's how an alert setting system looks like. You can choose which alerts to get based on select information on Twitter and Instagram users.
You can also set a tracker volume and get alerts only when it significantly goes up avoiding twenty emails a day. The most useful tool is to be able to set a unique page URL where you can check all the data in one place for real-time tracking.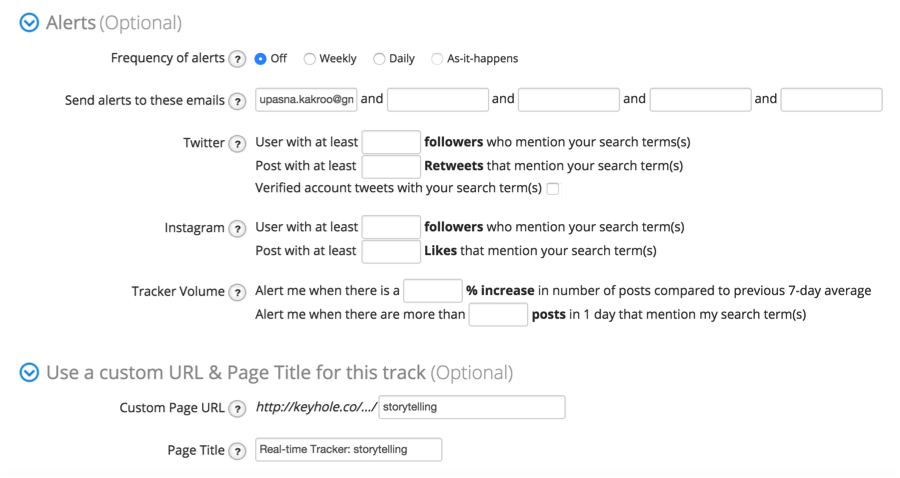 #2 Buzzsumo.com
I'm a Buzzsumo fan. It's a great way to see the kind of content that's making waves the world over. You can simply choose the time frame you're interested in and enter your keyword or niche topic. You can also just enter a URL.
You can get a free pro trial run to see beneficial data on the content that's doing well in your industry and niche. It also helps to identify influencers in your field.

My favorite Buzzsumo tool basically is competitor research. You can enter the domain of your competitor, and the tool allows you to check what content from the domain is doing well. You can in fact also check your own domains to see top-performing content easily. The tool also showcases and lets you export people who're sharing the content that's popular. It's nifty when trying to access performance by competitors and trying to get your content game up.
Another cool tip is to check the backlinks from your own or a competitor's popular content which you can target for furthering your content marketing plan.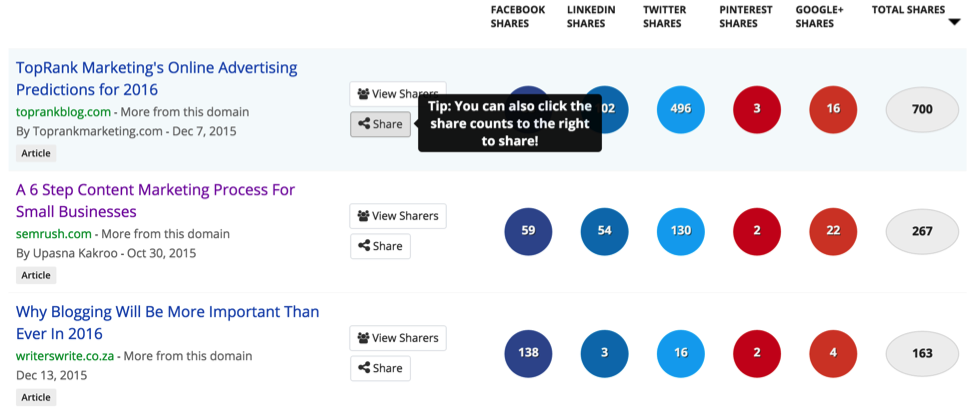 Additionally, Buzzsumo works particularly well as a complement to SEMrush, which you'll want to utilize for monitoring popular keywords.
#3 Tweetreach.com
You can type in your keywords, hashtag, or username on TweetReach. Once you log in (with Twitter), it returns a snapshot of social media analytics including reach, exposure, activity over ten days and also contributors to the topic. Specifically for profiles, you can also see a Twitter timeline and most retweeted tweets. The free version is helpful if you're analyzing just 100 tweets.

It's easy to do simple competitor research or choose the keyword you're following.
All of the tools have monthly / yearly plans alongside the free versions with limited datasets.
And, while there are plenty others in the fray, the one that's coming up, also next year is from social scheduling tool, Buffer.
#4 Coming up Buffer.com:
Buffer just announced that they've acquired Respondly and will soon be launching a full fledged brand monitoring tool. This will also act as a customer service tool. Given Buffer's original scheduling, image creation (Pablo) and analytical services (for free and premium rates), this could be an amazing addition. Being a fan of its content marketing tools and adventures, I really do hope to see a good product.
The service is being rebranded Respond and you can now register for early access. Currently with Buffer's inbuilt analytics, you can check the performance of your social content across the channels you've added. A weekly report comes to your account describing what went well. And this tool is likely to take the analytics several notches up.
Which social analytics tools are you using for your teams? Let us know in the comments.