Emails are now a part of our daily lives. Need updated world news? Get them hot in your inbox. Purchased something online? An email with purchase receipt pings as soon as you finish your transactions. Registered on any website? A confirmation link is sent to your email address. Be it brick-and-mortar stores or an online brand, email is the most common and effective communication channel, and marketers make use of it to earn ROI (and in turn their bread).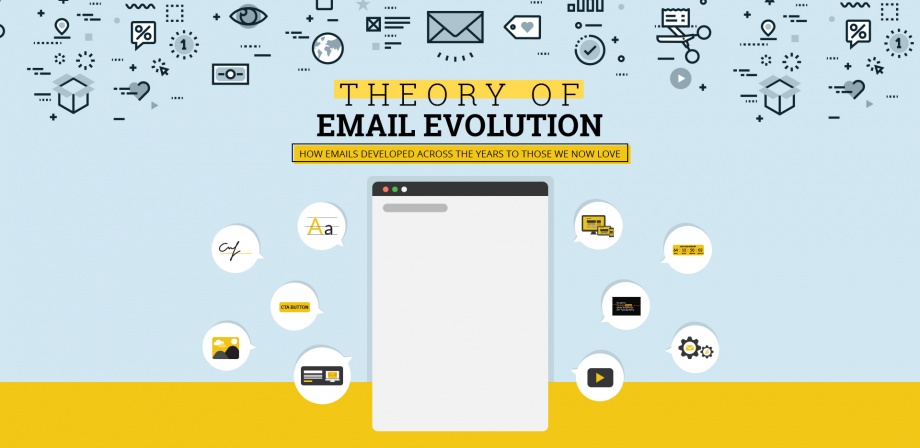 Even though email is a powerful marketing tool, it was initially developed as an intra-network communication medium by Advanced Research Projects Agency. Its use as a marketing channel was discovered accidentally in the later years. Let's learn the progress made by emails since genesis and what prospects do emails have in the forthcoming future.

Describes the journey of the emails down the memory lane
A program called SNDMSG was developed to send messages to other users of a closed loop intra-network named ARPANET (Advanced Research Projects Agency NETwork).
In 1971 as a test message, 'Electronic-mail' or 'e-mail' was first conceptualized. Owing to low storage drive spaces, these emails used to support only ASCII characters and hence the term 'Plain text mail' was coined to define these emails. Compared to other channels of communication, emails were fast, free and could speed up communications and hence gained popularity.
In 1979, Gary Thuerk, a marketing manager at Digital Equipment Co. was tasked to send out an invite to over 400 of his customers for an upcoming event. As a bold move, he mass emailed them. The company sold over $13-14 million worth of products, but Gary was warned not to repeat this again.
The new decade brought forth innovations in the internet. In 1989, by adopting HTTP and HTML coding protocols into webpages, the feature-rich HTML pages brought forth new form of user experiences in late 1989.
Email capabilities was extended by MIME (Multipurpose Internet Mail Extensions) in late 1990s. This was a giant leap since emails started becoming colorful and image supporting, ultimately enhancing user experience possibilities. Moreover, in the span of 1993-97, Yahoo! Mail, AOL Mail, Hotmail and Gmail gained recognition as email clients and came one step closer to the public.
Describes the present scenario of the emails
In 2001, mobile supporting multimedia functionality such as cameras, media players and email applications, were introduced in the market. This brought a substantial behavioral change with people having the liberty to access their emails from their mobiles. But the emails being coded for a fixed width would break the layout and render unreadable on such small devices. This brought on the need for responsive emails in 2009.
By 2011, the need for responsive emails was at maximum momentum.
As per a Litmus survey, in August 2016, 56% of emails were opened in mobile email clients.
Now emails are a digital passport for any online activity. Marketing strategies involve lead generation techniques to collect email addresses of the potential leads as a starting stage.
On an average, 20.5 billion emails are sent daily — marketers are now ready to go the extra mile to capture their subscribers' heart (and leads).
But on the other hand, consumers no longer wish to be considered as a name in an emailing list and want companies to respect privacy while being approached. This brought forth some major changes in the consumer behavior and marketing protocols.
(A) Importance of Personalization: Relevancy, personalization & customer engagement in emails became the criteria while analyzing email opens and lead conversions. Right from personalized subject lines, crafty preview text to witty CTAs, email marketers now experiment with different combinations when they do A/B testing of their emails.
(B) Unsolicited email without permission became punishable by law: In 2003, former U.S.A president George W. Bush signed CAN-SPAM Act under which, as a step to reduce unsolicited email marketing, every marketing email was to be sent only after the recipient's consent to 'opt-in.' Moreover, any marketing email now features an unsubscribe link, along with the sender details in the footer.
This is what makes an Email really engaging…
As stated earlier, an email's open rates increase when it is relevant, personalized and engages the customer for a long duration of time. In 2014, the inclusion of CSS with HTML coding brought forth many interactive elements that were once achieved in webpages using JavaScript. Interactive emails are emails wherein the message in the email is passed on when the user interacts with various elements of the email. The longer the user interacts with your emails, the more are your chances for them to convert.
Some of the interactive elements being used to engage subscribers are:
Describes the interactives elements that play vital role in engaging the customers
Moreover, with the introduction of DIY ESPs, it was not necessary to know HTML code in order to ready an email template. It is as simple as drag-and-drop.
Describes the future aspects of the email campaigns
Even though there are various communication spectrums today, email is still going strong. As per an Adestra report, email is the second most preferred activity on smartphones. Moreover, even to create an account in any of the social media platforms, a valid email address is mandatory.
The future of email rests on 5 main pillars
Dynamic Content: This is the next level of personalization wherein content in certain blocks (called Dynamic Blocks) changes as per the list segmentation criteria and generated customer persona. This way the need for two different email templates is totally avoided and the subscriber receives custom information as per their preferences.
Multi-device Support: Introduction and increased popularity of wearables & smart appliances in the present generation market opened up new doors for emails. Early prototypes of innovations like the integration of emails into IOT (Internet of Things) and 3rd party email applications for smartwatches has begun grabbing foothold amongst users.
Rise in Triggered Emails and Email Automation: Emails with right content need to reach your subscribers' inbox at the right time. This is the logic behind Triggered Emails and Email Automation. When a prospective lead subscribes to a service, an email is immediately sent to them; that is the first step for them down the sales funnel.
Possibility of becoming "Mailable Microsites": New generation of interactive elements such as Integrated forms, Tabbed browsing using accordions, and Tooltip effect in emails eliminates the efforts to redirect your subscribers to a landing page for more information or further interactions. Slowly, emails can work as microsites which can be mailed to your subscribers and hence the term 'Mailable Microsites.'
Prospects of emails in Omnichannel marketing: It's a seamless shopping experience with emails connecting both digital and brick & mortar stores together. A purchase in the real-world generates a receipt in the digital domain and vice-versa. This way every transaction helps collect digital fodder for creating detailed customer persona.
Final Thoughts
Contrary to the argument regarding email marketing dying soon, it is now at its prime. A span of 4 decades has changed a lot yet email is regarded as one of the powerful marketing tools to capture leads.
Share your thoughts in the comments below about what you think about email marketing. Do you have any examples of ones that stood out to you?