How Does Google Populate Results?
There is this old joke in the internet marketing community: "Where do you hide a dead body? On the second page of Google."
There is certainly a lot of truth to that as most internet marketers will only focus and fight for the top spots in the search results. But I was recently doing a deep dive for a keyword to see just how deep the rabbit hole can go and be surprised to see that by default, it doesn't go very far at all.
For example, I was recently looking up the new Avengers movie "Infinity Wars" and was running through the pages almost mindlessly when I got stonewalled around pages 14-18.
The default search result wouldn't let me proceed past these pages citing:
"In order to show you the most relevant results, we have omitted some entries similar to the 162 already displayed. If you like you can repeat the search with the omitted results included."
This makes sense, they are focusing on user credibility above anything else, but this led me to an interesting analysis of how Google is choosing these results.
How Much Content, on Google's Search Engine, is Similar Enough to Be Omitted?
Following through on the number from before. I got to page 16 of Google and was shown 162 search results before Google determined that all other pages are similar enough not to merit population.
But when we look at the initial search results, it claims that there are about 5.1 million results. For the search term: "Marvel Infinity War."
This was alarming information to me because any keyword tool that we use typically moves up to the 200-page rank and we can track our emergence of new keywords based on numbers similar to that. But if the search results are skewed and combined around 160-170 then we should be tracking for that number instead.
To test this, I went ahead and checked for moving companies and saw that I can go well into page 30 and beyond and still reveal that there are over 63 million results for that phrase.
This led me to believe that it must be about emerging news and get coverage. So I decided to do a query on Donald Trump, and sure enough, you can't view past the 16th page.
This must have to do with trending content and keeping information as relevant as possible.
Testing Google Trends against the Outer Limits of the Search Results
So I checked out Google Trends to see if any more results came up and here are my search in order, not categorized.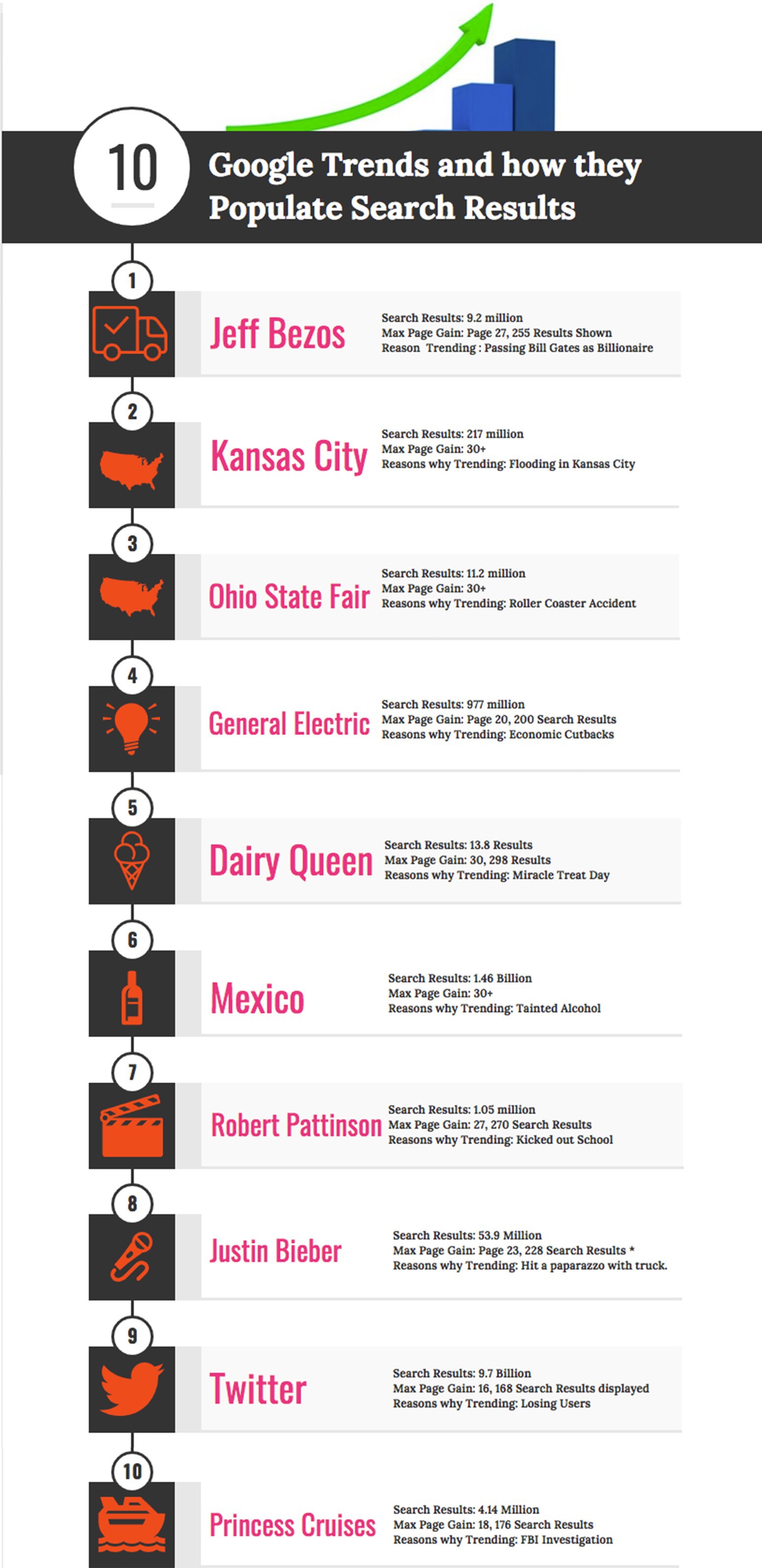 ** = Two Anomalies came up when populating the results. At first, I went to page 17 and received no results followed by going back to 14 and getting no results; then I got to page 18.
What Do These Results Say About Google's Prioritization of Trending Keywords?
Clearly, there is a need and desire to populate trending news and emerging content first. This is clearly to deliver as much important information as possible before doing anything else.
So while there may be countless results regarding a topic, they won't populate mundane or referential information over breaking information.
But What About Trending Results and the First Page?
Additionally, we are going to look at how Justin Bieber plays a role in the search results. The trending story was how he recently hit a paparazzo with his truck.
The Top Stories showed CNN, TMZ, and Etonline as the top three stories on the matter. Though it appears that the story broke with People.com 13 hours before these other news stories.
So while the company that broke the story first has the highest organic search result, the breaking news stories have their rich snippets appear above the original story.
For The Record: People.com's Domain Authority is 91, TMZ is 93, and CNN is 99.
So while they are respecting what might be the source of the story, they are also opening up a separate stream for the latest details in regards to the story.
How Can This Be Integrated Into SEO and Content Marketing?
The most important rule to follow regarding this information is to not keyword stuff or try and create content that doesn't contribute to the story. But with this, we can extract information about Post Styles, Referential information, and Trade incorporation.
Post Styles – In regards to the information about Justin Bieber, both TMZ and CNN keep their post date in the article. So we can see that TMZ and CNN both posted articles today (7/27/17) in these circumstances the information might be better for deploying information.
Referential Information – Additionally, in the event of breaking news, posts and pages with referential information might be moved from their original rankings in favor of breaking news. So updating a post or a page to include information about the breaking news might be a good way to keep the post live.
Local Coverage and Trade Incorporation – Additionally, if you are looking for an interesting spin or angle on the topic to include on any website, try taking a trade specific look at it. If you are an internet marketing company that writes for a construction company in Ohio, try getting a professional opinion and statement from the owner on what they think might have gone wrong with the roller coaster ride. This sort of information will be great follow-up material for people who want to learn more about the story, and it increases the chances of the company being picked up by local news and circulated.
Conclusion
Google Trends can be a powerful tool for those who are near trending events. With the proper contribution to the discussion and incorporation into your company, you can potentially bring a surge of traffic to your site by giving unique perspectives on news stories that are otherwise being regurgitated by news outlets.
In the age of breaking news and being the first or most reliable first word on the matter, having subjective, speculative opinions of locals is a great way to add genuine information to the discussion.