At this point in my video marketing series, you know all the stats, and you're fully aware that businesses can get good traction and increase conversions with video.
The problem is, you don't seem to be pulling those type of results – which just leaves you thinking your budget and your time are being wasted.
Before you go pulling the plug on your big video marketing plans, let's work through a series of questions that can help you troubleshoot why your campaigns aren't performing.
Chances are you'll find you've missed something simple along the way. And if you turn that one thing around, you should start seeing your stats and metrics moving in the opposite direction.
Have You Mapped Out Clear Goals and Objectives?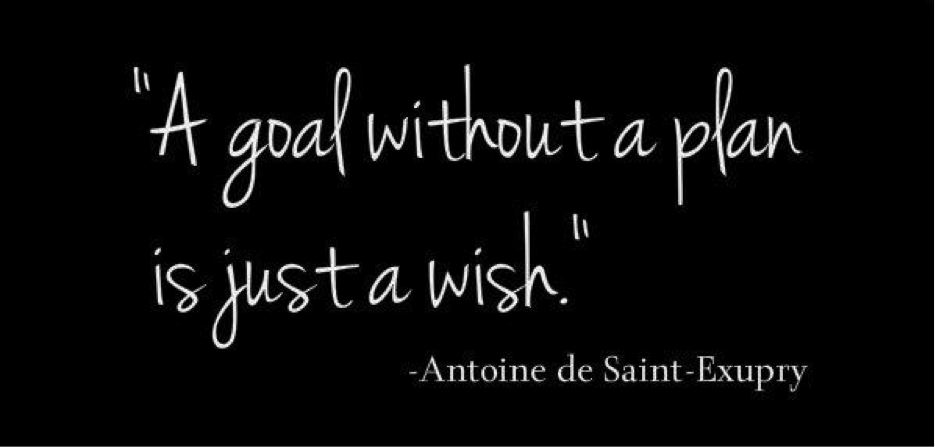 Video content can have any number of purposes.
But if you aren't confident that your goals and objectives are coming through clearly, think about it in a backwards fashion and start with the end in mind.
Dean Jackson, from I Love Marketing, often talks about 'reverse engineering your results.'
What's the ultimate purpose of the video? What action do you want viewers to take after they watch your video?
For example, do you want to use the video content to increase engagement?
Since 80% of your online visitors will watch a video, while only 20% will actually read content in its entirety, it's a good goal to aim for with video content.
In that case, you might start including weekly videos in blog posts on your website and measuring the rate of subscribers, social shares or comments on the post.
It's also worth remembering that blog posts incorporating video attract three times as many inbound links as blog posts without video, so it's also going to help your SEO (another potential goal you could measure).
Just be careful.
Companies tend to think about video goals entirely wrong.
For example, "going viral" isn't a business goal - neither is having a million video views."
Ultimately, your goals should be strategic, measurable, and lead to financial gains.
If you're getting a negative ROI, perhaps you haven't sat down and clearly mapped out what your goals and objectives are and how you're going to achieve them.
If you know these right up front, it will be far easier to define what it is you need to track in order to measure the ROI.
Did You Track and Measure?
The web is full of software programs that can help you delve into the data behind your videos.
Yet, although this software is available, "the use of of advanced metrics that provide true indicators of engagement is low."
In a survey run by Demand Metric, the team discovered that almost one-fourth of companies surveyed have no video measurements in place, and half only use basic data.
In a nutshell, that means most people have no idea what the ROI of their marketing efforts really is anyway.
What does Demand Metric consider to be 'advanced' metrics?
Specifically:
Embed locations
Viewer drop off rates
Viewing heatmaps
Attribution to the sales pipeline
Individual platforms like YouTube, Vimeo, and Wistia all have their own built-in tracking packages. Combine their metrics with the stats you pull inside Google Analytics, and you're bound to get some key insights.
That said, for best results, you'll want to use those goals and objectives you've created and set up conversion goals in Google Analytics (GA).
In GA, you can track goals in four ways:
URLs
Time
Pages/visit
Events
Define the goals that are going to give you an actual measure of your video marketing ROI and set up some GA tracking goals to help track your results.
On top of the advanced metrics measured above, you'll also want to track the basic and intermediate stats too, such as views and shares and average viewing duration.
If you can't configure a tracking system on your own, then it might be easier to chip out the cost and invest in a real time video analytics software like Ooyala.
With dedicated software you can track performance, engagement, and behavior metrics for your videos from a single place.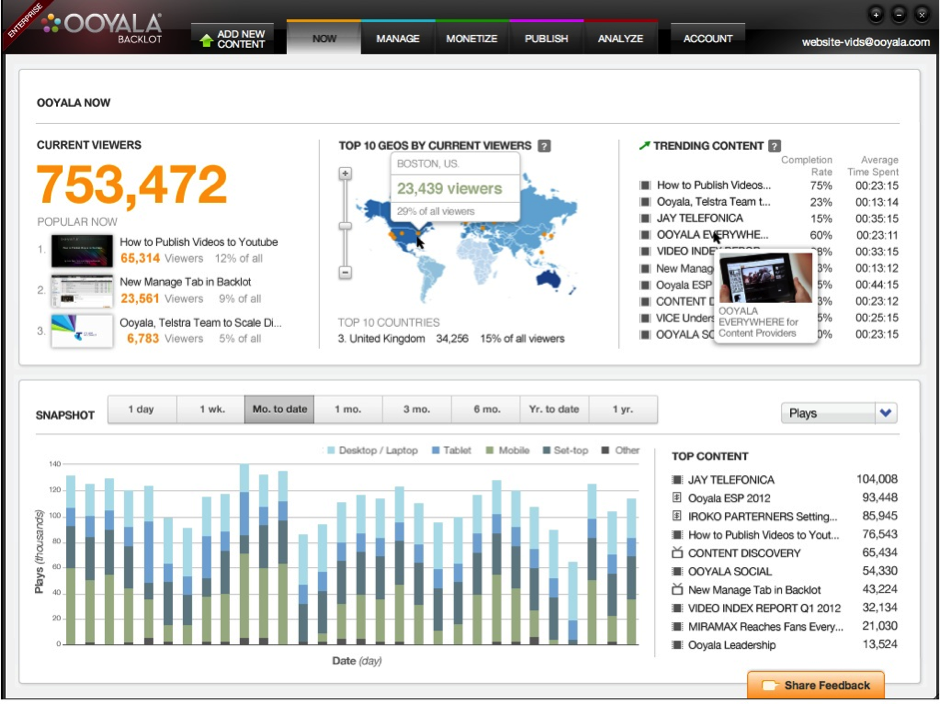 Have You Integrated Video?
"Video is a precursor to revenue, and videos strong performance implies that it should have a corresponding strong ROI," says Demand Metric.
How do you achieve that corresponding ROI you're after?
Integrate video content into your overall content marketing plan.
As you can see from this visual from MediaCrush, there are many different parts of a marketing mix – and you should work and weave your videos into different facets of that mix.
When you embed your video marketing campaigns within your marketing automation mix – within your customer management systems, your email campaigns, your sales funnels, your social media strategies – you end up with a far bigger impact and ROI across the board.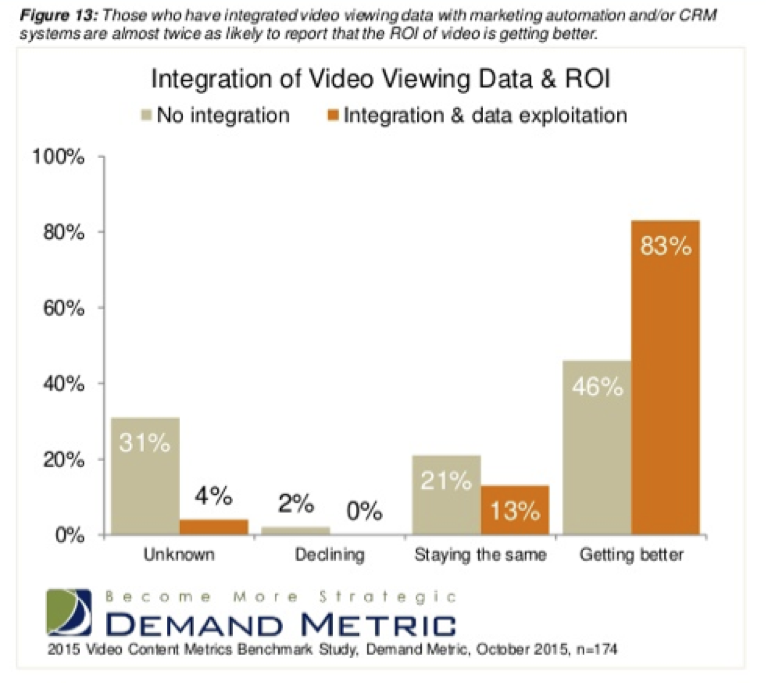 It's well worth the effort to get this right because "the average Internet user spends 88% more time on a website with video content."
And that's just on your website.
Let's take a look at integration across other platforms, along with some examples.
Email Video Integration
Email platforms allow around 58% of users to view video right in their email: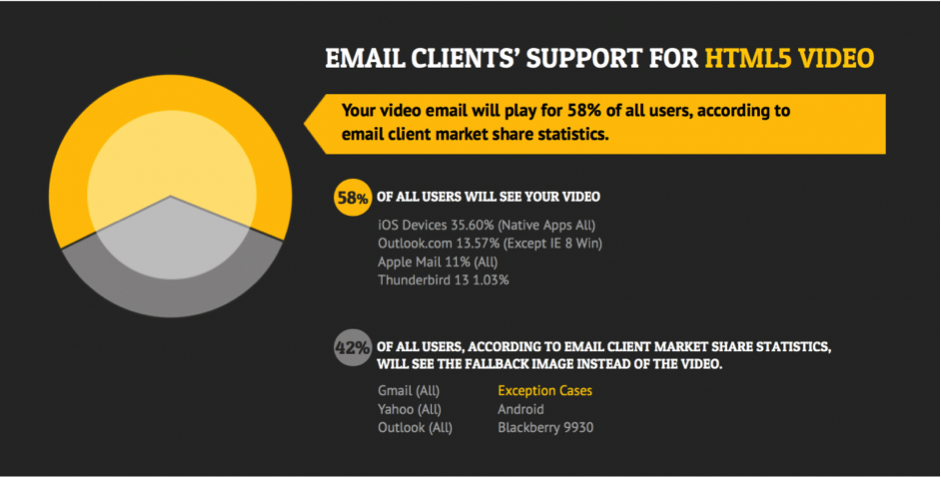 With iPhones and Gmail taking the bulk of the market share: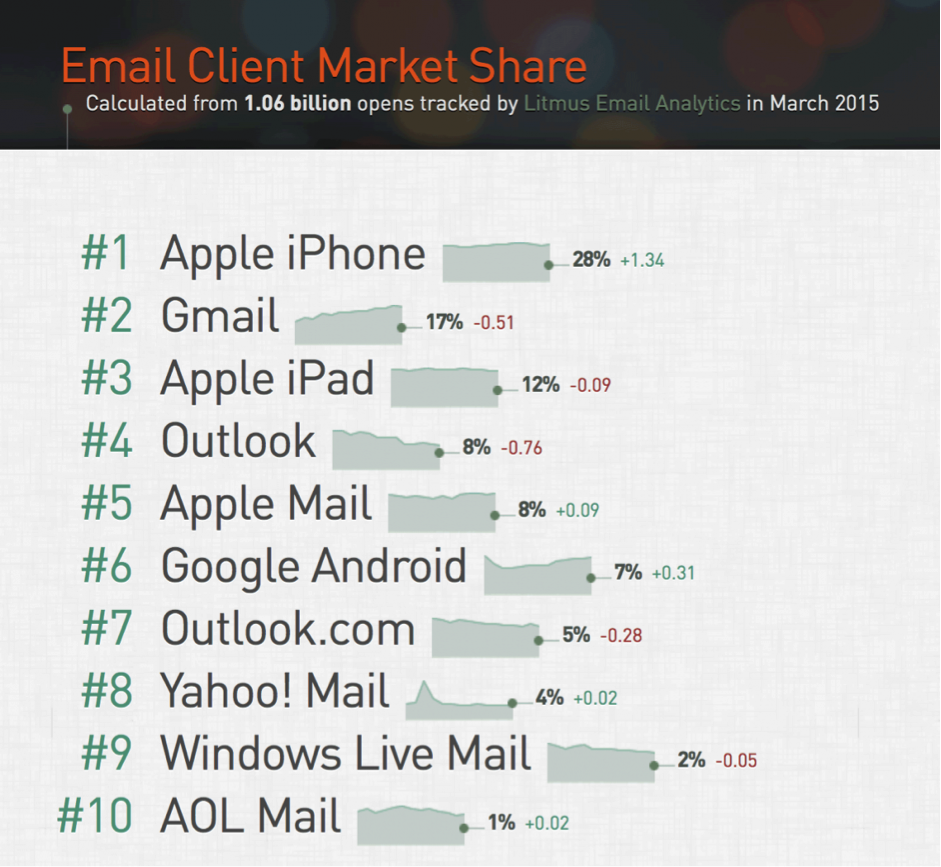 And what's more, the use of video directly in email is only likely to increase. Get in ahead of the party and start using it now.
If you're nervous about embedding video directly in email, use the strategy most email marketers use and embed an attractive image. When the user clicks on the image, have it open the video directly in their web browser.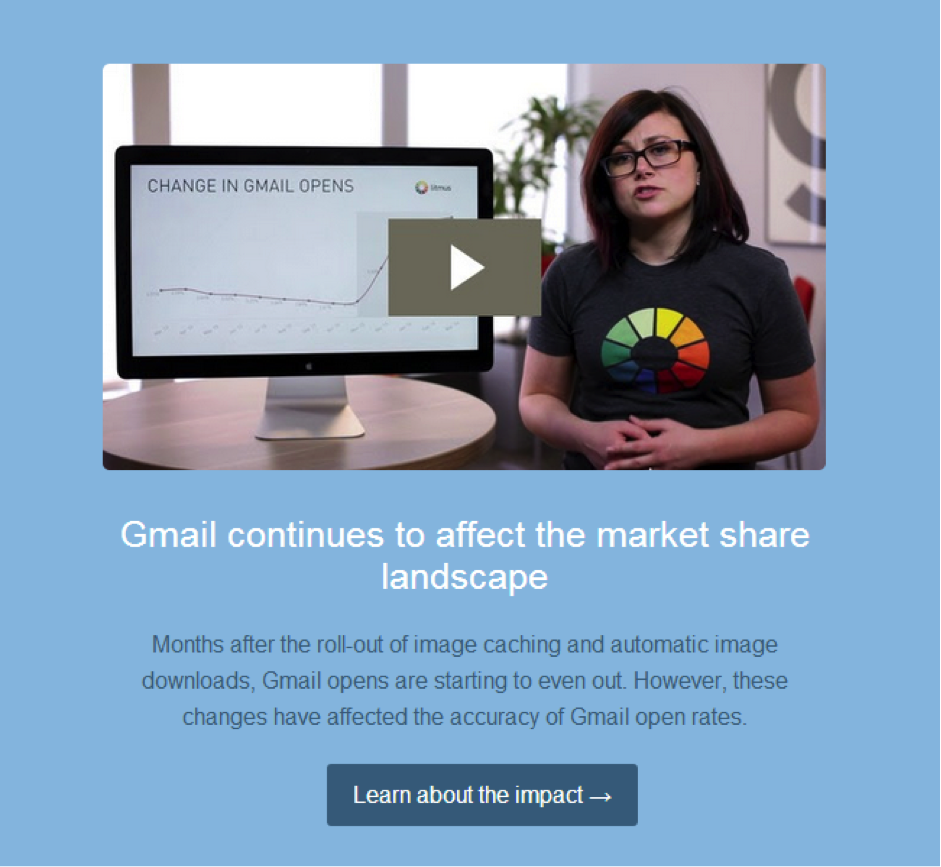 Customer Testimonial Integration
For another idea, take Salesforce, who uses video-form customer testimonials to enforce brand value – integrated both on their website and within their sales funnel.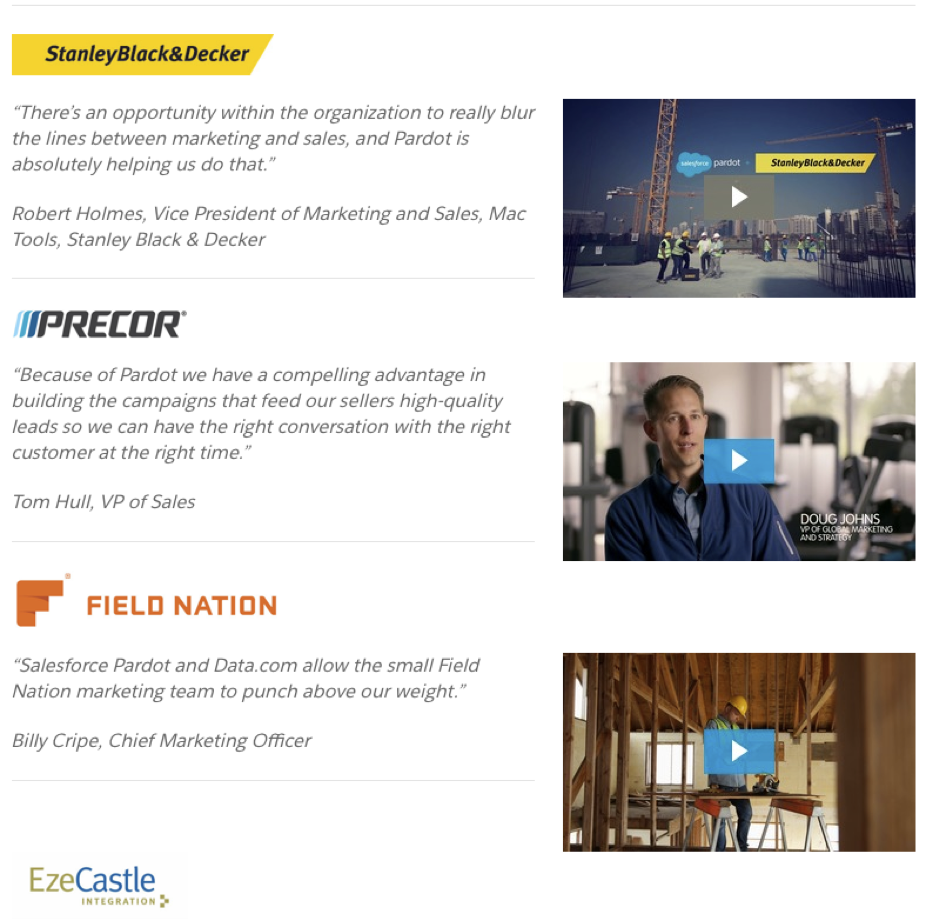 Blog Integration
Or, perhaps you could consider vlogging – doing a weblog on your business blog.
Gary Vaynerchuk, mega Internet entrepreneur, built an empire doing vlogging for Wine Library TV.

If you're an expert on a topic, vlogging is a great way to share your expertise and passion with your audience, and it makes an excellent addition to your content marketing plan.
For even more ideas, consider developing any of the following video creations to support your marketing mix:
Highlight special offers and events – integrate in email and on social media.
Showcase clips of your best work – place in the sales funnel, emails, website.
Run video contests run via email and social media.
Do a quick snap product demonstration – embed everywhere on your site and share across social media.
If you're scratching your head thinking, "I haven't done any of these things," then that could be one major reason you're yielding a negative ROI.
Video content really is all about being creative and putting what you got out there on show.
Is Your Content Solving Problems and Providing Solutions?
Last but not least, the big question is, have you kept your audience in mind during your video creation?
If you want to succeed with video marketing, you have to make new and useful information that really helps people.
Remember, people are always looking for smarter, better, and easier ways to do things.
Grab their attention by giving them what they really need and speak to them in their own language.
You'll earn your customers' trust when you talk to them in the language they use to talk to each other.
And, as we all know, people buy from people they know, like and trust.
If you don't know who your customers are and what problems you need to solve, the best place to start is by creating your ideal customer persona.
Once you know who your customer is, use this simple 5-step system to implement a problem-solving approach in your video marketing campaign:
Identify the problem
Analyze the problem
Identify decision criteria
Develop multiple solutions
Choose the optimal solution
Map it out, and use this approach to make videos that hit the core of your ideal customers.
Still not confident you'll be able to generate positive results with your videos? Track back through what you've done so far and see what elements you're missing. Chances are there are at least one or two things you can easily fix that will turn your ROI around.
Have you figured out what works and what doesn't? Found you get a good ROI using a certain tactic? Share your results in the comments below.
Aaron Agius is an experienced search, content and social marketer. He has worked with some of the world's largest and most recognized brands to build their online presence. See more from Aaron at Louder Online, their blog, Facebook, Twitter, Google+ and LinkedIn.