A text without visuals feels like a cracker without cheese – it's dry and uninviting. But, by adding to a text a nice piece of high-quality visual content, you can create a yummy "sandwich". Incorporating compelling visual elements into your content is a proven way of increasing audience engagement, making your content more shareable and boosting your success!
We've drawn up a list of the most useful free tools that will help you create stunning images or engaging videos quickly and easily, even if you're not a designer.
 Source: The Media Octopus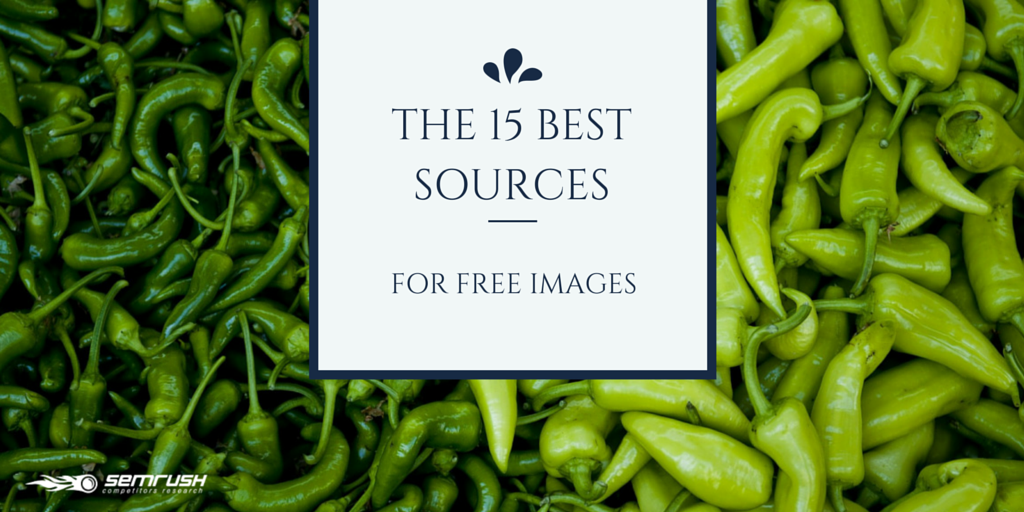 Top 15 Places to Find Free Images Online Finding the perfect image to accompany your idea can be a real headache. Thankfully, there are plenty of websites offering free, beautiful stock photography, where you can find exactly what you need or get some inspiration.
1. Pixabay
Pixabay is a source of hundreds of photos, drawings and vectors. You can search by different categories, colors, image types or even by keywords, which is a great timesaver! All images can be downloaded for free and used for commercial applications.
Death to the Stock Photo allows you two options: you can sign up for free and receive a set of high-resolution photos every month – creating over time your own photo-library – or you can pay $10 per month and get immediate access to all pictures from the stock.
3. Unsplash
Unsplash is one of the most preferred picture repositories offering 10 new premium-quality images every 10 days. You can also subscribe and receive images directly to your email. The only pitfall is that pictures are not categorized, so finding what you're looking for is not always fast or easy.
Gratisography is a collection of incredible photos taken by the talented Ryan McGuire. New pictures are added every week. Gratisography doesn't offer a search function, so you'll have to scroll through every picture to find one that fits.
If you're a fan of vintage photos, you will definitely like New Old Stock! This source offers incredibly interesting pictures from public archives that you can download for free.
6. SplitShire
SplitShire offers a small yet wonderful stock of photos available for personal and commercial use. You can search for images in 16 categories – people, fashion, nature, food, landscapes and so on. The category "Blur Background" is especially useful if you're searching for a good background to create your own image.
7. Picjumbo
Picjumbo has a very easy navigation feature, so it doesn't take a lot of time to find a relevant picture for your content. This source offers image categories, a convenient tagging system and a search function.
This stock features photos taken by AJ Montpetit. Signing up is free, and new photos are uploaded to the website—plus you get access to additional pictures that are not available to public. However, you can only see one photo per page, so searching for the perfect image requires a lot of scrolling. But it's totally worth it for the chance to find inspiring pictures!
9. Getrefe
Getrefe offers collection of photos taken from mobile phones. There are no categories on this website, just a scroll-through gallery of mostly travel photos, landscapes and buildings.
10. Little Visuals
Little Visuals has a small but very beautiful, handpicked collection of images – mostly landscapes - that are tagged and really easy to search for.
11. BlogPhoto.tv
BlogPhoto has a nice selection of images available for free. A premium membership for $5 per month gives you access to more photos.
12. Life of Pix
Life of Pix offers high-quality photos that are added weekly and available for free – most of them are landscapes and city views. This stock is similar to Gratisography or New Old Stock, as it doesn't have any search options.
13. IM FREE
IM FREE is a feature of website builder service IM Ceator. It offers amazing photographs created by professionals and organized by topic and category. You can search for a suitable image in "Education," "Foods & Drinks," "Sports and Fitness," "Inspiration" and many other categories, or by a keyword. The tool was originally intended for designers, so it also features design templates. All images are free, but attribution to the creator is required.
14. Snapographic
Pictures available on Snapographic are primarily photos of nature scenes and architecture, although you can find images from a wider range of topics. Images from the category "Textures" are perfect as a background for creating your own pictures. For a donation of $15, you will get all photos from the website as a zip file.
15. Snapwire Snaps
Snapwire Snaps is a carefully curated collection of images. Photographers submit their shots and, every week, Snapwire Snaps provides seven new photos for free use.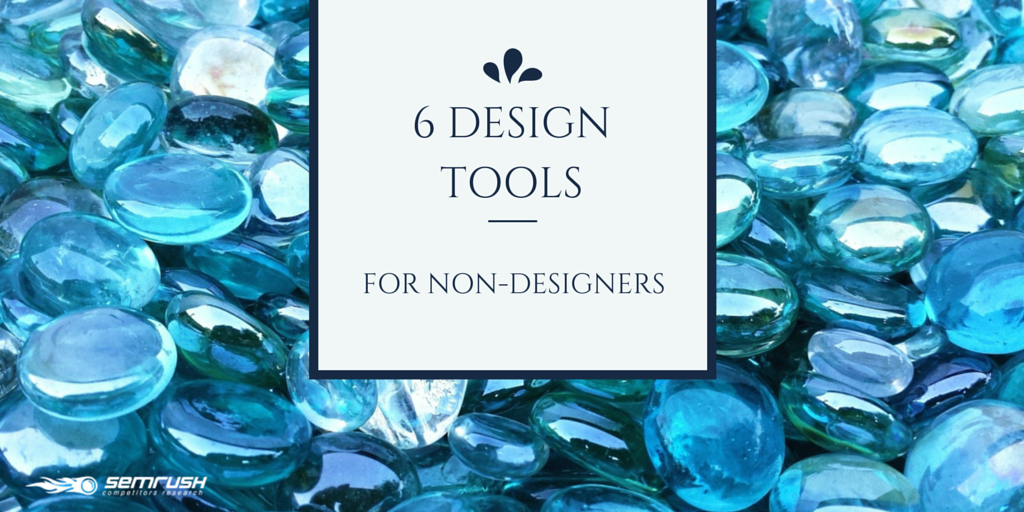 6 Super Cool Design Tools for Non-Designers
An appropriate color scheme is one of the most important elements of any design project. Adobe Color CC is an absolutely marvelous, powerful tool that allows you to browse, create and share color palettes. Based on five colors, these palettes are grouped by a chosen scheme - analogous, monochromatic, triad, complementary, compound, shades or custom.
You can generate the perfect palette for your design manually by using the color wheel, or upload a photo that inspires you and extract its color palette. You can also search for ready-made color schemes by themes, tags and more.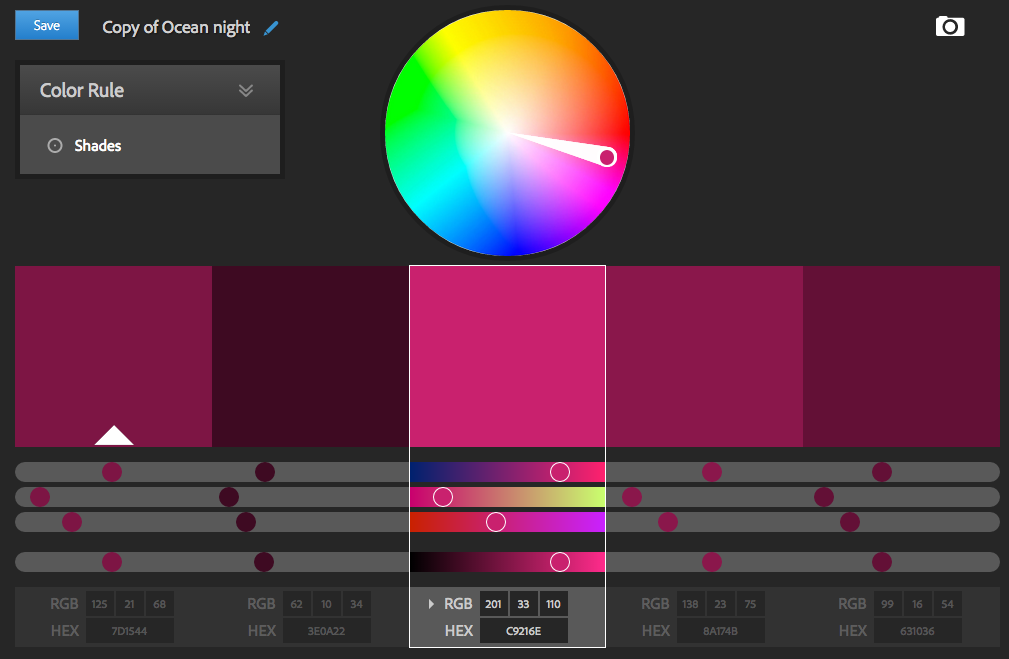 2. Coolors
Coolors is a fast and handy color palette generator. By pressing the space bar, you can generate a 5-color scheme. You can edit each of the five swatches individually - this is very useful in case you think that four out of five of your colors are perfect but the last one doesn't fit. What is especially convenient – for each palette, a unique URL is generated, so if you create a perfect one, you can share the link with your designer or your colleagues.
Color by Hailpixel is an amazingly simple tool – you can generate your own colors by moving your mouse. Moving from right to left will change the hue, up or down will adjust for lightness and darkness, and scrolling will change the saturation. After you've found the perfect color, you can save it with a single click and then copy its code.
4. PLTTS
If you've run out of inspiration, PLTTS may help you find some fresh ideas. This website offers hundreds of five-color palettes. You can locate the most popular or the newest ones, or search for a HEX code and get all palettes that include a certain color.
5. Place It
Place It is an incredible tool for creating online product mockups. It allows you to place your image or product in a template and preview how it will look on different electronic devices. Place It has a collection of photos of devices of all types from iPhone to Kindle and photos of people using these devices in different situations – at work, in the city, at the vacation and so on.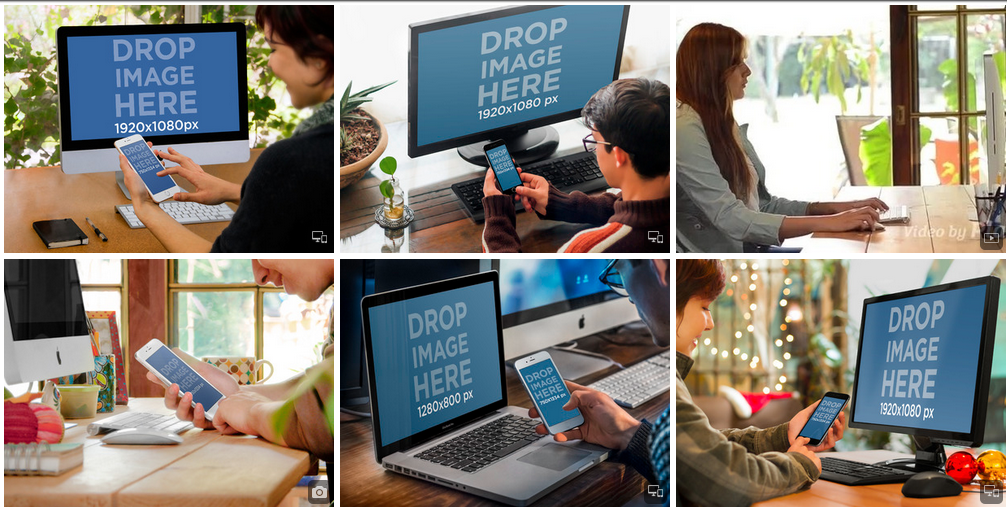 6. Tiff
Choosing the perfect font can be a real challenge, and it can be even more difficult to distinguish between fonts that are similar. Tiff makes this task a lot easier. Simply choose two fonts that you want to compare, and Tiff will superimpose one over the other using different colors, so you can clearly see their differences.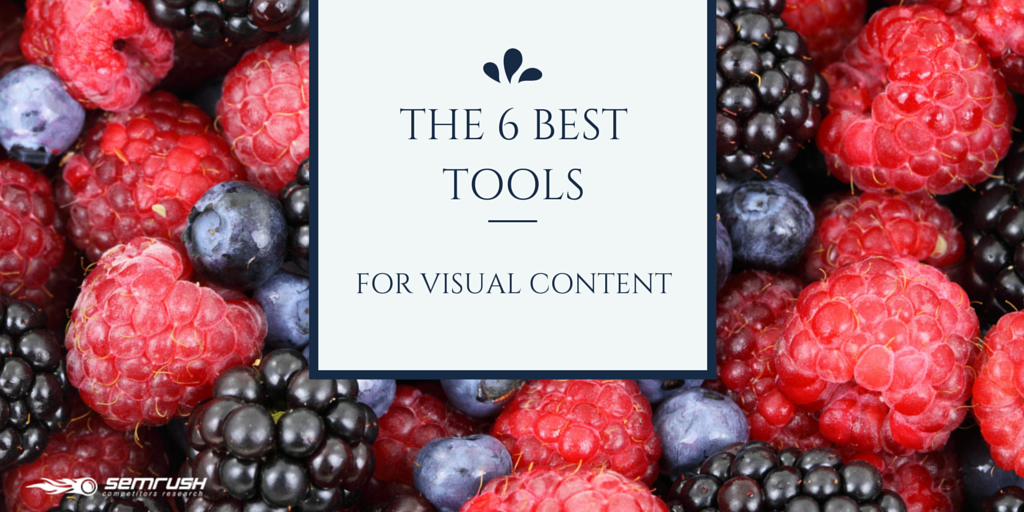 Tools for Creating Outstanding Visual Content
1. Canva
Canva is an incredibly popular tool that makes visual content creation super-easy, even for non-designers. You can either upload and design your own image or get pictures from Canva's stock. This tool has hundreds of templates, fonts and backgrounds that will allow you to create countless images that will look great and stand out online.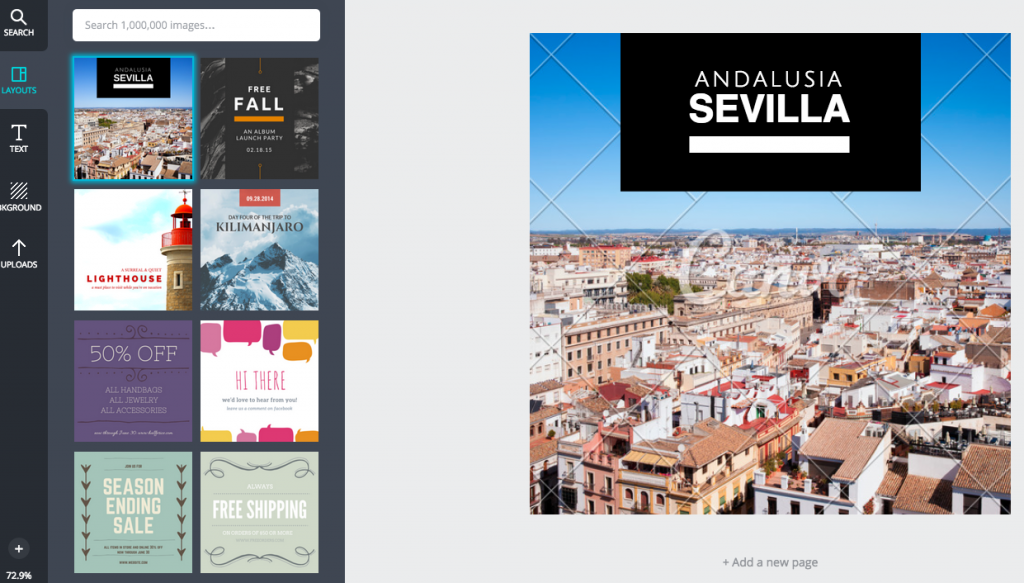 2. PowToon
Animation makes your content more engaging and dynamic, and you do not have to be a flash animation expert to create it. PowToon is an excellent online tool that is great for making promotional animated videos and presentations. Using the premade characters, objects and effects, you can create a video in almost no time and then export it to YouTube.
3. PIXLR
Pixlr is a free, simplifier alternative to Photoshop offering more than 600 effects and filters. Essentially, it's a unique online photo editor that allows you to create layers and layer masks.
4. GIFMaker
Almost all content can be enriched with an attractive, related GIF image. You can create GIFs easily with the help of the GIFMaker tool. You simply download images and choose an animation speed. You also have the option to add a music track from YouTube.
5. Design Seeds
If you have trouble with matching colors, you may find your inspiration in Design Seeds, a color palette search. This website offers many admirable photos and six-color palettes. Images are separated by topic, and what's more valuable – you can search for palettes containing a certain color.
6. QuotesCover
QuotesCover is a free online tool that turns quotes into good-looking e-cards and images that you can use for social media. It's very simple to use: add your quote (or pick one from the library of quotes offered by QuotesCover), choose a background image and a font, and your quote is ready for publishing!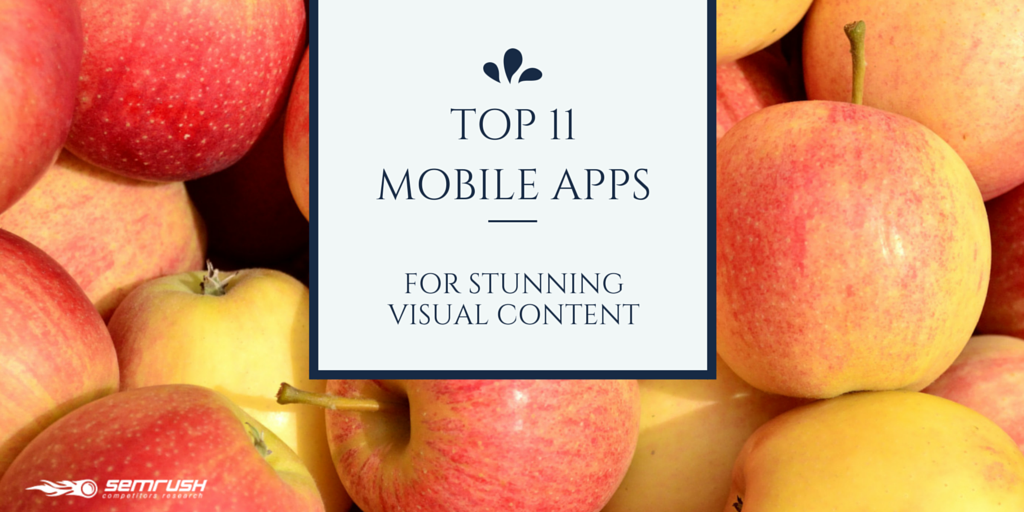 Top 11 Mobile Apps for Stunning Visual Content
Since many people use their smartphones to take photos and post them to social networks, a lot of applications now exist that allow you to edit photos directly on your mobile device.
1. Word Swag makes it easy to create stunning designs with stylish typographies in only a few seconds.
2. Piclab allows you to add beautiful typographic elements and apply various filters and photo effects.
3. Afterlight is a great app for quick and easy image editing.
4. InstaQuote helps you easily create compelling quotes to share on social networks.
5. After Photo is a photo editor that allows you to add text and captions to your photo.
6. InstaFrame is an app for adding beautiful frames and making amazing photo collages.
7. A Beautiful Mess is a wonderful app for enhancing your photos with beautiful fonts and filters.
8. VSCO Cam is an app for creating interesting photo effects.
9. Photo Candy is a photo-editing app that allows you to add different effects, patterns and backgrounds to your pictures.
10. Font Candy is a typography photo editor that helps you add creative text to your image.
11. Rhonna Designs offers many editing choices to enhance your image: exclusive masks, frames, fonts and filters.
So which tools do you use to create impressive visual content? Please share your favorite ones in the comments!