One of the biggest ways online marketers come up with ideas for what to use in their keyword research is by understanding what their competitors are doing. There will be certain keywords that you will want to target based on what is working for your competition. How do you know? There may be keywords you know that your competition is ranking for that you are not. Manually, this will take way too long to find on your own.
However, this is yet another powerful tool that SEMrush offers. Lets reveal this terrifyingly good tool also known as the Domain vs. Domain tool.
You may have already been introduced to the Domain vs. Domain tool. For those who have not yet used this tool, here's how it works.

When you first open this report, you will notice 3 blank boxes to input any domains you wish. This will, by default, list out all of the common keywords between the domains you have entered organically. You can choose to see results by Organic, Paid or by PLA.
The keywords that are then populated below will show you not only these common keywords but also the positioning of the keyword for each domain, the CPC, competition level of the keyword through Paid Search along with the number of results and the trend. This is great to determine what keywords you may want to start looking more closely at if your competitors are ranking higher than you.
This can also reveal keywords you are ranking higher in search volume that you may not have been focusing on enough. Use this to find any current opportunities that you are not taking advantage of. However, more options are available than just common keywords.
When you are in the Domain vs. Domain tool, there is the option to either be using the Simple Version or Advanced Version. The simple version will show you the common keywords through whichever domains you enter. The Advanced version will give you more options including keyword type shown by domain, unique keywords and unique keywords to one domain vs. 2, 3 or 4 other domains.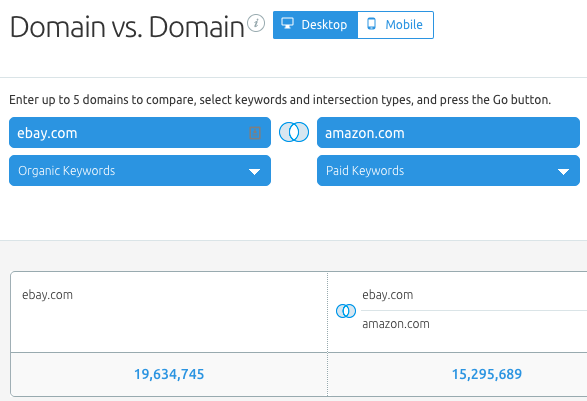 Once you have clicked through to the Advanced Mode, you can then see results for each domain based on the keyword type.
After entering the domain, under the box you will see an option to see results by Paid, Organic or PLA keywords. You can change this for each domain you search. You can also change the relationship you would like to see between these domains by clicking the Venn Diagram in between each domain. Hang on, because a good SEMrush Tip is coming here.
Let's say I run the PPC for Amazon and I want to see what eBay is ranking for Organically that I am not currently bidding on. By entering eBay.com with Organic Keywords and amazon.com as Paid keywords and selecting the relationship to show unique keywords, we will then find these results. So we are currently seeing what keywords eBay is ranking for Organically that Amazon is not paying for along with what keywords Amazon is paying for that eBay is not ranking organically for.
These results can help you come up with new ideas for your PPC campaign or in your SEO campaign if you select the inverse of this example. And since this list shows keywords by search volume in descending order, you are seeing the top keyword possibilities.
You can also use the unique keywords option to see what one website ranks for that the other does not. This will show you the top keywords by search volume your competitor is ranking for organically that you are not.
You can also see what keywords you are ranking for that your competitor is not. This may reveal keywords that you want to put "on the back burner" for now and come back to in your SEO efforts so that you can focus on other keywords you are falling behind for in ranking.
You can also enter up to five domains using the advanced mode, as you can only enter up to three using the simple mode. This will give you more results to choose from and also allow you to get more specific with your results. By choosing the proper relationship, you can have this report show you what four other domains are ranking for that you are not.
With this report, you can also utilize the PLA feature. If you are currently taking advantage of Google Shopping, this report can show you what products you are missing out on as well as where you stand against your competitors for the top products. By using the unique keywords option, you can then see what products or keywords your competitor is using that you are not. And by selecting the Common Keywords option, you can see where you stack up against your top competitors.
The Domain vs. Domain tool has multiple uses that will truly help you get quick information on your competitor analysis. This will help you when you are looking to quickly get data and so that you don't have to waste valuable time trying to manually find this information.
Scare away your competition today using the Domain vs. Domain tool in @semrush! Click to Tweet
Do you have a different use for the Domain vs. Domain tool? Do you have a different way of finding this data? Let us know in the comments!
If you still have questions about any of this information, please feel free to reach out to our Customer Success Team at: (855) 814-4510 or by email at mail@semrush.com. You can also contact us on Twitter by using the #semrushcare hashtag.