It's one thing to be recognized by one community only, and a totally different matter to win the hearts of various audiences in diverse areas of the world.
We are absolutely thrilled to announce that we have been praised by the search community across the globe and this year won the EU, US and the UK Search Awards for the "Best SEO Software Suite". We are very honoured to be acknowledged for all the hard yet gratifying work we do here, at SEMrush.
We would like to take a moment to thank everyone who made this victory possible - the judges for having trust in our suite, the entire SEMrush team for all the diligence and creativity, and, of course, our community - we would not have been where we are today without your support, feedback and inspiration.

SEMrush is now expanding way beyond search. We're the software that is always challenging the status quo. With our data, with our studies and with our spirit.
The US Search Awards and the UK Search Awards brought together SEO, PPC, Digital, and Content Marketing experts to network and celebrate achievements in the realms of Search and Digital Marketing. It was a great honour to be present and to get a sense of the remarkable work that is continually underway in the industry.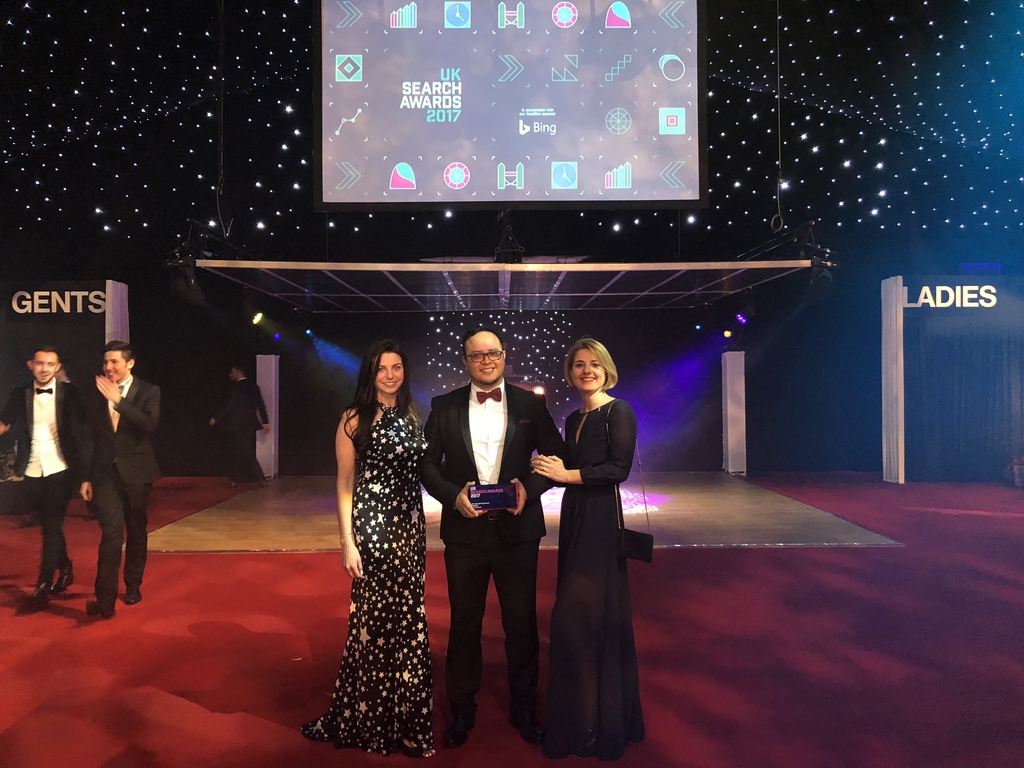 SEMrush team receives UK Search Award
SEMrush team receives US Search Awards
Commitment to Innovation
We believe that the key to our success and recognition comes from the innovative and experimental nature of our company. Thanks to the agile structure of our organisation, teams and individuals are free to come up with creative ideas and their implementation.
It's not always a smooth ride, but our commitment to our customers and determination to constantly innovate our tools help us overcome all the challenges. So, this is a very special moment for SEMrush as with every award we receive we become more energised and charged up to take up new challenges and work even harder to deliver the best SEO Software Suite experience to our community.
In 2017 we have:
Released 107 updates in the last 12 months, adding new features to our existing tools on a weekly basis

Developed around 2-3 new tools that have been released to beta each quarter

Analyzed our clients' wishes that shaped over 50% of all the updates
Key Innovations Released in 2017
As you can already tell, 2017 was a fruitful and eventful year for SEMrush. So here is a selection of the most groundbreaking and influential innovations we developed throughout the year:
1.The Utmost Volatility Tracker - SEMrush Sensor
Sensor is the ultimate tool that tracks Google SERPs' volatility and displays a comment on the possible causes behind that volatility. Sensor covers 6 regional databases: the US, the UK, Australia(mobile and desktop), France, Germany, and Spain (desktop). The tool monitors a fixed set of keywords across 26 categories daily and reflects all the SERP fluctuations within a 30-day range.
We can proudly declare SEMrush Sensor the best volatility tracker out there. Here is a comparison with other major SERP changes trackers: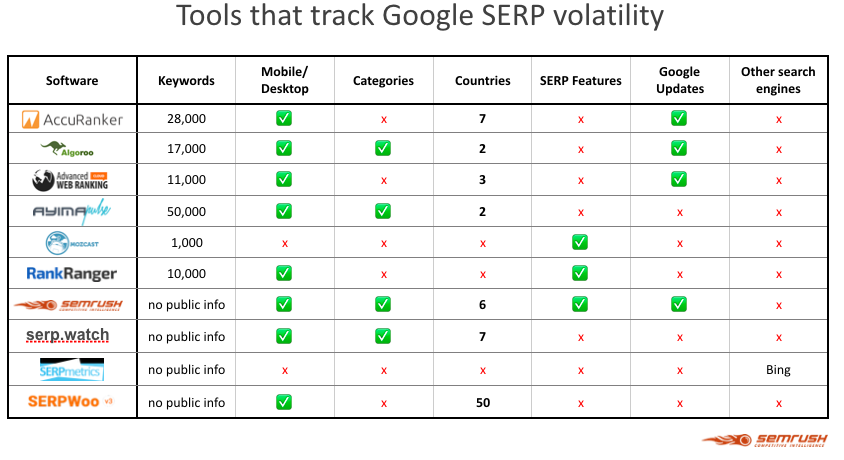 2. Expanded Mobile Keyword Database
With Google's Mobile-First Index just around the corner, the need for larger mobile keyword databases becomes more and more pressing. And we developed the sole mobile keywords database on the SEO tools market and rolled out sixteen new mobile databases—this is in addition to the US database that's been in existence since 2015. The US mobile database includes 40,000,000 keywords, while the UK, Brazil, Australia, France and others - 1,000,000 keywords each.
3. Enhanced Site Audit Tool
SEMrush's Site Audit tool now includes 60 checks for monitoring and improving your website health. The latest updates doubled the overall number of checks within the tool, which now covers issues includingInternational SEO, HTTPS Implementation, AMP Checks (a unique check for the SEO tools market), Redirect Chains and Loops, and Orphan Pages' Detection.
Site Audit covers both desktop and mobile versions of the website and has an instant "re-crawl" button.
4. Lean Cycle Workflow for Link Building
We are constantly improving our tools to suit our users' needs. And with link-building, being the fundamental SEO success factor every SEO and digital marketing professional is concerned with, it deserved some serious attention and a thorough improvement on our part. Thus, we established a "workflow" logic that appears to be very popular across our community. So, this year we developed the Lean Cycle Workflow for Link Building: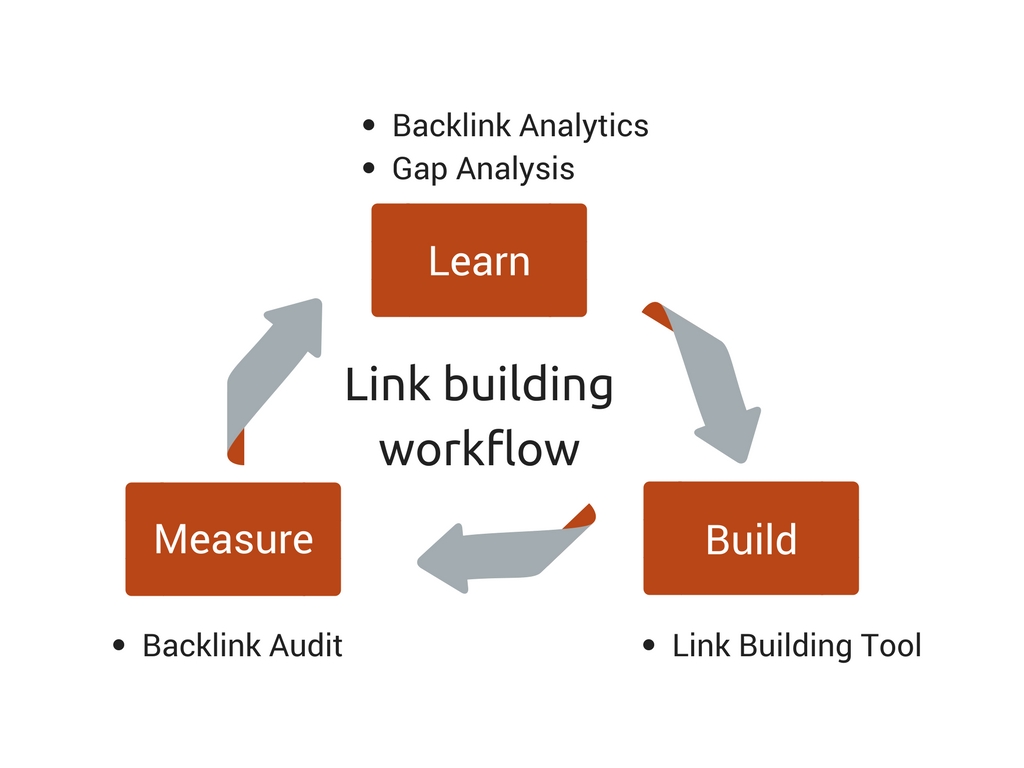 Four SEMrush tools - Backlink Audit, Link Building tool, Backlink Analytics and Gap Analysis - are now covering every aspect of link building: from discovering and analysing backlinks for the user's own domain—and that of their competitors, and helping to remove harmful backlinks, to speeding up the process of acquiring new high authority links.
5. Focus on SERP Features
SERP Features are gaining more and more interest from the SEO and Digital Marketing community, and we could not get past this trend, so we added SERP Features reports and data to five of our existing tools:
SEMrush Sensor shows the daily changes within SERP Features (%)

Organic research includes a SERP Featuresreport for the domain/keyword it ranks for

Keyword Magic Tool shows SERP Features for designated keywords

On Page SEO Checker provides suggestions for appearing in SERP Features

Position Tracking tool identifies all available SERP Features for the keywords you want to track
6. Upgraded Keyword Magic Tool
KMT is a comprehensive keyword dictionary with over 3,600,000,000 keywords for 30+ countries, with more than 505 million keywords for the US database alone.
The tool provides killer keyword grouping and real-time metrics, displays the Keyword Difficulty score and SERP Features overview, and also supports question-type queries.
Extra: To provide our users with a more comprehensive analysis, and suggestions on how to organically rank well for a particular keyword, we also developed a Keyword Difficulty tool.
Now it's getting personal
Last, but by no means least, we want to congratulate SEMrush blog editor Melissa Fach on winning the Search Personality of the Year award. Melissa is an amazing person and a great professional. She helps our community grow every day and is always ready to share her knowledge and experience. This award is well-deserved and we are happy for you, Melissa!
Final Words
We are really proud to have won the award for the "Best SEO Software Suite" category. It only proves that by focussing on your customers, listening to their needs and adjusting to them is the right path to success.
Once again, we would like to thank all those who have contributed to our success - we are more driven and motivated than ever to keep doing the best work we can.