On February 20, Google released a new campaign type in AdWords which is specifically designed to increase phone calls. This can be extremely beneficial for those companies that value phone calls over website visitors and they will only show on devices that can make a phone call.
If phone calls are important to your business, this new feature could be exactly what you've been looking for. A click on a call-only advert will result in a phone call directly to your business. Coupling this with a knowledgeable sales team, you should have no problem increasing your conversion rates and overall revenue.
How to Set up a Call-Only Campaign
Please note: Call-only campaigns are only available on the Search Network.
To set a call-only campaign up, simply go to the 'campaigns' tab and click on the red +Campaign button, selecting 'Search Network only' as shown below. Set up a call-only campaign in Google AdWords.
After you've selected 'search network only,' you can go ahead and select the call-only campaign type from the right hand side (see below):


As you'll see within the device settings, you'll have no option to edit the device preference, as your ads within this campaign will only show on devices that can make phone calls:

All other settings have remained the same as any other search campaign with the exception of the bid strategy, which is slightly different:


Maximize clicks is the default and recommended strategy here as Google will aim to get the most amount of clicks for your targeted spend, although there are many other options to choose from. Please keep in mind when setting up your bid strategy that you're bidding for phone calls and not for clicks to your website. If you have an idea of how much you'd like to pay for each phone call, you could bid similar to this amount.
Once all settings are updated as you wish, you can simply click save and continue.
From this point on, you'll be prompted to create a name for your ad group and to set up your call-only advert: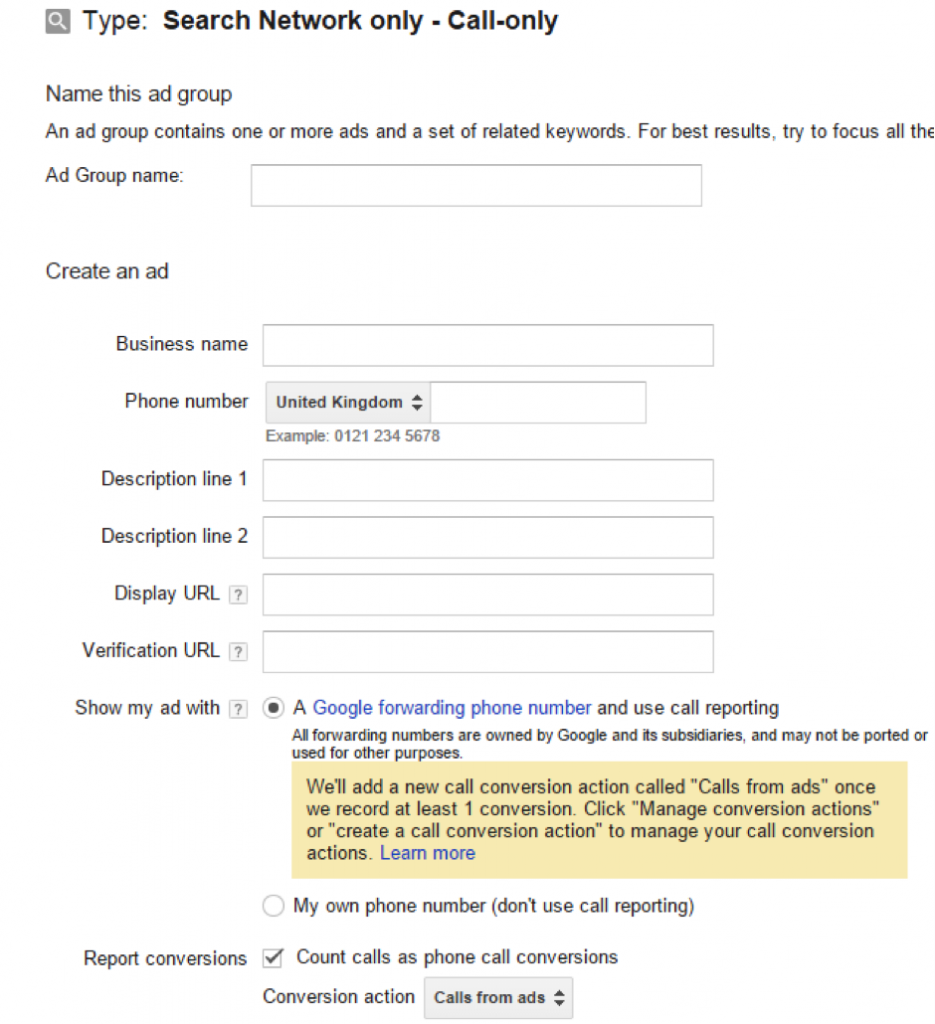 Ad group name: Enter a name for your ad group.
Business name: Enter your business name.
Phone number: Enter your business phone number. Note: This will be the number users will call when clicking on your ad headline.
Description line 1 and line 2: Add a description to your ad and try using call to actions such as 'call now' or 'speak to a specialist today,' for example.
Display URL: Set your display URL. On call-only ads, the display URL may appear as the last line in your ad, in green. It's typically the URL of the site or page you're advertising.
Verification URL: This should contain the URL where the above phone number appears for verification purposes and should be the same domain as the display URL.
If you wish to use call reporting (which would be highly beneficial), then allow the use of a Google forwarding phone number and leave the 'report conversions' turned on. This will enable you to see how many phone calls you've received.
The next section directly after creating your advert is where you'll be asked to enter at least one keyword. Match types are highly recommended here and can be inserted directly into the keyword box below. If you need any help adding keywords, you can simply use the keyword planner.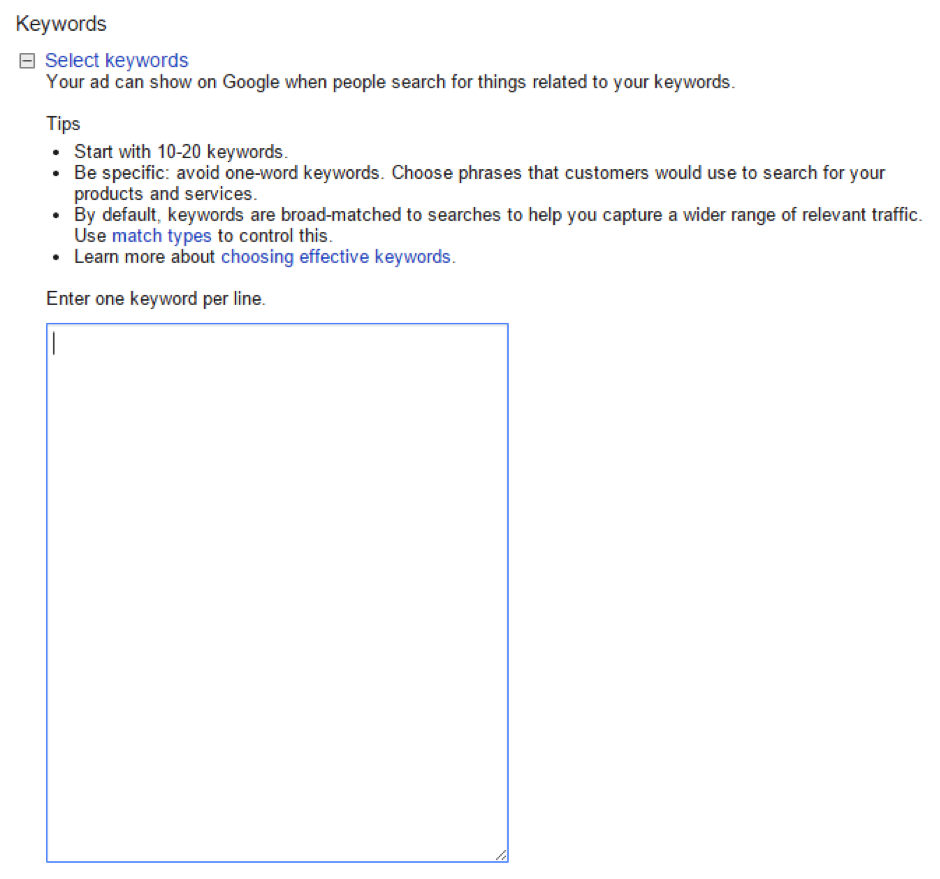 Once finished, click save ad group and your call-only ad will go under review. After the review process, your ad should begin to show.