A UTM tracking code is a unique URL that redirects to your website or target landing page. It helps you identify which specific ads or links get clicked on or convert the most.
Without UTM tracking, your analytics will only track which website your clicks and conversions are coming from. But that's not enough. Most marketers have multiple ads on one website, whether they're in different places or just rotating.
UTM tracking helps you not only identify the website your clicks and conversions are coming from, they also identify the specific ads or links that are responsible for getting you those clicks and conversions. If used properly, these tracking codes will double, triple or even quadruple your clicks and conversions without spending another dollar.
What are UTM tracking codes?
UTM (Urchin Traffic Monitor) tracking codes are small snippets of code added to a URL to help you identify which specific ads or links are doing better. This allows your analytics to easily count which UTM tracking codes were clicked the most and, of those clicks, how many converted. The idea is to put a unique UTM tracking code on every different ad or link so you can easily identify which ads or links are doing the best.
Why UTM tracking is important
1. Measuring
Marketers often forget that results are much more valuable if they can be measured and understood. If you're not able to clearly understand which ads or links are getting you the most clicks, conversions, and sales, then how will you know where to spend your budget?
Let's say you put three different banner ads on a website to rotate. You then check your analytics and find that you're getting lots of clicks and conversions from that website. Don't pat yourself on the back just yet. Your job isn't over.
What if only one of those ads was so appealing that it got most of the clicks and most of the conversions? Without UTM tracking you would have no idea which ad that was. So, you keep spending more money on all three ads instead of removing the two ads with poorer results. Placing a unique UTM tracking code on each one of those ads would allow you to see which specific ad got the most clicks and conversions, therefore allowing you to spend your budget on the right ad.
2. Accuracy
I won't name specific websites but the amount of clicks I supposedly get from banner ads and links are reported way higher than what Google Analytics shows. In fact, the numbers aren't even close. I usually only rely on Google analytics for actual numbers from referring traffic.
UTM tracking is provided by Google for free and easily integrates into your analytics. From my experience and other people I have spoken with in the industry, Google Analytics is much more reliable than the numbers shown from the place you are buying your ads from.
3. Money
The math is really simple. Why pay for impressions that don't get you clicks, and why pay for clicks that don't get you conversions. Put your money back in your pocket or spend it on ads and links that get high clicks and conversions.
How to use UTM tracking in Google Analytics
Good news! It's super easy, especially if you use Google's free URL builder. To start using UTM tracking codes, make sure you have Google Analytics installed. Then simply visit Google's free URL builder and create your first unique tracking URL.
1. Make sure Google Analytics is installed on your website. 2. Visit Google's free URL builder page. 3. Create a unique URL for every ad or link. 4. Instead of linking to your website, simply use a unique URL. 5. Check under " Acquisition > Campaigns" in Google Analytics to measure your success.
I highly encourage you to set up goals in Analytics so you can track conversions in addition to clicks.
Below is a snapshot of Google's free URL builder with a few notes I added to help you with the process. Remember, all you are doing is placing a unique URL with tracking data on every single ad or link.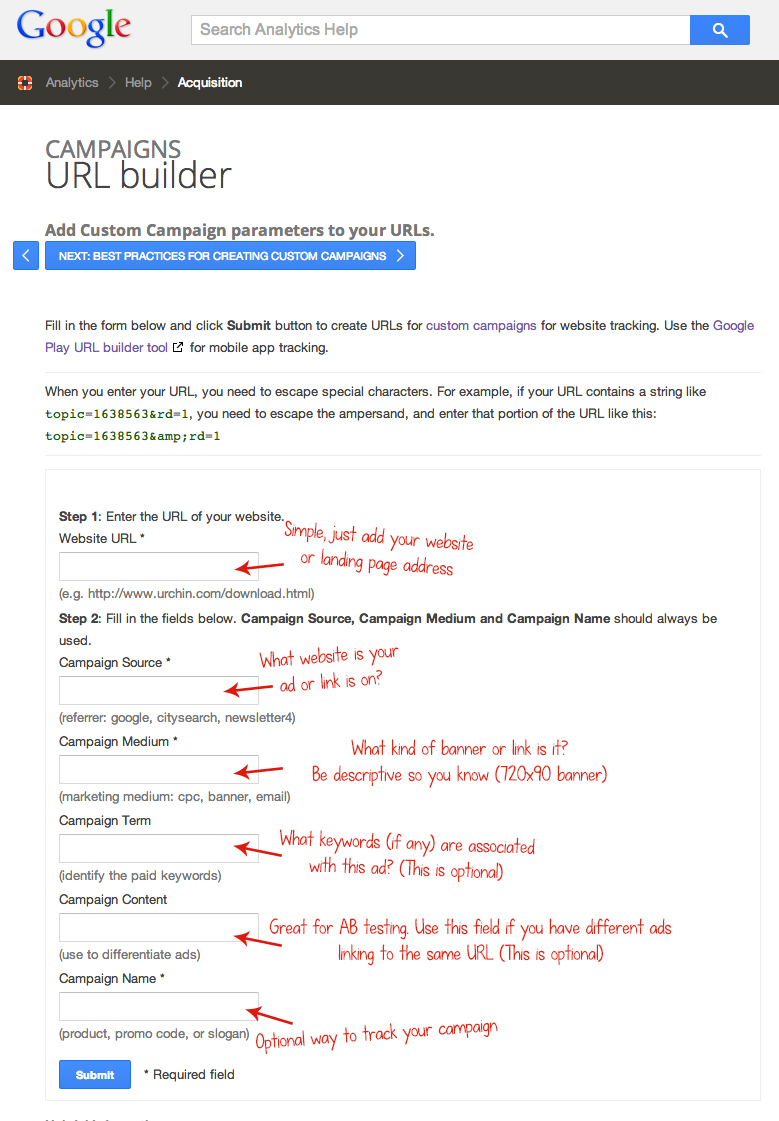 Conclusion
Real marketers measure everything. Building a habit of saving a few dollars today could save you millions tomorrow. So don't settle for being a good marketer. Be a great marketer by tracking everything.