The first websites that used customer reviews were Amazon and eBay back in 1997, but the number of e-commerce businesses featuring reviews on their websites is still increasing. User-generated content (UGC) is now much more than classical reviews, and new ways to use reviews are being invented every day.
UGC includes reviews from customers, their social media posts about your brand or pictures of your products, and content created on other sites, such as forums, blogs, and media.
Apart from the rising loyalty and better conversion rates, reviews now serve as a great addition to a successful SEO strategy. According to Reevo, websites that have added reviews see an  18% sales uplift.
Let's talk about how you can use user-generated content on your e-commerce website to improve Google rankings as well as increase the value of orders and number of sales.
#1 Use a Platform for Gathering UGC on the Website
Some popular platforms are Yotpo, Bazaarvoice, and Fefoo. How reviews will appear on the website depends on the platform you choose. First, you need to decide what kinds of reviews you would like to have and the features you need.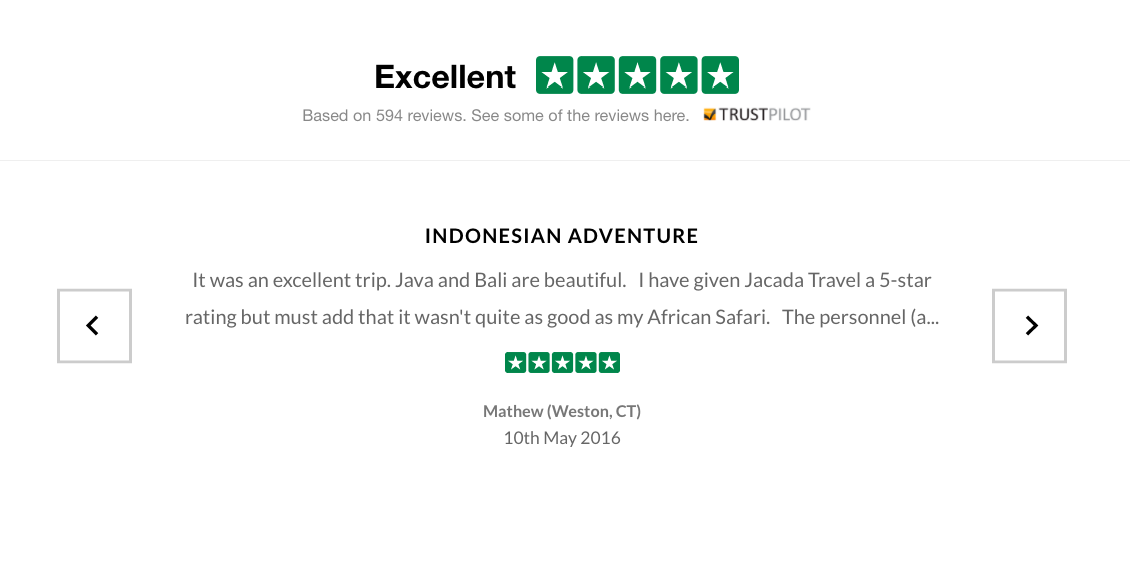 You can enrich the review with some details, such as pros and cons of the product or how and when it was used.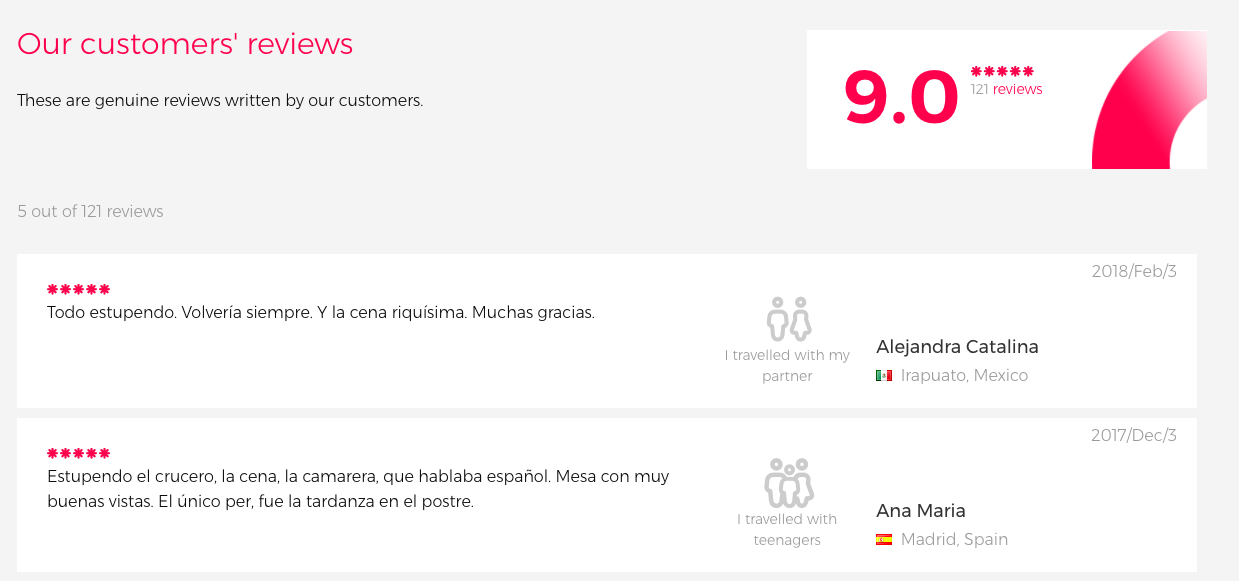 If you have a travel website, you can easily embed TripAdvisor reviews.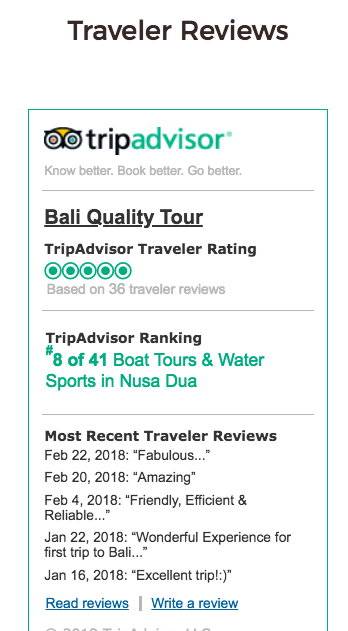 You can also use your ranking to show it in the footer of the website.
Platform pricing starts from free for starters, and the cost goes up depending on the scale of the business.
#2 Increase the Amount of UGC
The more reviews there are, the more trustworthy a ranking seems, but shoppers usually decide whether or not to buy after reading no more than ten reviews.
Here is how conversion rate increases with the growing number of reviews on the website: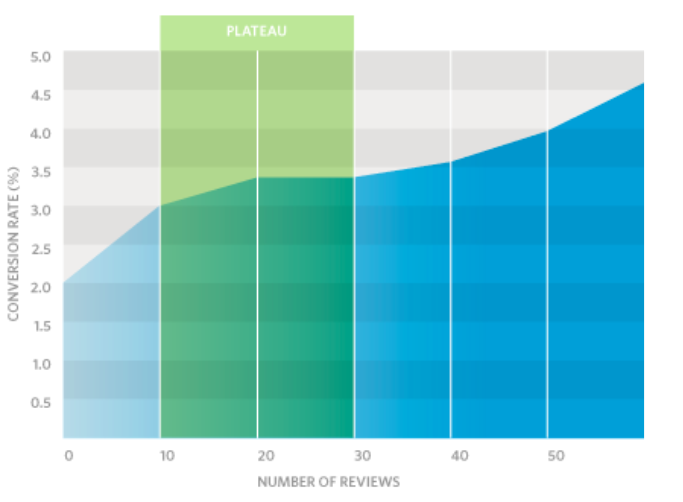 Image from Reevoo
Fifty or more reviews lead to a 4.5% improvement in conversion rates, while ten to thirty reviews mark the plateau of possible conversion rate growth.
How You Can Ask for Reviews
Post-purchase Email 
Let shoppers answer a question about how they liked the product directly in the email. Submitting the review directly without going to the website will help increase the number of reviews.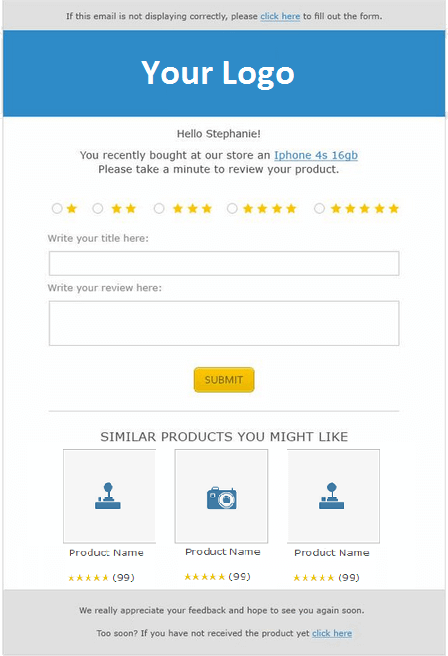 Image from Yotpo review
Incentives For Reviews
You could offer a coupon code for 10%–15% off the next purchase, free shipping, or a gift; these are great incentives when you ask people to leave a review.
It is important to keep the message relevant. Make sure the person you are asking a review from has recently tried the product. You can also develop social media channels and motivate your shoppers to take a photo of your product and feature the best images on the website's product pages.
#3 Work Effectively with Negative Reviews
When your customers complain, what do you do? Try to solve the issue to have them keep silent about it?
But what if applying a different strategy would benefit you more?
What if you consider a complaint or a negative review as a problem you can brilliantly solve? Issues arise even in the best e-commerce stores, but not all stores solve them efficiently. Great problem solvers are valued and talked about. But keep in mind that showing only the bright side of products may look fake.
Answer the negative reviews asap or try to resolve the problem you didn't admit before.
Sure you need to check the number of bad reviews but do not allow them to be more than 20% of all reviews on the website. Do not panic if there are more than a couple of bad reviews on the website. Think proportions between good and bad ones.
#4 Use Reviews for Product Development
How e-commerce approaches reviews and user-generated content sometimes leads to the product being considered from a totally different point of view.
For example, reviews are absolutely necessary when a brand needs to justify a high, or maybe even low, price.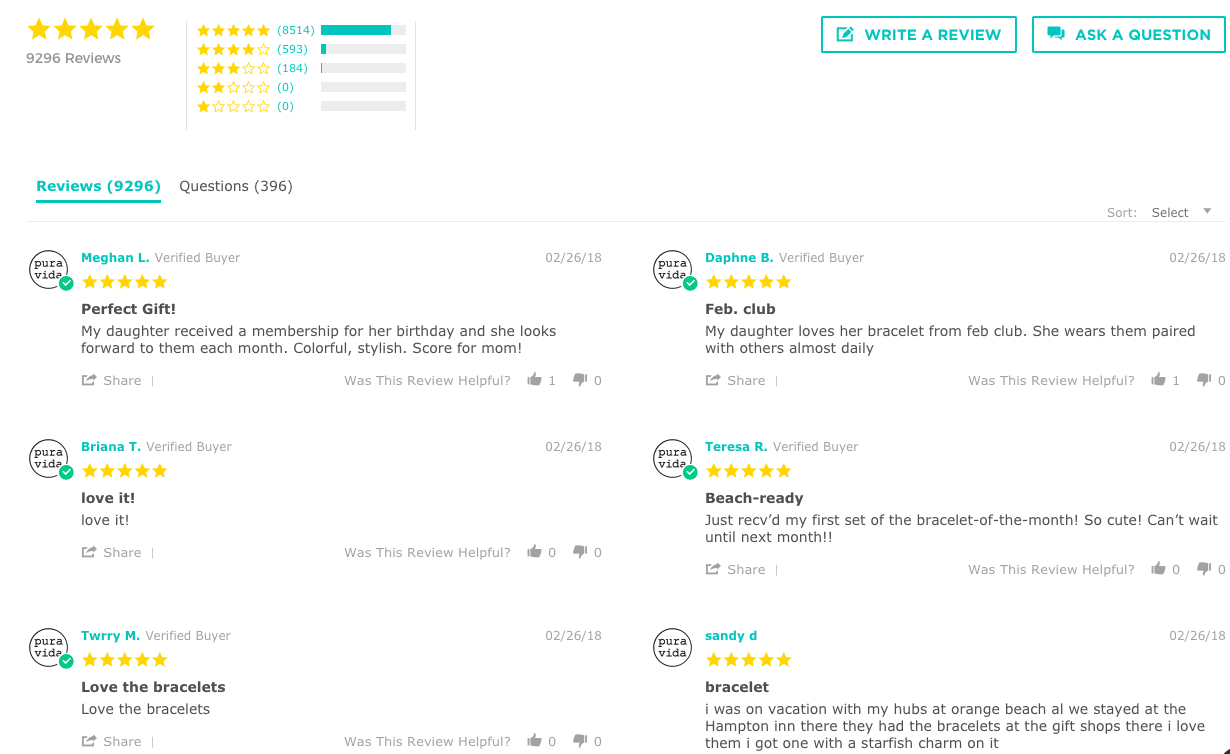 The reviews above are from the Pura Vida Club, where you subscribe to receive bracelets every month. Some may assume reviews were not needed, but with almost 9,300 reviews, that is hardly the case.
Here is how Pura Vida introduces its Monthly Club to website visitors: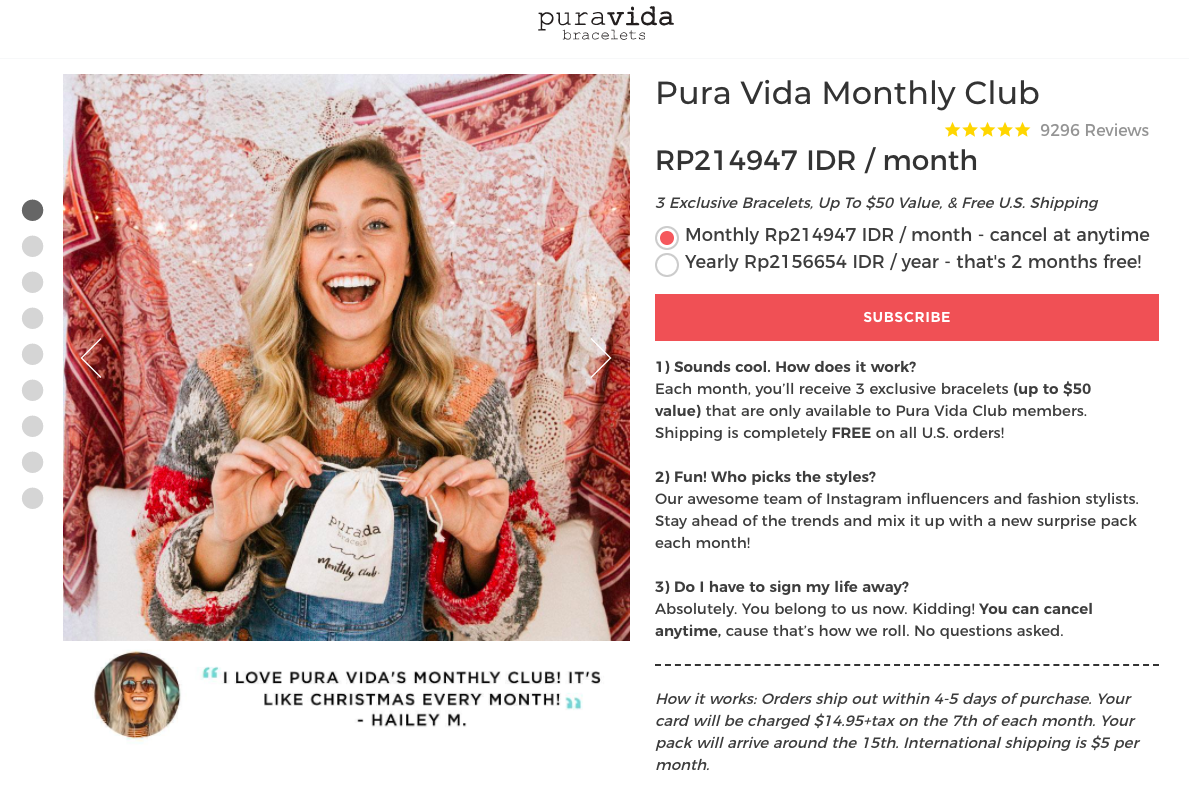 Leaving a review on this website is so easy, and the idea is appealing for several reasons:
A beautiful and positive bright picture with the real product. Who from the Pura Vida's target audience wouldn't want to look like the smiling girl in the photo? Associating themselves with the young and charming but still "real" young woman, many girls would love to purchase part of her look.
There are lots of reviews already. Joining a tribe is one of the most powerful incentives for customers, so be sure you are always increasing the number of reviews.
Easy to see the button "Leave a review" and "Ask a question." Even more: you only have to leave an actual review or ask a question to submit it. Registration is not required, and you don't have to fill in a hundred empty fields.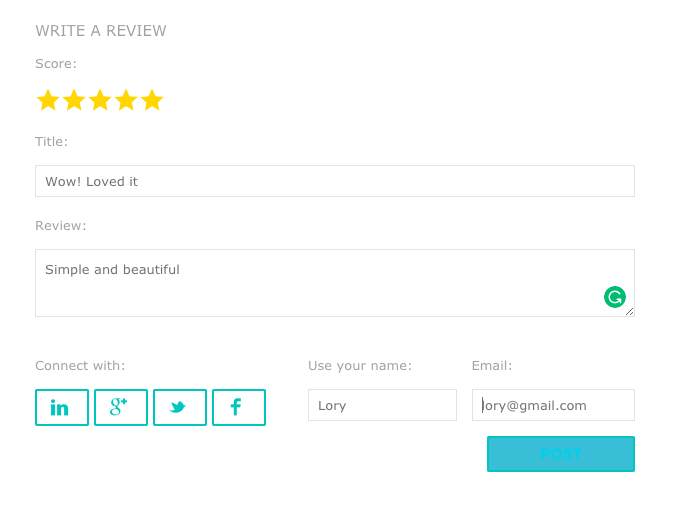 4. Trust badges. Showing "Verified Buyer" near every review indicates that someone has actually bought the product and left a review. "Verified Buyer" on reviews creates trust in both current and potential customers. 
#5 Use Online Reviews for Maximum Impact
Share on Social
Use the reviews to create visually appealing banners for social media and encourage your shoppers to share their thoughts about your products.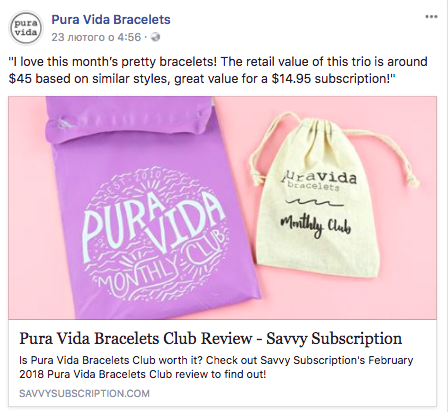 Ask Reviewers to Share on Social
Trustworthy and relevant data, nice pictures from real people...would anyone want to miss this? Ask your customers to share information about you on social media and give away gifts for the best shares.
You can include Instagram galleries to your product pages just as Pura Vida did: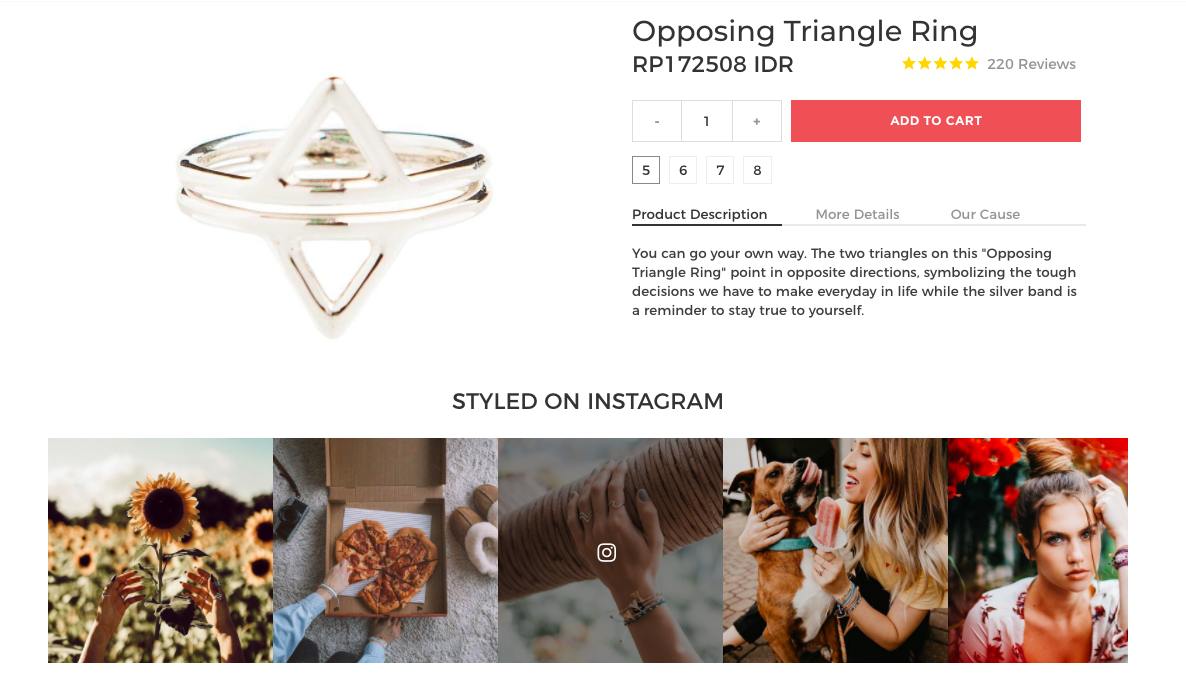 Some statistics prove that consumer reviews are more trusted (12 times more) than descriptions from the retailer.
#6 Use Reviews in Facebook Ads
A Facebook success story about Yotpo shows a 4x higher click-through rate for review-based ads and a 50% drop in cost per acquisition on ads with reviews. 
Here is how a Yotpo review-based ad appears: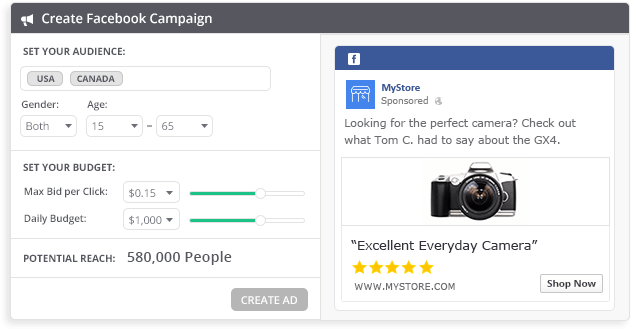 #7 Aim For Better Rankings
The first rule of reviews: always host the reviews on your website. 
Why?
If people that are googling reviews of your products see the reviews' website instead of your website, you lose traffic/sales. 
If you do not host the reviews, you are not able to manage them.
Some exceptions may include websites that are review-based and are much more popular than yours, such as TripAdvisor. Researchers may first go to TripAdvisor to see trusted reviews and then proceed to your website. As a bonus, reviews from TripAdvisor seem to be more trustworthy than reviews you gather on your own and post on your website.
It is hard to write long descriptions for each product on the website, but social reviews add to the content on the page and are perceived as a reliable source of information (if they come across as genuine).
#8 Check Regular Updates of Content
You cannot review all your pages to add new details every day, but customers can! The content they produce is unique and gives you more insights on how you can improve the product.
Tip: Do not let the same reviews be seen on different product pages.
If you wish to use some product reviews on the main page to draw attention, it is best to avoid full duplication of the text. You may use just parts of the reviews but check to see if a full review has only one canonical URL.
#9 Build a Community and Answer FAQs
Some review platforms allow you to ask verified buyers to answer questions from those who are just considering your product. With this strategy, you can help the customer support team save time answering questions and be able to engage with your most active shoppers.
By creating an active forum on the website, you build a playground for your shoppers to interact with each other and store important data for customers having the same questions in the future.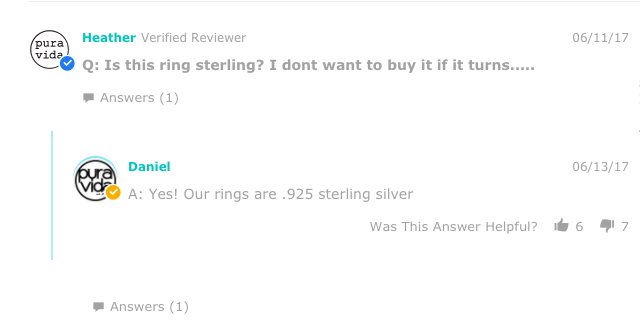 To Wrap Up
It is not a secret that reviews are crucial for setting up an e-commerce business. But reviews involve something more than just storing them on the website.
User-generated content is a great source of customer feedback, a valuable source of information for website visitors, and certainly an add-on for SEO. Quality UGC can lead to increased sales and transform the image of your brand, which makes managing UGC a worthy long-term investment of your marketing resources.