If you are a regular social media user, you might already be aware that influencers and celebrity endorsers are the backbones of social media marketing. Users are way more likely to believe a person than a company. That's why influencers' posts are engaging, and celebrity endorsement has been a go-to marketing strategy since way before television was invented.
"Influencer" might be a fairly new word, but influential people have always been around to have a huge impact on consumer behavior. Whether knowingly or not, kings and queens have influenced the aristocracy's sense of style and their spending habits since the 1700s, but nowadays celebrities like Paris Hilton or Cristiano Ronaldo have a massive following that makes their endorsement way more impactful.
Be careful though: user-generated content might overlap with influencer marketing but it is not at all the same. If you are wondering just how efficient user-generated content (UGC) is and if you should invest in it, we've got the answers you're looking for.
Before we jump into our guide on how to use UGC to help your business grow, let's try to understand more about what user-generated content actually is. 
What Is User-Generated Content?
User-generated content is technically any content that was created by individuals and not brands. Additionally, it encompasses web pages that users can contribute to, such as forums.
In marketing, user-generated content (or UGC) often refers to social posts mentioning and/or endorsing a product that individuals create and share without being paid.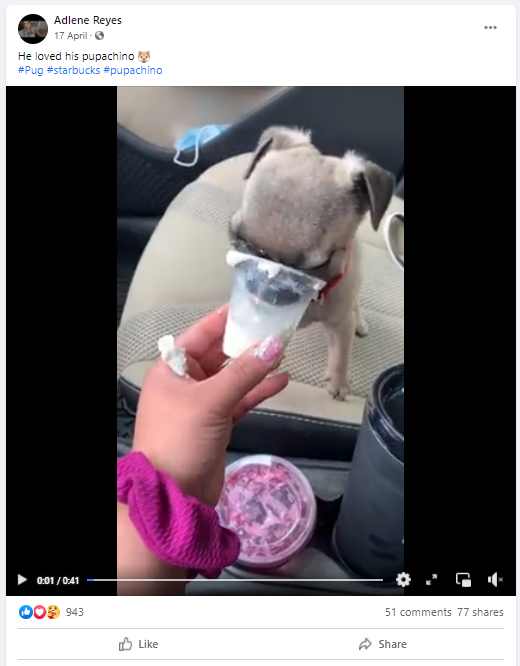 This kind of content could of course include this funny little pug drinking a Starbucks Puppuchino, or your friend posting about their amazing experience at that cute little restaurant down the road. 
However, it also refers to your favorite brand reposting individuals' Instagram Stories. UGC is an organic and effective marketing tool that can go a long way for brands — that is if they know how to use it.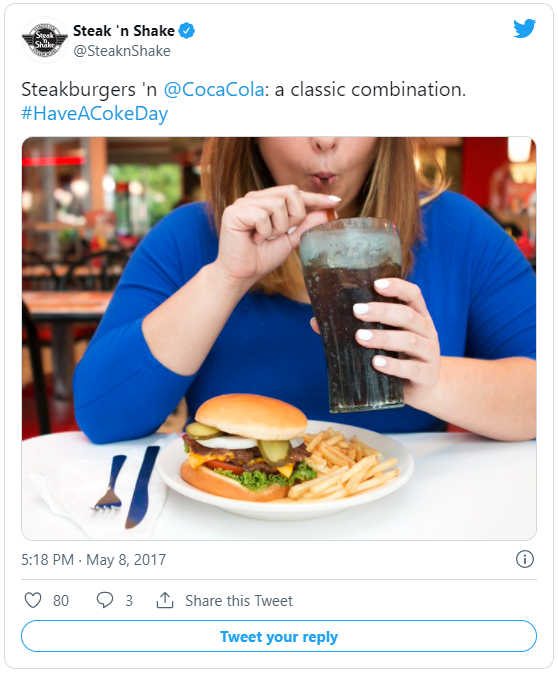 What User-Generated Content Is Not
UGC isn't always content that directly endorses a product, nor is it an excuse to steal users' content and intellectual property.
Often the brands that are capable of inspiring users to generate their own content independently are associated with a lifestyle. Starbucks is famous for using UGC, and we all have a very clear idea of what it means to hold one of their branded cups in our hands. We align our values to the brands we buy from and associate ourselves with. 
However, resharing other people's content is a tricky business, especially as a company. Even if the post mentions your brand, that doesn't grant you access to it. Contacting the user and asking permission to share their content is not only polite, but also helps you foster trust with a potential advocate.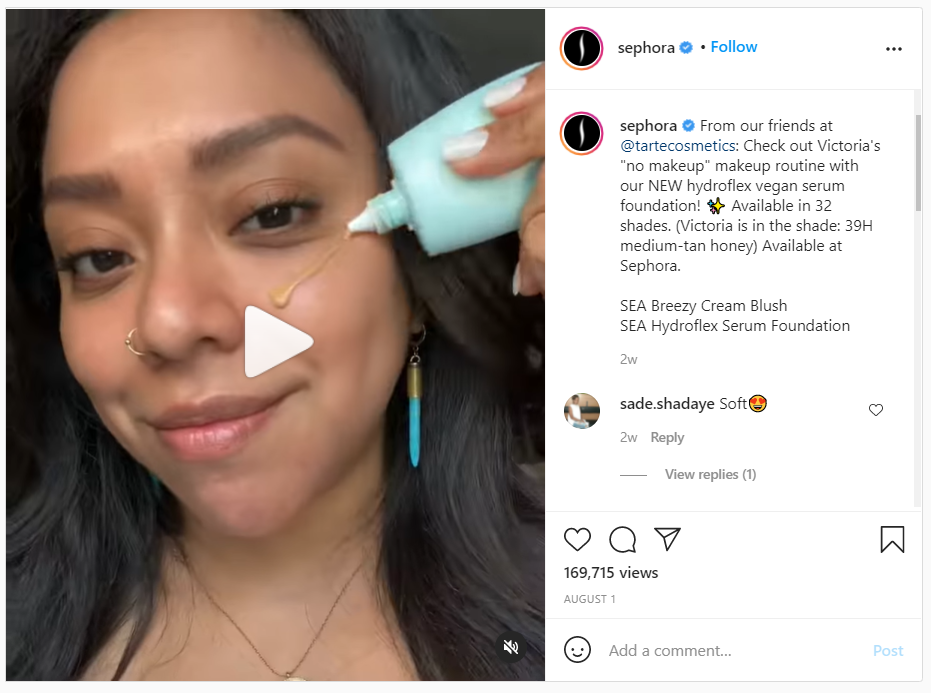 How Can USG Help Promote Brands?
Whether in the form of a post or video, UGC offers an original perspective on your products and gives credibility to your brand. Consumers will trust other consumers and the insights they have to share about your business' values. This is an overall brand image boost that brands can capitalize on and ultimately use to drive purchasing decisions.
There are many ways in which UGC benefits brands, but let's recap: why should you use user-generated content? 
1. To Connect with Their Audience & Create Brand Desire
Let's compare these two posts: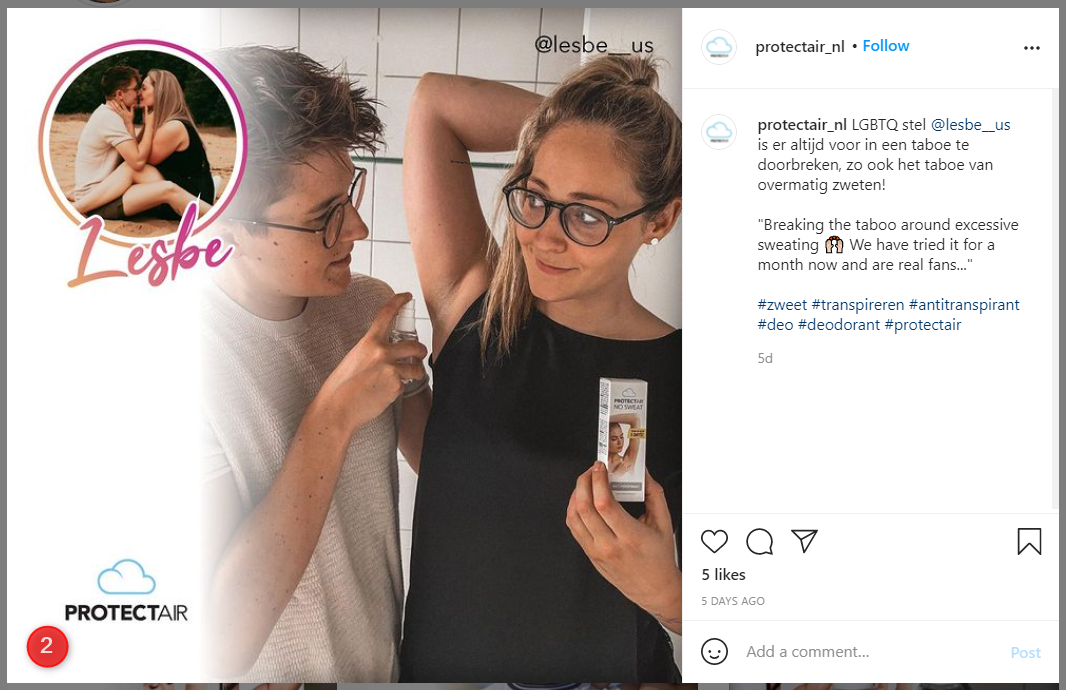 The first post is the one created by a user, while the second one is the same content reposted by the brand. The user's post has significantly more likes than the company's one (1,505 vs. 5). It is clear that consumers trust other consumers more than companies, their posts are more successful and their message more convincing. 
This kind of UGC offers brands a chance to connect to their audience on equal footing and create brand desire. Sharing user-generated content helps brands showcase who their customers already are and spark a brand desire in others in the same target group. 
2. To Create and Promote Brand Trust & Loyalty 
In terms of brand image, a Facebook or Instagram account with a decent following is nothing short of a business card or a well-curated shop window for many social media users. It's way more likely that a potential customer will decide to purchase their products from a shop that is easy to "check" on social media than one that isn't. 
Consumers simply don't believe that they'll get the experience they are looking for if they don't have any visual proof of it. Especially when a competitor offers them more security via UGC with customers' stories and reviews.
Moreover, by sharing your customers' stories and posts, you're making them feel "seen." These customers are already aficionados of your brand and sharing their content will inspire them to remain your loyal customers and become full-blown advocates.
This is the case for Vivaia Footwear, which makes ample use of UGC and, by doing so, creates trust in their brand and products. Online consumers see them as a transparent business and trust them more than competitors in the same industry. 
Vivaia's content library, made up of campaign reposts and UGC, is an effective shop window made up of content that is constantly fresh and on-brand.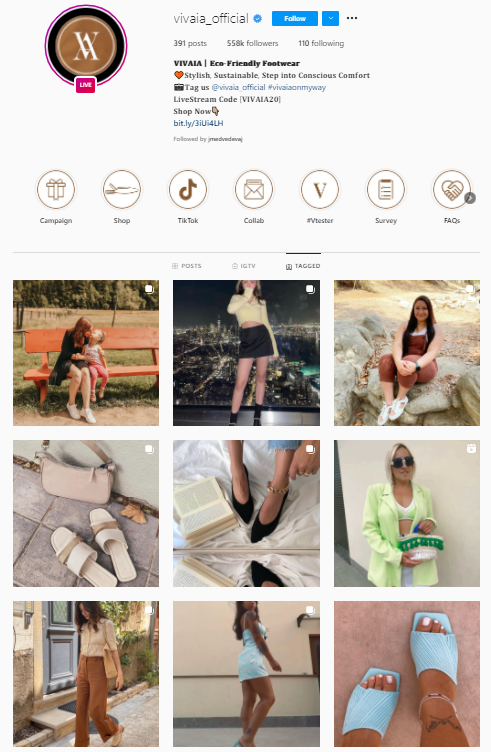 3. To Drive Up Sales
According to Statista, 60% of consumers do some research on the internet before a big purchase and 55% of them see customer reviews as "very helpful." Customer reviews are considered as truthful as personal recommendations from friends and family. 
That's why UGC is an effective tool to drive up sales and its effects last much longer than traditional advertising. Consider, for example, the immediacy conveyed by Instagram stories and the boost in sales that will come of it. 
Later, you can save the stories in the Highlights and customers will be able to see UGC that might not be relevant to your current products but that can still help you build trust.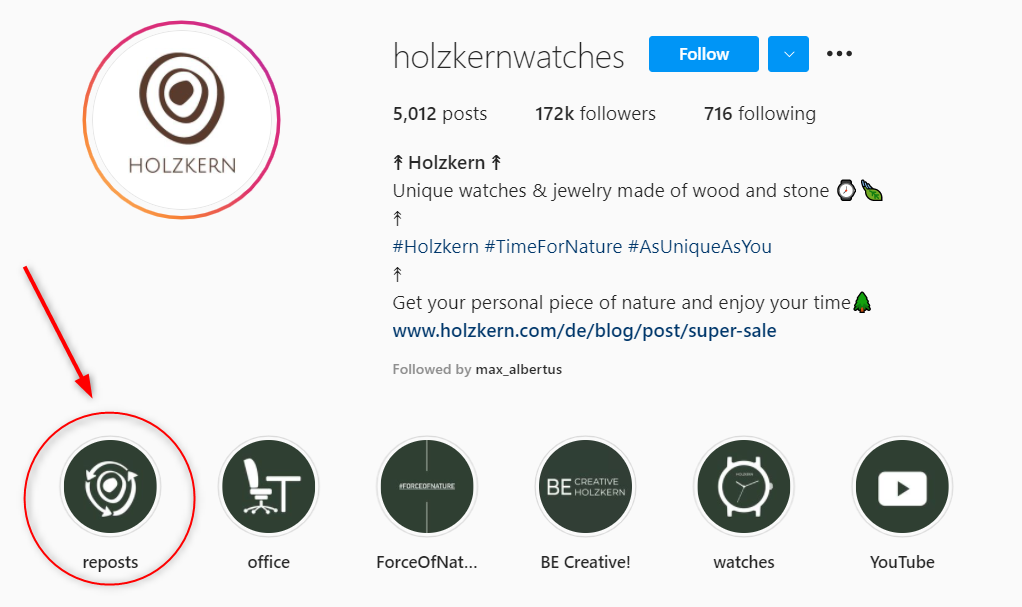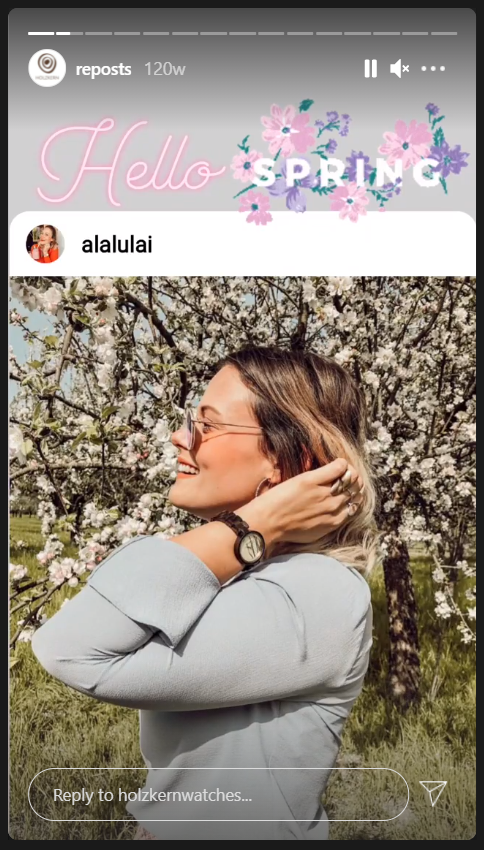 By giving potential customers the opportunity to check what you've been up to so far, how other customers have reacted to your product, and how you handle communication with your customers, you engage with your audience and keep them engaged. 
In this way, you've created hype around your brand and potential customers will be significantly more responsive to your next product campaign. 
How to Track UGC: Positive & Negative Brand Mentions
Now that you know why using UGC might help your brand, it's time to start looking for it! If you're actively curating a campaign with a dedicated hashtag, you might be able to easily find the content users have created inspired by your message. 
However, what about all those brand mentions that are spontaneously generated by users? Those are all valuable opportunities that are going missing. 
To keep track of those, you can use special tools such as Media Monitoring by Prowly. It will help you instantly detect all mentions of your brand and related keywords of your choice, as well as reply to them in real time.
Here's how you do it:
Set Up the Tracking Tool 
Open up the tool and create your first project. This will be a folder where you keep your search queries.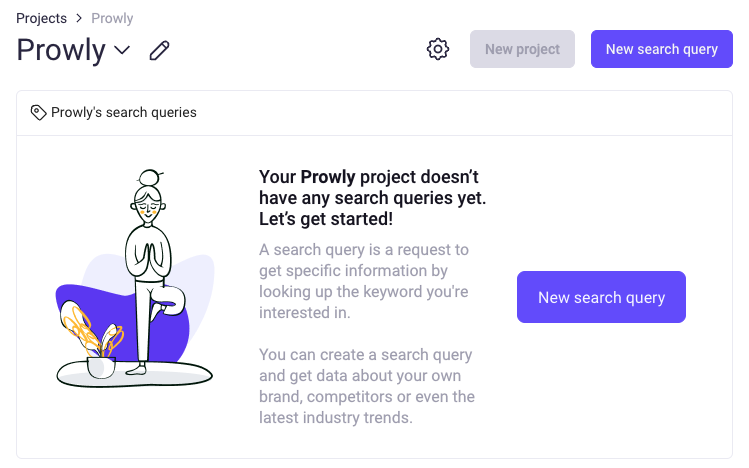 Then, fill out two fields: the title of the project and the target URL, if you want to track mentions related to a specific landing page or article. 
Finally, add keywords you would like to track within this specific project: for example, "prowly".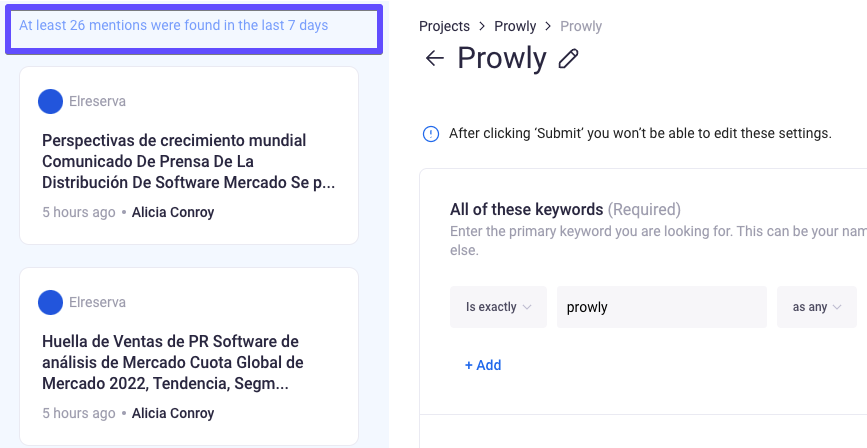 The tool can also tell you whether the mention is neutral, positive, or negative. For example, you can filter your mentions by sentiment to focus only on the positive, or you can look exclusively at the negative mentions and learn from them.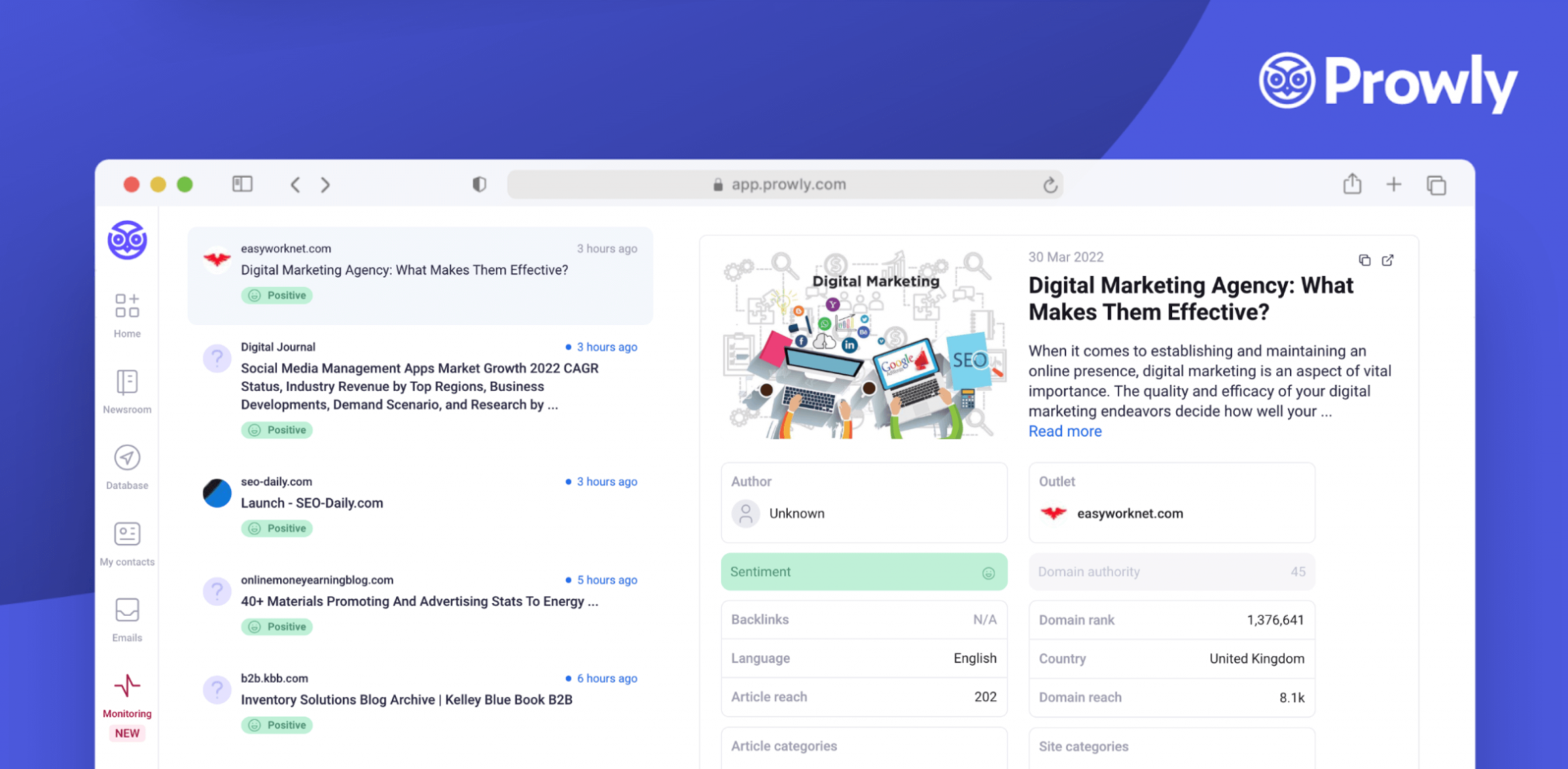 Negative mentions are still valuable feedback from users who are engaged with your products but found something that could be improved.
Insider's tip: Never delete a negative mention!
How to Handle Negative Mentions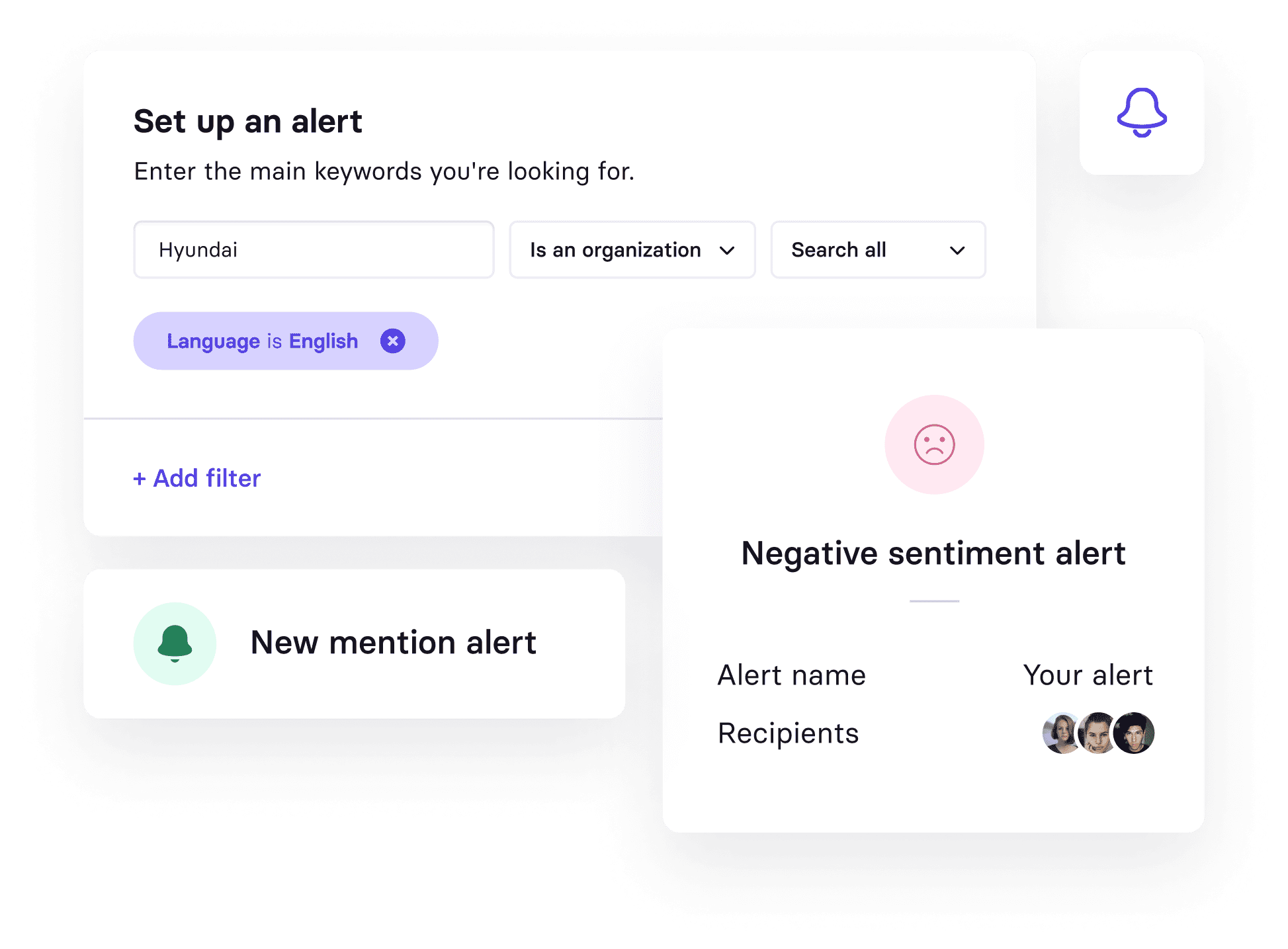 Now that you've seen how easy it is to track down negative mentions, you might be tempted to delete them all. However, we strongly advise against it. 
There is virtually no advantage to be gained by "censoring" social media. Social media users interpret this behavior as malicious, as if brands are trying to hide something.
Especially if your business model runs relatively smoothly and you don't have any serious shortcomings to hide, a few negative mentions of your brand will help you gain your future customers' trust.
After all, we all know that not everyone likes the same things. 
A better approach is to proactively answer any negative mention. It'll help your customer experience if a user with a problem with your product feels you took notice of the issue and tried to solve it. 
Capitalize on User Content 
Don't miss out on the valuable organic opportunities generated by users; it's crucial to select the right pieces of UGC and engage with your audience. UGC can be tricky, but if you track and respond to your brand mentions, you're already halfway there. 
But what are some key takeaways to bear in mind? 
Always get permission to share user content — besides simply being courteous about intellectual property, it's also important that your audience trusts you.
Always at least consider highlighting user content in your profile — potential customers are very likely to trust and convert.
Always keep track of both positive and negative brand mentions — ignoring negative content could hurt you in the long run.
For everything else, remember to follow our tips on how to handle negative mentions and think strategically. Your next big campaign is right around the corner.