Over a year ago, Posts on Google were unveiled and made exclusively available for select politicians to use. Shortly after, Google broadened the list of participants to include various sports teams, musicians, museums and a handful of other similar verticals and landmarks. 
However, Google shook things up in June of 2017 when they announced that Google My Business users around the globe would have access to the posts feature. This article explores what Google Posts are and how businesses can use them to drive relevant traffic to their website.
What are Google Posts?
Google Posts are business controlled posts that display within the knowledge panel section of Google search results and Google Maps pages. A typical post includes an image, a description and a call to action and has a limited lifespan of one week. These posts can be used to provide updates, promote an event, or make an announcement, such as a sale or special offer. Lastly, up to 10 posts can be live simultaneously and will be shown in a carousel style display. 
An important component of Google Posts is how they are displayed on desktop compared to mobile. It could be argued that there is more of an emphasis on the posts on mobile, as they are shown above the business' address and hours. The "call to actions" are also more prevalent on mobile when comparing them to desktop. On a desktop display, the posts are placed towards the bottom of the knowledge panel just above the review snippets.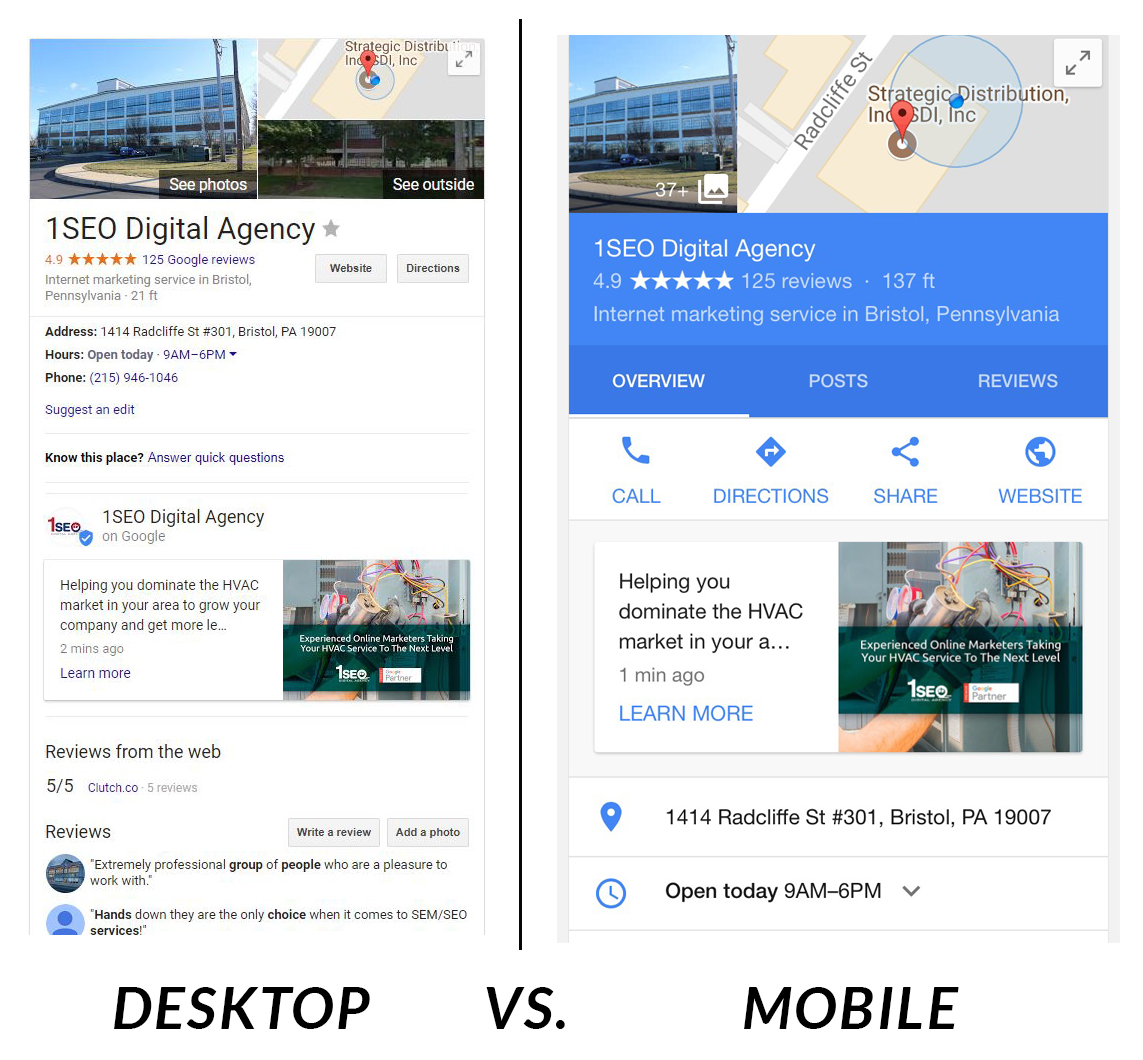 Google Posts are important for local businesses because they allow them to control more real estate on the search results page, allow them to display important updates about their business for their customers, and also drive more clicks to their website.
What are Google Posts Used For?
Creating a post is very straightforward and is done from the Google My Business dashboard. The real challenge does not come from creating the actual post but rather from creating an action-inspired post. Before we breakdown what a post needs to have to succeed, let's review the different types of posts.
Google Posts can be segmented into one of 4 categories. 
Events: These posts are geared toward promoting an event or social occasion. Event posts differ from the other forms of posts for two main reasons. 1). Event posts can include a title for the post (typically the name of the event) and they do not follow the standard 7-day post expiration format. 2). Event posts can stay live longer as long as the event date has not yet passed. 
Offers/Specials: Google Posts are great for promoting special offers and sales. These posts should include a high-resolution photo of your products and include details about the sale or discount in the description of the post. 
Product Updates: Product update posts are perfect for advertising a new product line or changes to a current product. Again, use this as an opportunity to showcase your product or service through high-resolution photos.
Announcements: While just about anything can be an announcement, you are encouraged to only post updates that are beneficial to your audience so that you don't lose credibility. You want people looking at your posts because they provide value and not just glazing over them. Announcements such as opening a new location or notifying users that you are hiring are great examples.
Deciding what category your post falls into is the first step in sculpting the perfect post. Now that we have our categories defined let's take a look at what a post consists of.
The Anatomy of a Google Post
Google Posts are intended to be short and sweet. You won't have much room for fluff so when creating a post, dial in on what your main message is.
Every post can contain a photo, a small description and a call to action. Here is what you need to know about each of them:
Photo: Ensure that the photo you are using for your post is of high-quality, engaging and portrays your message. The photo will show on the post right on the results page and will serve as the main focus for capturing user's attention. The recommended image size is 750x750 but the required minimum is 250x250.
Description: Utilize the description field to explain more about your event or announcement. While you can use up to 1,500 characters, keep in mind that only a portion of that will be displayed on the search results page. If your description is going to run over 100 characters, put the most important information in the front. The only way users will see the whole description is if they click into the post itself. The ideal length for a description is around 150-300 characters. Your main focus here should be to deliver a quick, enticing pitch that encourages users to take action. 
Call to Action: Every post should include some form of a call to action. When creating a post, you will have the opportunity to select from a list of pre-determined "call to actions". Some of the options include "Buy", "Learn More" and "Visit". After selecting your call to action, decide what URL you would like to send traffic to. Furthermore, be sure to utilize UTM parameters to gain additional insights on how users are behaving with your posts. The built-in insights provided by Google are very limited (for now). 
Title (for events): When posting an event you can also provide a title. The title should be the title of the event and is limited to only 58 characters.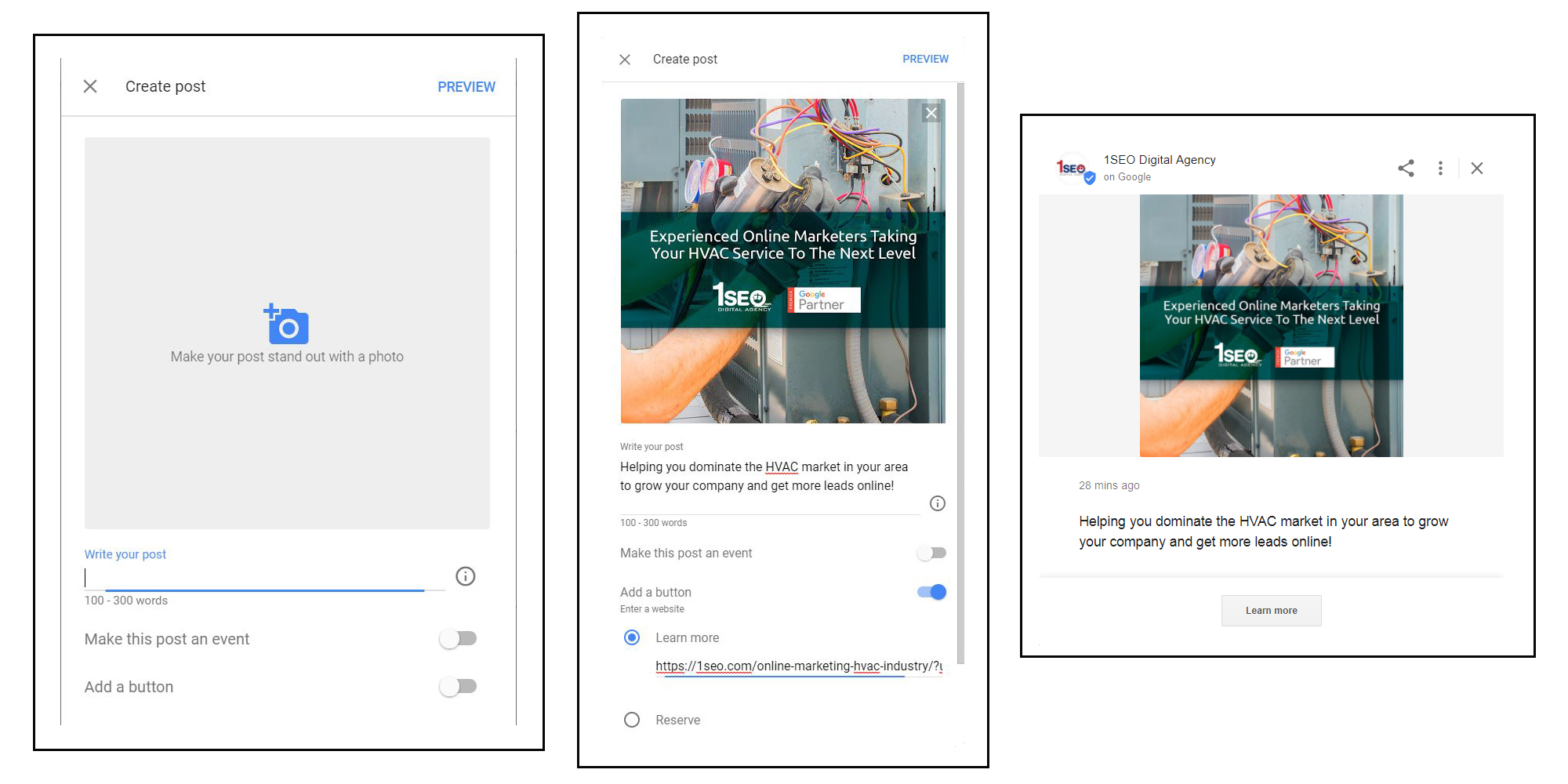 Creating a Google Post can be done in as little as 5 minutes
Tracking Your Google Post's Performance
Google provides built-in insights that shed light on how many impressions and clicks your post received. As mentioned above, it is highly recommended to use some form of URL tagging to keep tabs on how users are interacting with your site after the initial click-through. Using a unique voucher code for a sale or discount is another way to track how well your posts are delivering your message. 
Additionally, all posts can be shared on Facebook, Twitter, Google+, Email and directly with a link.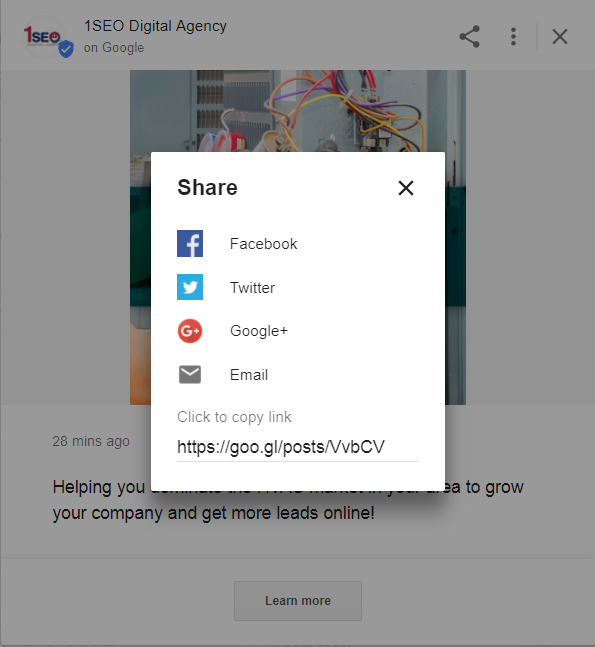 Google Posts can be shared very easily across social media platforms
Guess, Check & Revise
Crafting the perfect Google Post takes time. With the limited lifespan, Google Posts offer the perfect opportunity to experiment with different verbiage and styles. Take note of which posts are driving the most engagement and incorporate those successes into future posts. 
The announcement of Google Posts for Google My Business users is a huge win for the local marketing community. Google Posts help your business stand out and provide a direct, controlled, one-click path to a specified page on your website. Posts have a lot of potential and are a great way to add flair to your business listing.
Have you started using Google Posts? Let us know how they are working for you!