Running "clean" affiliate programs and buying solid converting media is hard. You have to know which websites have relevant traffic, where that traffic is and also how to gain access to it. That is why SEMrush is a tool that my agency cannot live without. 
Below you will find some of the ways SEMrush helps me to find the right places to buy media and where to buy space on blogs or affiliate websites. But first, let me explain what a clean program is.
"Clean" means no low or zero value adding affiliates. A low value adding or bottom of the funnel partner includes toolbars that take credit for or redirect your own traffic, trademark bidders and websites that rank for your URL or Brand + terms like coupons (i.e. SEMrush.com coupons or SEMrush coupon codes). 
When I remove these types of partners, most programs flat line which is why it's important that your affiliate manager has the tools they need to re-grow sales while also adding value. That is why SEMrush is on the top of our agency's list. 
Below I will explain how to know which blogs and websites are worth shopping on.
Using the Top Organic Keywords Report:
Don't trust a blogger's media kit to tell you how much traffic you will be exposed to. SEMrush gives you the real data that you need to make an educated decision. A website having 100K pageviews is pointless if the traffic is only on a specific page or category. If the site doesn't have repeat readers on every post, you don't get access to those 100K, unless you are running sidebar and site-wide ads. Unfortunately, these ads rarely convert to sales making them useless for ROAS. You also have to think about what the traffic is. 
I was just working with a site that has 250K unique visitors and it looks like a travel blog with a huge section perfectly relevant to one of my clients. At first glance, it was a no-brainer. To double check, I used my tools. 
When I pulled a SEMrush organic keywords report, their top keywords were all about jobs for people traveling and learning a language. Even though they have amazing content that was relevant to my client, the price for the media buy was high because of the volume and we would have had little to no return because there is no relevance for the majority traffic with the site sponsorship. 
Here is how I found this information:
Start by typing the URL into SEMrush (I am using the SEMrush blog as the example below) and click on the view all at the Top Organic Keywords report. 
Sort by ranking position and again by volume (if you are exporting into excel or a spreadsheet). Now you know which keywords are driving people to their websites. You can also group them based on keywords and then sum the totals on traffic volume.
In the screen shot below, I did this for SEMrush. Because of their volume of traffic and keywords, I added in advanced filters for a position less than 11, so it's only first page keywords and volume above 100 and there is at least some traffic on it.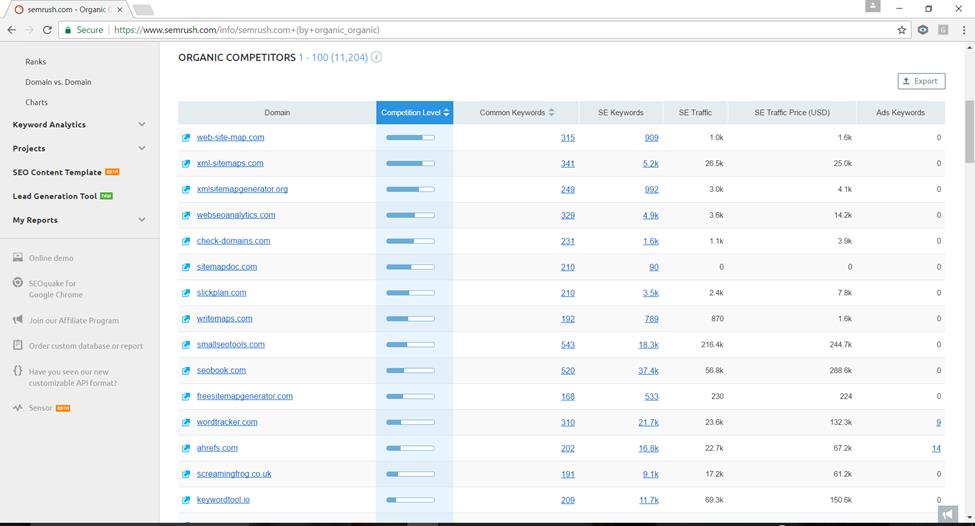 For the average position to make an educated guess about traffic, add up the position column and divide by the number of rows for that segment. You can also guesstimate the traffic numbers by looking at what percentage of people click through each of the top positions on the first page in organic results. 
If the website does not have a lot of relevant keywords, use this to negotiate a better deal and only appear where the relevant traffic is. You can find this by looking to the right of the keyword in the URL column. This is their page that shows up for that term. If they do have a lot of good organic keywords, then talk to your PPC team and see how well you convert for them. 
If the PPC team isn't bidding on them, you have now helped your company discover new keywords. If they are, you can start to forecast the traffic levels and potential ROAS from the media buy or affiliate links. (The missing part here is knowing where the engagement is on the site and page, but that is for a different post). 
Once you have a forecast for revenue based off of traffic and relevance, you can now pitch the website why they should work with you on an affiliate basis, or to negotiate a better media buy that could bring back a positive ROAS. It is also important to remember the lifetime value of a customer based off of a keyword. If you know this traffic does well in the long run from PPC, your ROAS could be positive, but take a while to get there. Use these sites for your long term success when you have extra funds. 
Finding Relevant Websites with the Referring Domains Report:
Suppose the website you evaluated above doesn't want to work with you or you cannot come to an agreement. No problem. Click on the referring domains report and you will discover which websites are relevant. These are the sites driving in traffic to them as well as boosting their SEO, which also means that they could also be relevant to you.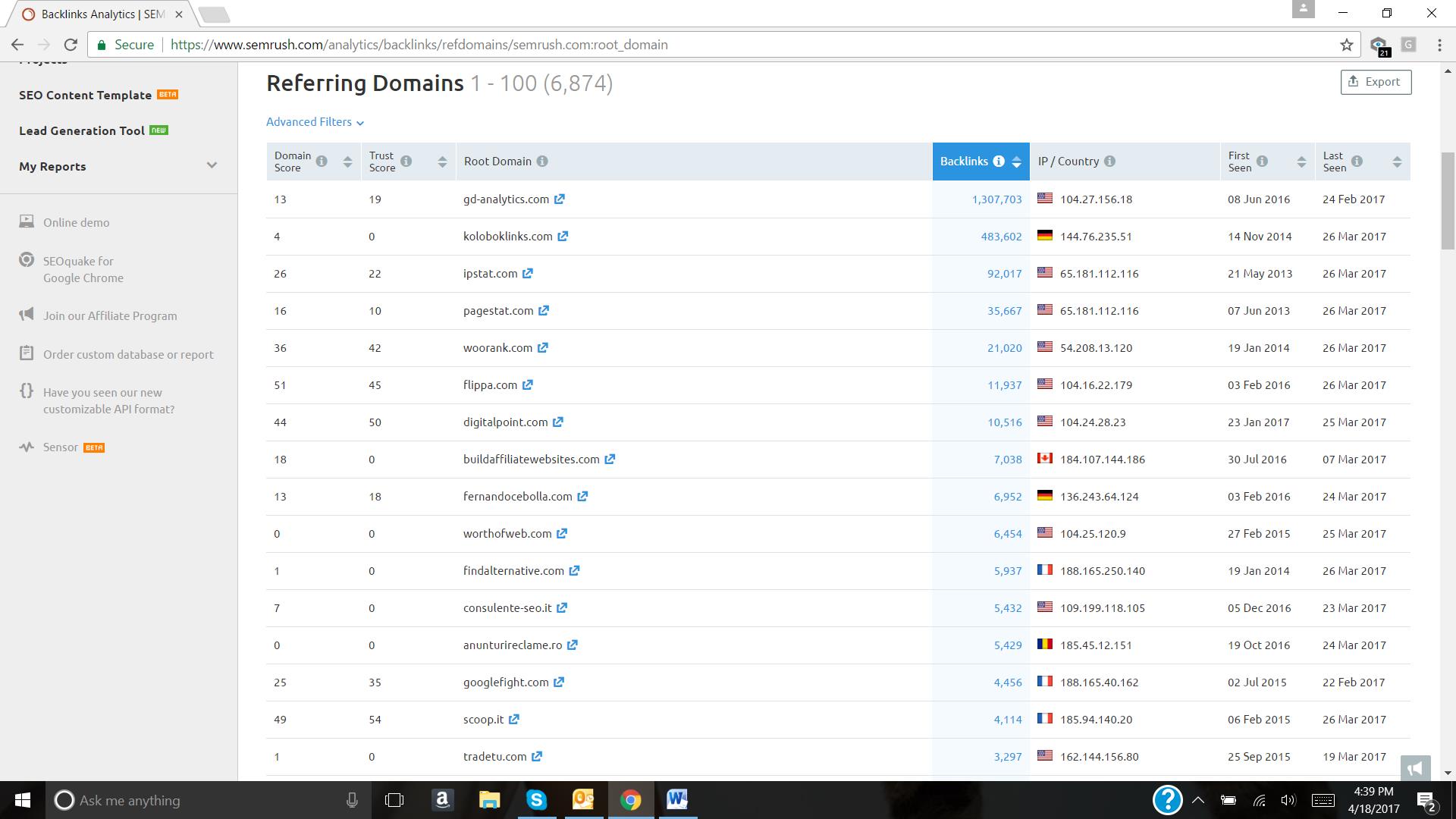 Next, open each of the URLs that look relevant and also have a good domain and backlink score into a new tab on your browser. Now you can evaluate each of these potential buys or affiliates in minutes or approach them for backlinks (to make your SEO team happy). 
Why You Need the Competitors Report:
This is also an awesome report for you. It gives you a quick list of direct competitors for the website you wanted to work with above. If the competitors will work with you and they can generate sales, now you have a list of similar websites that you can approach that could be potential revenue drivers. If the website above doesn't want to work with you, but you know they have traffic that could convert, look at the ad types on their website. You may be able to use Google placements, ad networks or approach them for a cross promotion if you have complementary services. This report is extremely valuable and can create a ton of win-win situations for you.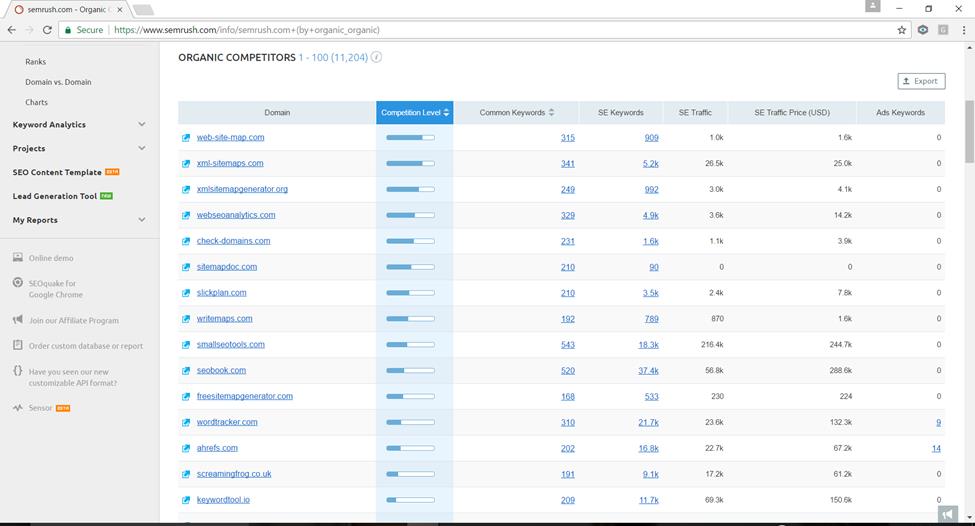 SEMrush has been an amazing tool to complement some of the engagement, mapping and social measurement tools I use. Without it I would not, as easily, be able to determine if a site has relevant traffic and would be reliant on their media kits. By using SEMrush I have had much more success in helping my partners make money finding good potential affiliates for my clients, as well as bringing in a better ROAS for spot placement media buys.