Twitter should be part of your link-earning campaigns as it targets key people quickly and lets you see relevant trending data. This article examines various ways you can use Twitter for your link-earning campaigns.
Your Most Influential Followers
There are various tools out there that will help you sort your most influential bloggers, such as Followerwonk and Fruji.
The next step is to export their bios and filter by those with a website in their bio.
Also, use a tool like twDocs to export your mentions, favorites and retweets, and then filter by those with a website in their bio. 
The aim of this is to prioritize bloggers you reach out to, as bloggers who follow you are already aware of your brand, so they are likely to be more receptive to your outreach methods.
Research
Follow bloggers that are key influencers in your niche and collate their favorites and retweets in order to research your future content campaigns. This is a great way to find out what key people in your industry love.
You could create a matrix like the one below: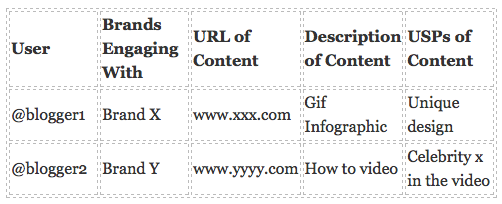 Once you have created your content, Twitter can give you instant feedback through hashtag selection (Hashtagify is a good free tool) and promoted tweets.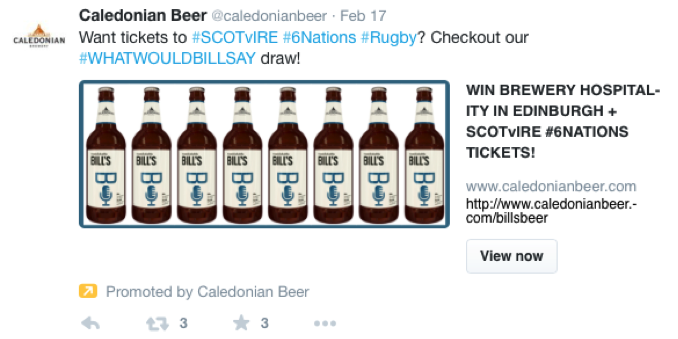 If you have a fluid process for content creation, then you can use feedback from mentions to improve your content and measure your effectiveness through social shares and earned links.
Communication
From my experience, bloggers respond quicker to tweets than to email, so utilize them for your outreach.

Also, retweeting or favoriting their posts is an easy way to start a new relationship or show your appreciation for their content, which will help you when you approach them with your own content.

Hashtag Pages
When you form content calendars, you will target key events and key events usually have a hashtag associated with it; thus, you have the opportunity to be visible on highly searched for hashtag pages.


You can earn a lot of visibility here depending on how influential you are, which will put your content in front of more eyes, creating more opportunities for links.
Also, Google is now able to access Twitter's firehose again (read more) and follows the same logic as above in that you have the potential for your tweets and content to be seen by a lot of people if your content is reactive.
Newsjacking
You can read more about newsjacking here. This method requires an agile content team but can result in many links if you comment on topics at their peak level of interest.
Below are some tips on newsjacking well:
Conclusion
Mentioned above are just a few ways you can use Twitter to complement your link-earning campaigns.
It would be great to hear about your own techniques, so please leave a comment below!