SEO can be unpredictable, and Google can be treacherous. Vivint.com has felt it all.
Vivint.com, a website specializing in home security and home automation, dramatically fell in the rankings this past January.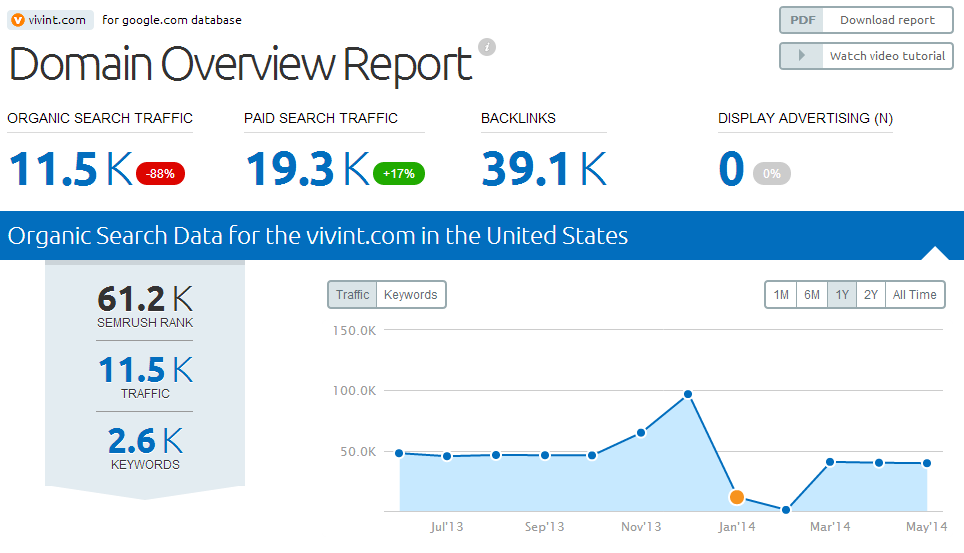 In the article, "After Google bought Nest, it removed one of the company's biggest competitors from search results," the author makes a controversial conclusion.
"In the middle of January, Vivint, the Utah-based home automation company that also produces smart thermostats, found itself with a surprising new rival. Google bought Nest and, by virtue of the acquisition, Vivint was suddenly competing head-to-head with the Silicon Valley search giant."
Matt Cutts disproved this accusation. But the article still tried to make us think that such a coincidence couldn't take place.
"I view it as a very suspicious coincidence," Templeman (Mike Templeman, the CEO of SEO search specialists Foxtail Marketing) said. He said that, according to the search data analysis tool SEMrush, Vivint's delisting had begun by January 29, just 16 days after Google's Nest sale was announced."
We decided to look at SEMrush, too.
In January, we do see the huge drop down. Per the Position Changes Report, the site lost 927 keywords from the top positions in January, and even more (- 2500 keywords) in February.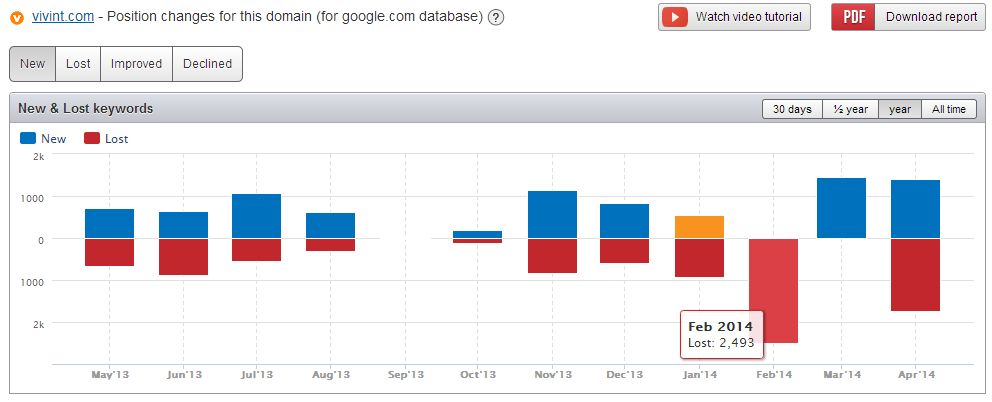 Matt Cutts said, "We took action on vivint.com because it was spamming with low-quality or spam articles." Let's take a closer look at Vivint's backlinks.
Vivint has 39.1k backlinks from 800 domains.
First, we exported all the data. Then, we took away all the links that were first seen after the website drop. We had around 38k backlinks after that. Now, let's see which domains have the largest amount of links to vivint.com:
byucougars.com -21,276
cbssportsnetwork.com - 3,365
couponingtodisney.com - 3,280
smallforbig.com - 1,768
lovelyindeed.com - 564
Two sport sites and other miscellaneous ones have a really small Alexa rank. It doesn't seem to fit well with the industry of home security and home automation.
To compare, let's take a look at the nest.com backlinks profile and compare them.

25.1K backlinks from 2,500 referring domains. Here are the sites that have the highest amount of backlinks compared to nest.com:
businessinsider.com
martinvarsavsky.net
usereccentric.com
zeroseconde.blogspot.com
pickthebrain.com
Let's see: a trusted business magazine, blog about business and international relations, blog about design research and strategy, and a website dedicated to self-improvement with a focus on self-education. Honestly, I didn't find any articles dedicated to nest.com on pickthebrain.com. But, anyway, it seemed to be a more honest and properly done link building campaign compared to vivint.com.
There are a lot of factors that can influence your website rankings, and this research surely didn't cover them all. But, at first glance, Matt Cutts' words about vivint.com being penalized because of poor link building made sense to me. For Vivint, it's better to look for SEO mistakes rather than their competitors' "unfair" play.