As an SEO and content marketing professional, you already know that backlinks from relevant, high-authority sites are crucial for landing the top spots in Google Search results. The importance of quality backlinks is underscored by the findings of Ranking Factors 2.0, a study by SEMrush on Google ranking factors: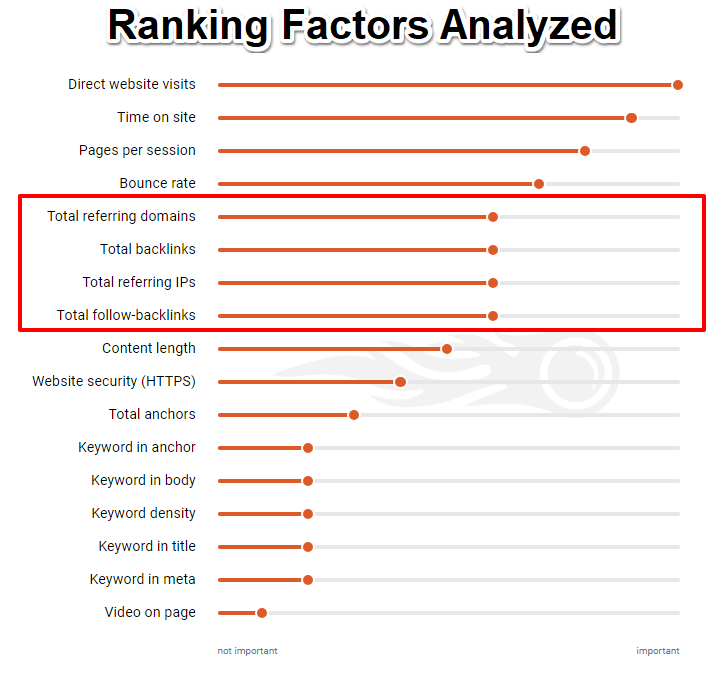 The study found a direct relationship between search rankings and the number of referring domains, meaning a site that has more backlinks than its competitors is more likely to rank higher in search results:
But getting links from high authority sites is difficult, and it won't get any easier as Google's ever-evolving search algorithms force site owners and webmasters to carefully consider linking to any website.
So how are you supposed to get high-caliber backlinks when everyone is wary of outgoing links?
By creating link-worthy content.
Content that's so useful, so comprehensive, so engaging, and so credible that other sites feel compelled to link to it.
Not sure how that happens?
Let me explain.
Understand Why People Link To Other Sites
To earn backlinks to your content, you first need to understand why webmasters and site owners link to other sites.
In 2016, Dejan Marketing conducted a study on the linking behavior of over 2,000 websites. According to its findings, the top reasons why sites use outgoing links (excluding affiliate or promotional links) include:
To make their content more comprehensive and provide additional resources for their readers

To add credibility to their content by citing well-known sources

To share examples

To reference images, data or infographics from other sites

To share something that's related to the primary interests of their audience

To build SEO relevance by linking to niche leaders
In short, site owners and webmasters use outgoing links when they see a real need for it, and/or a benefit from it.
The longer version: when they think that linking to a piece of content will make them look more trustworthy, or increase their reader engagement, or build their relevance, site owners and webmasters will choose to link to that content.
Every webmaster, including the top sites in your niche, has this need.
So your task is simple.
To get backlinks, your content must fulfill this need. It should help other sites improve their own content. Because when it does, it becomes link-worthy and sites link to it because they need it.
Let's have a look at some of the most common ways to create link-worthy content.
1. Use Infographics, Images, and Videos
I don't know about you, but I can't read an article for long if it doesn't have any images or visuals in it. Research shows that the human brain processes visuals almost 60,000 times faster than text.
Clearly, visuals make your content more engaging and easier to understand.
But a study by MOZ shows they also help you get more backlinks.
The study found that articles including relevant images and videos earned more backlinks as compared to plain text posts.
By images, I'm not referring to the generic stock photos that many sites use. They're pretty useless in my opinion, as they don't add any value to your content.
The visuals that generate backlinks are usually infographics, screenshots, graphs or images with relevant information that other sites can use in their own content.
For example, look at the graphs and the images I have used in this article so far.
All of them are useful and add value to the content.
You don't have to create full infographics every time. There are other creative ways to spice up content with engaging visuals and they're proving to be an SEO task that can really help boost rankings. Just look at how this cryptocurrency blog used real-time price graphics to present otherwise boring information to its users.
It is an embeddable graphic so it's bound to attract links from other websites in its niche.
If you can't do something as elaborate, you can use free tools like Canva, Pablo or Visme to create images and infographics for your content by simply gathering information, numbers and other relevant data from reputable sources.
And here is my favorite tip:
If you don't have the time to create your own infographics, use the Evernote Chrome extension to capture a small portion of a relevant infographic from any site in your niche to include in your post, as I've done here (don't forget to link to the original source):
Source: SEMrush Ranking Factors 2.0
You don't own that image, but you will be surprised to see the number of sites that actually link to your article instead of linking to the original image source when citing the image in their content.
I have seen this happen a million times, and it always works.
2. Use Original Data, Research, and Survey Results
As marketers, we love data because it helps us make convincing arguments. So it doesn't come as a surprise that a recent study found "data/research" as the leading type of content that marketers leverage to earn backlinks:
There are a number of ways you can find relevant data for your content, such as:
Fetch statistics from sites like Statista, Pew Research or industry-specific research bodies. They have huge libraries of data and studies on virtually every topic.

Gather data from different sources and publish it in a single post. Not only does this help readers get all the relevant stats on a particular topic in one place, it usually results in dozens of backlinks. Here's a good example:
Survey your own website audience (or partner with another brand) and publish the original results on your website, ideally in a visual format.

If you don't have a large enough mailing list or site audience, you can run opinion polls on niche-specific forums or social media sites like Twitter or Facebook, and publish the results on your site: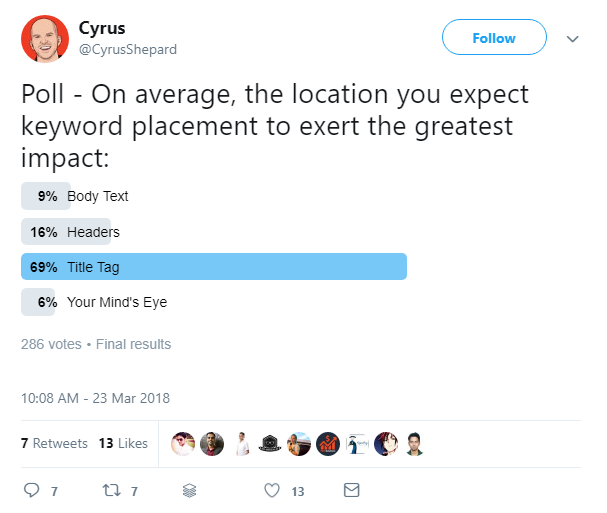 If you offer content with original, research-backed data using any of these methods, you are likely to attract backlinks from high-authority sites.
3. Add Expert Interviews, Quotes and Roundups To Your Content Mix
Adding interviews with industry experts or quotes from authority sources to your content has nearly the same impact as using data and original research. Like data, expert comments and insights add credibility to your content, making it more link-worthy for other site owners and webmasters.
For instance, an article about SEO would be much more credible if you were to include an original quote by Rand Fishkin or Brian Dean.
Another link-worthy content asset is expert roundups. An example is this roundup post sharing the thoughts of more than 37 experts on a singular topic: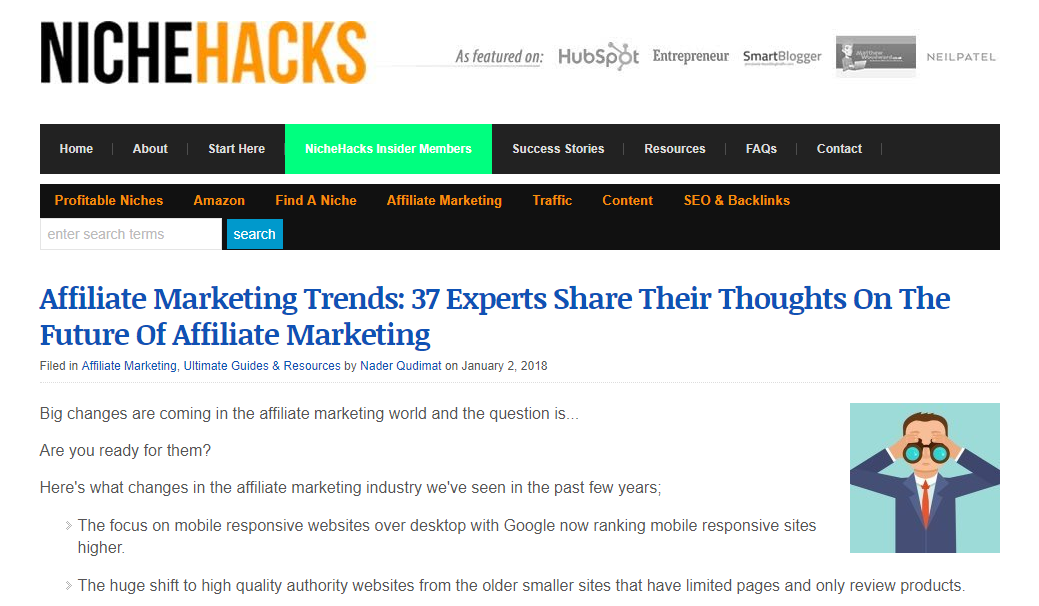 A quick search in SEMrush shows that this post earned more than 40 backlinks, including links from authority sites like Backlinko.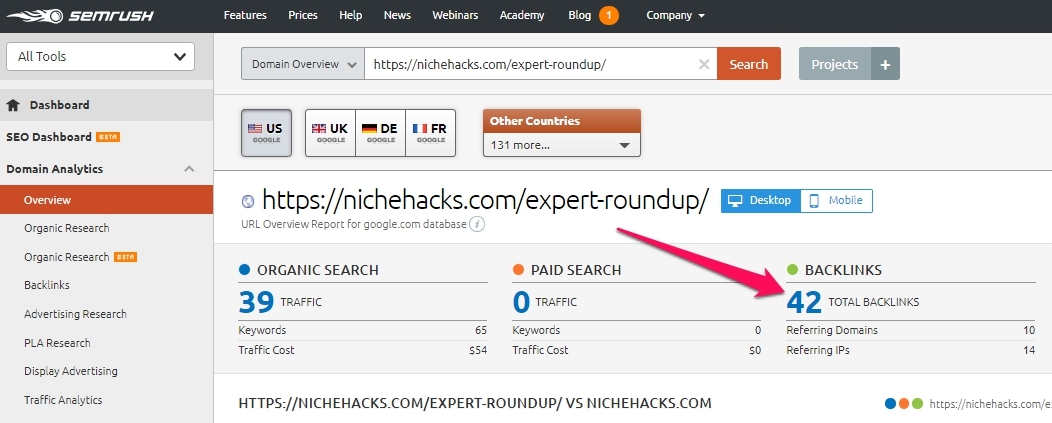 If you can't create a full roundup, including even two or three expert quotes in an article may do the job for you.
Thanks to Twitter, it's much easier to create roundups and pull quotes from even the busiest of influencers.
If you follow an influencer and regularly engage with them, you are likely to get an answer to a question with a direct tweet, such as this exchange: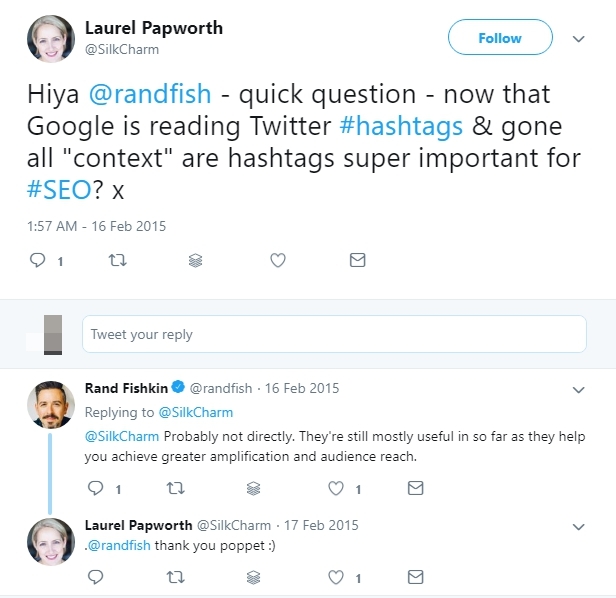 But if you don't have time for relationship building, your best chance to get original quotes is through Twitter chats.
Many mid-tier bloggers, influencers, and even niche leaders participate in industry-specific Twitter chats. You can look for their responses to questions on topics you're interested in, or directly engage with them.
#SEMrushChat is a great example: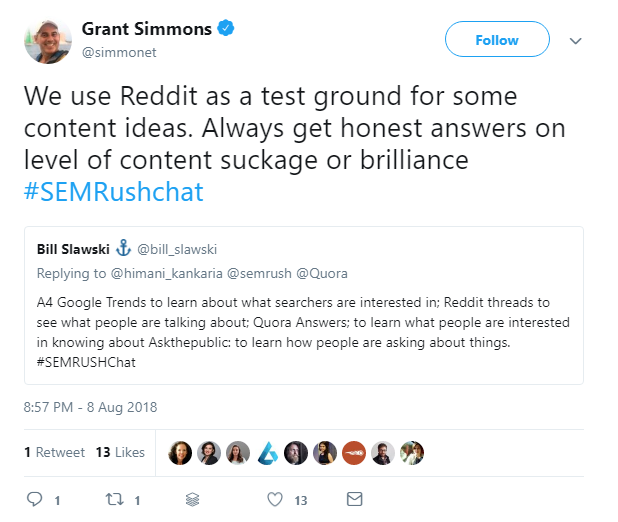 Acquiring original quotes from influencers requires perseverance and hard work, but it can pay dividends by adding credibility to your content and increasing its chances of getting authority backlinks.
4. Share Experiments, Case Studies, and Success Stories
Another effective strategy for attracting links is to share your own experiments and case studies, as real-life experience lends credibility to content.
If you have helped a customer achieve success by using your services or product, publish a case study detailing the whole process and the results.
If you've run an experiment to verify a popular theory, share your results.
If someone found success by following your advice, share their success story.
Using any of these strategies will help showcase your brand and build its relevance, as well as create a link-worthy content asset.
For example, here's a case study by Robbie Richards in which he shows how one of his blog readers who followed his SEO strategy realized an 11,065% increase in organic traffic within six months:
Source: Robbie Richards
It's a detailed post that also shares how to conduct keyword research using SEMrush. It has attracted more than 70 backlinks from many high-authority sites, such as GrowthHackers.
Similarly, here's a massive case study that compares 6 leading e-commerce solutions based on different parameters, and shares the results for each.
It has earned backlinks from Entrepreneur, Content Marketing Institute, The Huffington Post, Search Engine Journal, and many other leading sites.
Both of these cases studies represent rich resources that most people haven't the time or inclination to create themselves.
Other sites link to them because it adds value and credibility to their own content.
And this brings to the last point on my list.
5. Create Detailed Content, Step-by-Step Guides, and Tutorials
When it comes to earning natural backlinks, detailed, well-researched and actionable high-quality content always trumps thin content with no fresh insights. After all, why would anyone link to content that has no real value?
Usually, such link-worthy content tends to be relatively long. 
A study by HubSpot found that out of all their blog content, posts that were longer than 2,500 words garnered more backlinks than shorter posts:
A second study based on joint research by Moz and BuzzSumo analyzed more than 1 million articles on the web, and found a strong correlation between content length and the number of referring domains:
On average, the number of backlinks to content with over 10,000 words was found to be 11.07, as compared to 3.47 for content shorter than 1,000 words.
Both studies clearly show that sites prefer linking to longer content, as it's typically more comprehensive, detailed, and actionable.
What's Stopping You From Getting More Backlinks?
There you have it.
If you want your content to become a link magnet and acquire organic backlinks from the most credible and high authority sites in your niche, keep this post in mind.
Make each of the components mentioned a part of your content strategy. It requires hard work and effort, but the results are worth it, likely earning your site's content higher search rankings and lasting credentials for being a reputable resource.
Have questions about this?
I would love to answer them in the comments section.