It's generally understood that website testing is crucial. However, it's often seen as a boring part of a project. You must test your website on different browsers, operating systems, computers and mobile devices. Most website projects and small businesses do not have the resources to cater to every device configuration and test on them all.
Want a way to make your website testing a real priority? Think of it as a crucial part of your SEO activities.
What Does "Website Testing" Mean in the Context of SEO?
Let's take a short look at the real meaning of "website testing." Whether you name it "browser testing," "browser compatibility testing" or "user acceptance testing" (which is more common in traditional software engineering), it refers to the process of ensuring that a website (or web application) works as expected.
In Short Terms: "It's a Process of Verifying That a Solution Works for the User"
In contrast to website testing, SEO (search engine optimization) focuses on strategies and techniques to increase the amount of website visitors by obtaining a high-ranking position in the search results pages of Google, Bing and other search engines.
I don't want to talk about ranking parameters here, but as you probably know, there are a lot of relevant on-page factors that have to be tackled in your SEO activities. For example the analysis of broken links is considered to be an on-page parameter as well as part of your website testing process.
Analyze, Test and Optimize: Get Started
Performing website tests means that you have defined your goals and answered a couple of questions – questions that can aid your SEO efforts, too.
Before we take a look at the different SEO and website testing operations, take a step back. Generally speaking, SEO and website testing have to be considered right at the beginning of each project, website or app.
Most SEO and website testing activities come into place after your designers have created some fantastic designs and your web developers are finished with coding the defined features.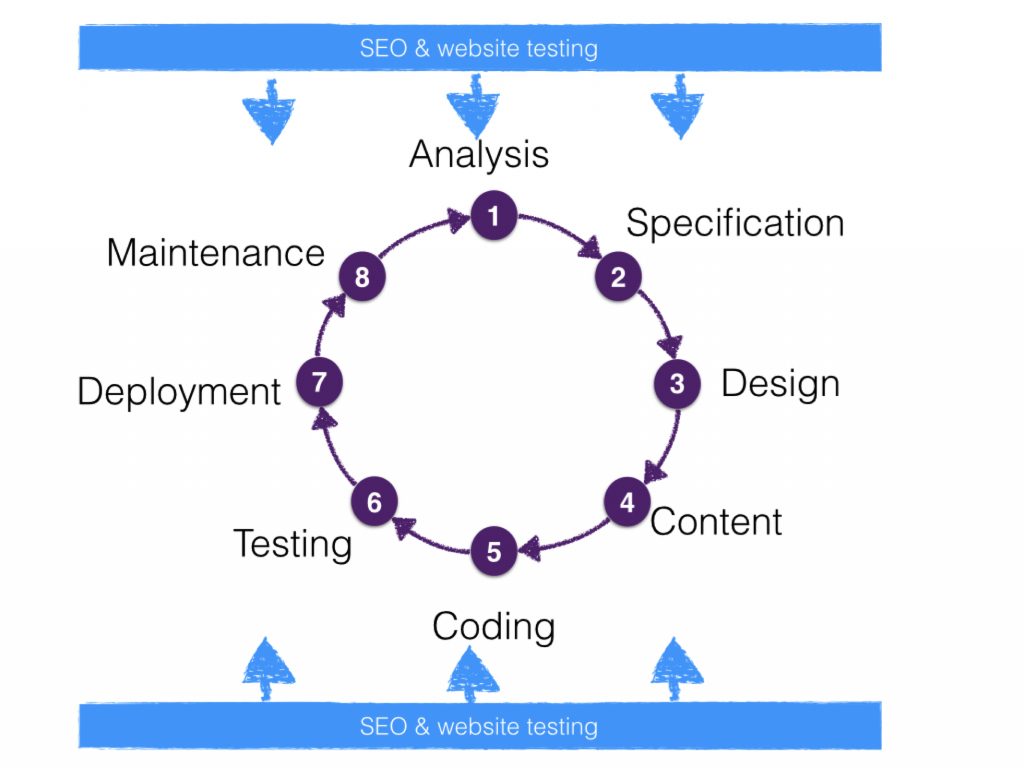 As highlighted in the chart above, SEO and website testing cannot be seen as a one process step, but more as an activities to consider during the entire project.
Analyze & Test
After analyzing your status quo, you should start thinking about some test scenarios (for both areas of SEO & website testing). A test plan will help you to conduct website tests properly and shall include the following areas:
What are we testing?

Which pages/URLs must we test?

Who are we testing for?

Which browsers are supported?
Which mobile devices and browsers are supported?
Which screen resolutions are supported?

What are our limits concerning…

time?
money? (Who pays for testing and quality assurance?)
scope? (Which devices can be left out and which pages don't need to be 100% perfect?)

What is our support level?

Which devices/browsers do we fully/partially support?
Which devices/browsers are not supported?
Tools to Use for Website Testing
Whether you're using SEO tools or website testing tools, you'll find some common ground here.
Take a look at WooRank, Moz or SEMrush for example: they are widely known as some great SEO tools. But did you know that they'll also get you some useful insights regarding your website in general and help you to perform better website tests?
Furthermore, there are some other great website testing tools to consider. Here's a list of three tools that will help you with website testing and SEO.
1.Check your website performance with Pingdom tools:
Website testing not only refers to testing the website regarding its basic features and functionalities, but also requires you to perform speed tests and check your bottlenecks. With the Pingdom tools you can analyze your website's performance for free.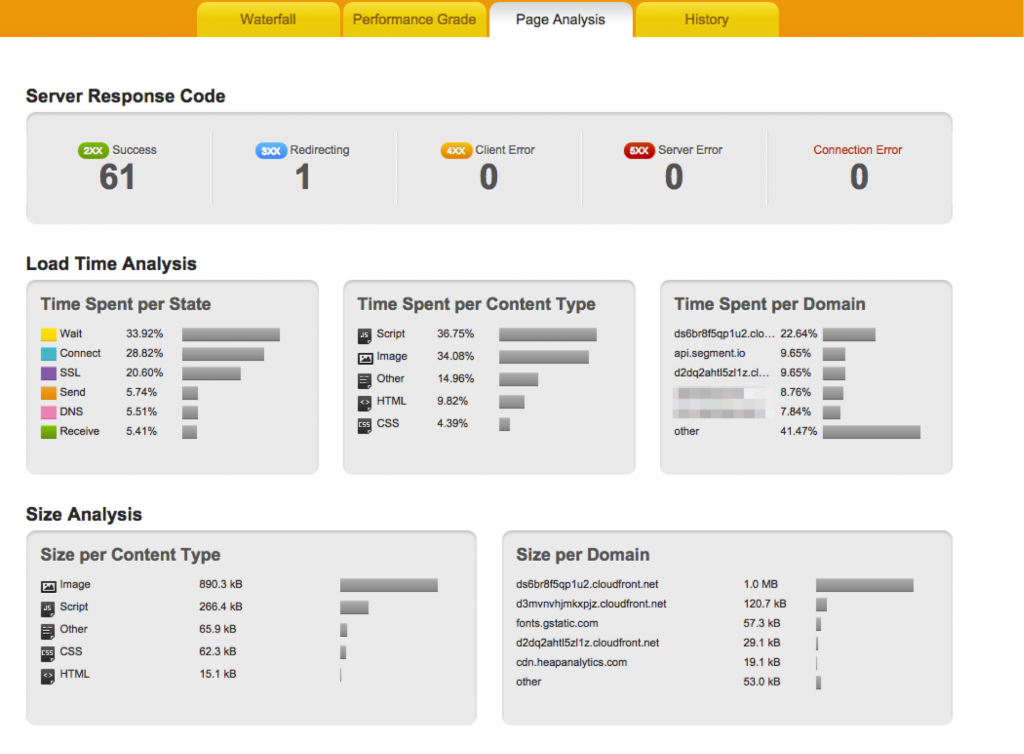 I also recommend the Page Speed Test from Google, which gives you some in-depth feedback on your mobile- and desktop performance.
With recent Google algorithm updates announcing the importance of mobile SEO (once again) you can see the importance of website speed, size analysis and performance-related metrics here.
2. Check your UX in different browsers with BrowserStack
As developers, designers and project managers we have to secure a great user experience and make navigation as easy and painless as possible.
BrowserStack is great when it comes to testing your UX in different browsers. BrowserStack offers automated, manual and real cross browser testing. You can test your web pages with BrowserStack on a comprehensive range of browsers and operating systems.
3. Collect feedback & bug reports with Usersnap
Ensuring an error-free source code is an absolutely must-have. Testing your website in all kind of different devices, browser versions and screen resolutions isn't easy. Nevertheless it's our obligation to track & fix occurring bugs as soon as possible.
With the Usersnap widget which can be embedded on your website, collecting feedback and bugs gets way easier and faster. Usersnap automatically adds meta-information of the user's session (such as browser version, operating system, installed plugins, etc.) which enables developers to solve critical errors faster.
Final Thoughts: Put Users First
Whether you're testing your website in all different browsers and devices or trying to optimize your search engine ranking, you should always put your users first.
Do everything possible to make them happy. Whether it's improving the load time of your website or making your navigation more mobile-friendly, your website visitors will be thankful (so will Google and Bing).
Have you ever tested your website with SEO in mind? Please tell us about your experiences in the comments.
Thomas Peham
Thomas Peham is a marketing manager at the Austrian startup Usersnap. He specialized on inbound & content marketing. In his spare time he writes about marketing & tech trends on his blog. Get in touch with him on Twitter.
9 Steps to Creating SEO-Friendly Content
Industry Shifts, Online Stats & Surefire Insights for Digital Marketing Growth. In this turbulence-proof ebook, we highlight the industries that made the smoothest transition to online. You'll see...