Modified Transcript
Hi, everybody. Welcome to my second episode of SEMrush Weekly Wisdom. Today, I want to talk about Instagram, and I want to show you how to create lists of influencers and similar profiles or competitor profiles so you can target them or you can target their followers. I am going to use two free tools. One is Google, and the second is Google Sheets. In this video tutorial, I will show you exactly all the steps that you need to follow to create these lists and use them. So, stay with me and watch the episode.
Okay, so let's see how to create these lists now. A little background about myself; if you haven't watched my previous episode, my name is Andrea D'Ottavio. You can find more information about me and my work on vagabondceo.com, which is my website from where you can visit my company's website, and you can also find out what I do when I am not working.
Growing Engagement and Followers
Let's see now how to grow your engagement and followers and how to create lists, which will help you to do this. A few words about growing engagement and growing your followers. If you want to grow your profile and you want to reach out to new potential customers, what you want to do is to work on two different levels. On one level, you want to grow the popularity and the awareness of your profile. Your brand needs to grow on Instagram. So, you need to grow the awareness of your profile. 
On the second level, you will work on your content. You want to grow also the visibility of your content, or of your posts, your videos, your photos, whatever you post. How do you do that? Why do you do that? Because basically, when you start engaging with other people, they receive a notification. Once they receive a notification, eventually they visit your profile. That is how it basically works on Instagram and many other social media platforms, like even LinkedIn for example.
Let's say you want to make people aware that your profile exists. What do you do? You start by engaging with other people. You start by liking their photos, adding comments, building a relationship with them, and following these people.
You want to create as much as possible engagements so that whenever you do any action on other profiles, they receive a notification. Once they check their notifications and they see that you visited their profile, if they are interested, or simply curious, they will visit your profile and see what you do. It is really important that you start engaging with other profiles.
Maximizing Exposure
On the second level, you want to use tactics and tricks or hacks, how you want to call them, to maximize the exposure of your posts. What you want to do is to use hashtags, for example. This is the pretty common, basic tactic. You add your post, you add your caption, and you add your hashtags, up to 30 hashtags. Let's say you want to add these hashtags in your caption or as a first comment. It doesn't matter.
Just use all the possible hashtags so your posts will have more visibility because there are actually people clicking on hashtags and also using hashtags to help Instagram understand better what kind of content you are posting.
Engaging With and Finding Customers
Let's say if you want to start engaging with other people, where do you start? Who do you start engaging with? Usually, you think about your customers. Ultimately, you want to find new customers. Where are your customers on Instagram? Probably they follow your competitors, or they follow similar profiles.
What you want to do is create lists of competitors and similar profiles, and then you are going to use this list because you eventually want to engage with their followers. Or, for example, you want to add these lists, these profiles as sources on a bot, on an Instagram bot if you use a bot, or if you plan to use one.
In this episode, we will see how to create these lists really quickly, easily, and for free. We are going to use Google, as I said, and we are going to use this search query. What we want to do, like in this example, is a search for sushi restaurants in Rome.
Now, for this example, we are going to look for travel bloggers. I prepared already a query to search for these profiles. What happens? I find thousands of results. I am searching for travel bloggers who have at least thousands of followers.
We are also going to use a Chrome extension called Scraper, which is now a 1.7 version; tt is a free extension that you can install. What we are going to do, I am going to select, control-click on a Mac or right click on a PC, the first result and I am going to click on Scrape similar, which is the menu added by the extension. You can see that it has created all the results on this page.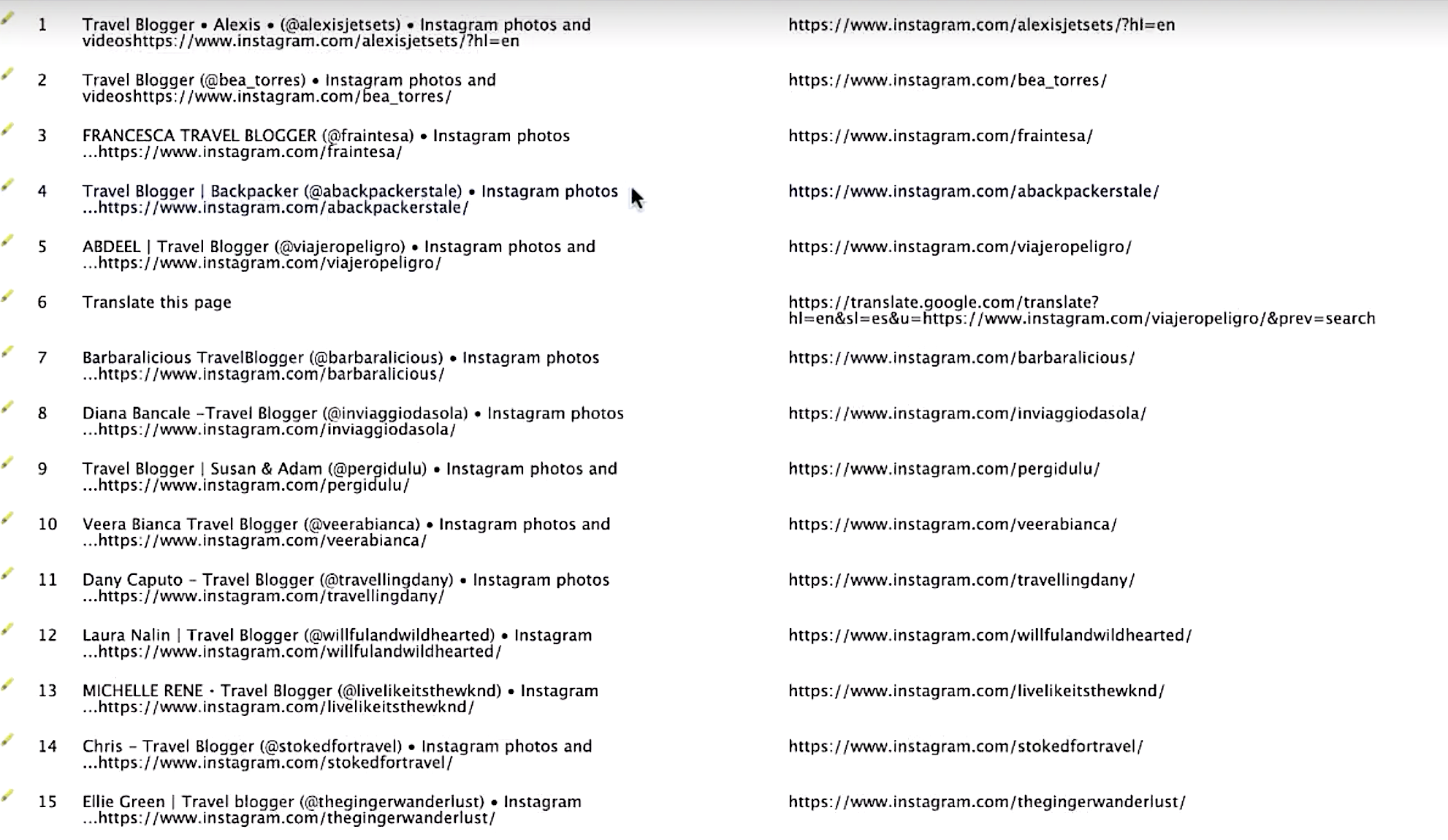 I am going to export these results to a Google Sheet, which is the second tool that you need to create lists (6:52). What happens is the extension automatically creates this Google Sheet. In this Google Sheet, I have all the results that I found through the query that I showed you.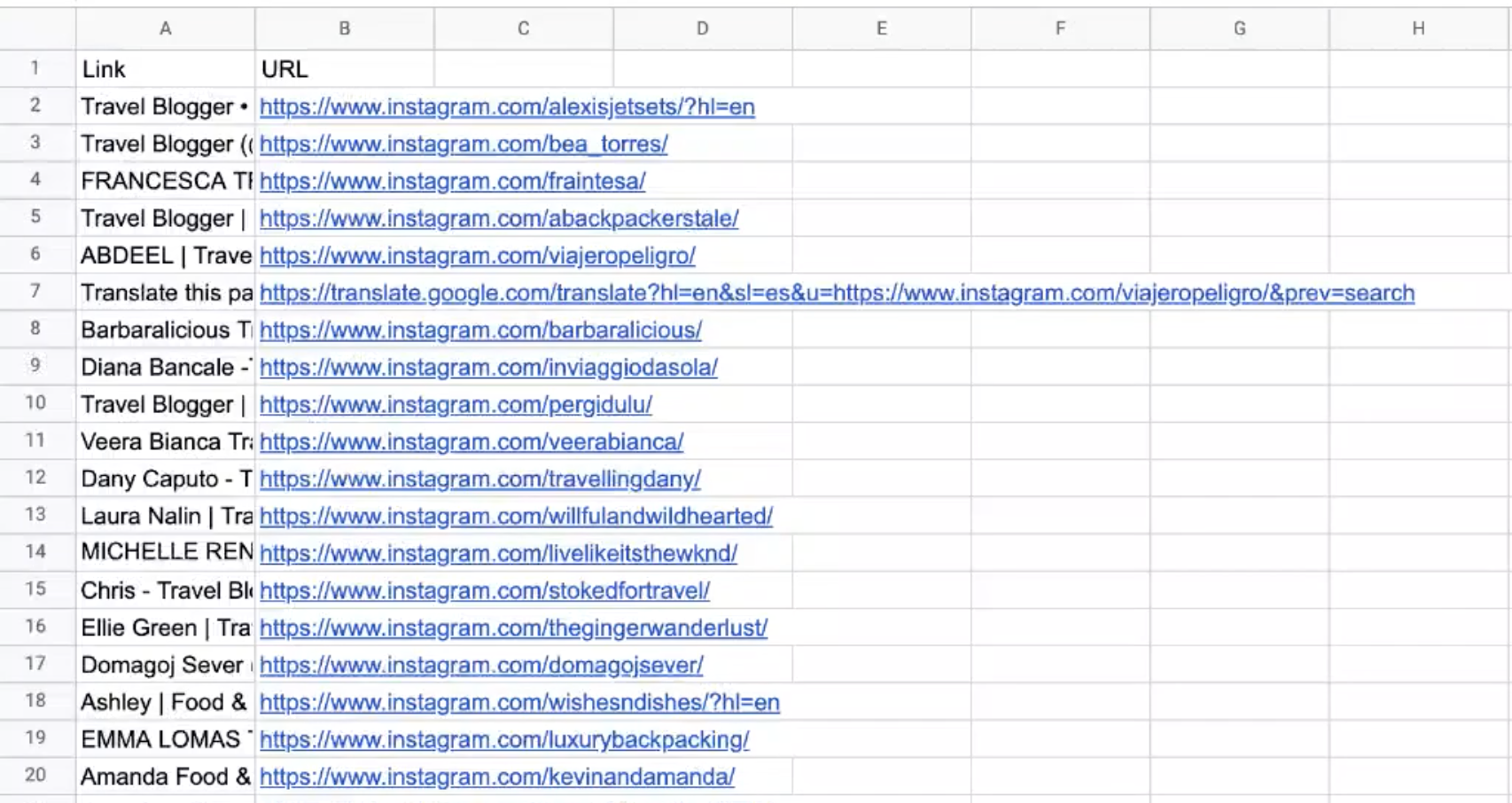 What I want to do now is to get all the number of followers that these profiles are. Because then, I will have a full list with also the number of followers so I can quickly decide who I want to target.
To do so, we are going to get this function. It is a function that you can add into Google Sheets.

I will paste it into the comments so you can copy and paste it into your sheet. Then you go on to the C cell next to the first result, and you paste the function, and you will see that ...now, it is loading.

Basically, this function is pulling the results from Instagram — it is pulling the number of followers basically for each profile. If I want to get the other numbers, I just duplicate this function to the other cells, and voila, you see all the follower count is updated. It is really quick.
You can use it for up to a specific number of results, which I don't recall now. But basically, it is a function with some limits. Once you don't get more results, you just need to stop, wait for a bit, and then you can continue, and you will get more results. It is a limit of the Google Sheets, so you cannot just get results for everything you want.
Deciding Who to Target
This is very interesting because as you can see, now I can decide whether I want to target the followers of this profile, or maybe I don't want to target this one because it only has nearly 13,000 followers. It is a quick tool. Now, once you have all the results, you can even add these profiles to your Instagram bot if you use one and just target the followers of these profiles quickly.
Imagine you can, of course, change this query and replace the text here with something else and you will find baically other kinds of profiles that you want to find.
That was pretty much it for this example. In the next episode, we are going to talk about how to research hashtags and how to find relevant hashtags. Also, get an idea of how much engagement you need if you want to hit the top posts or the explored page using a tool that I will show you in the next episode.
So, stay tuned. If you have any questions, please add them in the comments section below, and I will be happy to reply. Thanks a lot for following. Bye.