Modified Transcript
Hello. For this week's Weekly Wisdom, I am going to give some advice regarding pay-per-click strategy. More specifically, I am going to be speaking about how to find the best ad message and sales copy for your unique campaign needs. But first, I would like to introduce myself. My name is Joel Bondorowsky. I am the founder and executive director of PPC Designs, which is a boutique PPC ad agency, and I am also the SEMrush PPC Academy professor.
So, what is pay-per-click strategy?
Well, you know what? Strategy is the difference between successfully launching a pay-per-click campaign and launching a successful pay-per-click campaign. Platforms, pay-per-click platforms such as Google and Facebook, they make it really, really fast and easy and simple these days to drive traffic.
All you do is click through their funnel and do some billing details, and before you know it, you are driving PPC traffic. Actually, more specifically, you are successfully driving PPC traffic, but you aren't driving successful PPC traffic. So, the difference between the two is a strategy.
Five Elements for Success 
Successful campaign strategy requires the following five elements. First, it is the right tool for the job, which is basically the right PPC channel or platform, whether it be search with Bing/Yahoo, search with Google — this is Google Search, Google Display, YouTube.
It is not limited, by the way, to the actual company that is offering it. It is the tools that they offer. Next, you need to use that to serve the best possible ad, a winning ad, to your target audience, which then sends them to a well-designed sales funnel. All of this is encompassed by proper campaign optimization.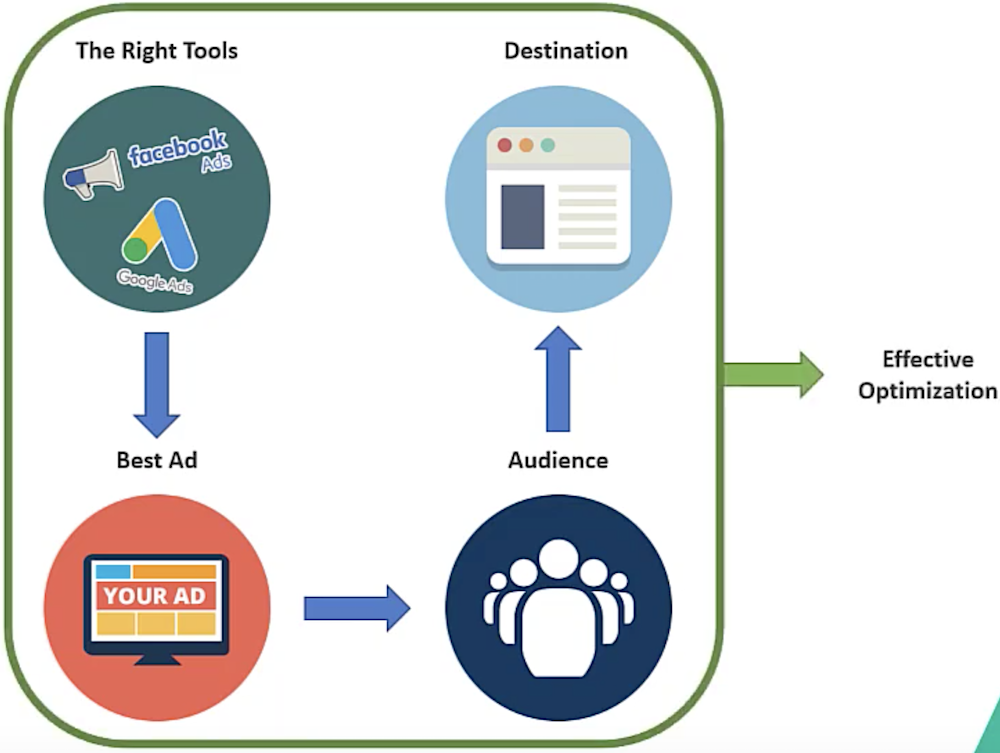 Tools Needed to Succeed

Today, I am going to tell you how to choose the best possible creative to pull your target audience off of whatever they are doing on the web over a billion websites. They are browsing for stuff; they are researching things. Whatever they are doing, I am going to tell you how to write the best creative to distract them, pull them away, and get them onto the best possible landing page, which will then turn them into a converting user.
What is the decision-making funnel?
The decision-making funnel represents the steps a person makes in their mind before they purchase a product. These steps are awareness, interest, desire, and action.
You see, for someone to be interested in something, they have to first be aware of it. Before they can desire it, they must be interested. And finally, before they can take action and buy, they must desire.
The biggest mistake you can make when targeting people who are at the top of the decision-making funnel is to try and sell to them too quickly. These people are not even aware of what you are offering yet. They will be turned off if you advertise a price or a promotion for something that they know nothing about. Instead, it is essential that your ad reflects a problem that they have which your product or service may solve.
So, first off, the ad is built to entice the user to click. Next, you must write a clear message in your ad. The sales copy must be to-the-point and spark curiosity, not sell. And finally, have a clear call to action to learn more, discover what your message is about, and so on.
And by the way, I strongly advise against using ads that are too rich in graphics. Though they may be beautiful and visually appealing, they will probably distract from the message that you are trying to convey.
Sales Copy
So, once the user clicks on this ad, it is then the job of the landing page to have sales copy that is well-written and compelling enough to drive them down the decision-making funnel from being aware of what you are offering to interest in it, and finally, taking desire and action to buy it.
The sales copy needs to be of the highest quality; it usually is longer. Often, a video sales letter or a video on the landing page can help. And also, you don't want to be so quick to lay out your offer and price; this will turn users away.
Remember, first, the landing page needs to make them interested before you could say, "Hey, get this today. Free shipping. 50% off." Whatever it may be. Save the pitch for the end.
Bottom of the Decision-Making Funnel
This concept is in contrast to targeting consumers that are at the bottom of the decision-making funnel. When people are ready to take action and buy something, they know what they want. So the best ad message that reaches these users is one that clearly reflects what they are looking for or desiring. Demonstrate to them that you can provide it in a reasonable manner. Also ends with a clear call to action and is straight and to-the-point.

Often, with these types of ads, people try being poetic, being creative, being funny — it won't work. People have a little attention span. They don't want to think. They don't want to try to get your joke or point; it should be straight and to-the-point.
Unlike advertising to users that are at the top of the decision-making funnel, the landing page that will work best to sell to them is one that has a very clear headline which also reflects what they want, an image that shows that you have it, short sales copy. I mean, they already know what they want to take action and buy. You don't need to sell it to them again. There is no reason for that. Of course, a clear call to action, to add to cart, to proceed to the order form, and so on.
Credibility Components
Also, very important are components that show that you are credible, that explains why people should buy from you, that give them trust, and that relaxes anxiety that people often have when they are on a landing page trying to decide whether or not they should trust you with their billing details or not.
So a lot of times seals help. And these seals could just be something that you design. A seal that says, "100% money-back guarantee," near the call to action can work wonders to help increase conversions and relieve some of that anxiety. Also, user testimonials help - they show credibility. Better Business Bureau seals with your rating, Trust Pilot reviews, all of these are good on a landing page that is selling something to users that are ready to buy.
So, that just about wraps it up. I really hope this helps clarify a bit about what it takes to run successful campaigns. I welcome any questions or comments that you may have. Feel free to leave them below. So, this is Joel Bondorowsky with PPC Designs and the SEMrush Academy. I am signing off. Thank you so much for watching.