Modified Transcript
Hey, everyone. I am JD Prater, Quora ads evangelist, and I am going to be showing you how to set up your first ad campaign using Quora ads. So, let's get started.
Creating Your First Quora Ad Campaign
First, we need to understand that there are over 300 million people coming to Quora, and what are they doing? Well, they are actively sharing knowledge; they are coming for the community; they are sharing stories, and learning about the world around them.
What you can do as an advertiser is really align your ad across that knowledge journey. So, people are coming here, and they have questions. You can align your solution across that knowledge journey. You can capture that attention when people are expressing interest, and this is across the entire funnel, from awareness all the way down to purchase, by understanding the intent that people have on Quora. Let's get started.
The Quora Ads Platform
Head over to the Quora Ads platform. If you are not a current advertiser, you can start by creating a Quora ads account. You can go to Quora.com/business to get started the right way. No credit card required, so you can go in and start playing around. Once you are in there, we can go ahead and get you started with creating your first campaign.
Click on that big blue button that says Create Campaign, and you will be sent to this page. From here, you will be able to name your campaign and be able to select your objective.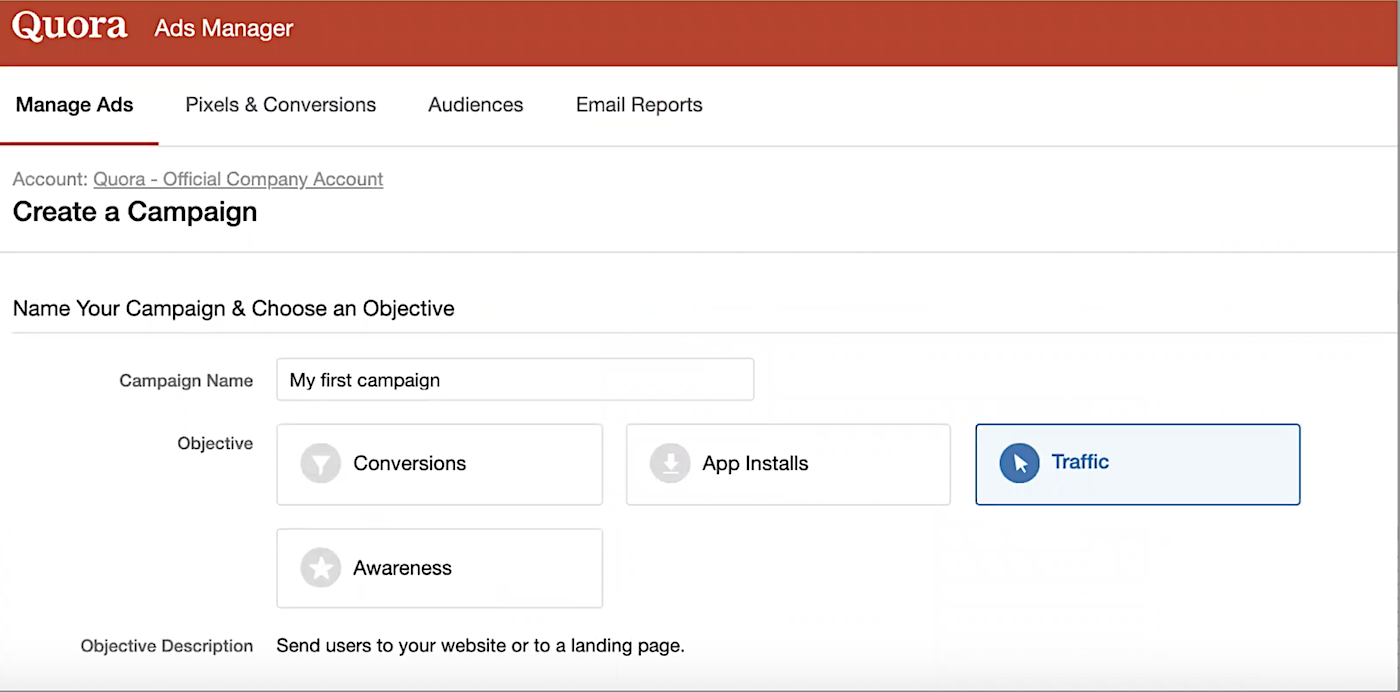 Currently, we have four objectives:
Conversions.
App installs
Traffic
Awareness.
If you are a first-time advertiser, you are probably going to be selecting traffic, or maybe app install if you are an app advertiser. For conversions, you will need the Quora Pixel set up, and at least, we recommend 20 conversions a week to get started. So for most of you, you are probably going to be selecting that traffic campaign.
Defining Budget and Schedule
Next, you will want to define your budget and your schedule. What is the daily maximum budget? Do you have a lifetime budget as an optional, and when do you want to get started? Do you want to get started doing it now, or do you want to set a start date?
Ad Settings
Next, you will be sent to your ad settings. From here, you will be able to name your ad set, as well as select your audience targeting. Now, Quora offers a variety of different targeting, so let's take a look at them and break them down. We have:
Topic Targeting
Interest Targeting
Keyword Targeting
Audience Targeting
Question Targeting
Broad Targeting.
What that kind of looks like is something like this.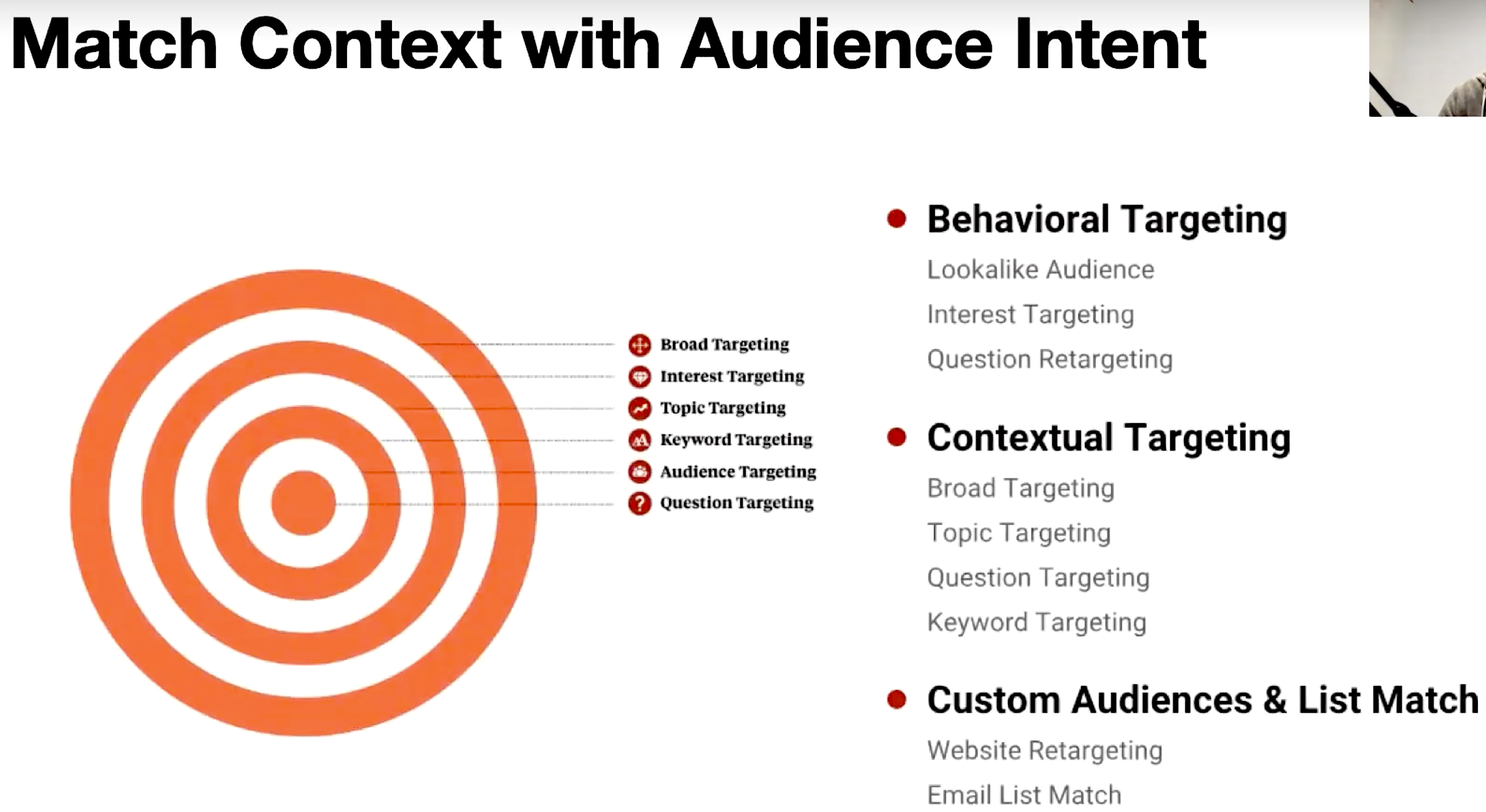 Contextual and Behavioral Targeting
You will be able to match that context with the audience intent, so our behavioral targeting, that would be Interest Targeting, Question Retargeting, Contextual Targeting — well, that is going to be your topic targeting, your question targeting, and your keyword targeting, because those ads are only going to show up within that contextually relevant environment that you select.
Whereas on behavioral targeting, you are going to be following people around on the Quora platform, based off of their behaviors. So, it is a little bit different. And of course, with Audience Targeting, you are going to be targeting your audiences across the Quora platform as well, based off maybe website retargeting, your email list match.
You are going to break that down between behavioral and contextual. It is going to feel very much like social, which is behavioral, and contextual, which is search. So, Interest Targeting, that would be an example of behavioral targeting. Now, Topic Targeting, it is going to feel very similar, and it is going to look very similar, but it is only going to show up on those topics that you select, whereas someone could be interested in a topic and show up on different placements within Quora.
Question Targeting
The same thing for Question Targeting, which most of you are loving and picking; it is our most popular targeting. It is very low in the funnel for most of you, but it is only going to show up on very specific question pages that you choose, whereas Question Retargeting is going to be targeting users that have visited that question. So, that is the difference between contextual and behavioral.
Topic Targeting
So, get started. Let's say we select topic targeting, and we are going to type in some words. Maybe one of our topics is investing. You can see here, we will also try to guess on some different keywords that are also there.
Then we will also give you some suggested topics, so it will say, "I just selected investing there. It was a topic that I wanted." Here are some suggested topics as well to really help you understand and find new topics that might be relevant and adjacent to your topic.
Location Targeting
You will be able to add and exclude locations as well, so go in, add in your target locations, and you can do this by country, city, and zip code.
Device Targeting
Within device targeting, you will be able to set up desktop and mobile, or maybe you just want desktop, or you just want a device.

My suggestion is always to set up device-specific ad sets, and that is just because I believe that user behavior is a little bit different between mobile and desktop. You might be willing to pay a little bit more or have a slightly different call to action or maybe even a different landing page for a device versus mobile.
So, make sure that you take a look at that as well. Make sure that it makes sense for you. It is also an easier way to scale and break out, so do it in the beginning, because when in doubt, break it out. 
Exclude Questions and Audiences
You can also exclude questions and audiences. If there are certain questions that you don't want to run on, or maybe there are certain audiences that you don't want to show up.

Maybe you are looking for net new customers, so maybe I'm just going to exclude all purchases from the last 30 days. 
Setting Bids
Now you will be able to set your bid. So, based off all your audience targeting that you have selected, from topic to location to device to exclusions, you are going to see a suggested bid. The suggested bid here is $1.92, which is only the middle number between the floor and the ceiling, based off of this targeting.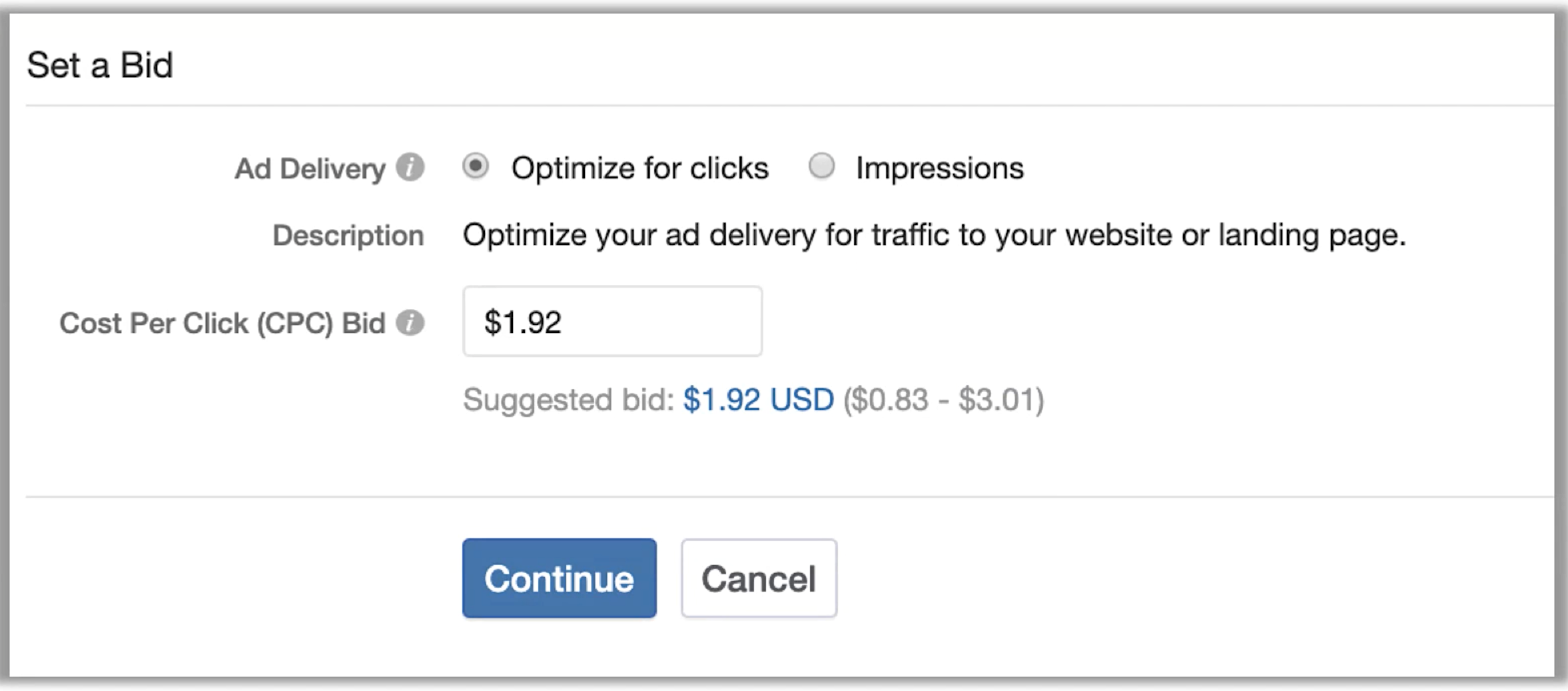 So, we actually expose the auction to you, showing you the highest bid and the lowest bid, and then our suggested bid is literally just the middle. We always recommend that you bid your true value, so how much are you willing to pay for a click and to make sure that you understand that whenever you do it because we do utilize a VCG auction, which is very similar to Facebook's.
Review
Lastly, on the right-hand side, you will be able to review your summary. So, you will see here, I selected one topic. I selected the U.S., and the platforms I selected were desktop, mobile, and email. That is going to give me a weekly potential impression, so this is based off the last seven days.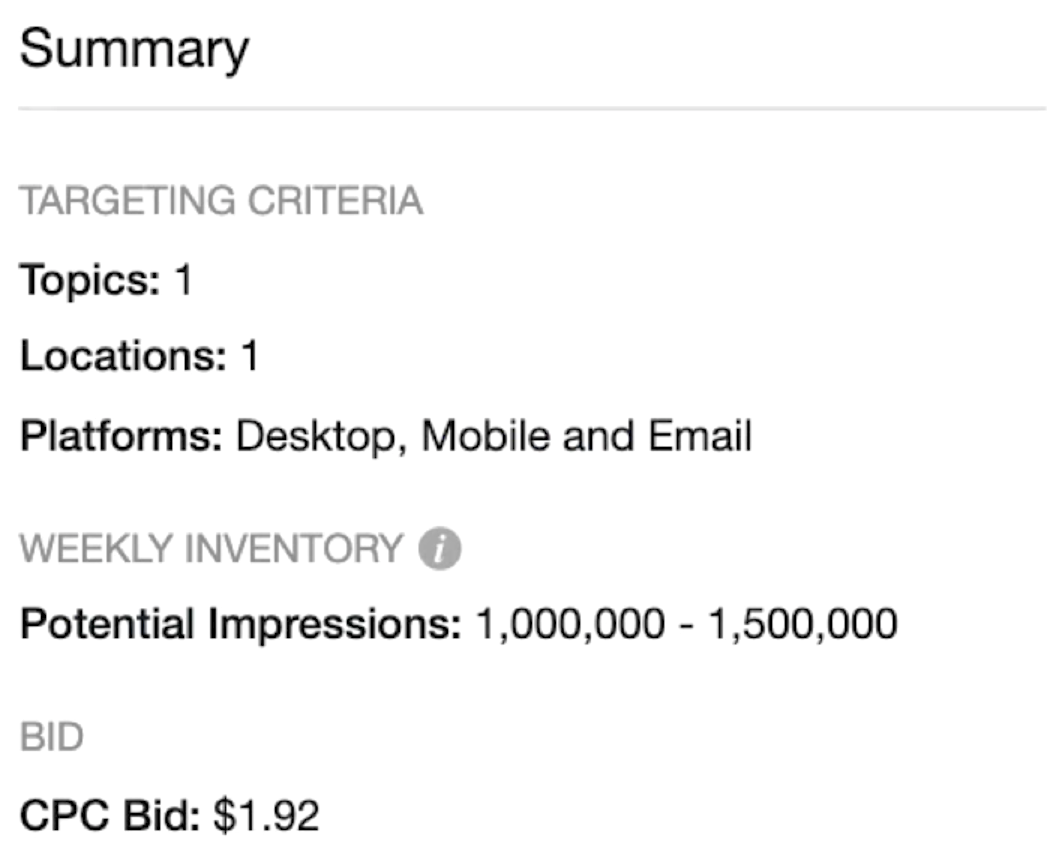 There is going to be some variance in there, so you will be able to understand that maybe it is a million, maybe it is 1.5 million, just because things to change weekly, but here is your bid.
Now, as I was talking about, the ability to break out. Let's just say that I selected mobile as my only device. I can now go in and duplicate that ad set really quickly, and then make that next ad set desktop only. So, it is a really quick win whenever your targeting is going to remain the same.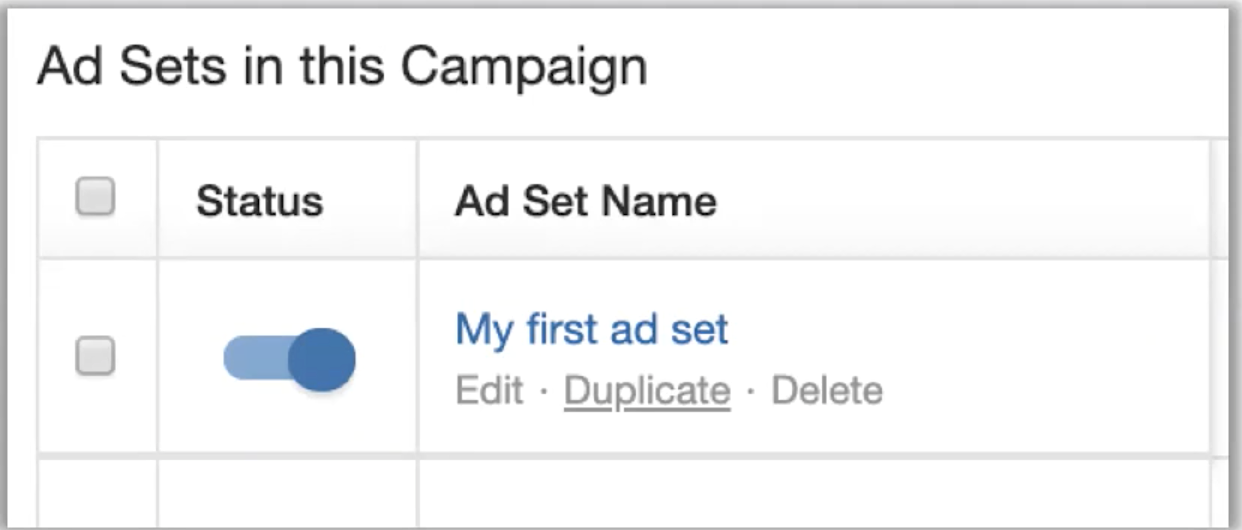 A quick checklist. You are going to go in and:
You are going to select your audience targeting.
You are going to add or exclude locations. 
You are going to focus in on which devices, desktop or mobile, or both.
You can exclude questions or audiences right here, and you can also set your bid.
Then lastly, make sure you go in and review that summary. 
Quora Ad Levels and Formats
For your ad settings, so we have set up our campaign. We have got our first ad sets running. What do we do at the ads level? At the ad level, we are going to be able to capture demand with text and image ads.

These are our most popular ad units, and you can see here what they look like. The major difference here is that the text ad does not have that thumbnail image. 
You can also use our third and newest ad unit called promoted answers. What you will be able to do is take any answer that is running across Quora, and you will be able to boost it and promote it. This is great for getting that extra organic content and establishing that leadership, and you are only charged whenever people click that Continue Reading and Feed button.

Bonus: you can even retarget everyone that has read that answer, so that is a really great way to help build some funnels, establish that leadership, and then retarget people, as cold audiences, moving them into that warm audiences.
Creating an Ad
But let's get started in creating that ad set, or that ad. What you will do is you are going to name your ad, so what do you want to name it? And you are going to select your format. 

Again, your format, image ad, text ad, or promoted answer. Image ads are our most popular currently, and also perform the best with the higher CTR.
This is what an image ad looks like. You will be able to type in your headline. You will be able to add in your logo. You will have a CTA, your body text, and your image.
You can see here that this advertiser, Wikibuy, is playing around by using a question as their headline, really trying to make it feel native within that Quora experience. Go ahead, take a look, play around.
Images and CTAs
Next, you will create your image ad. Taking all that information that we just showed you, you will be able to add in all of that information right here (9.:17), so headline, your body text, your call to action, and your hero image. I highly recommend playing around. We have 16 different CTAs, so to understand what are you trying to accomplish?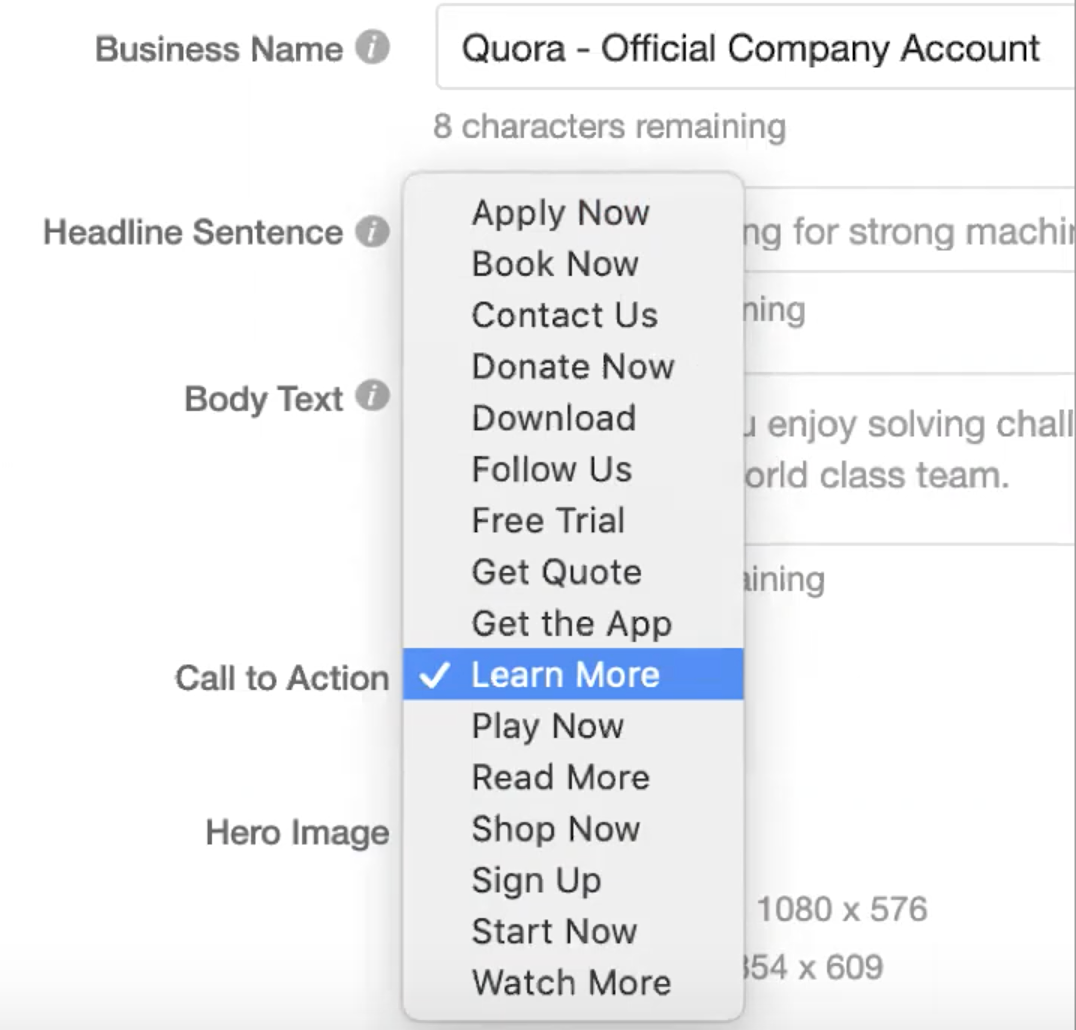 And again, make sure that you are aligning that maybe by device, maybe by where you are targeting in the funnel to really make sure that your ad is the most impactful.
URLs and UTMs
Then lastly, you are going to be able to put in your URLs. Don't forget UTMs. This is a really good one here for that landing page URL. Add in your UTMs that you are tracking well in GA.

Of course, your display image.
Promoted Answers 
For promoted answers (10:00), what you will do is actually input the answer URL right here. To find that answer URL, you will go to the answer that you want, and then right there, where it gives, "Answered," and the date, you are going to select Copy link address.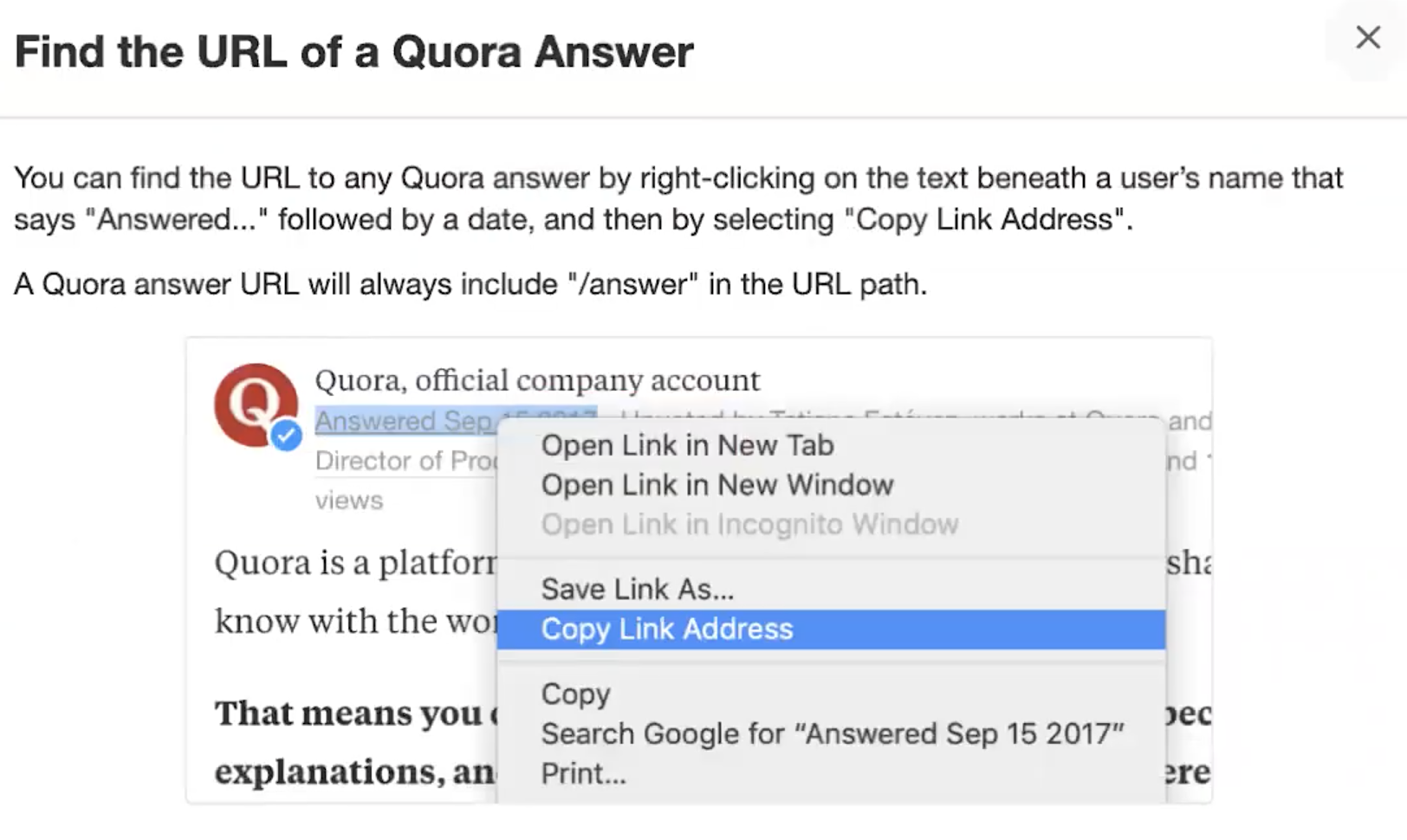 Then you are going to insert it right there. Here is an example of a question that I answered, which is, "How much will ads on Quora cost?"

Duplicating Ads
Lastly, you can quickly duplicate your ads by selecting Import ad, and then you will be able to select the name of the ad that you have created. You can see here (10:25), strong experts, ambitious projects, solve problems are different names that we have for some ads.
Bonus points. Create a great landing page experience. Here is an example from Lemonade Insurance, and they created a landing page specifically for Quora ads.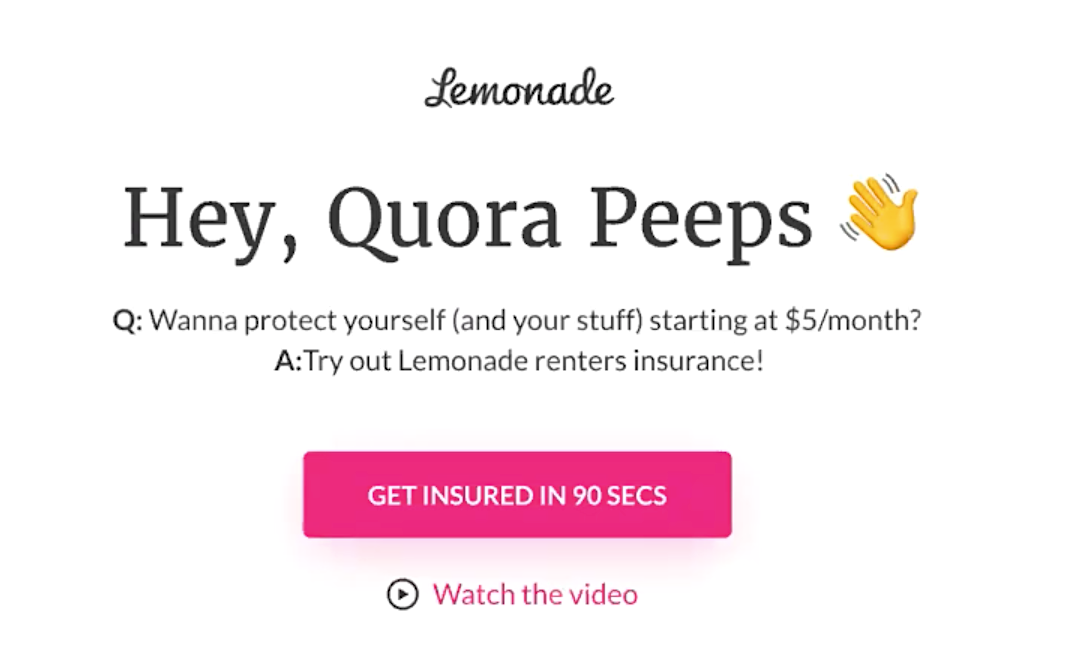 Then lastly, here (10:50) are a few best practices to help get you started. This is where your segmentation, your ad sets, your bidding, and your ad creative. So, make sure you take a look, and you are understanding it.
Quora Pixel
Now, to get started with the Quora Pixel, what you need to do is go over to Pixels and Conversions.

You are going to click Setup Pixel, and you are going to be able to quickly install it using a partner like Google Tag Manager. On the next screen (11:17), you want to copy that Pixel ID and then head over into Google Tag Manager. Go in the GTM, and you want to set up a new tag. You will be able to create a new tag, and then you are going to select Quora Pixel. It is native within GTM, so you will be able to select it. You will be able to input your Quora ID, and then you are going to select your Trigger; your Trigger could be all pages.
Remarketing Audiences
Next, you can name and save your tag, and then you can create Remarketing Audiences within Quora. So, you can say, "All visitors to my website," "Visitors of specific pages," or, "From a conversion event," and, "Custom." And then bonus, upload those email lists to help get you started quicker, to understand if your audience is on Quora, and then even create solid lookalike audiences based off of them.
To Sum Up
All right. Join the many businesses that are also investing in Quora ads, and then also I wanted to make sure that you are aware that we have all of these ads and guidelines and resources all on our website, so go to Quora.com/business to get started. Then also check out our podcast, the Grow with Quora podcast, where it is a weekly podcast where we interview marketers on how and why they use Quora.
All right, everyone. Thank you for your time. Much appreciated. Good luck.