Arguably, the most important webpages for any marketer are the search engine results pages (SERPs). These results are what return when someone searches for a particular query.
Marketers know these valuable results pages influence the traffic your site sees and, therefore, the long-term success of your business, so the goal is to get your website ranked as high as you can on these pages. 
In this post, we'll walk you through what you need to know about SERPs. Specifically, we're going to focus on Google SERPs.
We'll also go over how to optimize for key features so that you can improve your site's click-through rates (CTRs) and earn more qualified traffic. 
Why Are SERPs Important?
The SERPs are the pages users see when they perform a search on the search engine. These pages rank relevant results according to the search engine algorithm's understanding of their relevance and usefulness. 
Below is an example of the top of the SERPs for "best home organizers":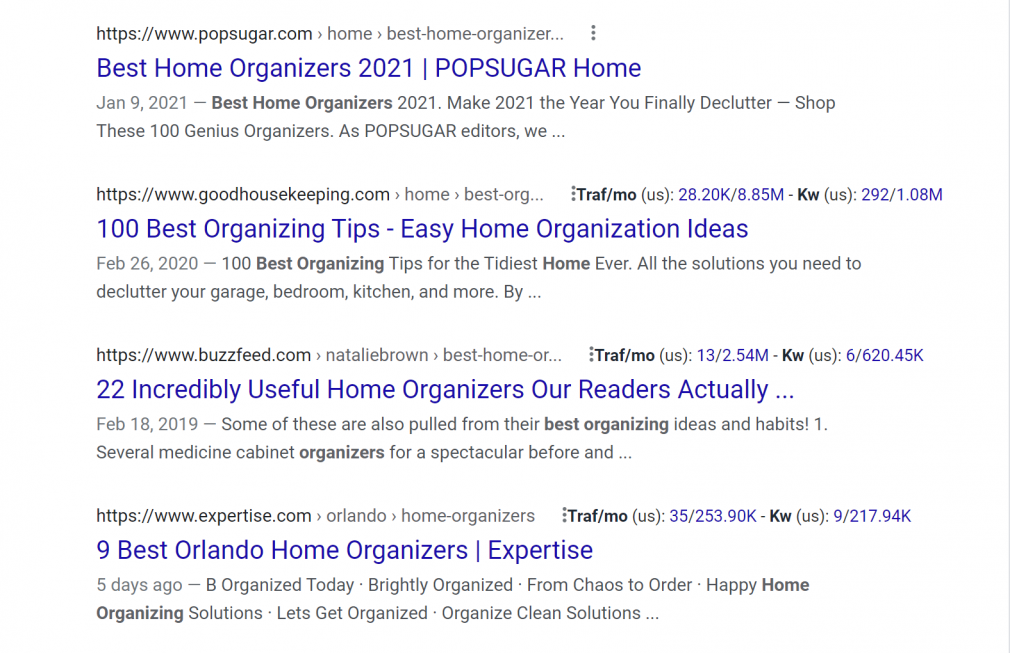 Google processes more than 40,000 searches every second. This translates to an average of 1.2 trillion every year. When you pair that with the fact that the average CTR for the first position on Google is 28.5%, your search engine optimization (SEO) strategy should prioritize ensuring you rank high on the SERPs.
How Many Results Do the SERPs Have?
Search engines might rank thousands of websites for a particular query. Typically, only 10 organic results will appear on the first page of the SERPs. Many SERPs have even fewer than 10 organic results.
With limited real estate on the first page of the SERPs, it's important to optimize your site to make it user friendly and informative to answer relevant queries. 
What Are Some Common SERP Features?
As search engines have become increasingly sophisticated in their ability to understand queries and user intent. They have also developed SERPs that incorporate various features that searchers might find interesting and helpful.
The features that appear on a given SERP will change based on what the search engine understands as user intent and what device the user is using. For example, mobile searches might have different features than desktop search results. 
You've likely seen a lot of the SERP features listed below, so take a look and think about which ones make the most sense for the keywords and content you're trying to rank for. 
Featured Snippets
A featured snippet can also be referred to as an answer box. In the featured snippet, Google highlights a portion of text from a website to provide a concise, direct answer to the user's question.
This feature is useful when someone wants to uncover a direct answer and doesn't need more in-depth information.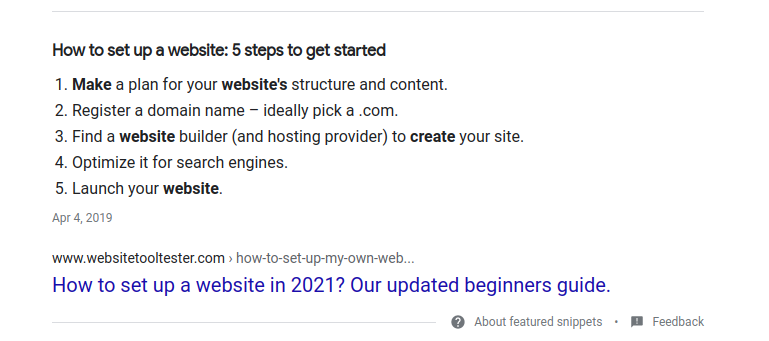 Knowledge Card
The knowledge card is a short, direct answer to a question that a searcher has asked. This saves people time if they want to know a simple answer, such as how far something is or the year a president was elected.

Knowledge Panel
Google uses a knowledge panel to provide a quick overview of particular people, places, or things. These panels often include significant dates, a brief overview of the topic, and some images. 
Over the years, Google has gathered a wealth of information from the millions of searches performed each day and connected them through the knowledge graph. The panels call on this graph to produce their material.
The information allows casual searchers to gain basic information about their queries without clicking on additional websites. Wikipedia often plays an important role in the knowledge panels.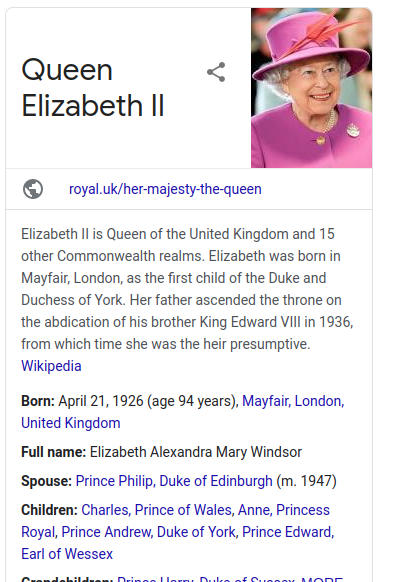 Image Pack
For certain queries, Google will display relevant thumbnails of images at the top of the SERPs. These Google images can help users find relevant results for their queries if a picture might do a better job of answering their questions.
Using structured data markup can help Google understand your images and display them when appropriate.
Top Stories
Top stories play a particularly helpful role when people want more information about an important event or breaking news.
Google provides a carousel of news stories related to the query, noting when the story was published and by whom.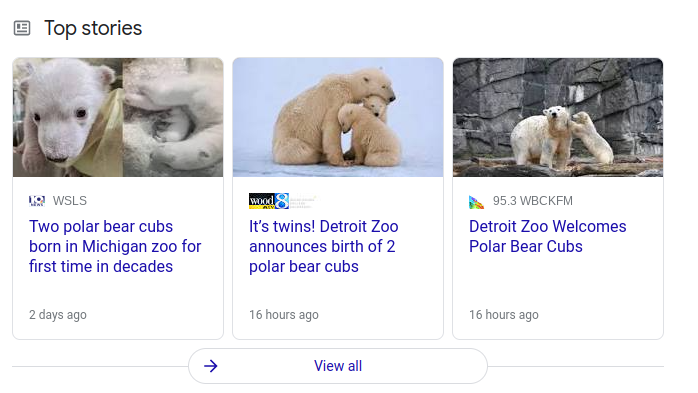 People Also Ask (PAA)
People Also Ask (PAA) refers to questions Google automatically generates based on queries that it believes are related to your question.
The PAA box questions are connected to answers that users can click to read on the Google SERPs. This can help people better understand their questions without having to click off the SERPs.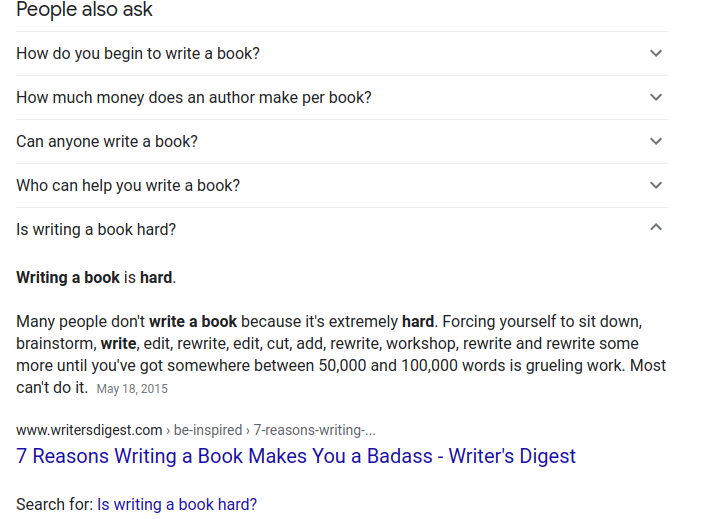 Sitelinks
Sitelinks are special links that Google features underneath the main URL for a domain. Google displays these links when it wants to help people quickly navigate to a particular part of a website.
For example, if someone searches for a bank, the sitelinks under the bank's main URL might offer shortcuts to pages like the online banking portal or find bank locations.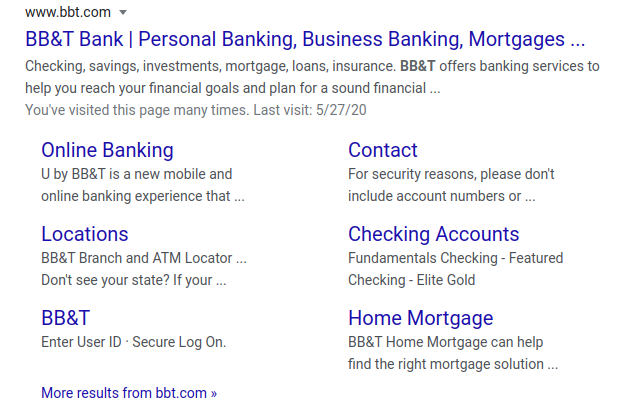 Related Questions
At the bottom of the SERPs, Google also provides users with a "related questions" portion, which prompts them with other search queries related to their initial search.
If you're having trouble finding the answer you seek, Google offers these links as an easy way to try a related search to find the information you need.
Shopping Results
If Google detects a buyer user intent, it will also display a carousel of products available for purchase and shopping ads from various ecommerce sites.
This allows people to quickly browse available products without searching for additional queries.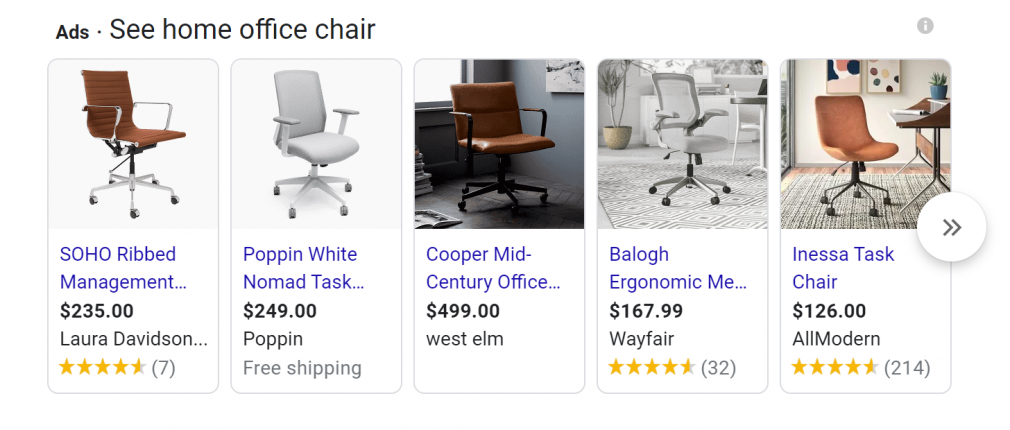 Reviews
This feature is pretty self-explanatory: There's simply a rating system displayed under a search result. This SERP feature is prevalent for places or products.
How Do I Check My SERP Results?
Given the importance of having your site rank highly on the SERPs to maximize clicks, you also want to carefully monitor your performance.
This will help you better understand how your page ranks compared to the rest of the competition. We'll walk you through the main strategies you can use to monitor your page rankings.
Use an SEO Tool
You can gain even more insight into how your content performs within the SERPs by using an SEO tool. In particular, Semrush's Keyword Overview Tool can provide a lot of valuable information for users. 
You can add a search query you'd like to target (up to 100 to compare) and then analyze the results. Semrush will provide you with a SERP analysis of the top 10 results. There's also a "View SERP" option to see what the results page looks like in real-time.
There's also an area that displays the top SERP features for a particular query. In the case of "best home security system," the top features are reviews, sitelinks, FAQs, and PAA.
How Can I Improve My SERPs Ranking?
To help your brand gain visibility, you can improve your positions on the SERP. Different tactics generally fall under two strategies: Paid search results and organic search results. 
Use Paid Ads
One of the most straightforward features to spot on the SERPs are paid ads. Also referred to as pay-per-click (PPC) ads, businesses using these ads will bid a certain amount of money they'll be charged each time a user clicks on the ad. 
PPC ads can help businesses gain visibility on queries that their pages don't rank well for. If there's an important term for your business, but it's competitive and improving rankings is difficult, PPC ads can help compete for top billing on the first page of the SERPs.
If your business is considering building a PPC campaign, it's important to keep a few best practices in mind:
Select your keywords carefully. Use tools like Semrush's Keyword Overview and Google Ads to research terms that people search for and are relevant to your brand.

Carefully define the parameters when you want your ad to show up. Consider using negative keywords to let Google know when you don't want the ad to appear. For example, you might not want your ad to appear for someone searching for the keyword but also including the word "free."

Track your campaign carefully. Look at your ad's popularity and what people do when they click through the ad. This will help you determine your success and what will strengthen your campaign. 
Improve Your Organic Results
One drawback to paid ads is that they can potentially turn off consumers because you're paying for the space. If you want a more authentic result, you'll want to focus on improving your organic listings.
Building your organic SEO strategy can help your pages rise on the SERPs. You can improve these results by focusing on these best practices:
Carefully research keywords that interest users. Semrush's Keyword Overview Tool is excellent for this task by providing you exact keyword matches and related keywords that provide an even greater chance of improving your content's rankings. 

Ensure your content is comprehensive. Create content that provides in-depth information on the topic, incorporating semantic keywords and providing answers to what users are searching for. 

Look for opportunities to generate backlinks. Once you produce a piece of content, consider promoting it for other sites to share and link back to your site. 

Encourage engagement with your content. Help people find the page through social media and email promotions to begin building engagement.

Optimize on-page SEO. This includes technical aspects of your page like title tags and meta information to help improve rankings for your target keyword. Semrush's On Page SEO Checker can also be incredibly helpful here.

Prioritize local search when appropriate. For local businesses, claim your Google My Business page and optimize it to appear in the local pack.

Optimize your content for rich results. Using the proper markup, you can better inform Google crawlers of what your site or page is about. You can add recipe markup, product markup, review markup, and more!
Get Started on Your Strategy to Rank on the SERPs
It's important to create a well-optimized site that encourages clicks and engagement.
With the right tools, you can help your site attract your target audience's attention and improve your digital marketing efforts. Easy-to-use features, like Semrush's Keyword Overview tool, can help you get started on your SEO goals immediately.