PPC is a digital marketing channel that businesses use to drive traffic and conversions from search engines. 
Maybe you are looking for ways to land your first traffic and sales for a new business or are considering ways to grow your brand's presence online. 
PPC can be a great way to market your business and reach new customers, but it can be a little confusing at first for those just getting started with the channel. 
In this guide, we will help you understand what PPC is, how it works, how you can use it to drive success for your business and explain different platforms, and how they work.
What is PPC?
PPC, which stands for pay-per-click, is an online advertising model where advertisers run ads on a platform such as Google Ads and pay a fee every time someone clicks on it.
Run almost any search on Google (or Bing), and you will see ads displayed at the top of the results page.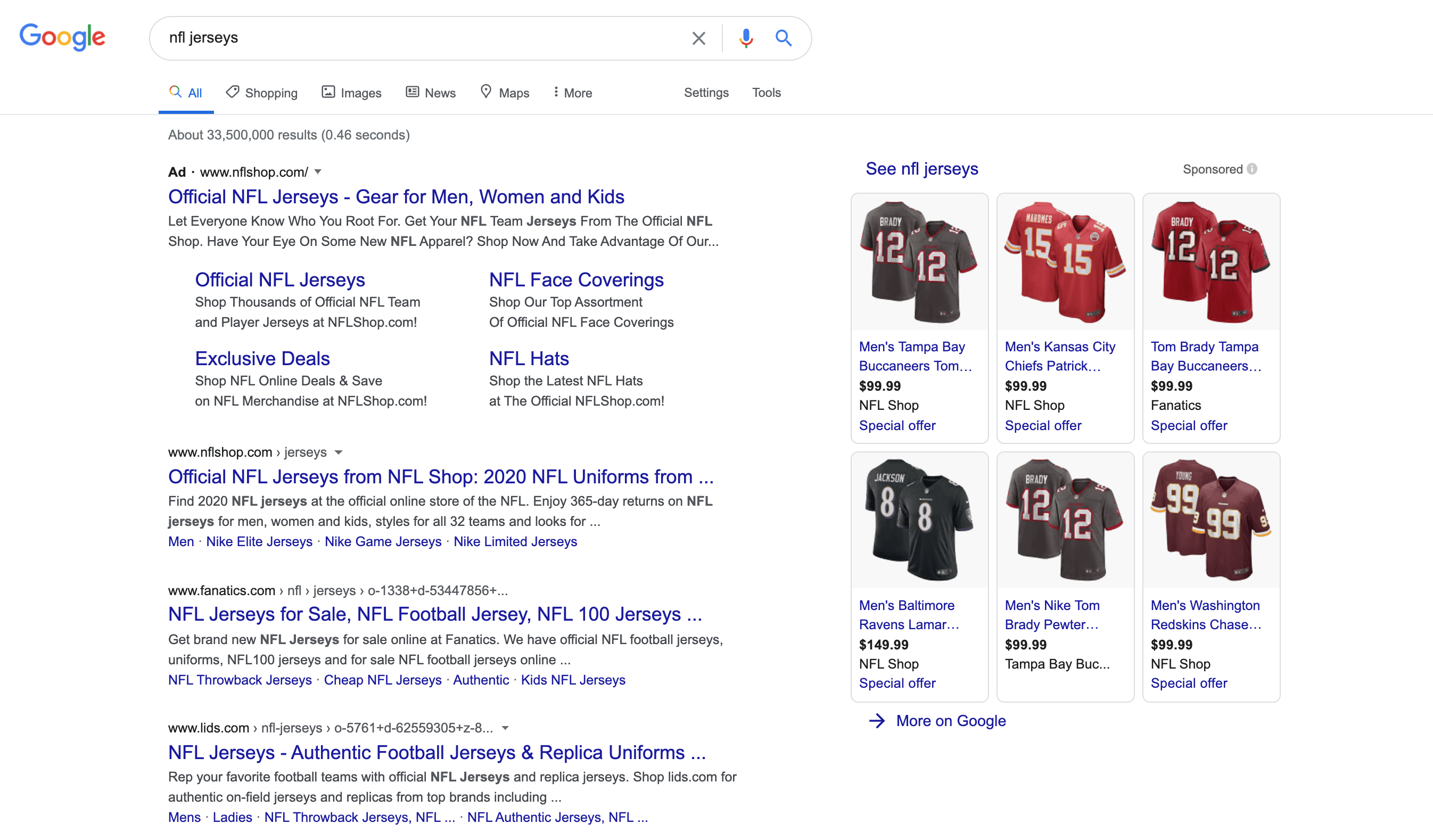 See the product grid to the right-hand side? They are also ads that show when a search has a commercial intent. 
Businesses use PPC to drive traffic, sales, or inquiries from their target audience. Common PPC platforms allow an outstanding depth of targeting, meaning that you can serve ads in front of those only who you deem to fit your customer demographic.
Search engines are the number one way that people look for suppliers of both products and services, and when there is an active audience looking for what your business offers, there is an opportunity to make a sale.
PPC can help you get in front of these people with a precise level of targeting that traditional advertising doesn't allow for.
Want to target someone who lives in San Francisco who is looking to buy a used Ford Mustang? Easily done. 
PPC offers you an opportunity to reach your audience at a time when they are looking for a business like yours while gaining data insights to help you improve the efficiency of the channel over time.
Paid advertising is big business, and it is reported that Alphabet (Google) alone earns more than $162 billion per year through their ad platforms.
How Does Pay-Per-Click Advertising Work?
PPC as a marketing channel covers a number of different ad platforms, with the most common of these being Google Ads and Bing Ads. 
And within each of these platforms are different ad formats, including:
Search Ads
Shopping Ads
Display Ads
Video Ads
Gmail Ads
Most commonly, you will find that businesses start their PPC marketing on Google Ads, for the simple reason that it gives access to the largest audience of potential clients and customers, as well as a number of different ways to set up and run campaigns depending on your goals.
But regardless of the platform and ad format, the way that PPC works remains largely unchanged, and it is a pretty simple process:
Sign up to an advertising account with the platform.
Create ads (and select the right targeting by adding keywords or audiences, etc.).
Set the maximum cost you are willing to pay for each click.
Your ad goes into an auction with other advertisers who are bidding on the same keywords.
The auction determines the order in which the ads are shown.
You pay when someone clicks your ad.
It is fairly straightforward and easy to get to grips with, and while there are differences between different ad formats (and other bidding strategies that can be used, as an example), the main principles remain.
But let's take a look at how the auction works, as this is often the part that's the most confusing to those getting started with PPC.
How do PPC ad auctions work?
When a user performs a search, an ad auction takes place that is used to determine factors including:
An ad account's eligibility to enter the auction.
The order in which eligible ads will appear in the ad space on the results pages.
How much a click will cost each of the advertisers whose ads are showing.
The first influencer on the auction here is the maximum CPC (cost-per-click) that an advertiser sets in their ad account either for a specific keyword or ad group — this is the most that they are willing to pay for each click.
But it doesn't necessarily mean that this is how much they will actually pay, just the maximum.
The other influencer is the Quality Score (QS), a metric that consists of a number of different factors such as the expected CTR (click-through rate) of an ad, the relevancy of an ad to the query being searched for, and the experience of the landing page that the ad will send traffic to.
We will dive deeper into Quality Score shortly.
The position of an ad on the results page is determined by the Ad Rank, which can be defined in simple terms as:
Ad Rank = Quality Score x Max CPC
Google's actual formula is a little more complex, but to gain a general understanding, this is a brilliant way to look at it.
What determines how much an advertiser pays for a click?
Ad Rank plays a big part in this but isn't the only contributing factor to CPC. We can understand the cost that an advertiser pays to appear in their position as:
Cost Per Click = Ad Rank of the advertiser below / Quality Score + $0.01
Why Use PPC?
If you are considering PPC as a marketing channel for your business, you will want to know the benefits and why you should invest your budget here and not elsewhere.
Here are some of the most common reasons why PPC could be the right advertising channel for you:
You can start receiving clicks very quickly.
Once you have set up your ad account and created an ad, these will typically need to be approved by the platform, but this usually takes no more than a few hours.
Once your ads are live, so long as you are eligible to appear in the auction and your bid is high enough, you can start appearing (and receiving clicks so long as the volume is there) very quickly.
Compared to channels such as SEO, PPC allows you to start seeing returns very quickly; and this is absolutely one of the reasons why it is so popular with marketers.
PPC can easily be measured and tracked.
One of PPC's main benefits over traditional advertising channels is the ability to easily measure and track the returns from the platform.
All popular platforms, like Google Ads and Bing Ads, allow you to track conversions, including order or lead values. They also enable you to see, at a granular level, the ROI of not just of the overall account but specific ad groups and keywords, too.
This means that you are able to use data and insights to effectively refine the efficiency and performance of a campaign over time to increase the ROI of the channel.
You are in full control of when ads run and how much you pay.
Need to temporarily pause advertising during a busy period? Want to only run ads when you need to generate fresh leads? 
PPC is the perfect way to do this, as you are in full control of when your ads run (including the time of day and day of the week) and you can easily turn ads on and off as you wish; although a strong-performing campaign is always recommended to be used to drive wider business growth and not be used as a stop-start tactic.
You have also got full control over how much you spend each day (or month) and how much you pay per click, in comparison to other channels that don't give you this same level of ability to manage a channel cost and budget so fluidly.
You can target your customers perfectly.
Unlike traditional advertising, PPC allows you to target your exact customer based on your data, even allowing you to adjust bids based on devices used, the time of day, and location.
If you know your customer and how they search, you can use these insights to reduce wasted advertising spend.
There are multiple ad formats available.
Run an ecommerce store? You can use shopping ads to display your products right on the SERPs in prime position.
Want to convert basket abandoners into conversions? Use display remarketing to server an offer to encourage the desired action.
PPC encompasses a whole range of different ad formats, and these can be used to drive success for specific businesses and use scenarios. 
PPC vs. SEO
Often, businesses consider both SEO and PPC as two similar channels to help them drive traffic from the search engines.
And while there is no denying that they both involve appearing on, and getting clicks from, search engines, they are two very different channels.
PPC involves paying per click.
SEO (organic search) clicks are free. 
You can start to drive traffic with PPC from the search engines very quickly, whereas it can take time to rank organically.
But really, the two aren't competing channels. They are both parts of a much wider digital marketing mix, and the two can, and should, work together effectively to drive success online.
Whenever possible, try to avoid comparing these two channels and see both as vital parts of driving digital growth.
The Main PPC Platforms
When it comes to PPC, this usually means using one (or both of) two of the main platforms; Google Ads and Bing Ads. 
Let's take a look at these and other ad platforms you may consider using. 
Google Ads
Google Ads (formerly known as Google AdWords) is the ad platform that allows you to run search and shopping ads on Google, video ads on YouTube, Gmail ads, and display ads on the Google Display Network (GDN).
It is by far the most popular PPC platform and offers a wealth of opportunities for pretty much any business to drive success from the channel.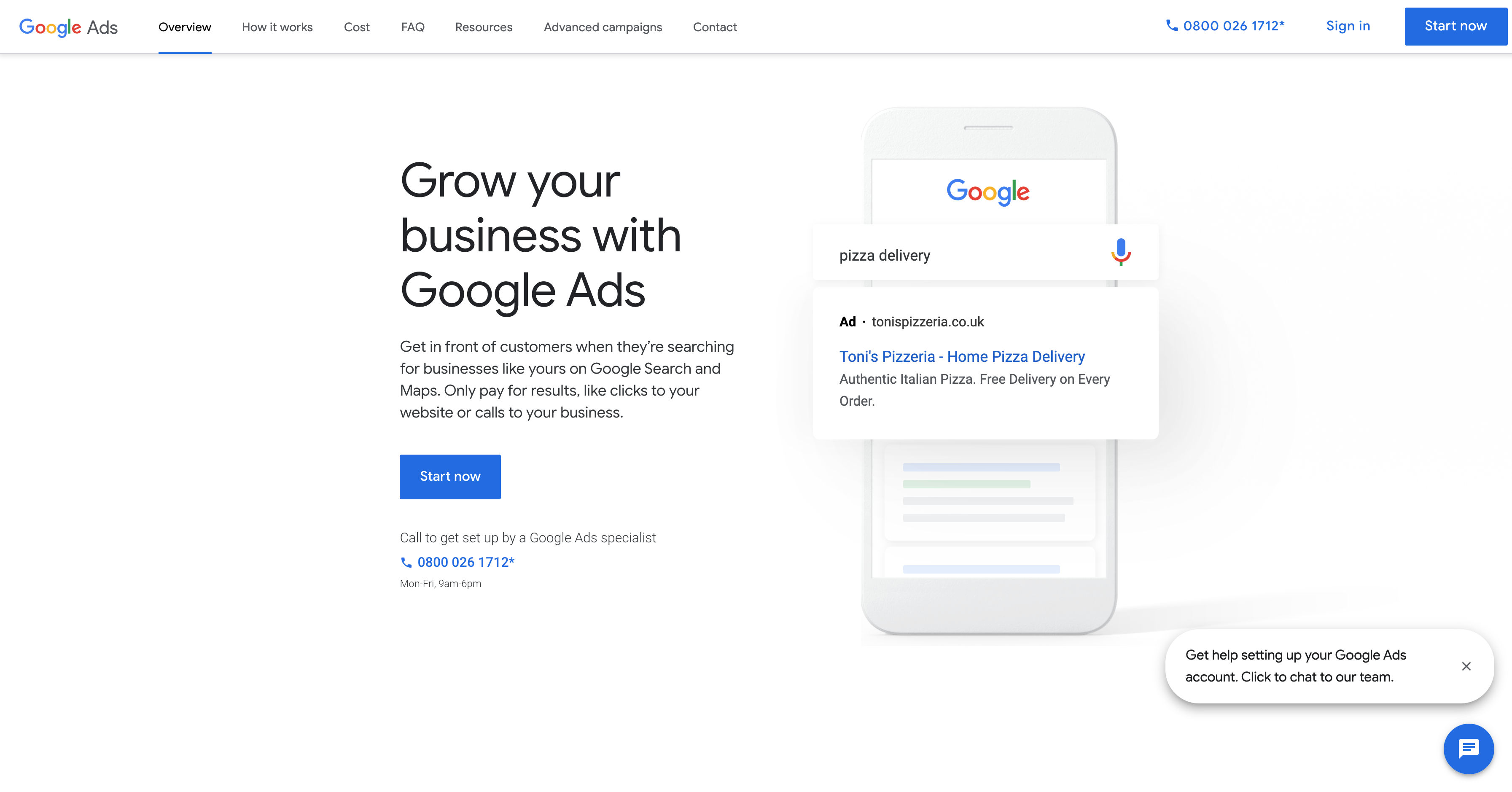 Microsoft Advertising (Bing Ads)
Bing Ads, also known as Microsoft Advertising, in a similar way to Google Ads, lets you run ads on Bing, as well as on Yahoo and AOL.
From a management perspective, the two platforms are very similar; the main difference is the market size and potential reach. 
It is estimated that, as of June 2020, Google's market share in the US is 87.71%, Bing 6.99%, and Yahoo 3.44%. 
That said, Bing Ads can still drive traffic and conversions, and the ROI is often cited as being better than Google Ads, albeit at a lower volume.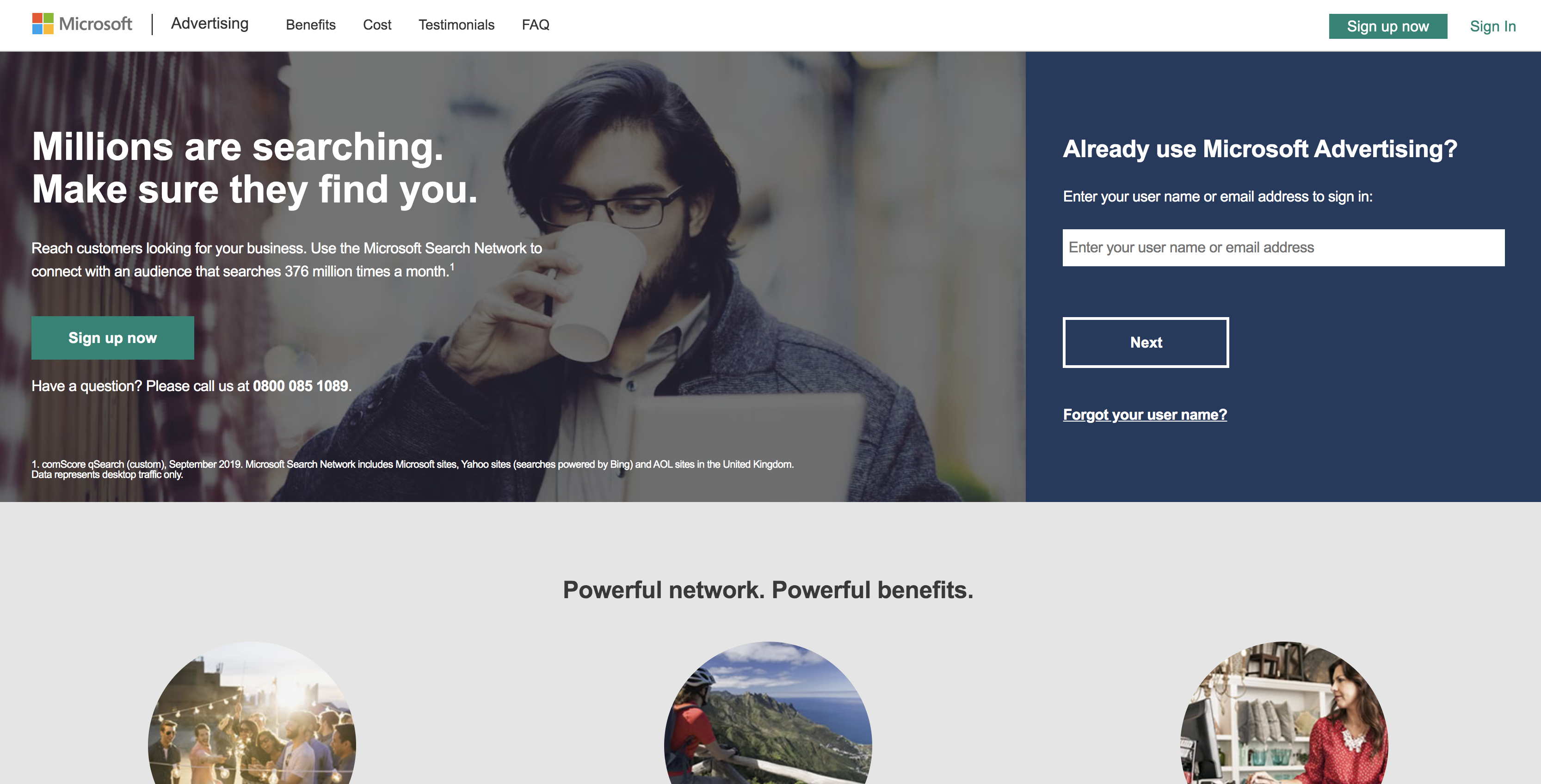 Other Ad Networks
Google Ads and Bing Ads aren't the only ad networks that you might consider to drive growth with PPC; others include:
Bidvertiser
RevContent
AdRoll
Facebook Ads
BuySellAds
Advertise.com
AdBlade
LinkedIn Ads
Twitter Ads
Amazon Ads
AdRecover
For the most part, we will mainly be covering Google Ads and Bing Ads. If you are looking to expand on these popular platforms, the options listed above are worth looking into (social ads are often seen within their own channel, separate to search engine PPC). 
If you are looking to learn more about choosing the right PPC channel, check out the video below from our Weekly Wisdom with Joel Bondorowsky.
The Basics of Search Ad Campaigns
For most businesses, search, and shopping campaigns are the primary ad formats that they will use.
Let's take a look at the basics of search ad campaigns, helping you understand what the different components mean when using this type of PPC ad for the first time.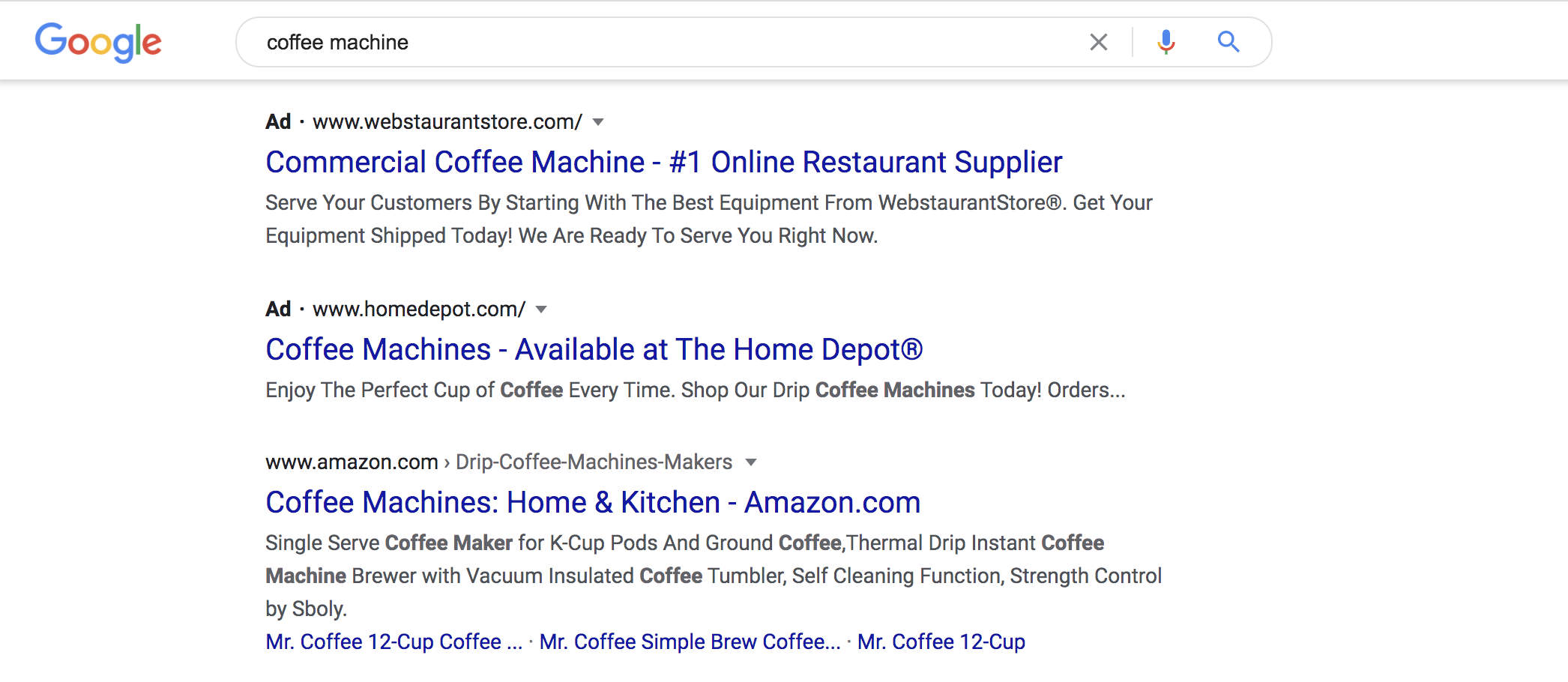 Campaigns and Ad Groups
The main structure of search ads sees an account split up into 'campaigns' and 'ad groups.'
You need to have a good grasp on both of these concepts, as they form the foundations of your account; it is really simple and straightforward.
Campaigns
Unless you are setting up a large account, you will usually only have a small number of campaigns in your account. A campaign contains multiple ad groups which, in turn, contain ads and keywords.
In most instances, campaigns should be based on how you want to allocate budget or set goals. 
As an example, let's say you are a car dealership. You might set up different campaigns for 'used cars' and 'new cars' so that you can keep budgets, targeting, and other adjustments separate. 
Ad Groups
Ad groups sit within campaigns and are where both ads and keywords sit.
You can think of ad groups as specific groups of ads that are triggered by keywords.
In Google's words, "An ad group contains one or more ads that share similar targets. You set a bid, or price, to be used when an ad group's keywords trigger an ad to appear."
The number of ad groups that you will have within a campaign really depends upon your business and the number of keyword groups that you will be bidding on. 
You can include multiple keywords (and match types) within an ad group. Some PPC specialists like to use a structure known as SKAGs ( single keyword ad groups) that includes just one keyword per ad group, to allow for maximum control over targeting and bidding.
Keywords
Keywords are what trigger an ad to show on Google.
When a user runs a search for a query, the keywords used in an ad account are matched against the query to show ads.
There are different match types that can be used for keywords, and these control whether variations of a keyword trigger an ad to show, or not.
You can set unique max CPC bids for each keyword in an ad group.

Keyword Match Types
Match types allow you to control which search terms will trigger your ads and how wide the variants are.
The keyword match types you can use are:
Broad Match: Where ads are able to show for searches that include misspellings, synonyms, related searches, and other related variations. A search for 'women's dress' would trigger an ad for 'ladies dress.' This gives you the least control over the terms that trigger an ad.
+Broad +Match +Modifier: This works in a similar way to broad match, but will only trigger for search terms that include the words with a + sign in front of them.
"Phrase Match": This will show ads for terms that include additional words either before or after the keyword.
[Exact Match]: This will only show for the exact keyword and very close variations. This gives you the tightest control over the terms that trigger an ad.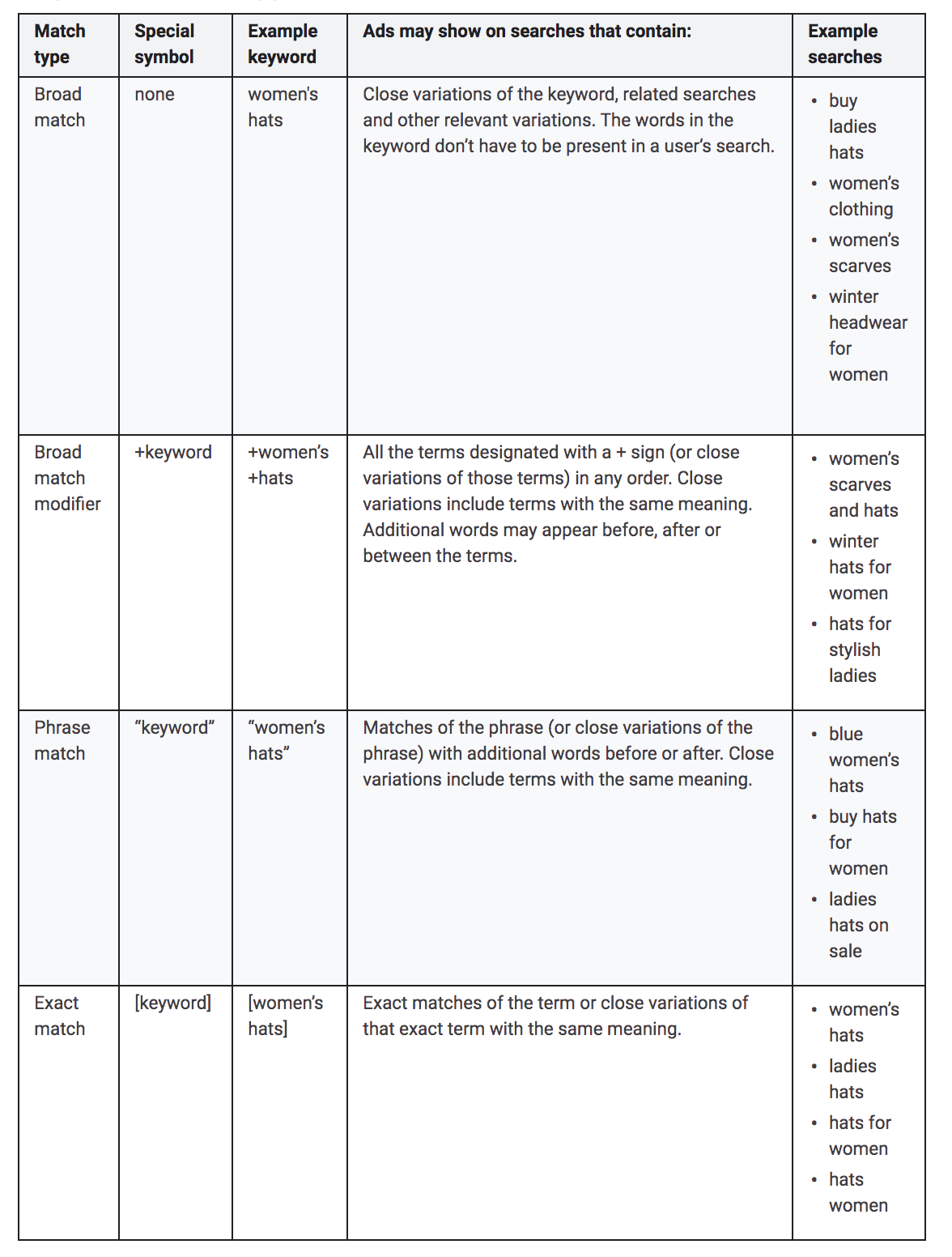 Source: Google
Negative Keywords
Quite simply, negative keywords allow you to prevent an ad from showing for searches that include that term.
This provides a great level of control when combined with insights from the search terms report, meaning that you can stop your ads from showing for terms that may be similar, but aren't relevant, or wouldn't convert. 
Using negative keywords is an effective way to prevent wasted budget and traffic that isn't deemed to be relevant.
Ads
Ads are what show on the search engine results when you successfully win a bid auction and are what encourages a user to click.
You can have multiple ads within an ad group and choose how they are rotated. You need to be sure to write engaging ads that clearly communicate your message and USP.

Writing engaging ad copy takes skill and consideration on your sales messaging, and we highly recommend that you take a look at this Weekly Wisdom with Joel Bondorowsky on the strategy behind effective PPC ad and sales copy.
You can use our Ad Builder tool to create and build out your PPC campaign, using your competitor's ads as a template and customize to your own business and export these so you can import to Google ads.

Bid Adjustments
You can either increase or decrease the maximum CPC for a campaign for different devices, times of the day, or specific audiences.
Adjusting bids in this way means that you can adjust bids based on the likelihood of a user converting, and other factors.
Let's say you have a lower conversion rate on mobile devices. You could add a negative bid adjustment to reduce the max CPC that you are willing to pay for clicks from mobile devices to compensate for the lower conversion rate. 
Location Targeting
If you are a local business and only serve customers in a specific geographical area, you can use location targeting to control who sees your ad.
You can target multiple locations (with different bid adjustments) within an ad group, either by choosing a city or region or setting a radius target.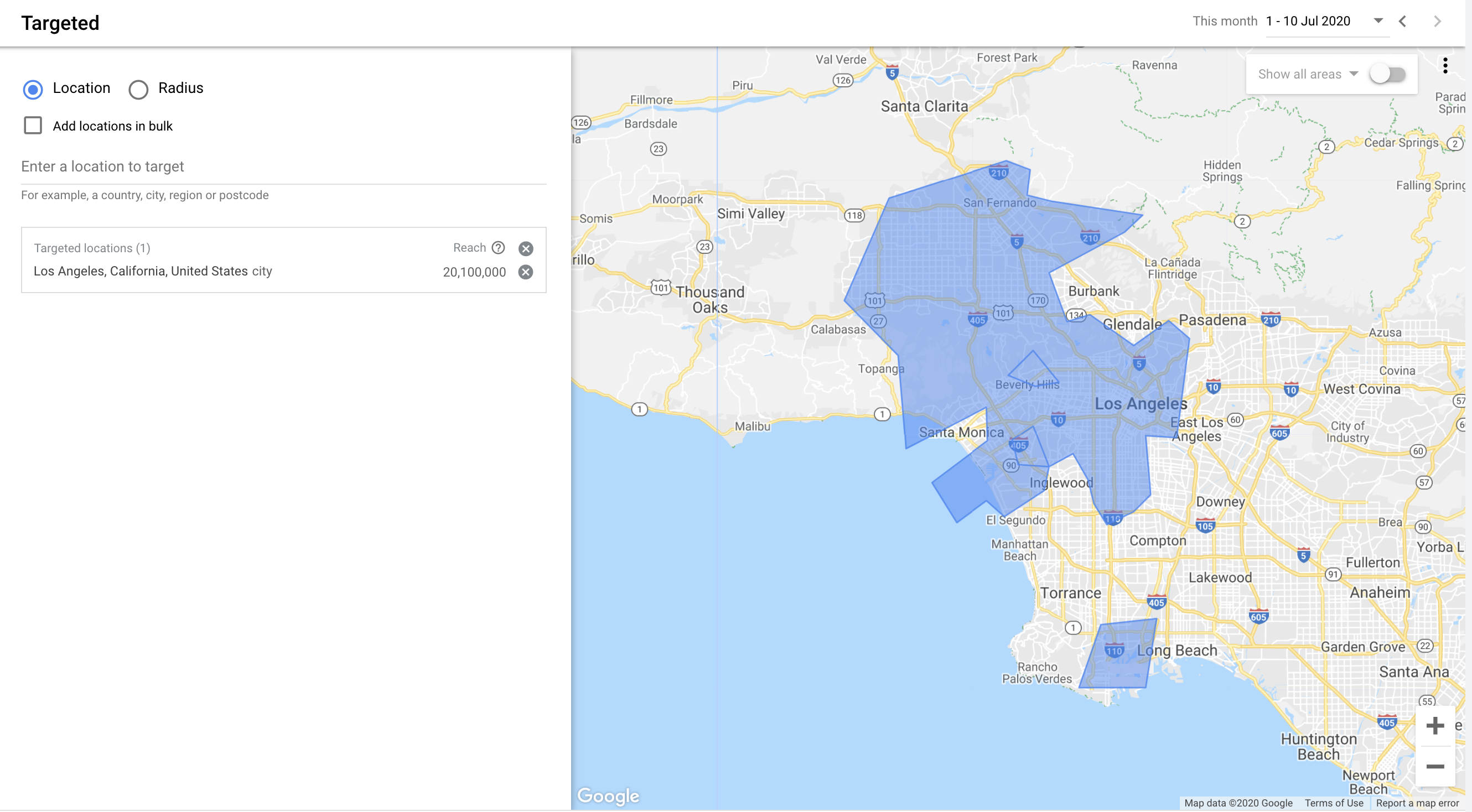 We think you will love this guide to geo-targeting and local PPC tips from Daria Voronina to learn more about using this option effectively. 
Ad Schedule
Does your data show that your website visitors are more likely to convert at certain times of the day?
Ad scheduling allows you to adjust bids (or stop bidding all together) based on the time of the day and create a custom ad schedule to not waste money on clicks that aren't converting.
It is common for many marketers to turn ads off overnight, as an example.
Campaign Budget
You can set your campaign's daily budget based on what you want to spend.
One thing to be aware of here is the fact that Google Ads can, and will, overspend by up to two times your daily budget, but never by more than you spend in a month.
Google states, "Up to 2 times your campaign's average daily budget can be used to show your ads on certain days of the week or certain times of the month based on fluctuations in traffic — but not more than you spend on your campaigns each month. If your average daily budget is US$10, up to US$20 can be used to show your ads on certain days based on fluctuations in traffic."
Ad Extensions
Ad extensions let you add more information to your ads and occupy more screen real estate. They allow you to enhance a standard search ad to encourage a user to click and stand out and help showcase that your result is the most relevant to a query.
A click on an ad extension costs the same as a click on the main ad.

You may have noticed that some ads on the SERPs are enhanced with site links, callout text, phone numbers, and reviews — these are all ad extensions. 
The Basics of Shopping Ad Campaigns
If you run an ecommerce store, the most effective PPC ad format is likely going to be shopping ads, as these allow you to serve your products straight onto the SERPs with both images and prices clearly displayed.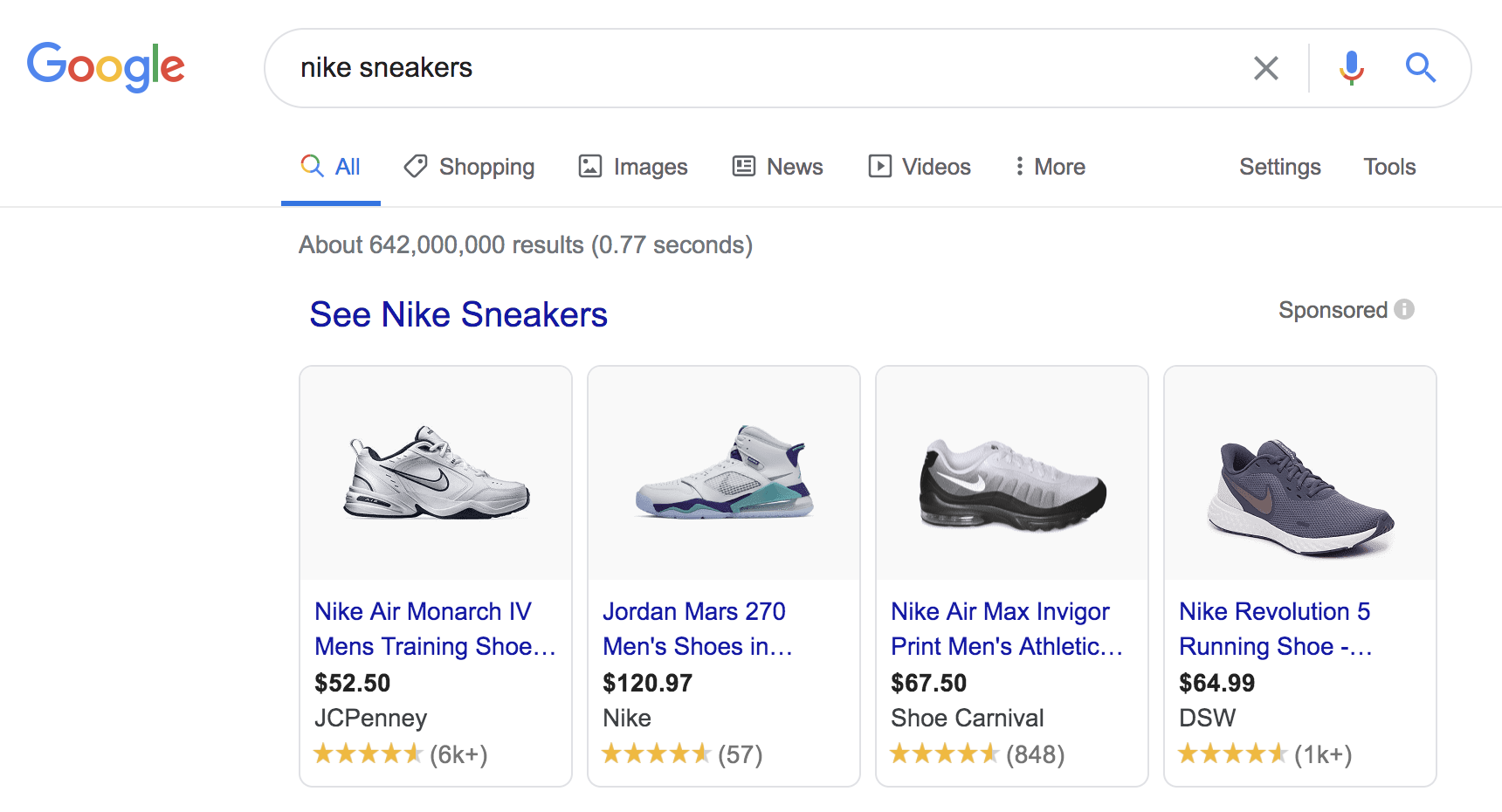 While the main principles of how shopping ads work are the same as with search ads, there are a few subtle differences that you need to know about. The main one being that you cannot specify your own keywords for this type of campaign (but you can control visibility with negative keywords). 
Shopping ads are triggered by terms relating to your product name, description, and landing page copy.
Google Merchant Center
To run Google Shopping Ads (as well as take advantage of free product listings), you need to set up a Merchant Center account to get your products into Google. 
You will need to add products manually, or via a product feed from your website (recommended) to run a shopping campaign.
Product Feeds
While this is not the only way to load products into Merchant Center, you will most commonly want to use a product feed that includes data about each item, including the product name, description, image, price, unique identifiers, product category, and more.
Depending on the ecommerce platform you use, you may be able to export a product feed fairly easily or may need to work with your developer but be sure to adhere to the required spec.
Dive Deeper into Shopping Ads
Using shopping campaigns as part of your PPC campaign for your ecommerce store can drive some really attractive returns, but to truly maximize this, you will need to get to grips with the platform and learn how to optimize feeds and manage these campaigns.
This deck from our ' Drive Profitable Growth at Scale with Google Shopping Campaigns' webinar dives deeper into running successful campaigns that we recommend checking out.
A Note on Other Bidding Strategies
While PPC traditionally meant that you pay-per-click on the ad networks, platforms have developed somewhat and offer other bidding strategies.
You are no longer tied only to a pay-per-click model and can also, depending on the ad format you are using and your goals, potentially use strategies including:
Target cost per action (CPA)
Target return on ad spend (ROAS)
Maximize Conversions
Maximize Conversion Value
Enhanced cost per click (ECPC)
Maximize Clicks
Rather than setting a maximum CPC, with these other bidding strategies, you are allowing Google to automatically set bids for you and are paying based on an action, a target ROAS, or are placing a focus on getting the most clicks or conversions for your budget.
Keyword Research and Competitor Analysis for PPC Campaigns
Successful PPC campaigns aren't launched blindly, and the key to driving a significant ROI from the channel is to spend your time doing research to understand the following:
Which keywords you should be bidding on and how much this will cost you?
What your competitors are running ads on, and what is the messaging they are using?
You can find the right keywords to use in your campaign with the Semrush Keyword Magic tool, finding all of the keywords you need to build a profitable campaign.
Simply enter a starting keyword, and you will be served a whole host of ideas to use in your campaigns.
You can gain competitor insights, and more, with the Semrush advertising research tool, where you can monitor and analyze what your competitors are doing, tear down their strategy, and understand how much they are spending on PPC and how much traffic they are getting.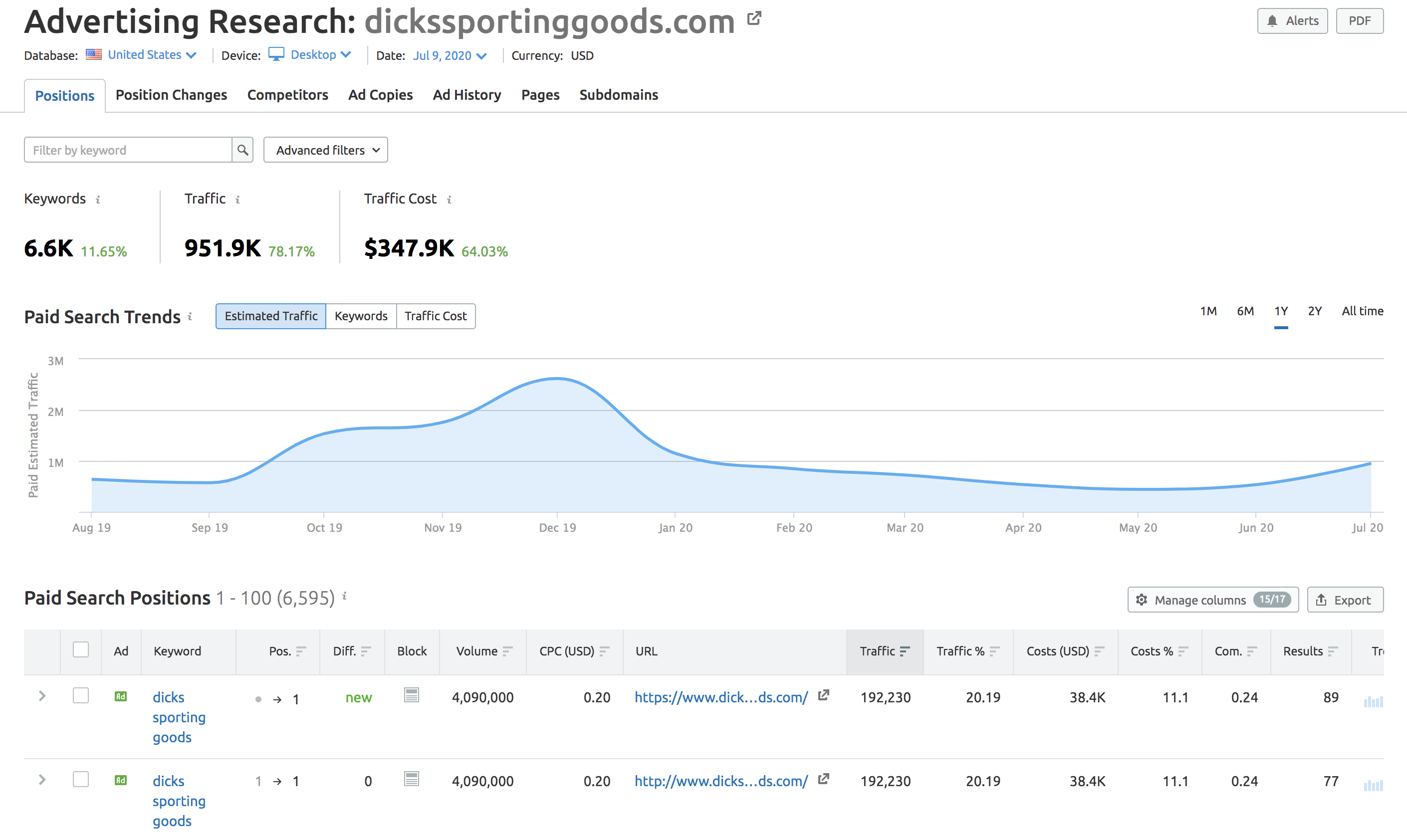 This can be massively helpful when launching your own paid search strategy for the first time, and help you to benchmark your own performance against your closest competitors.
Being able to see the ads that other brands are running can help you to write great copy that stands out and differs from everyone else, as can seeing their ad history and how their strategy has changed over time.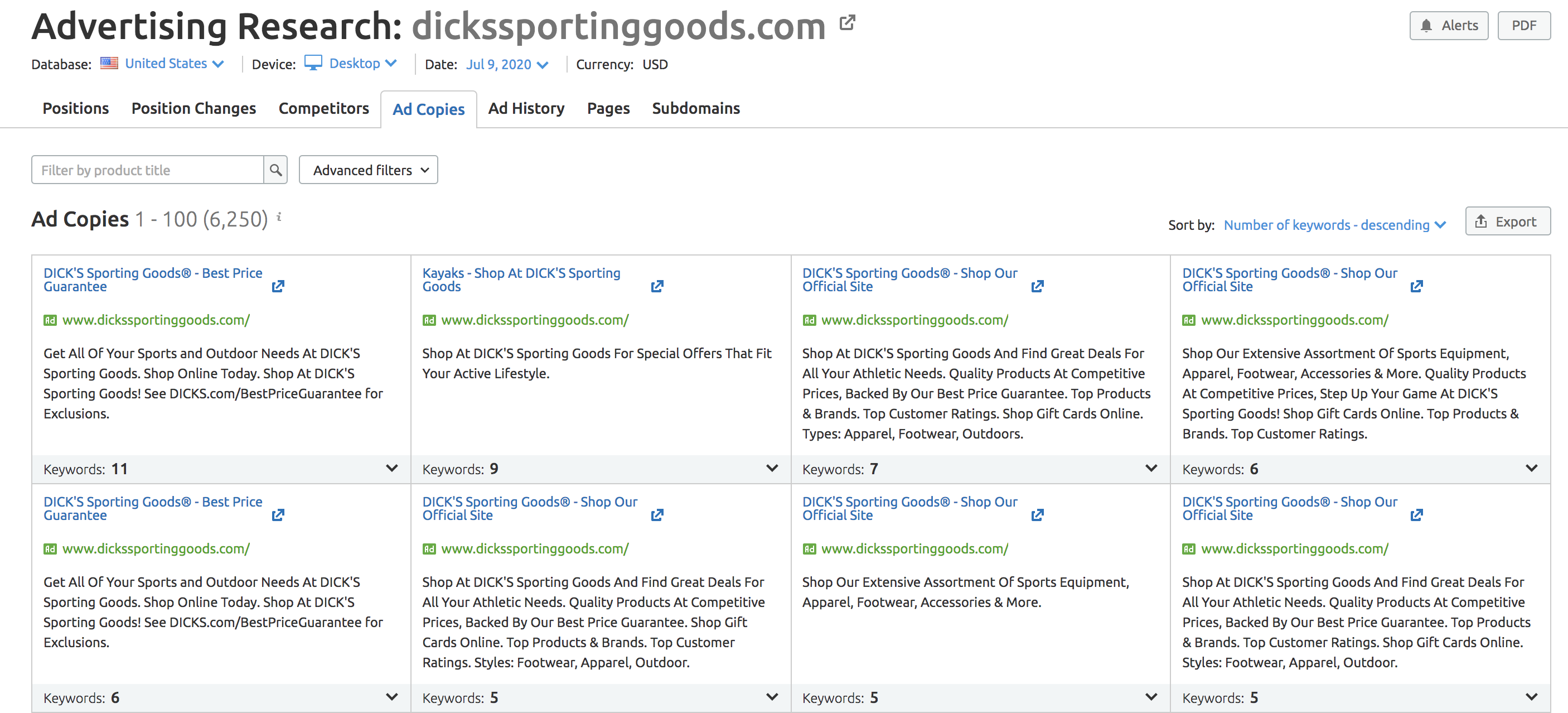 And if you are a local business who advertises only in a tight geographical area, there are some great insights that you can gain from the CPC Map.
Choose your state and see how the average CPC compares to the rest of the country, and also see benchmark CPC costs across a number of different industries.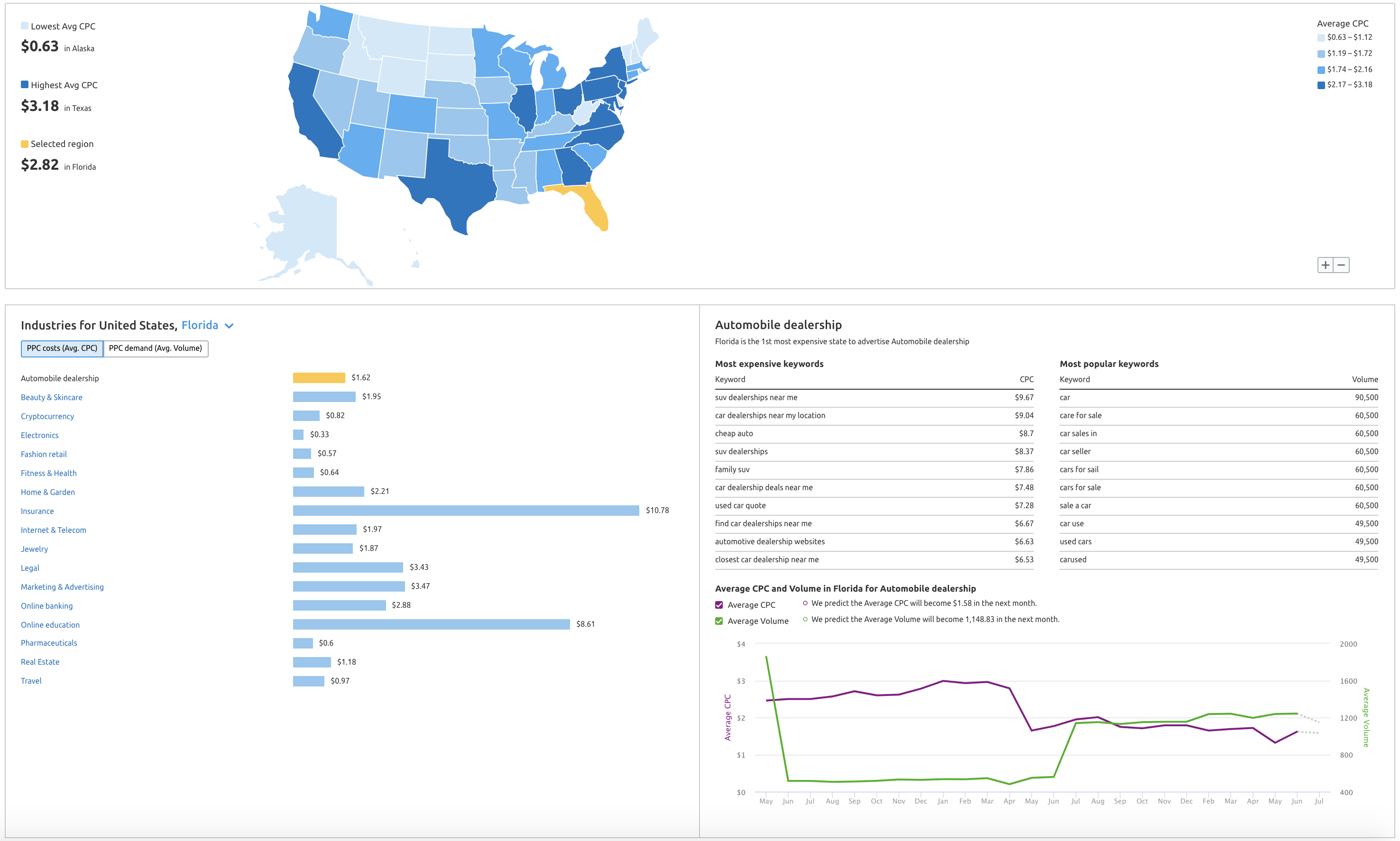 This data is especially useful.
Where Can You Learn More About PPC and Optimizing Your Campaigns?
It takes time to fully understand all aspects of PPC and learn how to build and optimize a profitable campaign, but there are plenty of great guides and tools out there that can help you to do just that.
Here are some of our favorite guides and tools that can help you to become a better pay-per-click marketer:
---
PPC can and should be a profitable marketing channel for your business. It brings with it a wealth of benefits that don't exist with others, and it is relatively easy to get started on the most popular platforms. 
Take the time to learn about how to properly launch and optimize a campaign, how to set goals, and measure your performance, and you will be enjoying increased traffic and conversions in no time at all.