We at SEMrush are obsessed with continually tuning our tools and improving the user experience. A continuous flow of product updates underpins our existence. As so many new features are added every month, we have decided to kick off this overview series and introduce you to all the recent changes we have made to SEMrush. 
The vast majority of the updates below are available within your account at no extra cost. The best thing to do is to give these features a try and let us know how they work for you! Without further ado, here's what we've been working on in August:
Competitive and Market Research
Traffic Analytics
A new report has been added to the tool — Top Landing Pages. It uncovers the 50 entry pages that received the most incoming traffic (an entry page means the first page a website visitor lands on during their session). 
For each of these landing pages, you will see detailed statistics on the number of unique visitors, desktop/mobile ratio, and total volume of traffic generated by each source — direct, referral, social, search, and paid.
Here are some of the questions the report data can help you answer: 
What are the most visited pages of a domain? 

Are those category pages? Certain products or blog articles?

How many people are attracted by a specific product? 

What are the top traffic acquisition channels for these pages? 

What's the estimated number of your competitors' customers? 

Are there any valuable regional markets that you didn't know of? 

Are there any dramatic changes in marketing strategy, business structure, or priorities over time?

Zillow, the real estate marketplace, focuses on properties for sale, rather than the ones for rent.
Market Explorer (NEW)
We have released a completely new tool that complements our existing market research tools. Market Explorer saves hours and days one could spend trying to understand a particular market.
We use the powerful combination of clickstream data (anonymized browsing data of real users) and SEMrush's proprietary machine learning algorithms to provide market insights based on just one domain that you submit. So, no sophisticated calculations, no using multiple tools and stats databases, no spending a fortune on a custom-made market report. 
Here is what you can do with Market Explorer:
Assess current market size and its trend.

Reveal the top 20 players and their market share.

Work out top traffic acquisition channels.

Get insights into the online marketing strategies of the top 20 players.

Understand the market audience — demographics and interests.

Benchmark a player against the market trends.
Related reading: Reveal top players and benchmark the industry with Market Explorer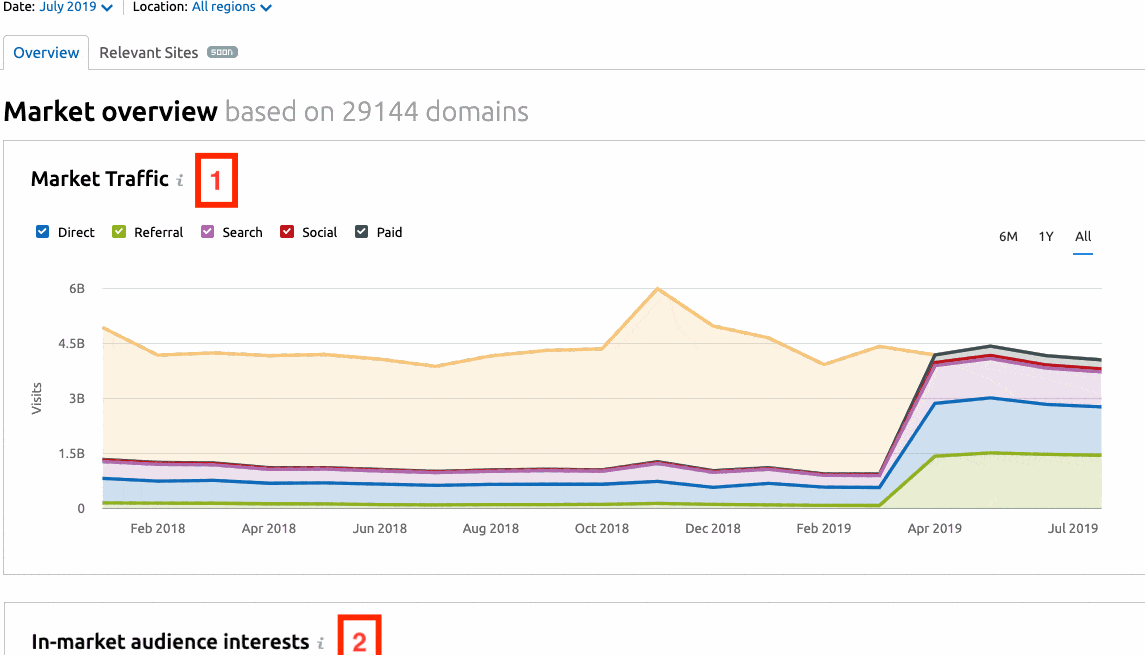 Discover the top players in any industry, their market shares and strategies, and reveal audience interests in a click.
Content Marketing Solutions
SEO Writing Assistant
We redesigned both Google Docs and WordPress add-ons in August — and not just the way they look has changed, but also the way they work. Here are the main changes you need to be aware of:
The overall score is broken down into four main areas, so you can easily grasp where to direct your efforts.

All the checks are also grouped into four main areas, so you can easily focus on all the aspects that fall under a specific category.

We now offer an overview tab that highlights the most important things you should pay attention to.

Our unique Tone of voice feature got a complementary 'Consistency' score; together, they help polish your texts to perfection, offering very specific directions.
Related reading: SEO Writing Assistant: New design. Improved functionality
SEO Writing Assistant helps improve your text as you write it.
Content Marketplace (NEW)
Meet the brand-new a la carte service designed for those of you who want to outsource content production. It works like a one-stop-shop — we have cherry-picked the most experienced writers, so you can order a new piece of content with just a couple of clicks. My favorite things about this service are:
 You don't have to browse through tons of writer profiles, negotiate the process and costs, doubt the expertise of authors, and make tough choices.
 The process and timeline are crystal clear, and the ETA for a new piece of content is 100% predictable. 
 You can choose from a variety of formats — from an email to a white paper, or even custom long-form content. 
 The brief submission form is super easy to fill in, yet it is very well thought out to collect all the details needed to produce relevant and high-quality content. 
Review the examples on the landing page to get a better idea of what your future content may look like.
Related reading: Traffic-driving Content in a Few Clicks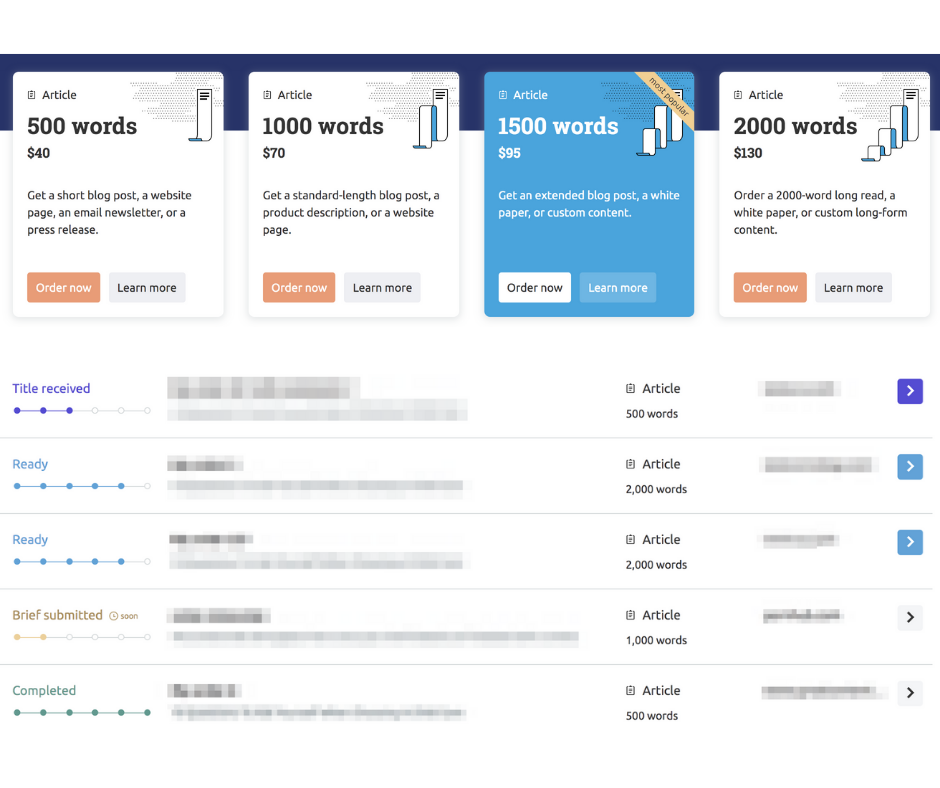 Order a new piece of content in a couple of clicks from our a la carte menu.
Brand Monitoring
This new feature changes the whole mention-collecting process for the better. Instead of offering you a choice between a language and a country upon campaign setup, we now do it a new way. Specify several countries you are interested in during setup and filter your mentions by language right in the results table. The language is detected automatically by our algorithm. 
Related reading: Brand Monitoring: Multiple Locations Search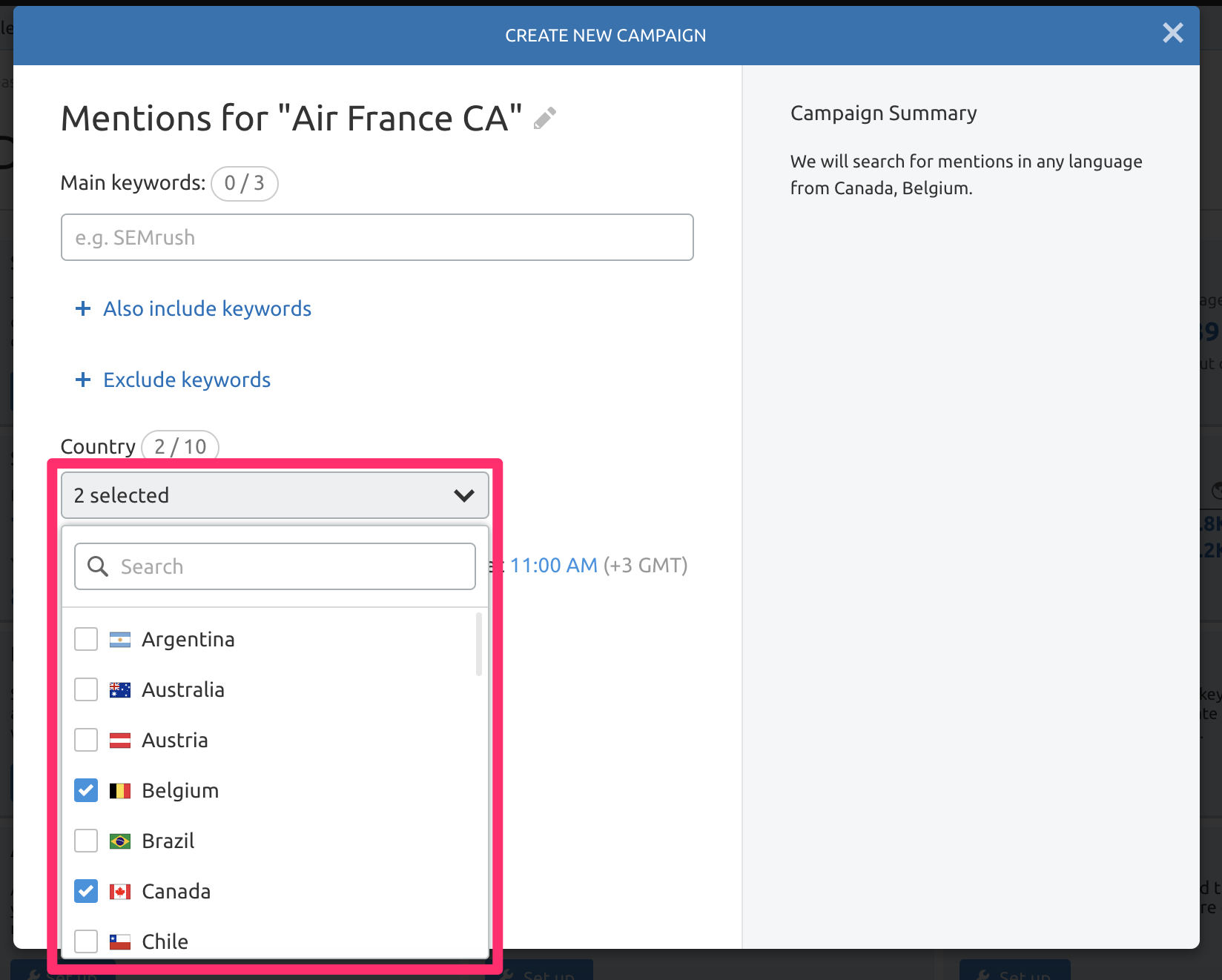 Collect mentions of a keyword or your brand for multiple countries at once.
SEO — Backlinks, Keyword Research, and More
Link Building Tool
We have extended the limits for your custom outreach strategies inside the Link Building tool. Instead of a modest 15 custom outreach strategies across all projects, we now offer a max of 15 strategies per project. It means any changes and tweaks stay within one project and won't affect the other ones. This also streamlines collaboration — a person working on a shared project can safely create new custom strategies or modify existing ones, whereas other projects will remain untouched.
And this is all on top of our existing library of outreach strategies, which got even better in August as we added follow-up templates to all of them.
Backlink Audit
Try out the new 'Domains by Toxic Score' widget to quickly estimate your progress and see how the number quality of referring domains changes over time. Ideally, what you are looking for is as much green as possible, maybe a little yellow, and no red. 
We have also changed the logic behind the re-crawling process, making it much faster. From now on, when you manually upload a list of backlinks, we don't recrawl the whole campaign. Instead, we only check the URLs from the uploaded file. 

Ideally, what you're looking for is as much green as possible, maybe a little yellow, and no red (i.e., no toxic referring domains) at all.
Organic Research
Meet the latest addition to the Organic Research Positions report — a month-by-month overview of the URLs that ranked for a specific keyword. There are multiple ways to use and interpret this data; here are some of them.
Look at competing domains:
How has their keyword ranking history changed over time? Have they created any new pages to win more spots on SERP?

Have they been working a lot on their SEO lately, optimizing existing pages and moving closer to position #1? 

 How many URLs rank for a specific keyword?
Look at your domain:
If multiple URLs are ranking for the same keyword, is it cannibalization and should you act on it? 

After migration, you might want to check that HTTPS pages rank well, and HTTP URLs are no longer there.
Related reading: Ranking History For A Keyword
Keyword Magic Tool
We have received a number of complaints from users who reached the limit of keyword lists too quickly and had to delete some of them. So, on top of the sleek new design of the tool, we changed the set-up process slightly, letting you choose from two options. From now on, you can choose where your keyword ideas will be stored — either in a newly created list or in one of your existing lists. 
Keyword Analyzer 
Further improving the keyword research process, we enhanced the Keyword Analyzer tool with manual keyword import. Upload any keywords you wish to the tool to get live metrics such as volume, CPC, and more. 
Related reading: Keyword Database: Over 30% Increase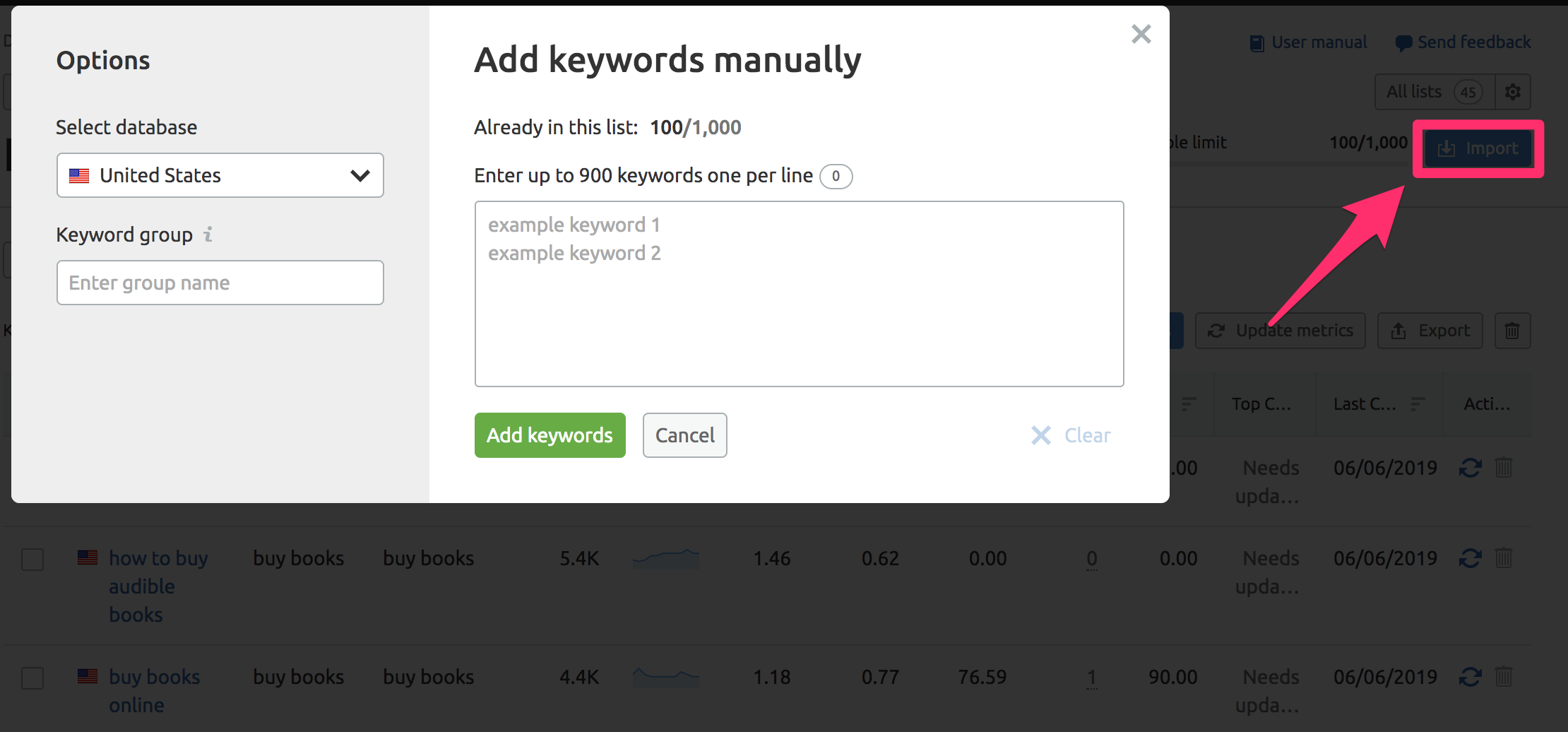 Upload any keywords you wish to the tool to get live metrics such as volume, CPC, and more.
Local SEO
Listing Management
A couple of awesome updates to one of the key tools for growing local visibility — the Listing Management tool: 
It is now available in the UK, which means you can distribute your business info to over 35 directories such as Google My Business, Yell.com, Touch Local, and Scoot. In turn, we will take care of its consistency and up-to-dateness.

We now display affiliate directories for some of the directories in the Listing Management tool. These are subsidiary directories that have the same functionality / fields as their parent directory. E.g., Instagram is a directory affiliated with Facebook. Briefly put, with no extra effort on your part, information about your brand will be distributed to all the new affiliate directories — we have added a total of 26 across the UK, USA, and Australia. 

For the USA listings, we have increased the number of locations associated with one brand from 24 to 100. This update will be beneficial to larger businesses that have multiple locations. It helps you deal with all duplicates/suggestions for a brand at once, across all of the locations added. 

Location filter implemented. Since we now offer listing management for three countries, we rolled out the geo filter so you can easily find all the locations associated with a specific country. 
Related reading: Listing Management is Available for the UK
Distribute your business info to 26 new affiliate directories across the UK, USA, and Australia.
Big Data Gets Even Bigger
Domain Analytics Tools
The process of updating and expanding our databases is ongoing. Organic Research, Advertising Research, and PLA Research tools have become even more powerful in August, and here are some amazing changes that deserve a highlight:
?? Australia +6 million desktop and +1.7 million mobile keywords

?? United Arab Emirates +1.8 million desktop keywords

?? Hong Kong +1.5 million desktop keywords

?? Spain +1.8 million mobile keywords

?? Italy +4 million desktop and +2 million mobile keywords

?? Brazil +6.6 million desktop keywords
The Keyword Magic Tool database also reached an impressive height of 15 billion keywords, gaining over 840 million keywords since the last update (including 146 million new keywords in the USA country database). Other milestones include:
?? Brazil +70 million

?? United Kingdom +50 million

?? France +40 million

?? Spain +35 million

?? Germany +29 million
You can always find the latest facts about SEMrush big data here.
Solutions for Agencies and Freelance Professionals
Oppty
A couple of months back, we soft-launched a new standalone tool called Oppty. It highlights client opportunities for agencies, consultancies, and freelance professionals based on SEMrush big data. Opportunities are provided across 46,000 cities in the USA and UK, and 48 industries.
In August it became official, as we released:
Online payment — the whole process of search, refinement of results and payment takes just a couple of minutes.

Online delivery — the leads are delivered to your email right after payment.

Sample report — (5 randomly chosen leads are available at $14.99, so you can do some quality assurance if you wish).
We also expanded the tool's database, which now amounts to 8 million businesses.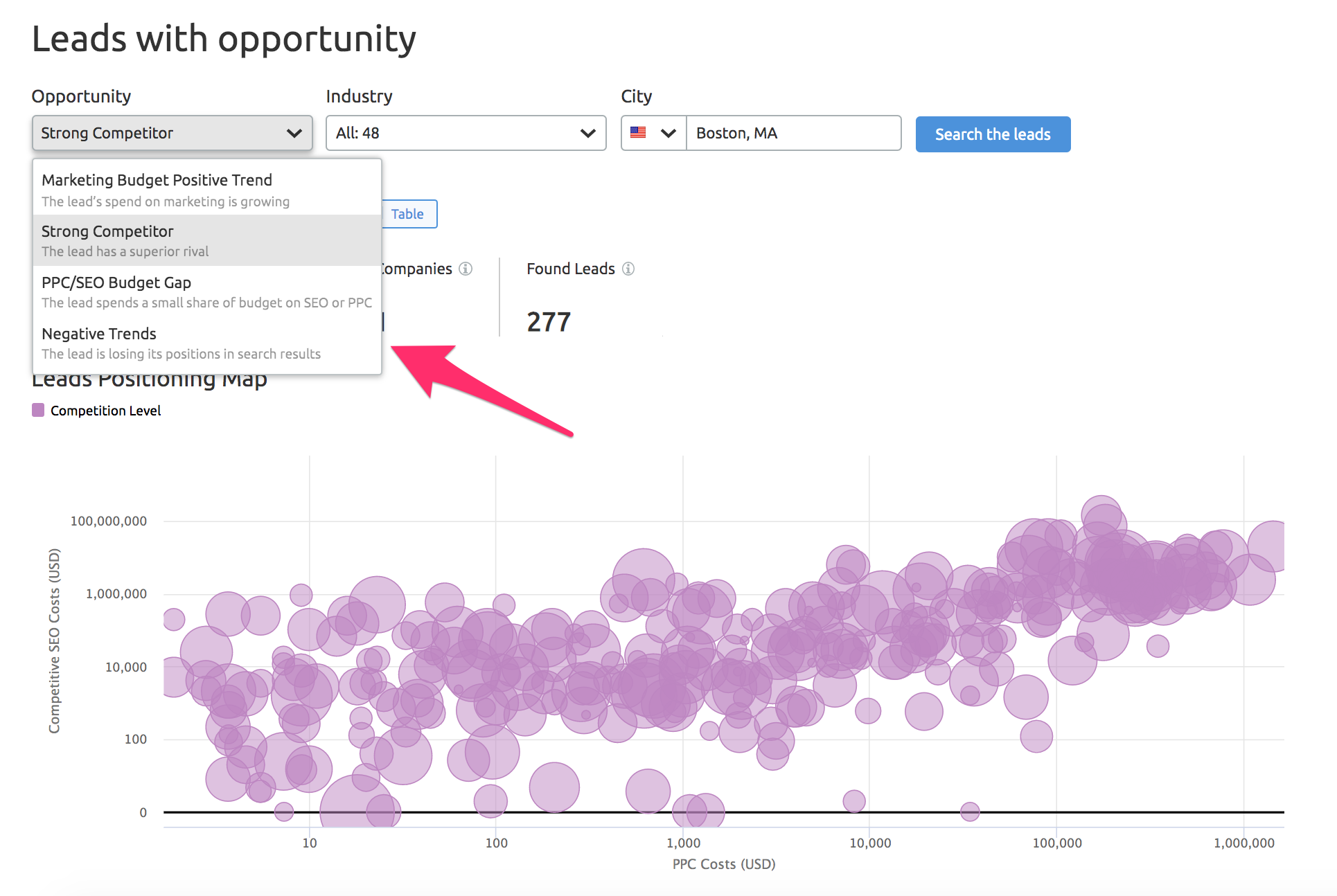 Easily find sales opportunities for your agency with Oppty.
Projects
We have rolled out tags for your projects list. You can assign each project up to three tags and then use one or all of them for smart filtering. Here is some inspiration from fellow SEMrush users. Use tags for:
Names of account managers / team members in charge.

Services you deliver to a client (SEO, PPC, content, etc.)

Cities / countries where a client is located.

Client's niche / market / industry.

Client status — prospecting, in progress, on hold, etc..

Day of the week to work on a specific project (yes, this is a time management hack!).
To focus on the metrics that matter the most to you, visit 'Table settings' to hide what is less important. Drag and drop the metrics to rearrange the table the way you like it. 
Related reading: Projects: New Management Opportunities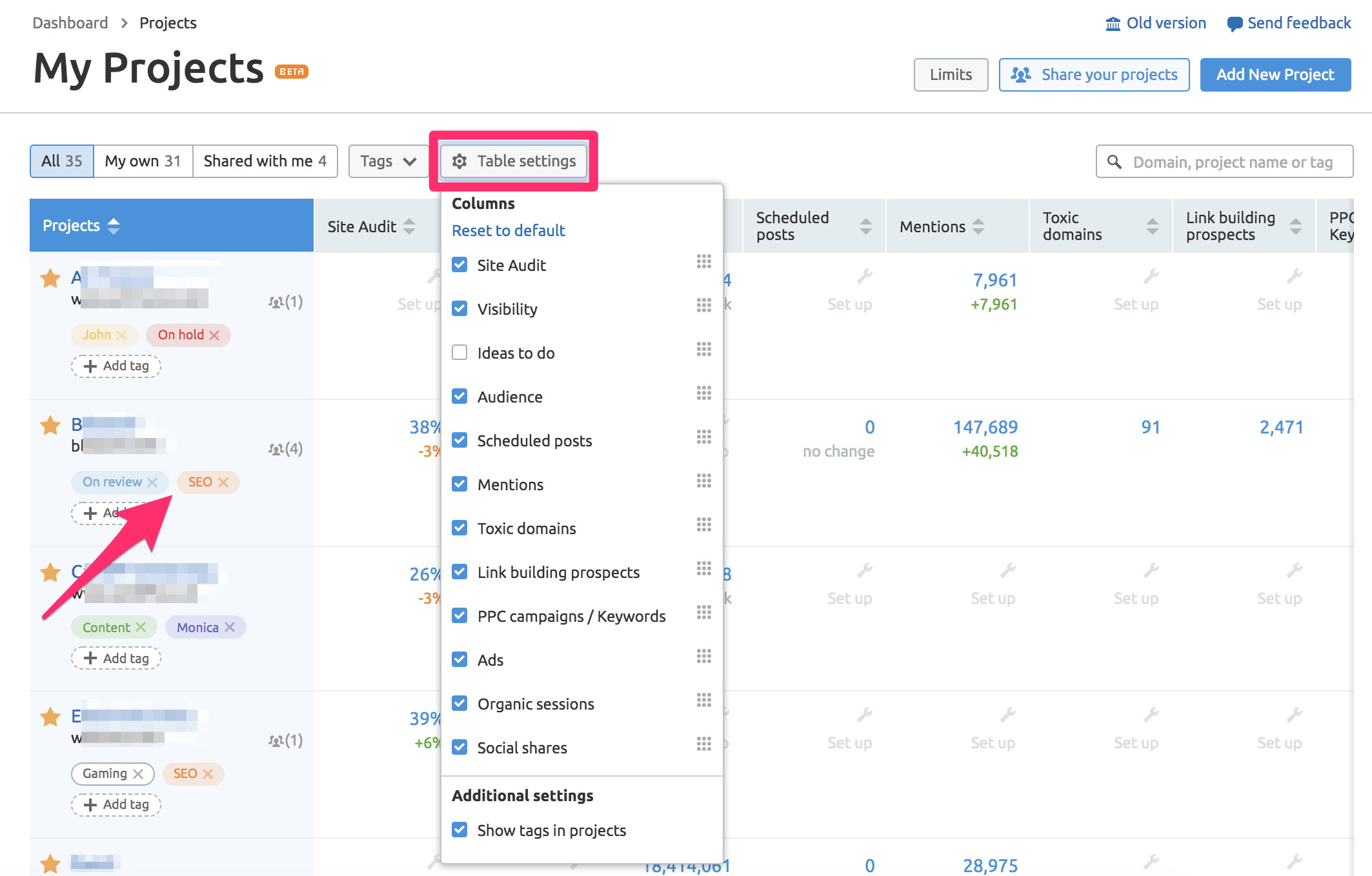 Use tags for your projects list to quickly find what you're looking for.
My Reports
We have another small but nice update for those of you who have over 10 projects/clients. The 'Quick modify' pop-up now features a search bar, so you can find the project you need within seconds (without having to scroll the whole list). Replicating your carefully curated report for another client has become even faster.
Replicating your carefully curated report for another client has become even faster.
Advertising Solutions
Display Advertising
Demographics widgets were reworked to improve usability. Although this is a minor UX tweak, I thought I would use this opportunity to highlight the audience insights we provide. Although the data is based on the ads, I believe that the 'Publisher' mode facts and figures can also be used as a reference for general audience profiling of any domain.
Related reading: Display Advertising: Audience Targeting
Audience insights you can find within Display Advertising.
Social Media Marketing
Social Media Tracker
The new 'Set as your company' button allows you to look at the data from a different angle. Once you set a new domain as your own company, the following will be affected:
The interface of the tool (what company the reports are focused on).

Progress data in your projects list.

PDF reports.

Automated emails. 
And another tweak: Posts, Audience, and Engagement report data are now available for exporting in .pdf or .csv. 
Social Media Poster 
Access all the essential stats for the posts you have published on your LinkedIn business page without leaving SEMrush! Navigate to the 'Posts' tab and choose your LinkedIn account from the drop-down list.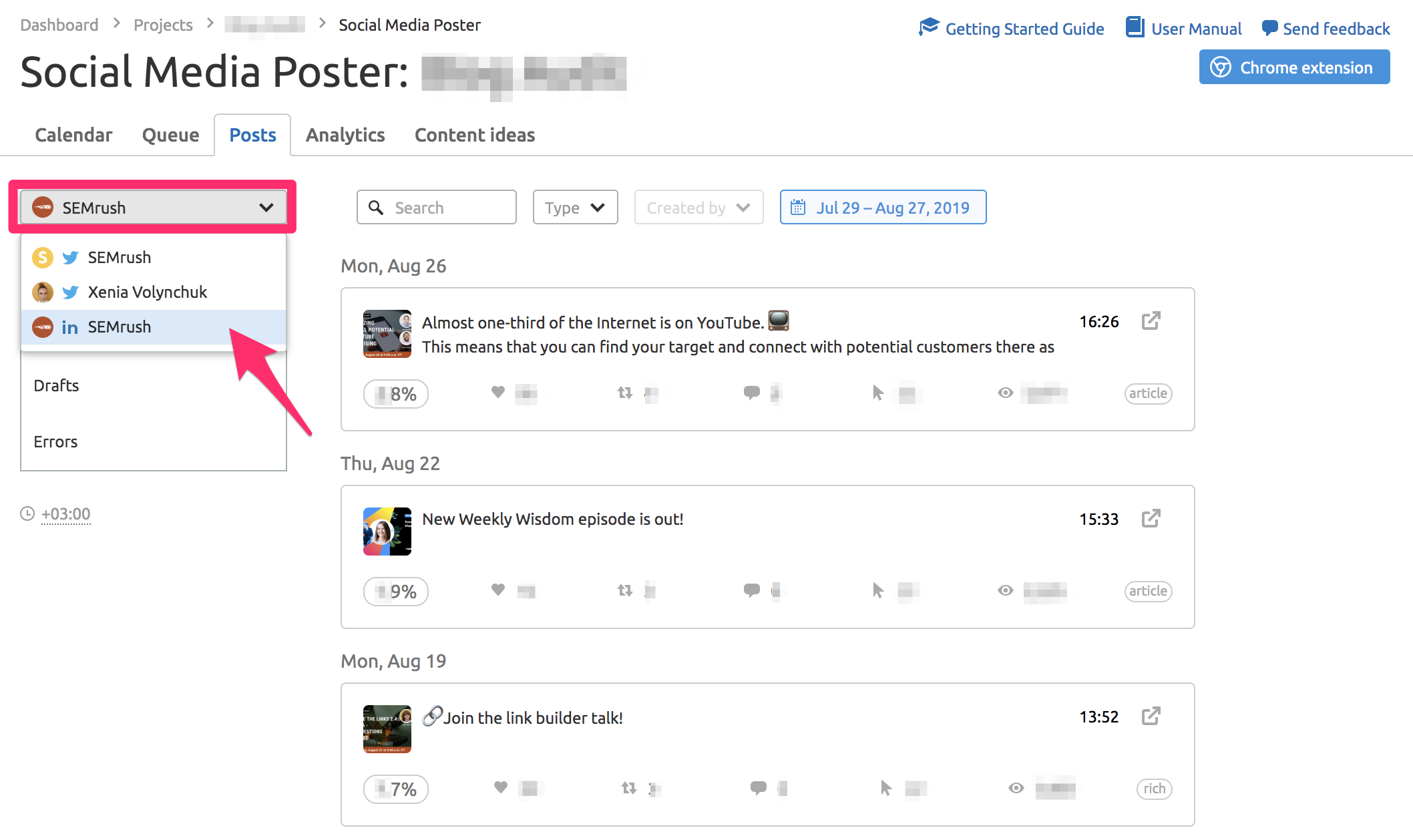 Access all the essential stats for your LinkedIn posts without leaving SEMrush.
That is all the updates for August. Let me know how you like this overview post, if you found it helpful, and what else we could have included. Also, I can't wait to hear your thoughts on the features we have rolled out —let us know what is good and what needs further improvement.
Finally, please leave all your tool wishes (even the most extreme ones!) in the comments.