What Is a CRM for Marketing?
Client relationship management (CRM) is one of the most exciting innovations in modern marketing for businesses in a variety of different industries. CRM is the term used to describe the tools and strategies businesses use to track the various stages of their relationships with any client, from the moment they are onboarded and throughout the various project collaborations. CRM systems are the actual technology used for managing a company's various relationships and communications with existing and potential clients. A CRM system assists companies in staying connected with their client base, responding more fluidly to the changing needs of clients, and improving profitability by maximizing every client interaction and more efficiently generating new client leads.
While client relationship management is a broader school of thought around the best methods for interacting and engaging with clients, the term CRM usually refers to the actual software tool that facilitates contact management, sales management, client-facing agent productivity, and many client relationships processes. CRM dashboards are often employed to manage client relationships throughout their entire lifecycle, from the pitching and onboarding stage to monitoring and follow-up needs later in the relationship.
Why Is CRM Important for Marketing?
Why are CRMs becoming such an important part of digital marketing? How do marketers use CRM to improve their business operations? Here are some of the biggest benefits of using a CRM for your needs:
Reliable Data to Inform Your Strategy
One big advantage that CRM platforms offer over other client relationship management systems is allowing you to globally manage your relationship with your existing clients, while also generating valuable data for seeking and converting new clients. For example, you can discover if a lead successfully completed a form on a landing page after seeing a particular ad you are running on social media. You can also run automated reports to identify opportunities for future investment and promotions, how well your business and team members are interacting with leads and clients, important trends in your sales and client service efforts, and much more.
User-Friendly Dashboards to Easily Evaluate Data
The best CRM platforms take all of the work that was formerly done in a spreadsheet, and collect that data in an easily navigable user interface to allow you to access the data you need more quickly than ever before. Even better, CRMs can be set up to allow all stakeholders from a company to access them for their unique needs. For example, your product manager may want to sort through client service requests to help innovate and develop new features that are being commonly requested. Similarly, an advertising manager may want to collect data on which visual graphics are performing best in generating new client leads. A CRM dashboard allows all team members to access the most useful data whenever they need it, without any delay.
Automation Features to Improve Business Operations
Since the CRM is always capturing real-time data and insights from your existing and potential user base, you can generate more relevant, personalized messaging and promotional campaigns. Even better, the best CRM software allows you to automate these messaging campaigns and target them for specific user funnels to let you better connect your product with users with a niche need from your product or service. For example, a good CRM tool can help you create a series of automated emails that speak to that audience specifically and are triggered by specific actions. You can also constantly customize these campaigns as you collect data on their effectiveness, and ensure your advertising and marketing dollars are spent as efficiently as possible.
No More Guesswork or Assumptions When It Comes to Marketing
In the past, marketing campaigns involved sifting through thousands of client interactions and manually establishing trends to inform future marketing decisions. Not only was this process time-consuming, but it involved a significant amount of guesswork in terms of figuring out which strategies would actually be worth your investment. CRM systems remove this guesswork, by providing you with specific and targeted data that let you base your decision-making on facts, not assumptions. Particularly in competitive business fields, maximizing your limited marketing budgets and ensuring you receive a quality return on investment (ROI) is critical—which is why most industry-leading businesses rely exclusively on CRM software to inform their business and marketing strategy.
What Are Examples of CRM? What Does CRM Look Like in Action?
Now that you know the benefits of using a CRM, what does CRM look like in action? Here are a few of the most popular uses for CRM software in modern marketing:
Crafting email marketing campaigns—Instead of generating a variety of different copy and outreach approaches, using a CRM can help you identify the most effective content approaches for different client segments. This lets a company send discount codes to particular groups, automatically ping users who have been inactive for a certain amount of time to encourage re-engagement or offer upgrades to dedicated users when they have passed a certain threshold of engagement. Beyond that, the messaging itself can be personalized to unique geographic and use-case profiles to create emails that are genuine and responsive to user needs and concerns.
Tailoring and rewriting ad copy—CRM tools can also help you measure engagement with different promotional and ad campaigns across your various channels. For example, if you ran two different discount signup campaigns with the wordings "15% if you join today" versus "Create your account today and receive our biggest discount", the CRM can give you detailed information on engagement for both, allowing you to see the conversion rate for each. This lets you see which copy is ineffective (or even ineffective for certain groups), allowing you to make the needed edits and ensure future campaigns focus on copy that has proven effective.
Evaluating client service approaches and agents—CRM software can also allow you to track service requests and responses, and measure future action by clients after those connections. Not only does this help you better design your customer service workflow, but it can also allow you to help agents tailor their individual approaches to ensure higher client satisfaction and increase positive interactions. Basically, a CRM can let you optimize your in-house training and hiring practices to deliver the best possible customer service experience.
Measuring the most valuable CRM channels—What are CRM channels? These are the different ways in which your business or brand communicates with existing and potential clients. Because of the various engagement metrics that the best CRM software offers users, you can actively measure which channels are delivering you the most valuable and productive engagement, and focus your spending and resources on those channels. This lets you better manage your in-house marketing budget, as well as figure out where to devote your team's time and resources.
Which Is the Best CRM for Marketing?
So which is the best CRM in the market? While there are some competitive options, Semrush provides a suite of CRM features that offers everything a user needs to manage their ecosystem of clients from start to finish. Here are some of the features you can enjoy by using Semrush CRM:
The Pitch Stage
For every new client, Semrush allows you to create a detailed client profile that can inform all future interactions and personalize your work with them. Also, you can find relevant info and notes about the company in the profile, including their contact information, website, and technology details, for anyone to review, assign and update the status of the client and where they are in terms of the user lifecycle, and much more, to give your in-house team the best possible picture of who they are working with.
The Monitoring Stage
Once you have onboarded clients and are developing your relationship with them, the next set of features of Semrush CRM software comes into play. As you monitor your ongoing work with your various clients, the Semrush CRM tool allows you to set up custom projects for both the clients and those working with them, track a wide variety of related digital marketing features to increase engagement or optimize communication, and set up notifications about important changes that need immediate attention from your team.
The Management Stage
While different businesses and different clients have unique needs, managing your relationship with clients is key to retaining valuable users and ensuring good word-of-mouth for potential future clients. Semrush CRM software has a suite of tools optimized for this stage too, including the ability to create in-house tasks and seamlessly link them with the appropriate Semrush tool, estimate the time and cost of various tasks for easier invoicing and accounting operations, the ability to organize and share files with individual clients via white-label client portals, and the opportunity to assign specific managers to different clients to make sure no one falls through the cracks or doesn't have their needs met swiftly by your team.
CRM Reporting Tools
One of the most useful elements of Semrush CRM software is the ability to generate customized and automated reports for both your team and your clients. These reports can be easily created and automatically scheduled based on stakeholder needs, and you can even build a single page with aggregated data to provide an easy user interface to quickly access data for ongoing business operations and communications. 
How to Use Semrush CRM
So, how do you get started using Semrush CRM tools to realize these benefits for your business? Here is all you need to know about how to use Semrush CRM software: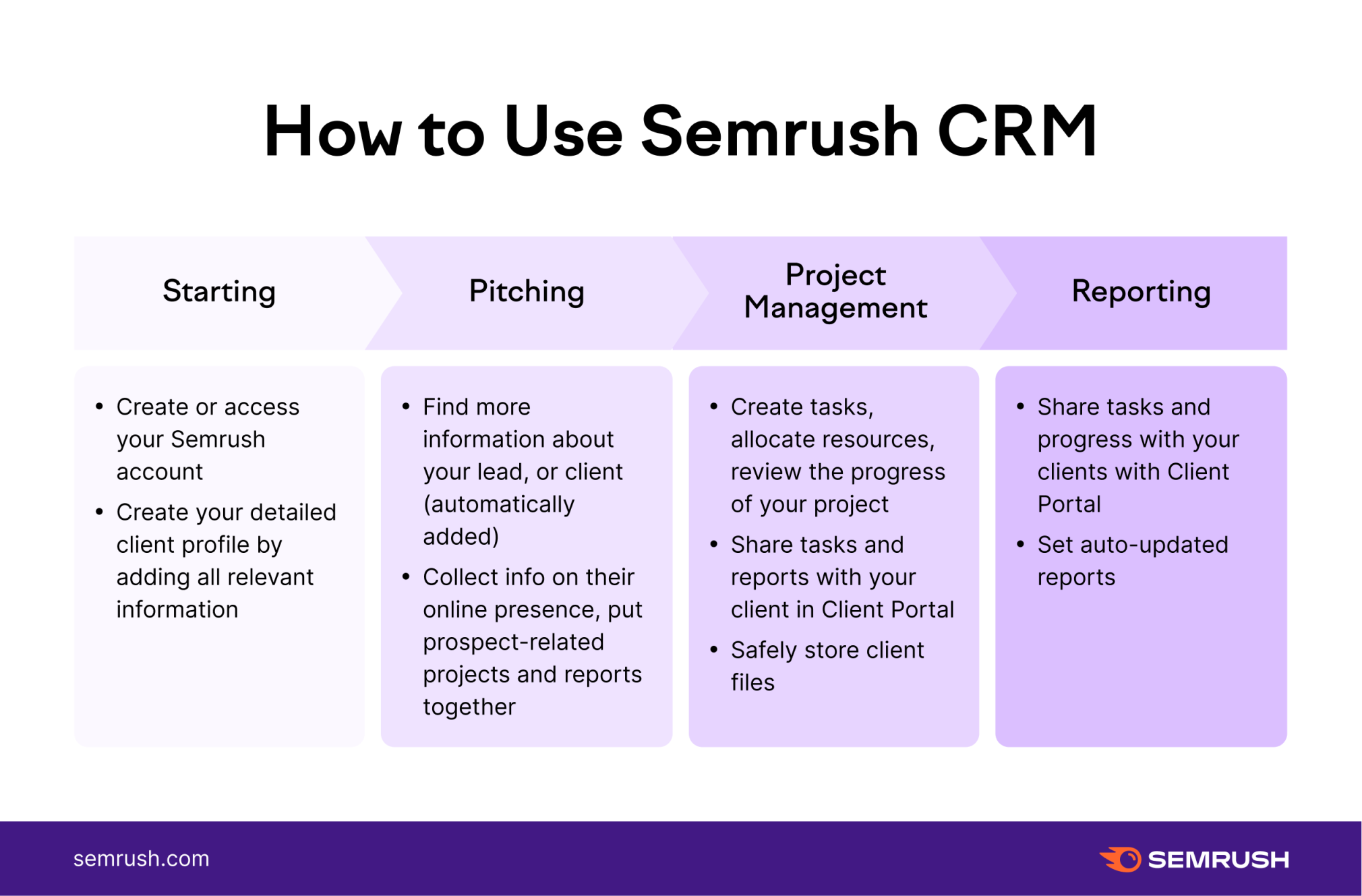 1. Create or access your Semrush account— it is quick and easy to set up a new Semrush account. Once you have created or accessed your account, click on the CRM toggle on the left navigation menu to view all CRM tools and options.
2. Add your first client—to start adding your clients, go to the CRM tool and then:
Fill in the basic data about the customer
Agree to the terms of use
Click the green button 
3. Create your detailed client profile by adding all relevant information—you will be taken to the customer profile page, where you can add the client's contact info, as well as any notes you have that would be helpful in terms of client needs and future action items.
4. Connect relevant projects and reports with your newly added client profile—after you've entered your client's information, you can proceed to connect them with existing Semrush reports and projects. You are free to create new reports or projects, or connect a client with existing ones. To do this, click "Go to Reports" and select either the "Create new report" or the "Connect reports" option.
5. Create tasks —in addition to collecting data from Semrush projects and generating reports, you can also create specific tasks within the CRM. This feature allows you to build a comprehensive workflow by combining data from both project and non-project Semrush tools. To start, go to the "Tasks" tab and click "Create task." Then, enter the relevant information and assign it to team members as needed.
6. Create a client portal to grant access to relevant info—this tool allows you to create custom client portals to give clients access to relevant data they need on their own. To get started, simply select your client, and then open the Client Portal tab. You will need to choose a name and password for the portal, which you can then share with your client. Select the reports that you want to showcase in the portal and choose how frequently you want them to be updated.
Conclusion
No matter how large or small your business is, or what your unique client needs may be, the Semrush CRM tool offers an industry-leading suite of features that can help you take your relationship with clients to the next level. With tools designed to aid every stage of your relationship with clients, Semrush can provide the assistance needed to ensure your clients are satisfied with your work and receive the data and support they need for their own purposes.