Every week I speak with a bunch of small business owners who want to start getting more traffic through to their websites (who doesn't, right?). They tell me the same old things:
"We've set up a blog but nothing's really happening."
"Yeah, I've been posting out some stuff onto our company blog, but nobody seems to care."
"I just don't see how we can justify spending on 'content.' We have a website, can't we just SEO the site for a load of keywords and bring traffic through without it?"
After I've let out a big sigh, I usually go on to explain why content is so important. Within the search industry, content seems to get commoditized and stripped down into something that is actually bottom of the pile in terms of spend.
Just look at guest blogging and how this has been scaled up into a process that usually involves a load of research around websites that will accept guest bloggers (usually fairly low-end sites), a mass email send, and then right at the end of this process, a mediocre piece of content will be pushed through to a webmaster with a link back to your website.
"Great!" you think. "Now let's keep doing this until we get more links than our competitors." ... Sigh (again).
The reality is you're thinking in such a closed-minded way. You're rinsing and repeating the same method a load of times, leaving a huge footprint for Google to follow and just spending all your efforts on single transactions. It doesn't sound very sustainable when you put it like that, does it?
We need to talk about your company blog; it's getting ridiculous.
Stop ONLY thinking about links
Yes, I know; links are incredibly important. You don't need to preach that to me. What I want to preach to you is that you shouldn't be basing all of your strategies around links.
If you're just consistently chasing the next link, you'll never making things easier for yourself. If you compare this approach to some of the most successful blogs, then you'll start to see why.
Blog owners are focused around building a community. They want people to come to their blog, share their content and come back again in the future (if not on a regular basis). Links won't give you all of this. They may help to bring in more traffic, but they won't build your community for you. That's what your content does.
Yes, yes, I know. You're not a blog owner. You own a business. Which is completely different, right?
Not really. As a business owner, you'll still want to bring people through to your website that actually have a positive experience on your site, share this with their peers and come back to the site at a later date. Content can be the perfect vehicle for this.
If you're going to really grow your business, you need to build a community around it in one way or another. This is a lot easier if you have a really innovative, cool product that is going to be talked about and shared regardless, but it's also achievable when you're working in what we would classify as more boring industries. The majority of my clients are within B2B industrial industries — we're talking about the types of businesses that specialize in creating a valve that goes into a piece of machinery that is used to make other valves. Enthralling, I know.
Having said that, just because you or I don't find this exciting, it doesn't mean someone else doesn't. I actually find that content creating within these types of industries is a lot easier because there's much less noise out there and a huge gap for someone to have a leading voice.
Your business can be that voice.
It may not be easy. It may not happen overnight. It may never happen, but if you plan well and measure well, then you'll be on the right track.
Here are four things you should definitely be doing with your company blog:
1. Understand the current landscape
Before you start jumping into creating new content on your site, you should have a thorough understanding of what else is being published within your industry, who is publishing the content and what is working.
I recently talked about this topic at the BrightonSEO conference, so you may want to check out my slide deck here.
In short, I use the following tools to get the full picture of the content that is working within the niche that I'm focusing on:
1. BuzzSumo (to find content that has been shared regularly within the industry).
2. Social Crawlytics (to uncover the top performing content from each of your competitors).
3. Reddit Subreddits (there's a subreddit for everything — just check out one related to your offering and find the top authors/aggregators of content).
4. Google News (to find new, timely content and breaking stories).
These tools will enable you to really drill down on what is working within your industry, and you can use this to give you a bearing on what type of content your will look to create.
Another quick tip for getting new content ideas is to get the article titles for each of the URLs you've found from your analysis (you can do this via the SEO Tools plugin for Excel) and create a word cloud from them (use a tool like Tag Crowd for this). This will help you visualise what type of themes and topics are being discussed within the industry and what is clearly working.
Once you've got an idea of what your target audience want to read, you can start mapping out a content roadmap. Within your roadmap you'll be able to drill down into who will be producing the content, when it will be going live and what it will focus on. Check out this post that I recently wrote for some ideas on content creation options.
2. Test out different formats
Just because you're in a boring industry, it doesn't mean that your content has to be boring. Don't feel like you have to just post out text-based articles in the same way every time. Test out new mediums and formats.
There's no right and wrong formats to use, but you'll need to see what your readers respond to. Some audiences will respond really well to short videos, while others will prefer more in-depth, text-based pieces. The important thing is that the way you present your content can be your differentiator.
Just look at this animated infographic as an example: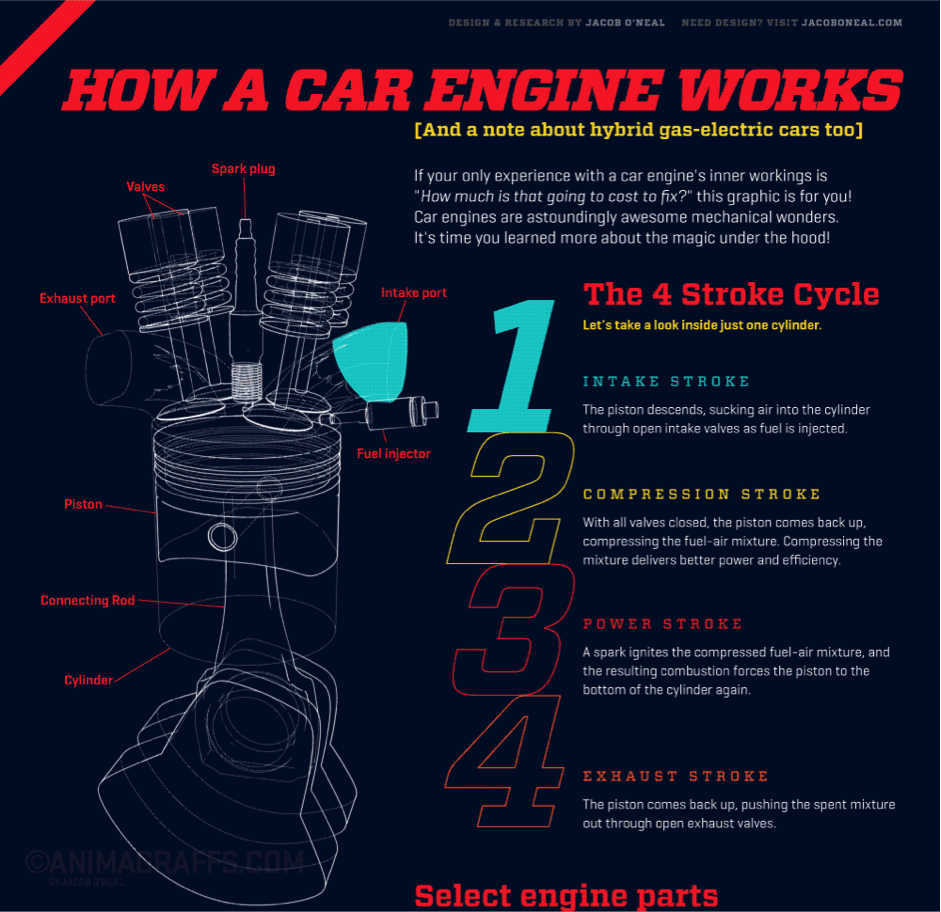 Image source: http://animagraffs.com/how-a-car-engine-works/
Explaining the technical details of how a car engine works may appeal to some people within a text-heavy document, but you open up your online reach to a much wider audience by introducing visual content that can be consumed a lot easier.
This example has been shared around 3,000 times across social media, has been linked to by 128 different domains and has been piling through a ton of referral traffic to the author's website.
Not bad.
Some of you may be wondering what the costs involved are for this kind of content, and you'd be right to think that it doesn't come cheap. That said, not all top-performing content has to break the bank.
Here are a few different formats you can look at:
Slide decks (you can use something like SlideShare for this)
Video content
Animated .gif tutorials (a tool worth checking out for this is LICEcap)
Screencasts
Infographics
Animated infographics
Interactive content (just check out this example — it's one of my favourites as a simple idea that really took off)
List-style posts (BuzzFeed have perfected this approach)
Quizzes (again, you have to take your hat off to BuzzFeed who have become the masters of the online quiz)
PDFs (yes, PDFs! They can be used as downloadable assets to gather email addresses or other contact information)
Mobile/Social apps
Online games
eBooks
White papers
Long-form text pieces
Hand-drawn illustrations
Simple images
These are just a few, but this will hopefully give you a starting point to experiment. Another thing you might want to consider is that you don't always need to look at content in the traditional way. Take a look at this post I wrote, which may help open up your perceptions of what content really is.
3. The power of the headline
I can't really stress the importance of a good headline enough. This is the shop window to your content. It needs to intrigue your audience and hook them enough to read the full piece without giving away everything.
This is where you can take a leaf from the book of the publishing giants of the internet. I've spent countless hours analyzing the likes of Upworthy, BuzzFeed and The Huffington Post to see how they entice people into reading their articles.
These basic principles can be applied to any industry.
The best piece of advice that I've ever had when it comes to creating a good headline is to ensure that you write out at least 10 alternatives to your headline before choosing one. Alongside this, you should make sure there is some kind of emotional hook within it.
Using this article as an example, here's a few of the headlines I brainstormed on a piece of paper (that's right, I do physically write some things!):
1. Everything Your Business is Doing Wrong on its Blog
2. How to Make Your Company Blog More than Just a Webpage
3. Addressing the Issue of Your Company Blog
4. We Need to Talk About Your Company Blog, it's Getting Ridiculous
I often pass this around to different members of my team to get their input as well. This often yields good results.
4. Measure everything
The only way that you'll improve what you're doing is to measure it. Everyone's goals are different, but you need to set a variety of goals (that are realistic) in order to gauge how well you're doing.
Don't just look at social shares, especially if you're operating in an industry where social media isn't widely used to share content. I actually worked on a project with a private STI clinic and they were using social shares as a metric on their content. Considering most of the posts were along the lines of Ways to Spot if You've Got a Sexually Transmitted Disease, I doubt that many people wanted to shout it across Twitter!
One thing I do is track the scroll depth of users within my content. You can use Crazy Egg to track how far down a user is scrolling, and this can be a great way to understand how much of your content is actually being viewed. Alongside this, you can compare against the time spent on the page to see how engaged users are with your content.
Another metric I use a lot is email signups. Make sure you're tracking any email signups and split testing across a number of capture forms to see what works best. You can then start assigning values to your different traffic sources.
Benchmarking traffic values of your competitors through SEMrush is another perfect way to get an understanding of the CPA of your visitors. Ross Hudgens recently published an awesome slide deck on ways to calculate traffic value using SEMrush and a number of other tools, so be sure to check that out.
TL;DR
Don't just look at blogging as a link building exercise.
Write out your headlines a number of times before settling on one.
Measure the performance of your content (give Ross Hudgens' slide deck a read).
Test out different mediums and content formats.
Understand what works within your industry, and back up your ideas with real data.
Don't assume that because your business isn't generally interesting that your content can't be either.
Author bio
Matthew Barby is a U.K. digital marketing consult and oversees digital strategy at Wyatt International, a heritage marketing agency. Matt specializes in developing unique content marketing strategies across typically difficult industries. If you have any questions, you can get in touch with Matt via Twitter.