Why, why, why? Online, we are all full of questions, especially when we want to get the most from our business and our websites.
It's no secret that the way consumers use the Internet has changed dramatically over the last decade and companies have had to adapt to this to be successful online. People are searching smarter, doing more research and generally using more technology to find your services or products.
Not only are there more devices for us to search on, but there is also more competition for us to sift through. This makes marketing to these consumers much more difficult. In fact, the journey of the customer may include a mix of different tactics across paid and earned, online and offline media. To work out what is best for your business, it is important to ensure accurate measurements of statistics across all platforms.
One of the best and most accurate tools to use to monitor statistics is Google Analytics, although the 'not provided' keywords are making it harder to see what customers have searched and which ones converted. Be able to compare visits by day, week, month and year means you can see reliable data and see what has worked in regards to your marketing efforts.
This makes it easier to see where people came from, how many times they visited your website and above all, how many different platforms they used before buying from you. It is the latter that really puts into perspective how much the internet has changed.
Keep Up With Trends and the Competition
There are more than your own statistics that you have to contend with, though. Trends are changing constantly, whether that be the rise in mobile devices or the amount of people searching for a particular product. An example we will use is 'Paper Bags.' The environment is always a topic high up the agenda and if we looking at the data from Google Trends (below) we can see that for this phrase, the amount of people searching for it has dropped year on year.
Google Trends – Paper Bags (From 2005 to 2015)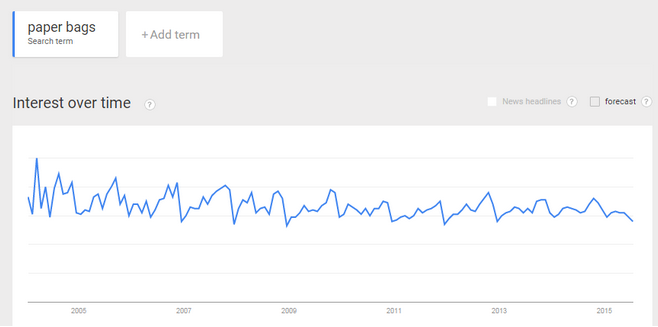 Therefore, for companies in this industry, it has been made harder to capture the right traffic and grow their business online and means they will need to be smarter. Although difficult, this is not impossible. In fact, one example is a company experiencing growth in their business each year despite the decline in overall searches for a majority of their products.
The Paper Bag Company – All Sessions – December 2007 to December 2014:
This graph (taken from Google Analytics since December 2007) shows an increase in Overall Sessions each year. Being in the right place at the right time is important, and a good online strategy is paramount to this. It is important to constantly test and tweak the marketing strategy, but it is equally, if not more important to monitor the performance of visitors to the website too.
The competition are likely to up their game too, making it all the more difficult, and online you are only as good as your competition. Therefore, tools like SEMrush, which can allow you to see what keywords your competitors are targeting (or paying for through Google AdWords), gives you an advantage to see what they do well and what you could be doing better.
Working Out Your Market Size
Using different tools are great but you can use simple Maths to work out your potential market too which can be a real eye-opener. By choosing a selection of keywords which are achievable and have monthly search volume you can do some sums to give you a basis to work out the ROI and revenue of your website.
Table 1
In this example, the specific monthly search volume is 141,230. The Click through Rate (CTR) column shows the average percentages for each position within Google during 2014, which will help us find out how many visits are possible by being in each position. In this instance, the Conversation Rate is 1.2% and the Average Order Value is £350 for each product. This enables us to find out how many sales are possible in each position and the market value for each position too.
Therefore, if this website is shown at position 1 for all its keywords they will be looking at £185,304 in revenue each month. Simple!
Finding the market value is great but the problem still stands once the customers land on your website. Not only do you need the people to reach your site in the first place but then there needs to be a smooth, simple process for them to find what they are looking for on your site and commit to buy – easier said than done.
Make Conversion Rate A Focus
Conversion rate is one of your biggest things to tackle. You could be getting 100 visitors to your website and 50% of them convert; great! But reality is, unless you're selling a completely niche item that only you sell, that isn't going to be the case.
By optimizing your conversion rate, it could be the difference between success and failure. If we refer back to Table 1 and Position 1, the potential value is £185,304 while the conversion rate is 1.2% but if the conversion rate were to improve by just 0.1% then the revenue could be improved by over £15,000 which is a huge jump for such a small increase.
There is a chance you could be in a market that is large and fiercely competitive but that means huge potential gains. You could alternatively be within a niche industry with very little competition with only a select few specialist buyers. But, by working out the potential market size and by improving how your website performs to help increase the conversion rate, your business could go onto online greatness.
Summary
The Internet is always changing and the way customers use the internet isn't standing still either, but by working out your potential market size and by constantly tweaking and testing how your website performs through the use of tools and statistics, it is made much easy to work out how much you should be spending on marketing.
Online, your website is your biggest asset. It needs to be clear, concise and overall it needs to make you money. What website changes have you implemented to keep up with growth and change in your industry? Let us know in the comments.