Hosted for the second year in Spain, The Inbounder conference had a major rise in attendees in a short period of time: from 200 to 1,000 people in only one year. In 2016, the audience was made up of members from 22 different countries who gathered at the City of Arts and Sciences in Valencia in an amazing building designed by Santiago Calatrava and Félix Candela. 
Below is a recap of a few of the lectures presented at the event.
Machine Learning & AI
Marcus Tandler, CEO of OnPage.org, delivered the kick-off presentation. With his impressive amount of slides (301 in total), he presented a good overview of the future of Google.
According to Tandler, the company is "not about search," but about AI (artificial intelligence). "Rather than making their search better based on AI, Google is using search to make their AI better," said Tandler. This, he explained, might help the "machine learning company" to stop depending on links in the future.
If your content disappeared from the web, would anymore care? Answering this question is a good exercise to estimate your content quality. "It pays to go the extra mile," Marcus concluded. There are three important ranking factors today, according to Marcus: fast speed, no broken links and mobile-friendliness. He also gave examples where improvements such as rich snippets and republishing content were enough to help a site jump from the third page to the top positions in a matter of only two weeks.
After mentioning the metrics that matter, he summarized what SEO is all about:
Content

Speed

UX

Pages per visit

No broken links

No distractions
Content Design
"There are plenty of ugly guys out there," Valentina Falcinelli, founder of Pennamontata, stated at the beginning of her presentation. This was her way of explaining how webpages often don't suit user's needs.
She named four types of pages and tested them with users to discover how to make similar content more attractive. Some of her takeaways are:
Keep it clean and simple

Create an encouraging journey

Include bullet points and images that actually help users to understand your content

Sort, label, integrate and prioritize your content to keep readers engaged with it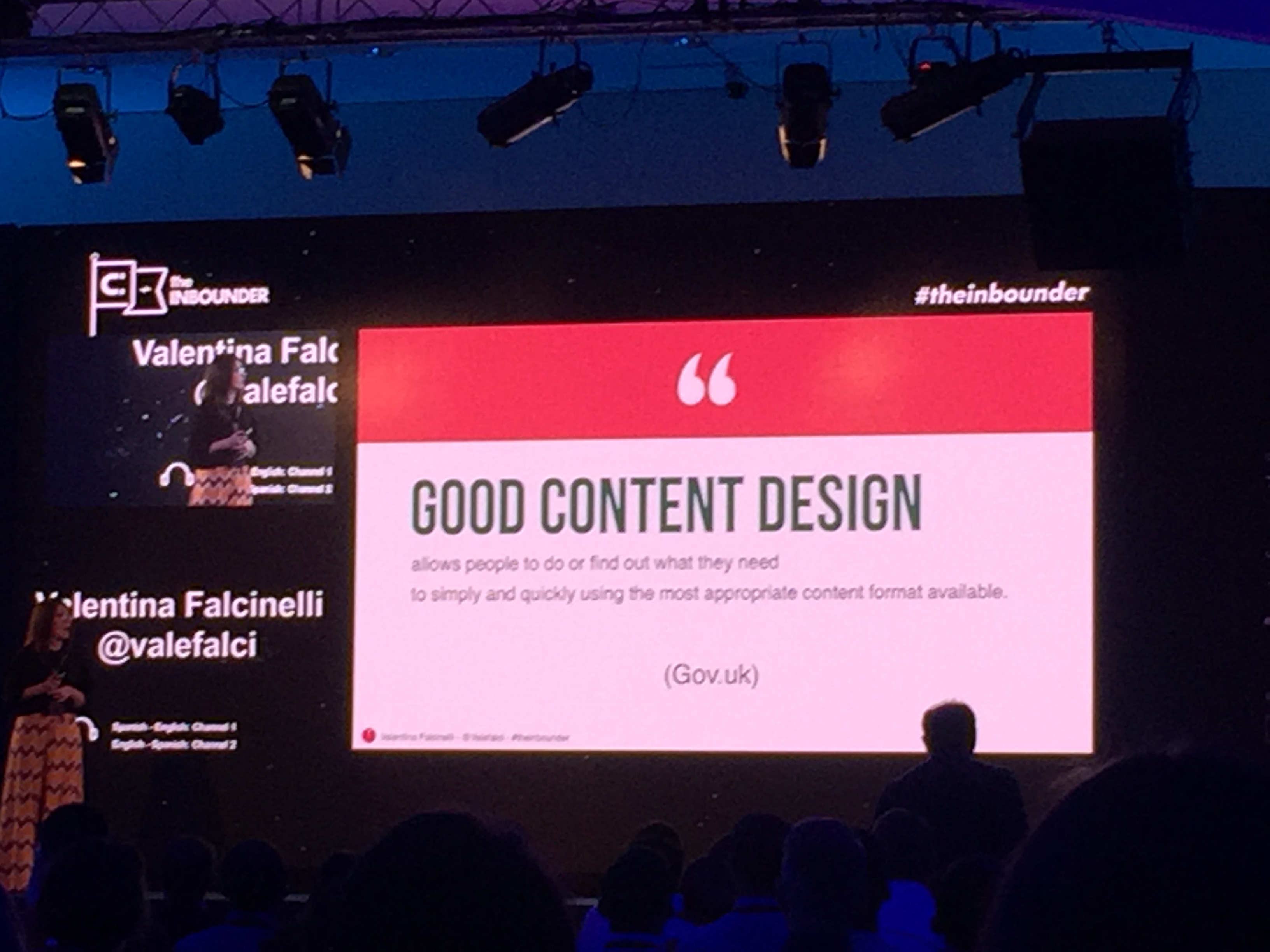 Valentina's four tips for making content more enjoyable to read:
● Shorter lines mean better readability
● Use "chunks," bold and bullet points
● Go big with fonts
● Use high-quality, useful images
Tips for enjoyable reading:
????shorter lines
????use chunks, bolds, billet points
????go bigger with fonts
????useful images @valefalci #TheInbounder

— Kate Makulova (@kate_makulova) May 19, 2016
As you might expect, considering that her presentation was about how to make reading more enjoyable, her slides were a delight. You can see Valentina's presentation here. Remember that content design is the key, as we don't read what we don't like.
Back to Basics
SEOs are always looking to discover new techniques and tricks to achieve better results. But sometimes, this also makes us fall into traps. Wil Reynolds presented a back to basics lecture, including some simple takeaways that are often ignored or forgotten:
● Look closely at PPC results and update your page's meta descriptions
● Use SEMRush along with Quora and Medium to find new content ideas
● Use search modifiers to get the highest CTRs possible for sitelinks
● Look at SERPs outside your ranking track tool
"Machines are learning what we want," said Wil, explaining that Google has the ability to understand users' needs in a matter of hours. With his own example, he showed how the query "Wil Reynolds slideshare" appeared in autocomplete results one hour after he gave a lecture in Boston.
Sometimes you can be winning at search… but losing the people. 
This is especially crucial for the paid part of the search where PPC is clearly lacking intent. Users want to learn while companies are trying to sell. And Will showed a lot of websites that advertise for their main keywords but have salesy pages that don't really bring too much value to the potential customer.
Check Wil's full presentation here.
Attention is Currency
If I had to leave you with only one idea from Bas van den Beld's presentation, it would be stop only thinking about the selling part of the customer's journey. Marketers and companies are so eager to sell that they sometimes forget that selling actually starts from building trust and helping users find answers to their questions.
Some examples that don't involve selling, but still attract a lot of attention to a brand:
● Pineapple: Airbnb magazine about travelling
● McDonald's Canada ingredient sources website
● Whiteboard Friday (Moz)
"Each piece of content must be created with a goal in mind," explains Bas. "Don't ask questions from your perspective, ask questions from their perspective."
On this slide you can see a table displaying the whole customer journey, including the audience type, user and company goals, the next probable click and what type of content to create to grab users' attention each phase.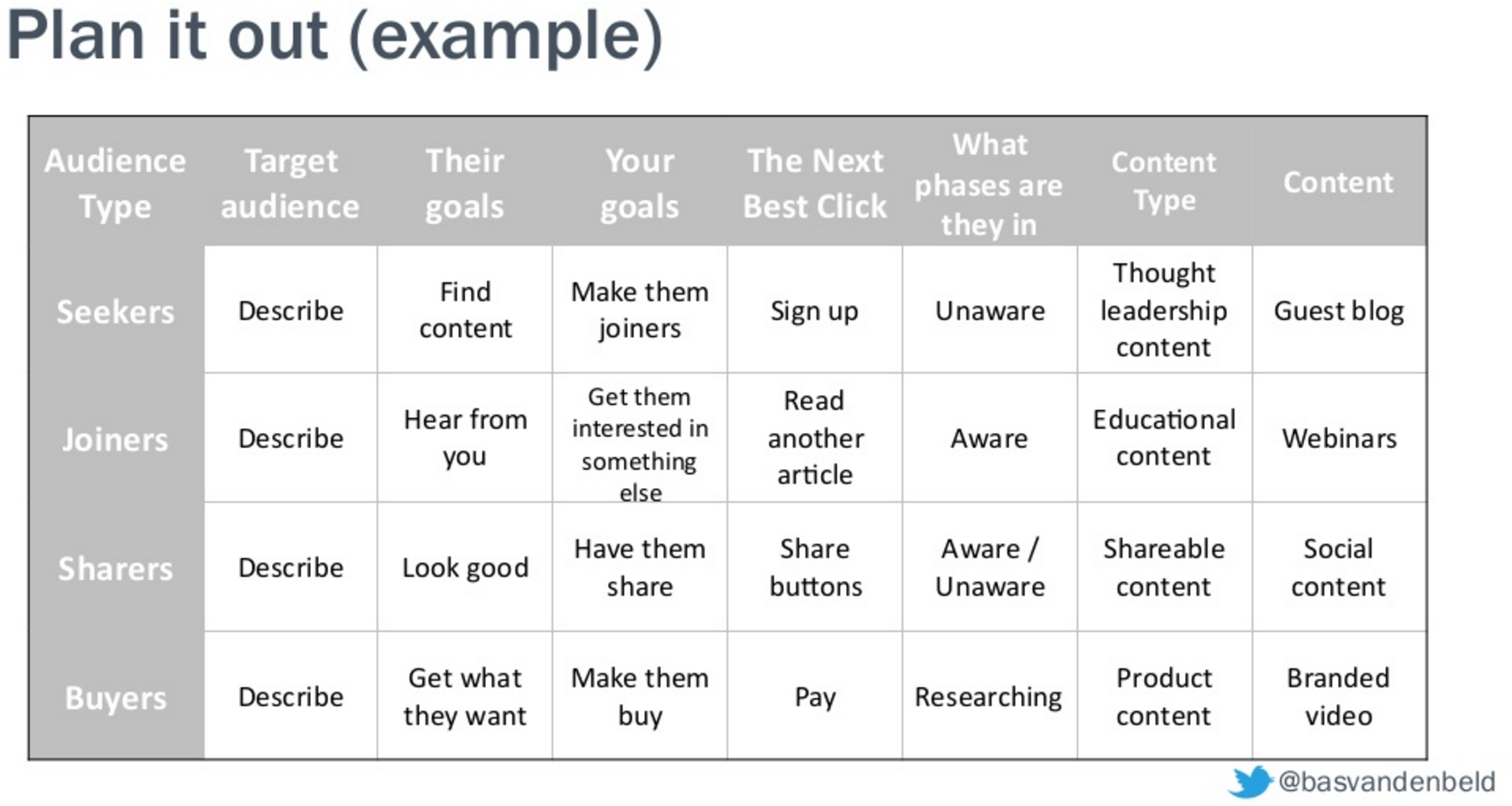 The right content at the right time to the right audience is key.
Take a look at Bas' presentation here.
Build a Brand, Not Just a Company
The definition of a great brand is "an intangible asset that resides in people's hearts and minds." Beginning with this wisdom, Joanna Lord, CMO of ClassPass, gave the whole spectrum that involves a success brand to achieve the top. She outlines seven steps that, according to her, most companies don't do right, but should:
It's hard to single out any particular step or give quick takeaways since the whole Joanna's presentation is providing one big answer. This slide will give a notion of where her ideas can drive you:
Along with sharing a step-by-step process of building a brand, Joanna also shared the elements of measuring your success. Brand can be measured.
If you want to be around in 10 years, you have to build a brand. We're in a brand-based community.
Go Big on Content Marketing
"I focus on creative ideas and let the journalist think in the story," explains Lisa Myers, CEO at Verve Search, while discussing content marketing. The case studies she presented could even go unnoticed as marketing piece, if they weren't hosted on a commercial website.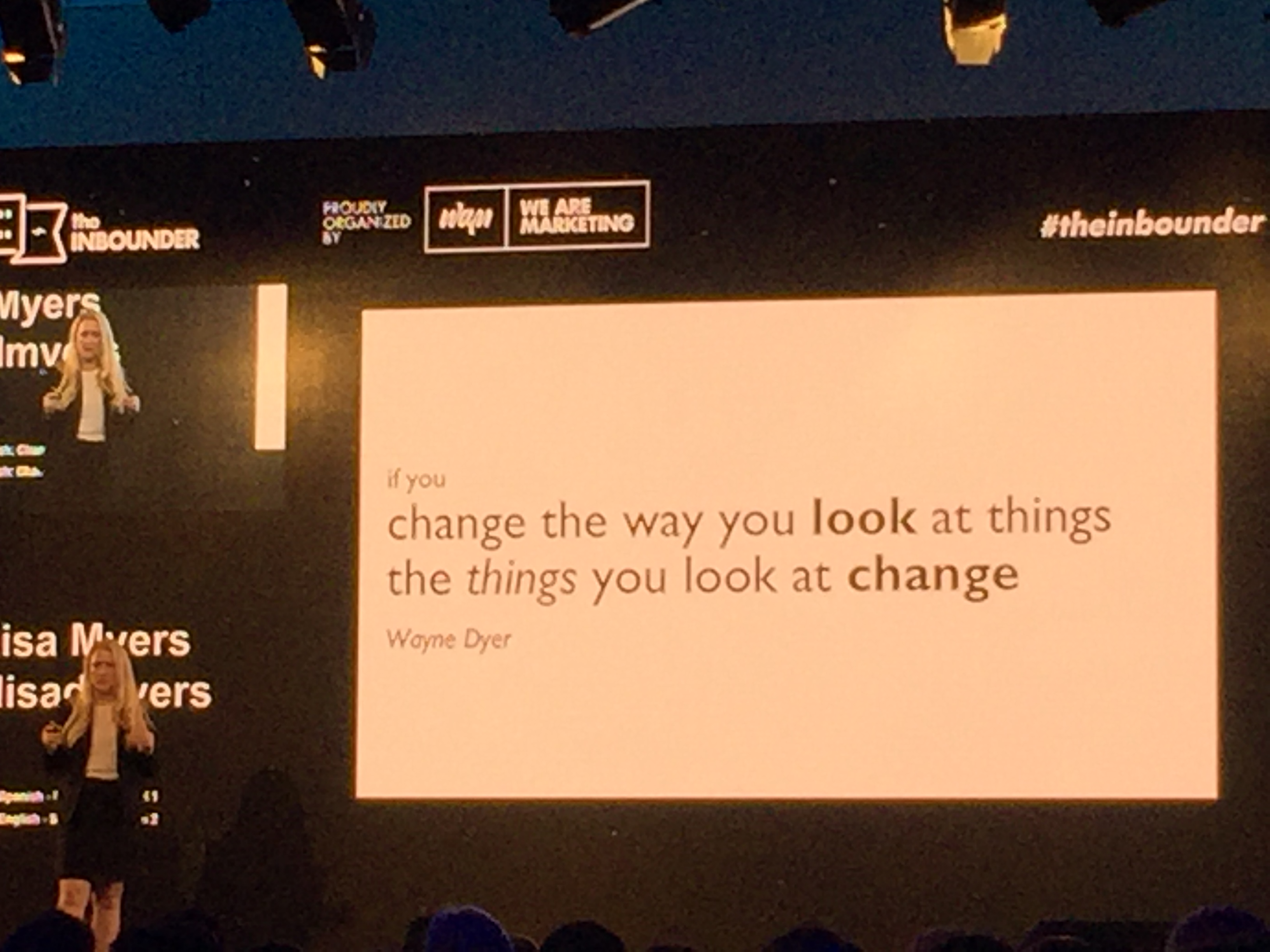 One example is the " Accent Map of the British Isles" published by Expedia, which is a quiz, where a player needs identify the region of the UK from which a given accent originates. This example was covered from several different angles by the BBC, The Telegraph, Mail Online, Mashable and several other media outlets. Two other campaigns called "Historic London" and "Billionaires League" gained high quality backlinks due to their compelling and complex content.
Check out Lisa's presentation here.
Homophily & Trigger Words
What makes people click on a link and read or watch? Creating a sense of homophily and using the right words can make your content more appealing on social media and websites. Web psychologist Nathalie Nahai gave actionable ideas for polishing your content in order to attract more users.
"Is this only clickbait? Not, if you deliver your promise," guarantees Nahai after providing some data about three words phrases with most Facebook shares in BuzzFeed titles.
At the end of her presentation, she shared a simple formula that anyone searching for a new audience via articles can apply to their content strategy: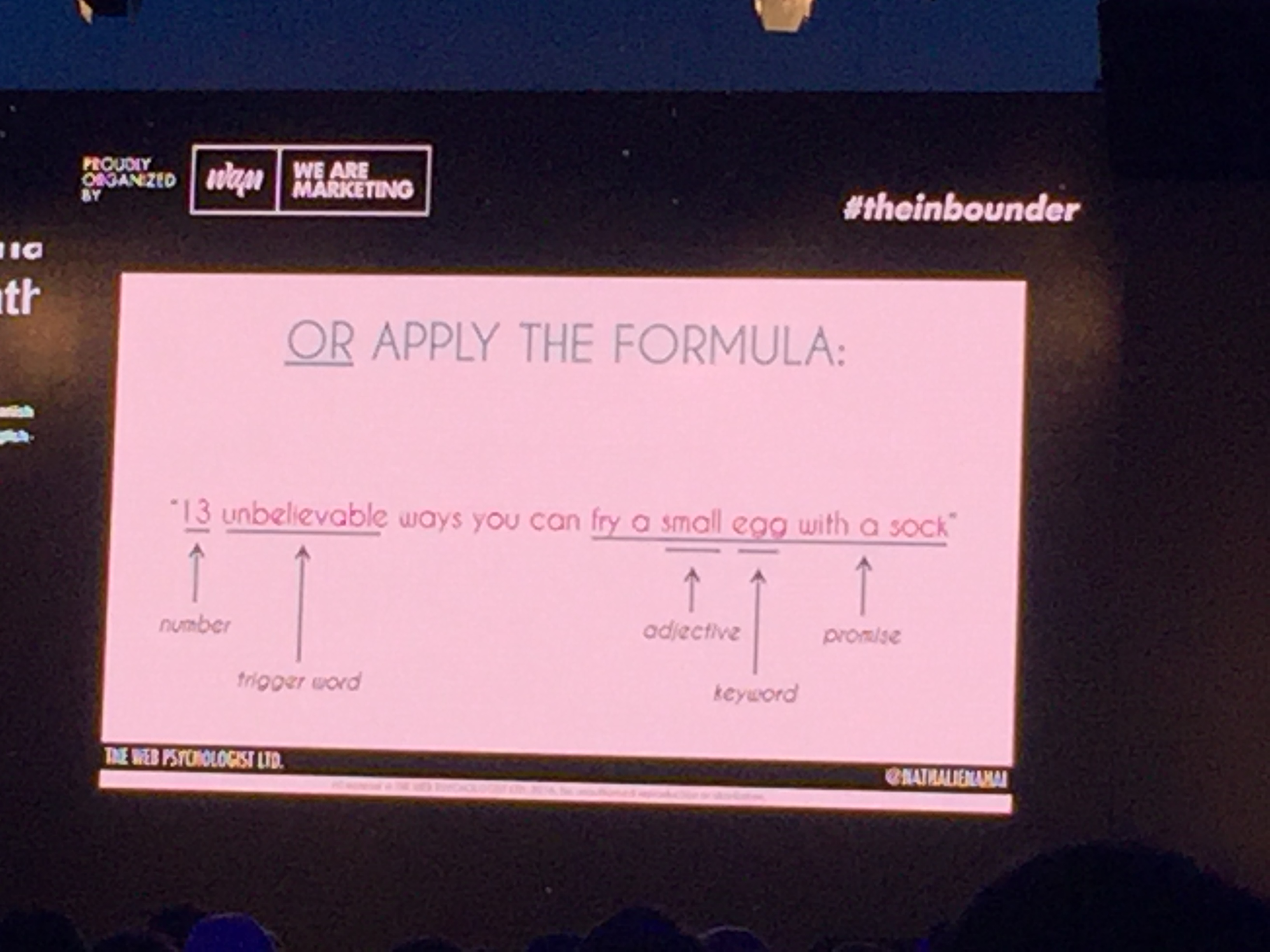 Nathalie's takeaways:
● Establish trust through shared values and homophily
● Adapt your content to your customers' personalities
● Psychologically optimize your headlines
Fight Back Against Back
Closing out the event, Rand Fishkin, founder of Moz, gave a new perspective on the present and future of search and social media.
In his view, keywords, content and links were enough for Google in 2012, just as likes and shares were the main ranking factors for Facebook. Just as Marcus Tandler opening the conference, Fishkin mentioned machine learning and artificial intelligence and how technologies change the way users perceive not only search, but also relevancy on social media. This includes both Twitter and Instagram's use of algorithms to decide what to show instead of using time-based feeds.
Engagement will become the web's universal quality metric
To keep up with new web trends, marketers should follow the main takeaways:
● Understand and satisfy all of your visitors' intents
● Outearn your ranking's average CTR
● Optimize signal: noise ratio on every channel
● Put user experience first in your marketing strategies
● Craft compelling CTAs at the top of the funnel
You can find Rand's full presentation h ere.
After two days and 24 lectures, The Inbounder attendees were bombarded with a large number of cases, studies and ideas to inspire their own projects. It was an interesting mix of local and international speakers, and the success guarantees that Spain will be in the conferences' calendar in 2017.
And in case you missed it this year and would love to discover more tips from the speakers, Scott Vann did an awesome job in collecting all presentations on the Kangadillo's blog.
Huge shout out to the one and only Gianluca who has done an awesome job together with his team in making this all happen and who had every right to feel satisfied with himself at the end of the day.