What it takes to segment your existing digital marketing strategy? A clear goal, some user data and a cup of coffee! That's it! But most of the marketers are still afraid to take a step ahead. The demand for a segmented marketing strategy is rising in the world of modern digital marketing and it's time you take the right step forward as early as possible.
Audiences today are engaged in real-time social and mobile conversations but many businesses still do not consider the interests of the customers when implementing CTA elements and incorrectly run the entire campaign aligned towards a single goal without ever spending time in understanding the individual needs of the customers.
Take for instance, a pet shop business has around 5,000 people signed up for the newsletter. Out of 5,000 people, 3,000 are dog owners and 2,000 are cat owners. The company sends out a nice looking email highlighting their latest offer i.e. "30% off of dog food" and believes that it will cater the needs of all the 5,000 subscribers. Of course, it doesn't! How can you just expect this to happen when around 2,000 of your subscribers are cat owners? This is just one of the few examples that force us to believe the importance of having a segmented digital marketing strategy.
How to Build Segments for Increased Profitability
Segmentation in simpler terms means the process of dividing the audience into different groups as per their personas. Creating smart segments and qualified personas go a long way to improve content targeting and overall customer experiences apart from having a great business website that serves seven important purposes.
Building smart segments is more than just dividing the audiences based on gender, age and location recorded via analytics software. Marketers must also understand the behavior, need, customer lifetime value (CLTV) and influences to keep the customer both satisfied and aligned to the business goals of the company. Per Gartner, the basic four step processes for building segments are:
1: Define Goal: Make a note of the desired outcomes from your marketing campaigns and fix up your key performance indicators (KPIs).
2: Collect Data: Get as much data as possible to properly analyze the behavior of the customer. People in US spend around 37 minutes per day on social media sites. You can take help of online and offline surveys and combine them with data from Google Analytics and Google Webmaster Tools. While creating surveys, involve both your external and internal marketing teams by making use of team collaboration tools like Clickmeeting or Asana.
3: Build Segments: Define a model that perfectly aligns with the customer journey based on the segmentation. Run that, iterate and refine it from time to time.
4: Develop Personas: Once you are satisfied that particular models can provide a desired outcome, build user personas and dimensionalize segments.
This is well illustrated by the following diagram.

How to Segment Your Customer Base
In order to successfully segment your customer, following points should be taken care of:
1. Customer profile characteristics (demographics): Surveys are a great way to reach your potential customers and understand who they are and how best to reach them. It is important to segment the market based on age, gender, education, family size, income and location. This is not the end but just the beginning of segmentation. The figure below presents an example of demographic segmentation of $8.5 billion rent-to-own industry.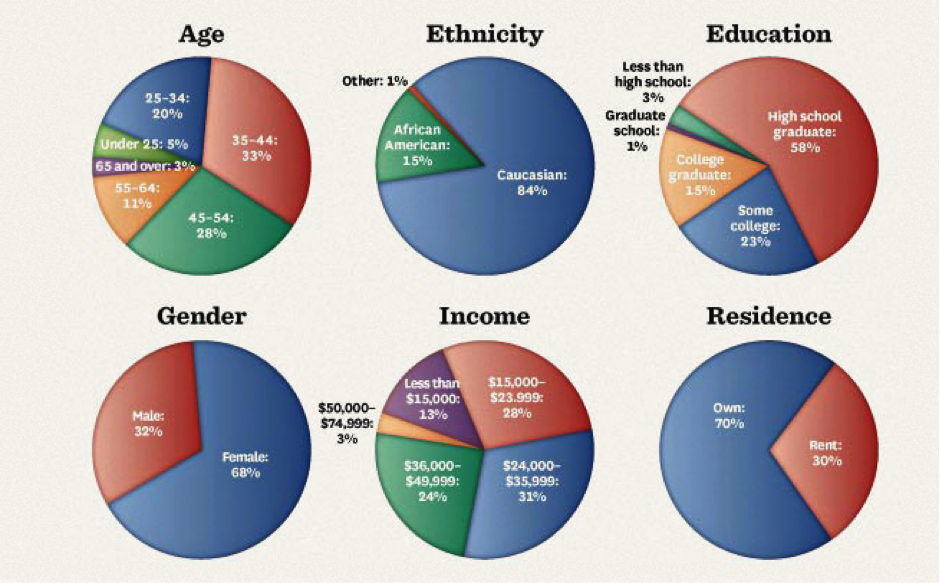 Source: Rtohq
2.Customer value current and future: Customers are the most important intangible assets. Targeting the most valuable and most growable segments in a matrix of current against future are the most common approaches followed by the companies.
CBT Nuggets does a great job here with its NuggetLove campaign where it donates 1% of the revenue to a selected charity. This helps to acquire new prospects more easily and also helps to strengthen the positive brand image. Focusing on the customer and increasing the goodwill helps to have a long term relationship with the prospects. The Customer Lifetime Value or the Customer Profitability approach is focused on the customer value and measures it as the sum of customer life time values (LTV model) which cover past, present and future values. The biggest advantage of this approach is that it provides us a quantitative value of the customers and it is classified in the operational level of the framework.
The formula for calculating CLV is provided below:
CLV = ((T x AOV) AGM) ALT
Where:
T = Average monthly transactions
AOV = Average order value
ALT = Average Customer Lifespan (in months)
AGM =Gross margin
(You can also make use of this tool to easily calculate the CLV)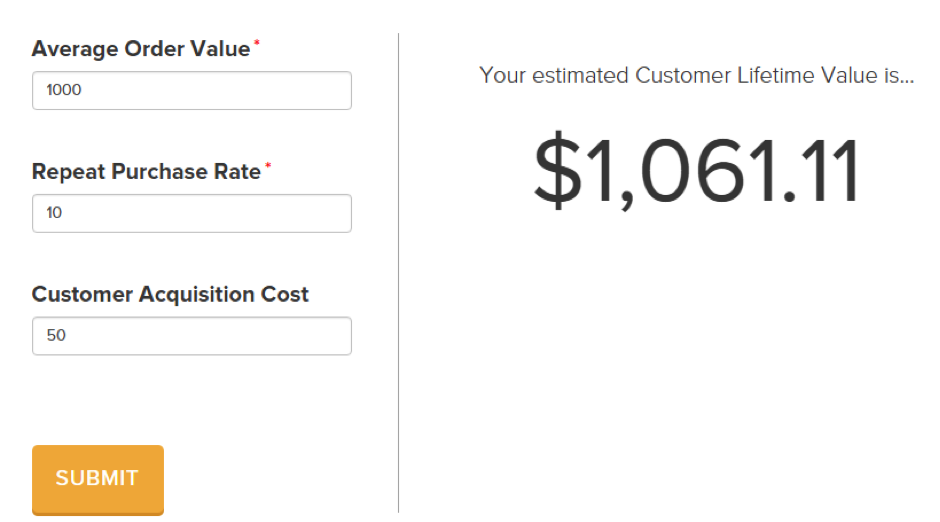 3. Customer lifecycle groups: One of the main aspects of segmentation is dividing your audiences based on life cycle and this of often overlooked by most of the marketers. Since our knowledge of online marketing is so strong, there are great opportunities for targeting through behavioral email marketing and website personalisation. One of the best practices of email marketing is relationship building which helps you to figure out the exact needs of your customer instead of directly selling the product. You can make use of the Mosaic model (see figure below) that not only helps us to determine whether your potential customer falls in the intended targeted group but also tell us about the channel and media to use in our marketing strategy.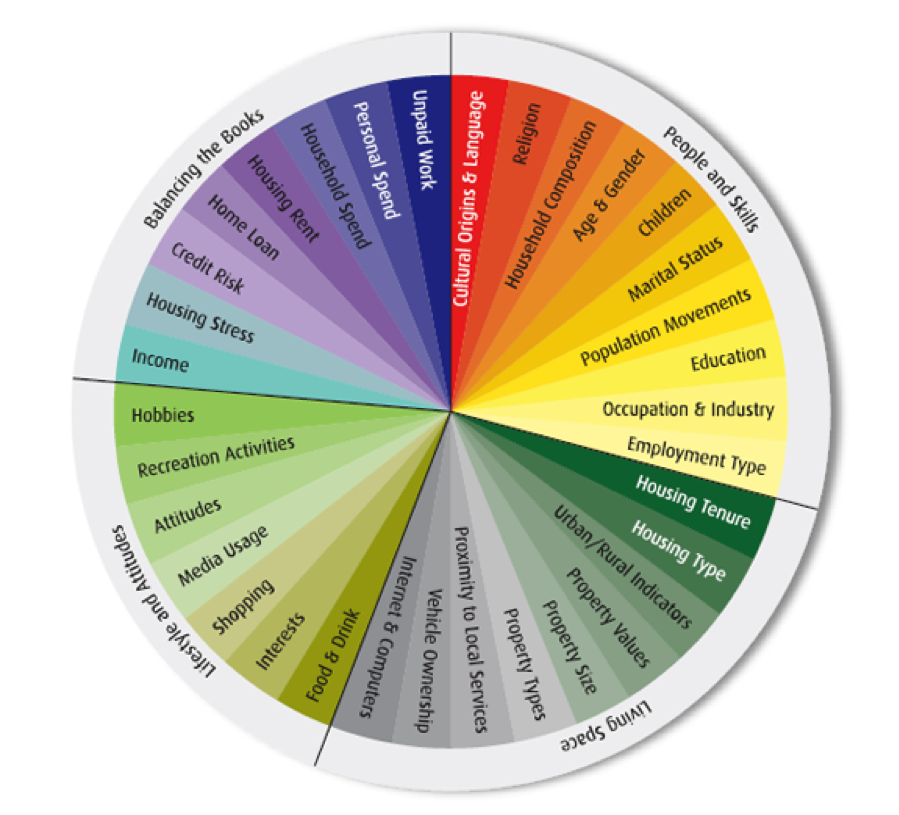 Source: Copernica
Overall, CLV can be divided into 5 steps as provided below:
The Customer Selection Phase: First, know who your customers are, what their value is and how you should reach them. This is the phase when the customer has not decided anything. You need to inspire the customer to take the next step.
The Customer Acquisition Phase: Target the customer with emails and ads covering specific CTAs (calls to action) to bring the potential customer to the next phase. You need to target the right customers using the right channels.
Personalization Phase: Target the customer with personalized emails based on his/her preferences. Email marketing tools like GetResponse offer features like A/B testing for emails that helps you to tweak your emails to deliver a seamless and personalized email experience of things that only work towards increasing the overall performance of the entire marketing campaign.
Active Phase: Involve the customer in quickly making a purchasing decision by offering discounted and limited offer CTAs.
Preparation Phase: Inspire the customer to purchase. The customer purchases the product or makes a booking. This phase involves welcoming and educating the customer about the next phase.
Retention Phase: Inform the customer about the upcoming deals and keeping them happy with personalized customer service.
4. Customer behavior in response and purchase (observed and predicted): There is a business assumption that 80% of your business comes from 20% of your customers. It is extremely important to track the behavior of your customers using a marketing technique known as RFM or FRAC analysis. This analysis involves analyzing the response and purchase behavior of the customer by studying the following factors:
Frequency
Recency
Amount = monetary value
Category = types of product purchased
5. Customer multi-channel behaviour (channel preference): Good marketers look beyond the surface trends to identify the shifts in marketing consumption and customizing their strategies accordingly. This involves grouping customers according to the channel preferences. The below figure provides an idea as to how you can group utility from each communication channel based on consumer preferences.
Source: Itella Slideshare
6. Customer personas including psychographics:A common approach for making websites more customer centric is the identification of customer personas using psychographics. One source of collecting psychographic data comes from credit and loyalty cards. You can also avail this data when the customers fill in store surveys and product reviews, take part in focus groups and interviews, comment in product blogs or respond to email campaigns. This is where proper analysis of the gathered data should be done like which email campaigns produce the highest clickthrough rate (CTR)? Which blog posts are the most commented upon? Which product receive the maximum product reviews?
Try It Yourself!
Personalization is the marketing trend of today and segmenting your current digital marketing strategy as per the taste and behavior of your customers can provide you with instant benefits and long term customer retention value. Please share your segmentation experiences in the comments below.