A few years ago, Google announced a new algorithm called Penguin, which was designed to rank local search results for mobile and desktop users. Now, if you want to have lunch in a city you've never visited before, just ask Google for "restaurants" and it will quickly show cafes and restaurants that are nearby above others in results pages. This is what local search actually is.
Last week on SEMrush chat we've been discussing how small business should redesign their marketing strategy to benefit from local search with Robert O'Haver, the host of Search Talk Live along with our other chat participants.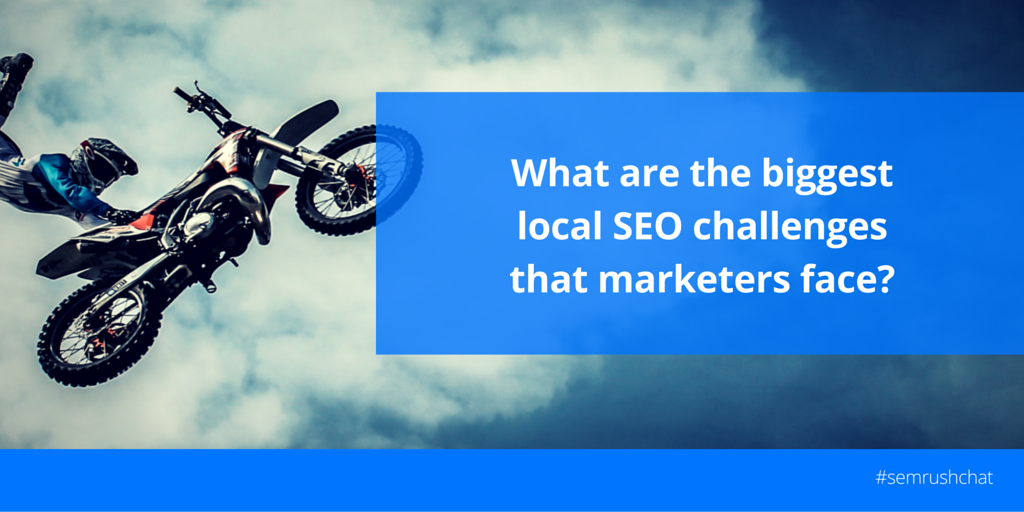 So you're ready to compete with market leaders for positions on SERPs? Well, prepare to face huge companies who have many advantages, like enormous budgets for paid ads and creating a significant amount of content.
A1: Building your brand against national and global brands. #semrushchat

— Search Talk Live (@Searchtalklive) November 18, 2015
That being said, competing with multinational brands is not an easy task. But what specific difficulties should you know about?
A1: Bad/incorrect NAPP info, previous shitty local SEO work #semrushchat

— Devin (@DevDawg) November 18, 2015
It is always a pain when you face a website that was already visited by another "optimizer" who simply didn't care about local search or configured it for poor performance. In some cases, you should redesign all SEO strategy from the start.
A1: I'd say the hardest part of local SEO would be reviews. Hard to get/monitor/etc. #semrushchat https://t.co/ZLQ5DZ13q2

— ThinkSEM (@ThinkSEM) November 18, 2015
Reviews are vital for local brands because they provide quality sources of traffic for SMBs. If no one actually knows you yet, it's challenging to reach someone who might write a review. But the hardest job is monitoring your mentions and dealing with negative reviews, according to Amel Mehenaoui @amelm.
A1: Knowing who to trust in the SEO industry there are so many so called Experts when most are not. #SEMRushchat @semrush

— Robert O'Haver (@RobertOHaver) November 18, 2015
Finding an SEO whose promises are not full of hot air is also a daunting task. To determine if you can trust an SEO specialist, make sure you understand the basic principles of how Google works with your website. You can learn more by reading through Moz's SEO Guide for Beginners.
A1 Another Challenge for local search is having other businesses around with similar names.#semrushchat

— Bill Slawski (@bill_slawski) November 18, 2015
Oh, those marketers! They're always in search of a valid product or service name. It's no wonder there are so many nearly identical names, slogans or even brands. Think outside of the box if you don't want your clients to spend their money elsewhere.
The biggest SEO challenges include: checking NAP consistency, link building (no one knows you!), reaching out for product or service reviews, citation building in local directories, and of course competing with large brands.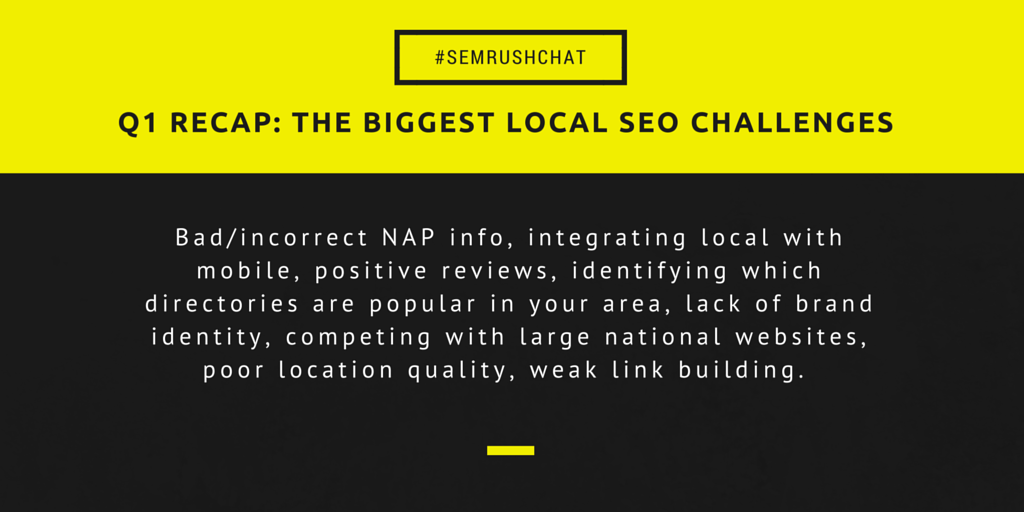 As we can see, there are plenty of local SEO challenges. But don't panic! Let's move on and find out more about local SEO techniques.
Before we take a deep dive into this topic, be sure that you are on the right path – check your local optimization with our quick checklist. And don't forget to save it!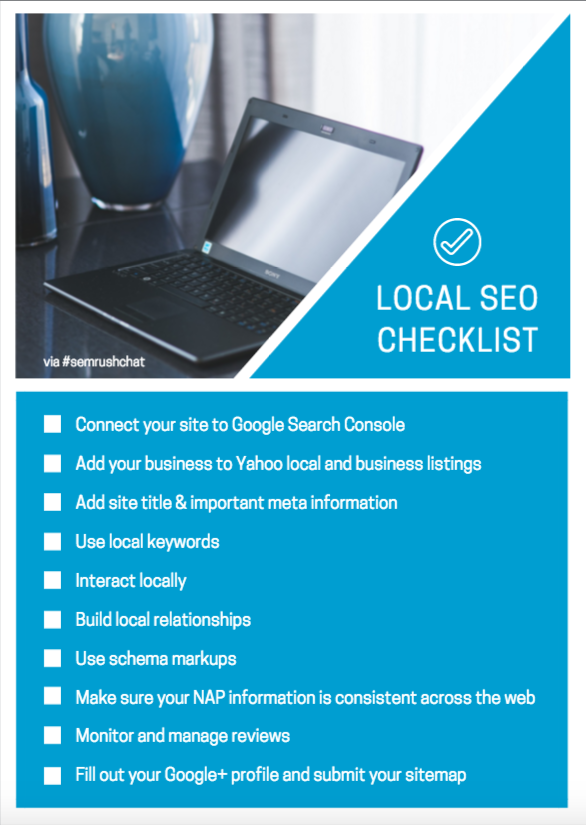 In the next question, we appeal to link building as one of the toughest tasks for a business that's new to the web. Does it ever seem that no matter how high-quality your content is, your links just aren't in a hurry to show up? If so, then read about these tactics that can help marketers earn local links.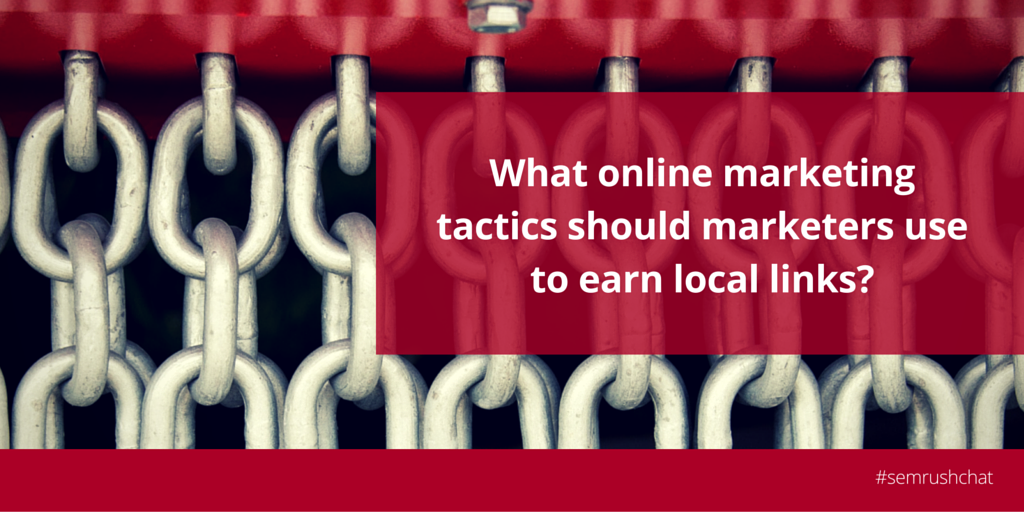 A local news feed is a good opportunity to rank high for local keywords. But don't forget about local media; for SMBs, it's vital to be mentioned by local media and bloggers in order to increase traffic and get links.
A3: Write about local topics/events. Reach out to local media and local bloggers. #semrushchat

— Ryan Johnson (@rsj8000) November 18, 2015
Another must-have is to be listed in Google My Business and other reliable local directories. Even if these citations won't send your website to the top of local search, they're still a good source of traffic.
A3: List your site with Google My Business & other local listing directories this provides off page signals of your Location. #SEMRushchat

— Robert O'Haver (@RobertOHaver) November 18, 2015
Community management has become an important part of marketing success. Learning about your audience involves finding out what bothers them and making them feel comfortable while purchasing. Luckily, there are seminars available that can provide you with a complete profile of your average buyer, including common questions and demands.
A3 ) Be part of the community you serve #semrushchat

— Tim Capper (@GuideTwit) November 18, 2015
When searching for an opportunity to build some links, don't forget to cite local influencers, resources and media. They're constantly looking through mentions and linking back to those products or services that deserve it.
A3) In your blog content, cite other influential, relevant sources and let them know. They'll hopefully return the favor. #semrushchat

— Annaliese Henwood (@MktgInnovator) November 18, 2015
Finally, to improve your local strategy, you should interact more with your local audience and local media, and become a part of your community through meetups, events and social media to comfort users as much as possible.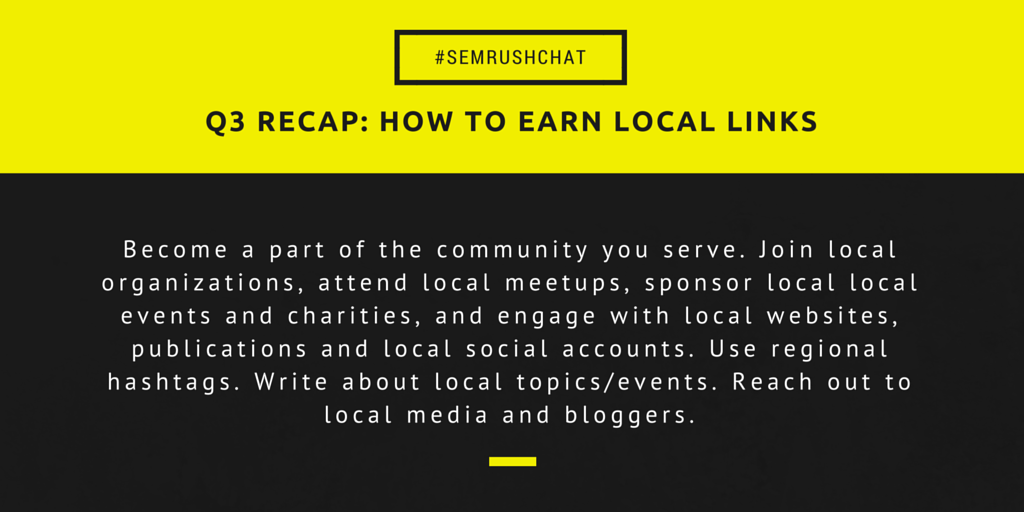 Become a part of the community, connect with local events and charities and engage…
Above, we talked about local brands, like cafés, clothing stores and restaurants, but local SEO also matters for big brands – it's a simple way to gain presence in a new city or region. With the next question, we reveal how major brands can do just that.
How can a global business improve its presence in local search?
Businesses that are physically located within the area they're marketing to have a huge advantage over others. Admit it, you are far more likely to trust, for example, a local grocery store than a merchant from aliexpress.com, because if you have trouble, you can appeal to the brand face to face.
A4: Global brands must promote brick-&-mortar locations separately. LOTS of work, but pay-off is huge. #semrushchat https://t.co/EGtUDejKJD

— ThinkSEM (@ThinkSEM) November 18, 2015
Hiring someone who is already familiar with the local market is a fabulous idea, as Dan O'Brien @DanBlueChief points out. He also mentioned that your local website gives you an opportunity to increase your brand presence in your area.
Q4: People like people, not brands. Make sure your brand manager is interesting and can tell a good story on social media. #semrushchat

— Paul Wicker (@Wickerpedia) November 18, 2015
People are more likely to trust other people than some faceless brand. The person you hire as CEO or for other high-level positions should feel the flow. Even if something bad happens, he or she should be able to quickly respond to local media.
A4: It really depends on the business model, but one answer has been creating regoinal accounts with regoinal blog updates #semrushchat

— Stephen'Bern' Banham (@Berngaming) November 18, 2015
Creating a regional blog and updating it continuously is one possible tactic. Because people often use location-specific keywords in their search queries, it might be relatively cheap to get your blog in the top.
A4 ) Use any local connection from warehouses, distribution points, stockist to build in that local data to site #semrushchat

— Tim Capper (@GuideTwit) November 18, 2015
Also, build a separate web page or Google My Business page for each of your brand's locations. Although this may sound easy, it can be a very time-consuming process in reality.
So what can a big brand learn from "small" local SEO? To improve its presence, a large company should sponsor local events, use all the local connections it has, and explore geo-targeting in paid ads and in its local G+ contact details.
Keywords, keywords, keywords! In fact, they have so much impact on local search that we couldn't just pass them by. What queries are most likely to be used? How do you perform local keyword research? Let's ask our guests about it.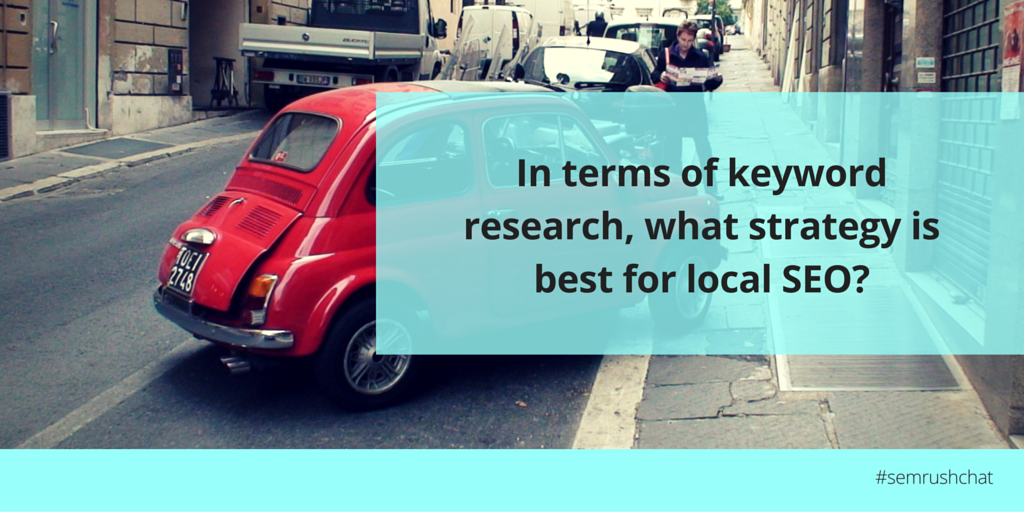 Not familiar with Google Keyword Planner yet? Then you're missing the opportunity to actually evaluate similar products that are trending in your area or questions that people find interesting.
a5) Use KW Planner: What KW terms do people use in that location? #semrushchat

— Ryan Johnson (@rsj8000) November 18, 2015
Ignoring long-tail queries is always a mistake, but with respect to local search, determining good long-tail keywords is only half the battle. Use geo-targeted long-tail keywords to better fit possible search queries. Don't forget to use keyword suggestion tools like answerthepublic.com.
A5: use Geo-targeted Long Tail Keywords and focus on local users' intent Re #semrushchat @semrush

— Amel Mehenaoui (@amelm) November 18, 2015
But when you're racing with your competitors for geo-targeted long-tails, it's important to maintain a global marketing strategy, because some people just don't use any geographical markers.
@semrush A lot of ppl use cities, zips, states in their search queries. But, plenty don't. It's important to optimize for both #semrushchat

— Brandon Seymour (@Beymour) November 18, 2015
Scott Clark @scottclark shared a spectacular tactic for improving your semantic core: launching an AdWords geo-targeted campaign with keywords inspired by your intuition and broad matching, and refining it with term reports, so you will be able to enrich your keyword list.
Q5) Be careful if thinking of doing whole SEO strat round local frm KW perspect - search vol is low. Don't set your goals 2 low #semrushchat

— Dawn Anderson (@dawnieando) November 18, 2015
Marketers should not overuse local keywords and plan their strategies around them. Dawn says that low volume leads to low amount of monthly searches. So if you only play to your local audience, you may find your website abandoned by global users.
A5: I start small and super specific, then broaden. E.g. Boise + Linkbuilding -> Idaho + Digital Marketing. #semrushchat

— Jacob McEwen (@jvmcewen) November 18, 2015
Let's recap this question with some opinions and strategies.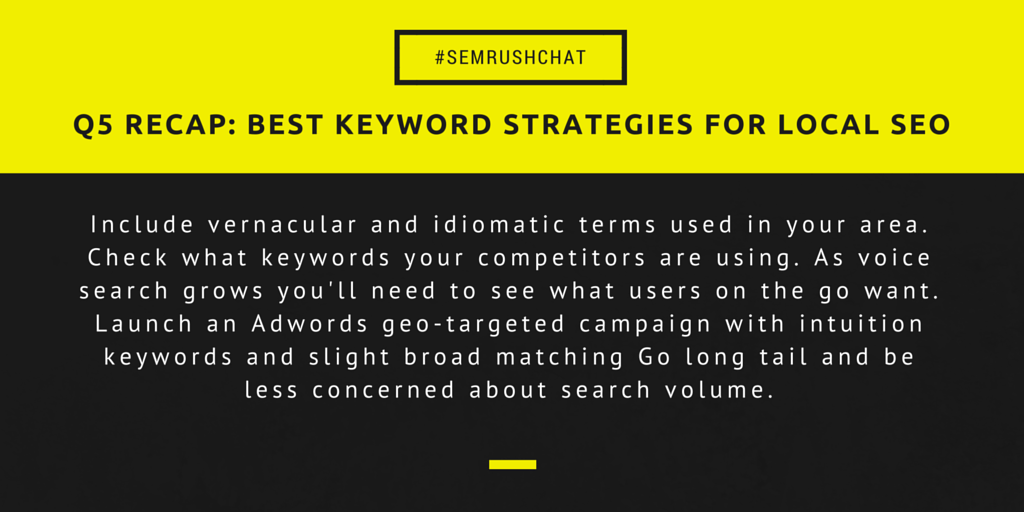 Before researching keywords or concentrating on link earning you should study other marketers success in a local search. In the next question, we asked our participants to share some of their ultimate tactics.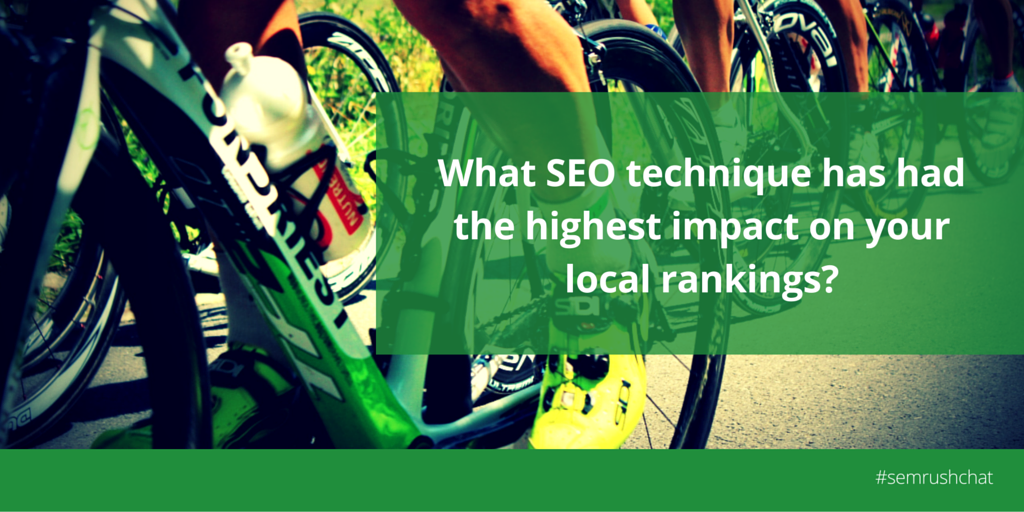 That being said, local citations and using the right keywords in the right places are crucial for local success. Present your content in a comprehensive manner and customers will answer with purchases.
A6:Utilizing Local citations and keyword phrases in h1 tags and content with a clear way for people to understand your offering. #semrushchat

— Robert O'Haver (@RobertOHaver) November 18, 2015
Some other points that Robert shared are using different variations and synonyms of your keyword phrases to describe your product or service and taking into account how people search on mobile devices when choosing keywords and phrases.
Q6: quality KW research, See what competitors are doing. #semrushchat

— Stuart Lieberman (@thewebguyfl) November 18, 2015
How qualified your keyword research will depend on your positions in organic and paid search. To achieve perfection, spend time studying your competitors and try to understand their strong and weak points.
@semrush A6: Get rid of deadweight contents. Fix any dead ends on popular content, give next step to explore more.related items #semrushchat

— Marianne Sweeny (@msweeny) November 18, 2015
Good on-site analysis will help you improve your local rankings. An optimized page doesn't necessarily mean a page with the right keywords in its title and <h1> tags; monitor your UI (i.e., get rid of unused or unpopular content, fix broken links and test different CTA buttons). Don't try to jump the gun and implement advanced tactics like rich snippets right from the beginning. Get back to basics – keyword research, tags, link building and local activities.
A6: A good on site audit with revamped kw research, meta data, body copy. Back to basics. #semrushchat

— Michael Hall (@allmikehall) November 18, 2015
Schema.org, which was suggested by Ryan Johnson @rsj8000, is sometimes a lifesaving opportunity to improve your HTML markup and hit SERPs with rich locally targeted snippets.
Let's summarize all the opinions and advice shared by our guests.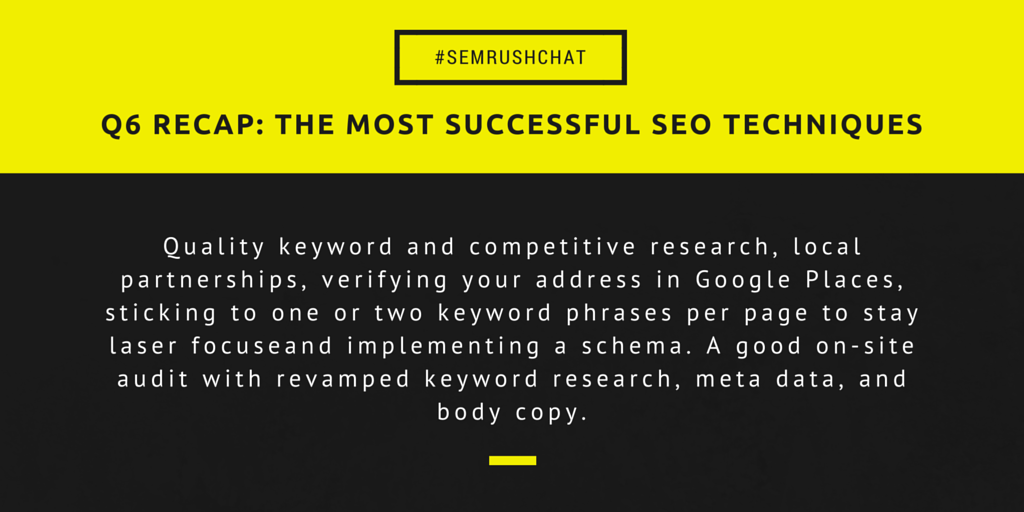 That's all for today! Thank you, Robert and all other SEMrush Chat participants, for sharing your expertise with us.
Join our chat next Wednesday to learn about top live streaming tips!