Feeling overwhelmed by the sheer quantity of WordPress SEO plugins available? You're not alone.
This article won't try to list every WordPress SEO plugin.
Instead, we'll share the most powerful plugins that can help you optimize your WordPress website for SEO and get more traffic from search engines like Google.
Some plugins are free. Some aren't. But they're all useful.
Let's start.
1. Semrush SEO Writing Assistant
Semrush's SEO Writing Assistant plugin helps you write content optimized for both users and search engines.
It scores your content based on readability, tone, originality, and SEO. And offers advice to improve these aspects.
For example, if the plugin spots that your article's title doesn't include your target keyword—the search query you want to rank for in Google—it will highlight that as an issue and recommend adding it to your title.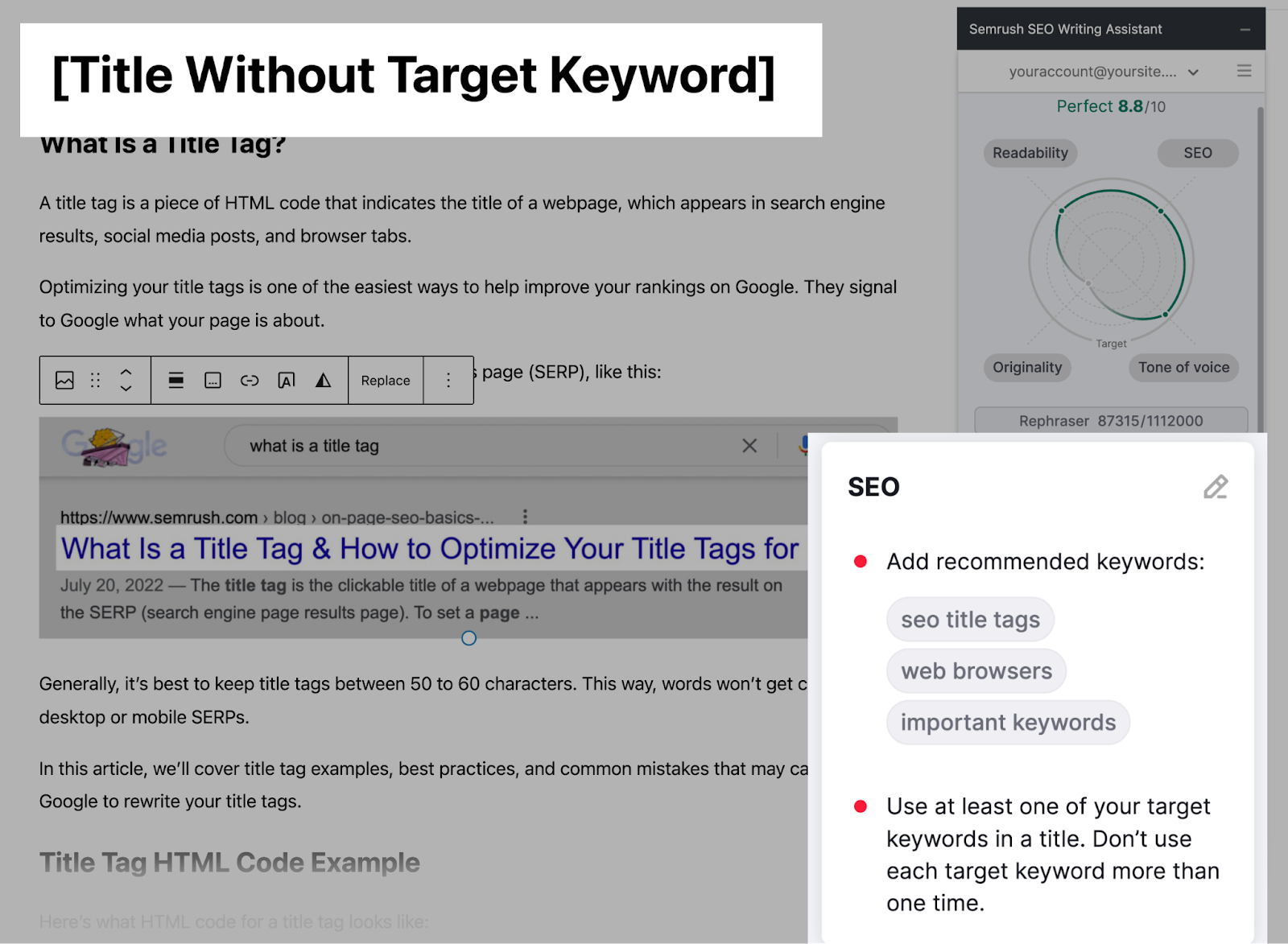 Or, if the plugin detects duplicate or plagiarized content, it will highlight the problem text.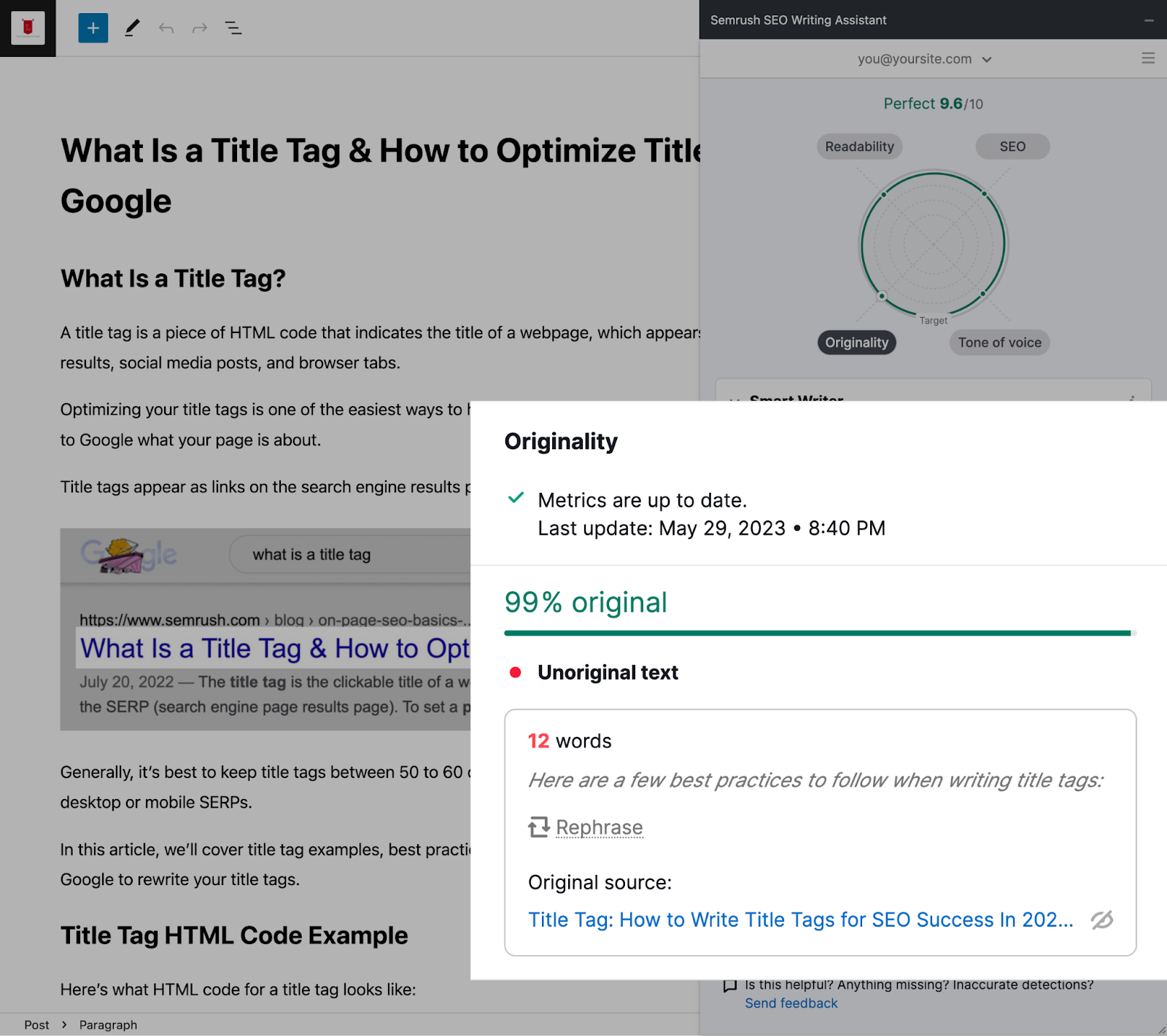 Having duplicate or plagiarized content on your website can lead to ranking problems. The SEO Writing Assistant highlights these issues, which makes it a valuable asset for your SEO strategy.
Key Features
The Semrush SEO Writing Assistant plugin comes with the following features:
Recommendations on relevant keywords to use in your content for better Google rankings
Rephraser feature to paraphrase content with AI
Readability analysis to tell you how easy or difficult your content is to read
Tone of voice analyzer to improve the writing style and tone of your content
Much more
Pricing
The SEO Writing Assistant is a freemium WordPress plugin. To use it, you need to have a Semrush account. Sign up for free.
The free account lets you check one article. To check more, subscribe to the Guru plan for $208.33 per month (paid annually).
Note: All pricing and features information in this article is accurate as of June 12, 2023. However, prices and features are subject to change, so please check the official websites of each plugin for the most up-to-date information.
2. Yoast SEO
Yoast SEO is one of the most powerful SEO plugins for WordPress.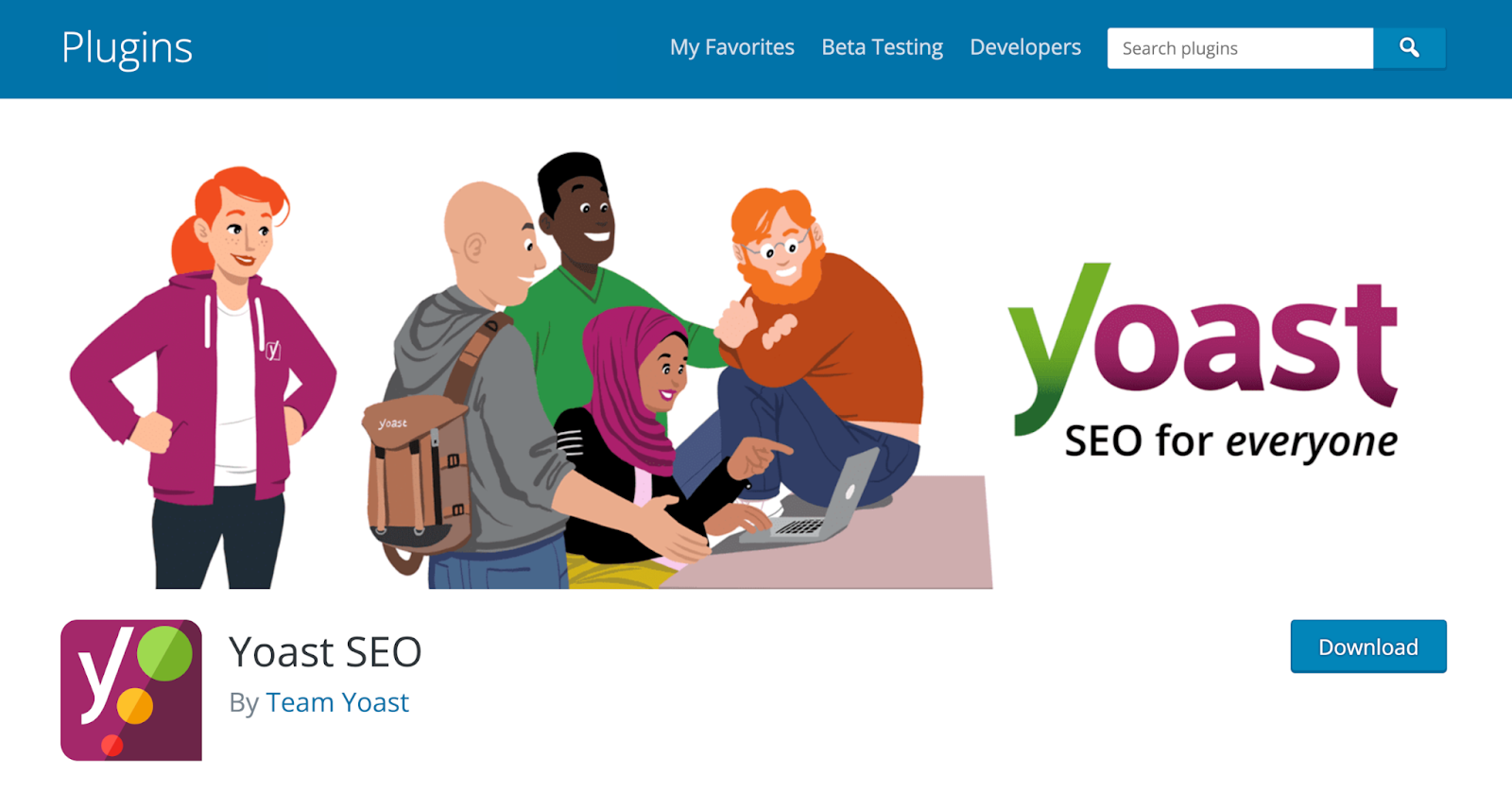 At its most basic level, Yoast allows you to set the title tag, URL slug, and meta description on your pages. Which are all important aspects of a strong SEO strategy.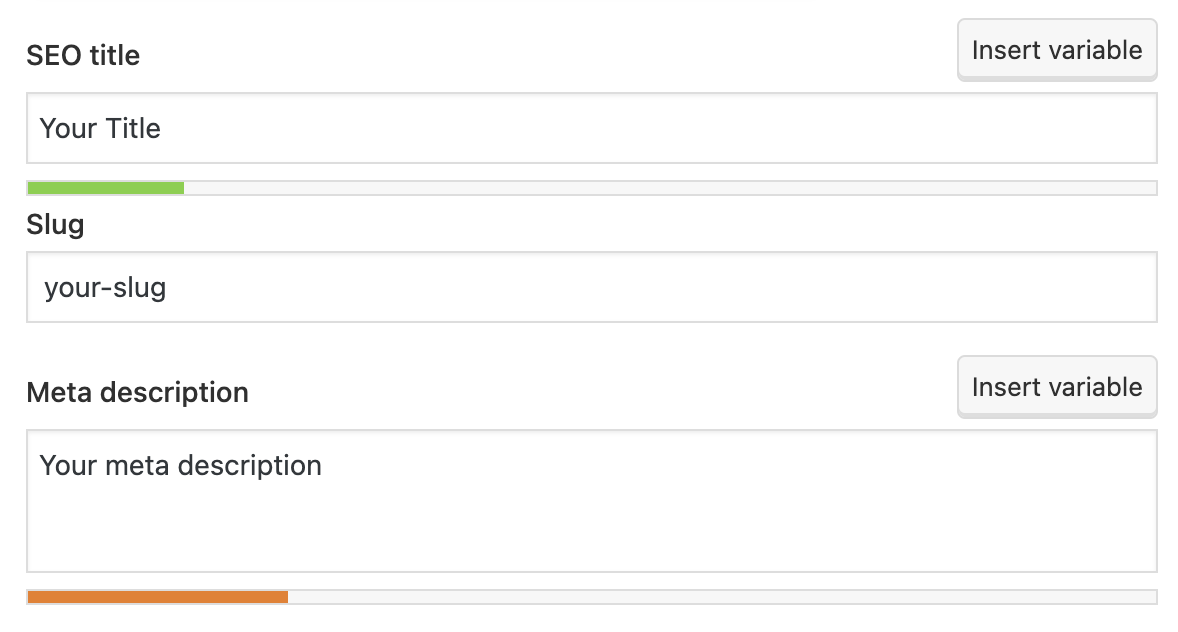 Plus, Yoast can help you manage other technical tasks like:
Setting up canonical URLs on your pages
Setting up meta robots tags, such as noarchive, nosnippet, or noimageindex
Providing titles for your pages' breadcrumbs
Preventing search engines from indexing your pages
Preventing search engines from following links on your pages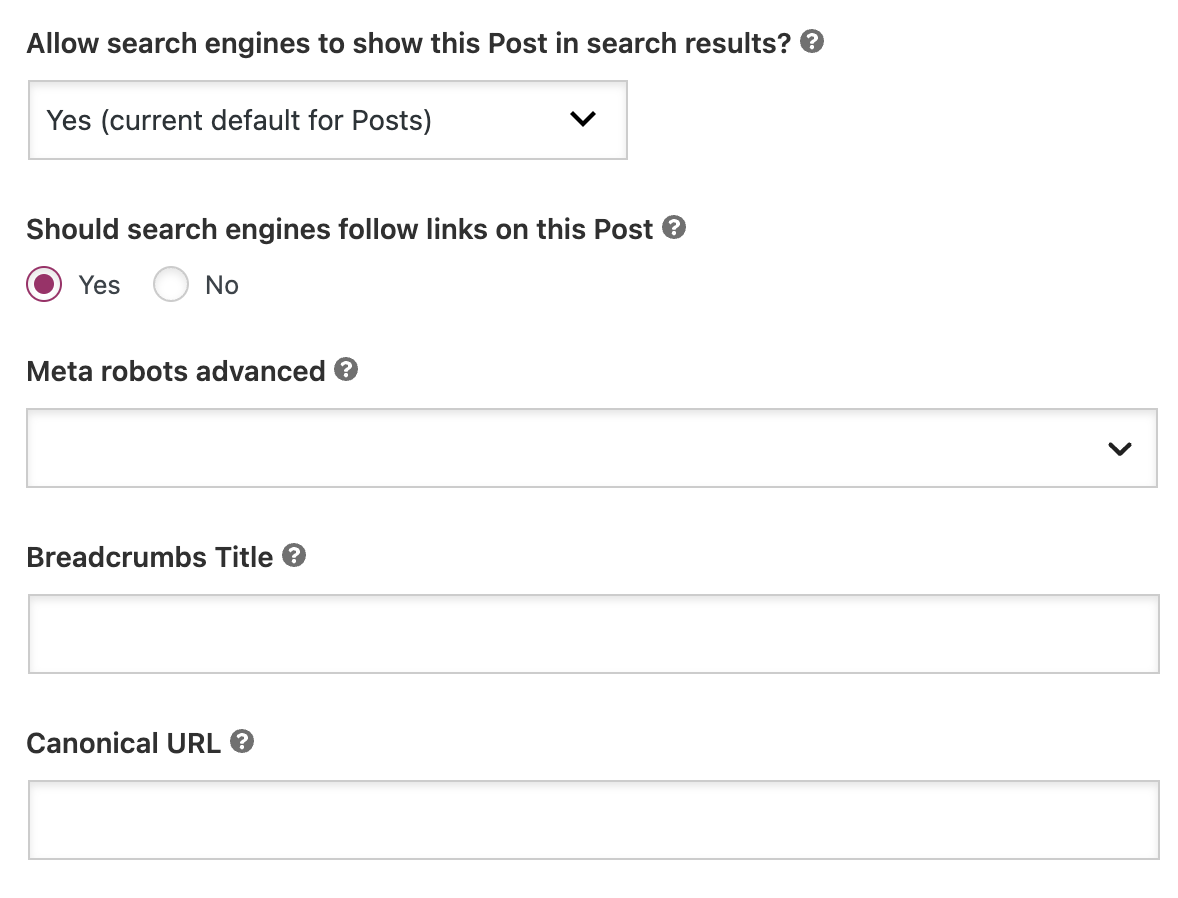 When it comes to content-level optimization, Yoast identifies SEO-related issues in your content. And highlights opportunities for improvements.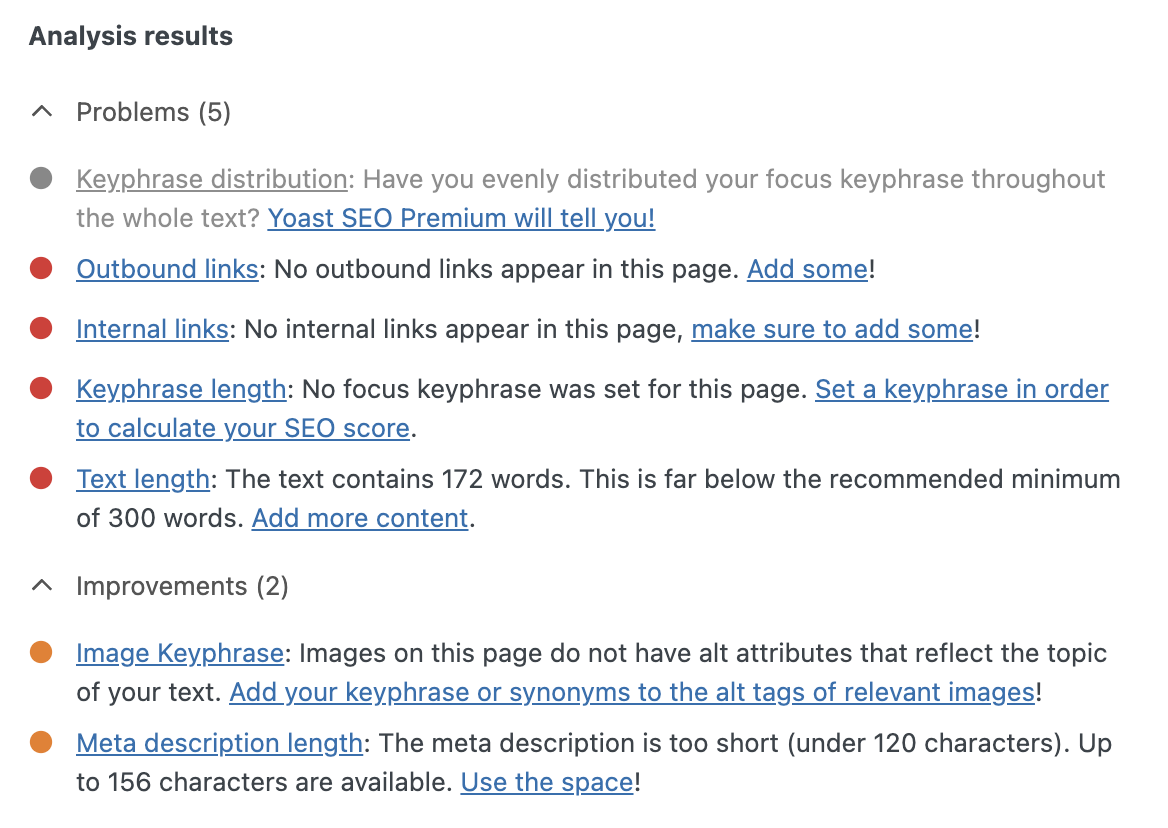 Note that these are just recommendations. And you don't always have to follow every Yoast recommendation. 
For example, Yoast suggests evenly distributing your focus keyword throughout the content. This is an outdated SEO tactic.
We don't recommend paying attention to this, as it won't help you rank. In fact, it can even have the opposite effect in some cases.
Besides scanning your content for SEO-related issues, Yoast also analyzes your content's readability. And provides suggestions for improvements. Such as:
Using active voice
Short sentences and paragraphs
Simple word choices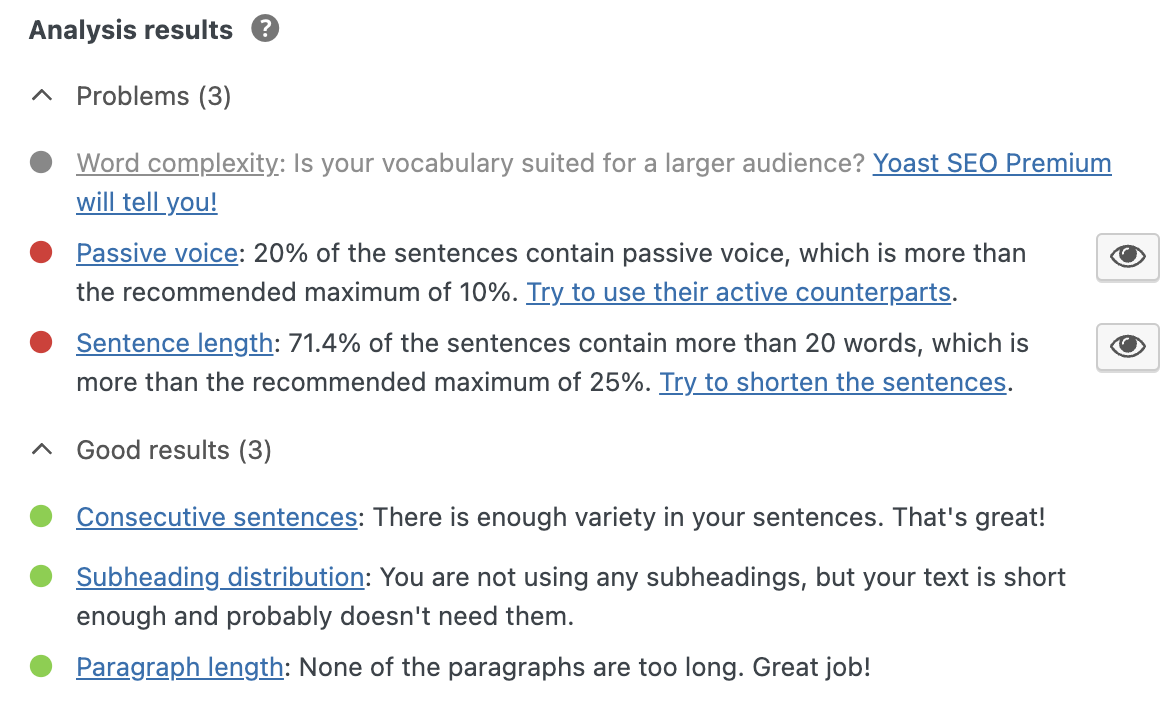 Yoast is a powerful SEO plugin that allows you to edit and streamline important SEO efforts on your pages.
Key Features
Here are a few stand-out features of Yoast:
Structured data capabilities. Yoast SEO makes it easy to add different types of structured data to your website. Which can increase your chances of getting rich snippets.
Redirect management. Yoast SEO helps you manage your website's redirects. You can easily set up 301 redirects for deleted pages so your users don't encounter 404 errors.
Internal linking suggestions. Yoast will scan your page and identify words and phrases you could use to internally link to other content on your site.
Semrush integration. Yoast users can connect their Semrush account with the plugin to get keyword suggestions directly in WordPress.
Pricing
Yoast SEO plugin offers both a free and paid, premium version. In the free version, you'll have limited features and functionality. With the premium version at $99 per year, you can access all of Yoast's features.
3. SEOPress
The SEOPress plugin offers many of the same functionalities as Yoast SEO. But it has a better user interface. Which makes it a popular choice for beginners and experts alike.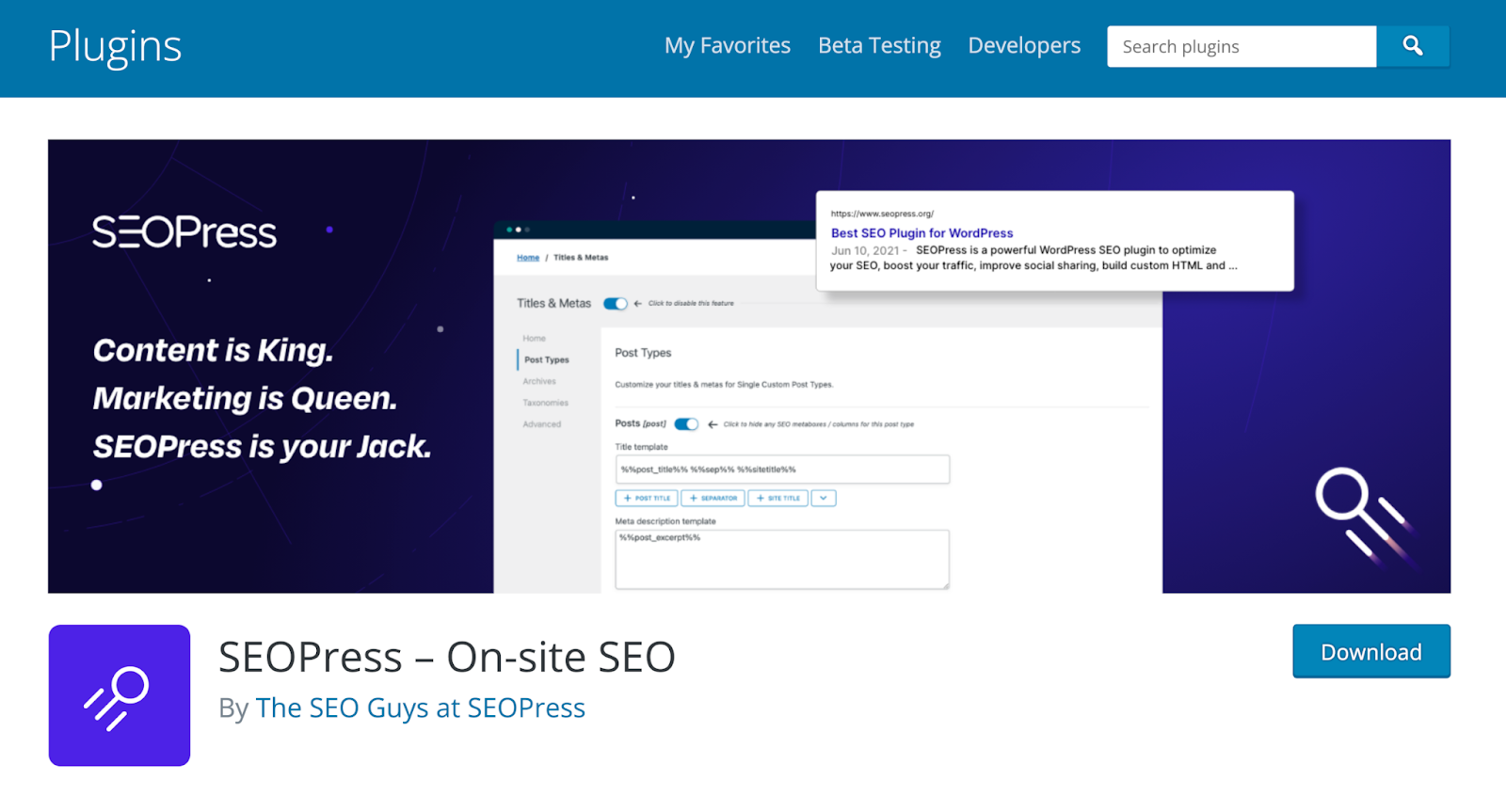 As with Yoast, SEOPress allows you to set up title tags and meta descriptions on your pages. 
It will also show you if the title or meta description is too long. To avoid your descriptions being cut off in search results.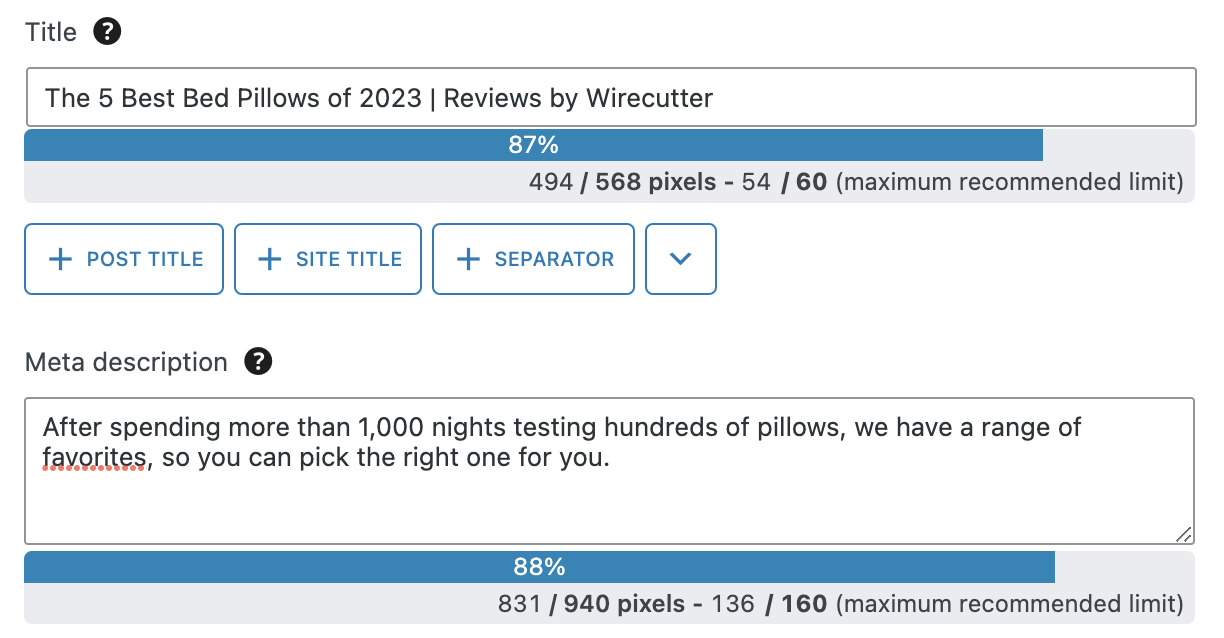 Plus, SEOPress lets you define Open Graph tags. These tags control how your preview links appear on social media platforms such as Facebook, Twitter, LinkedIn, etc.
People are more likely to share content with optimized Open Graph tags, as they make content more eye-catching in social media feeds.
For example, here's how a preview link without Open Graph tags appears for our blog post about title tags.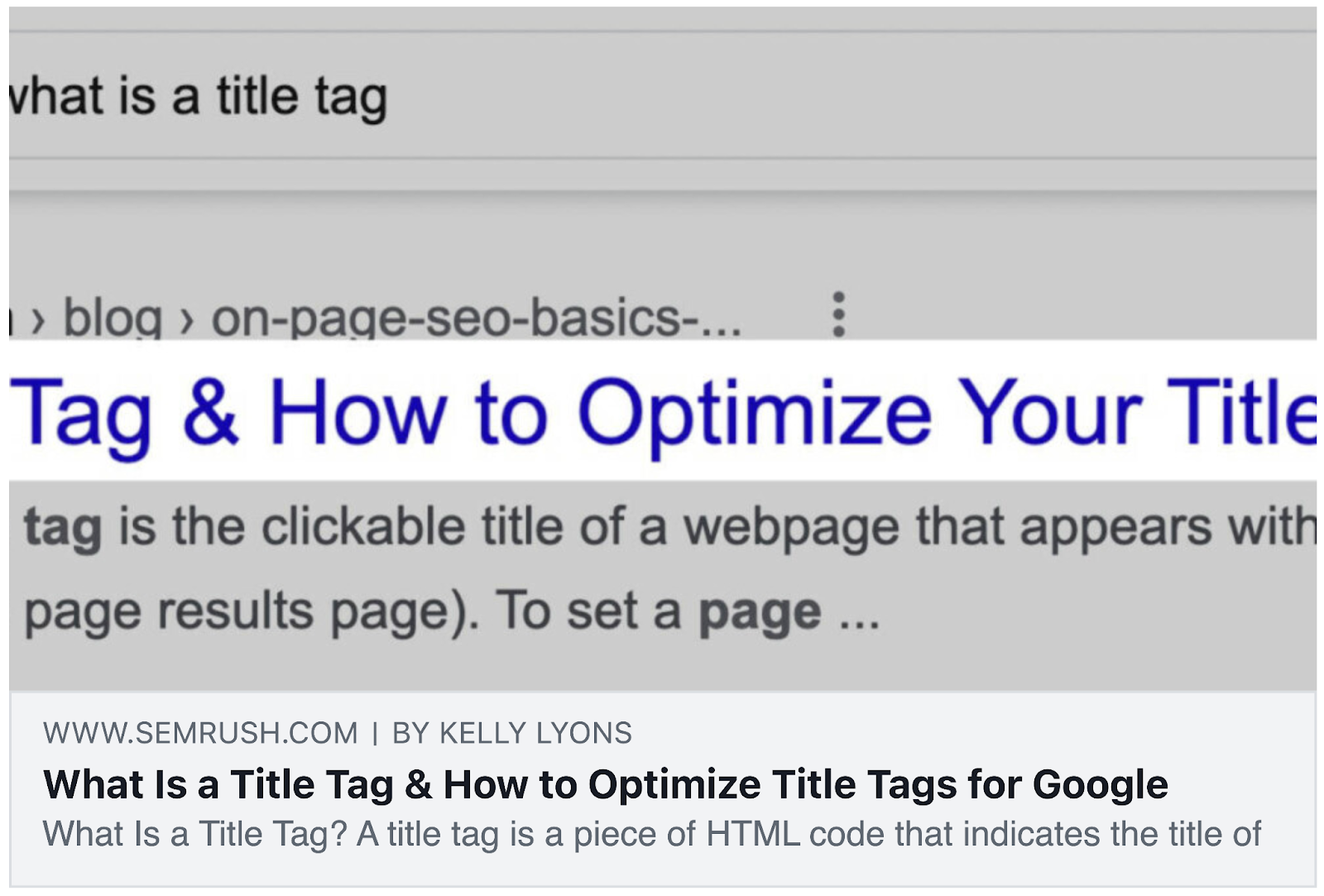 It uses the first image from the blog post as the preview image. And the title and descriptions aren't optimized.
A preview link with Open Graph tags, on the other hand, appears how you want it to:
SEOPress also has a feature that shows how well optimized your page is for your target keyword(s).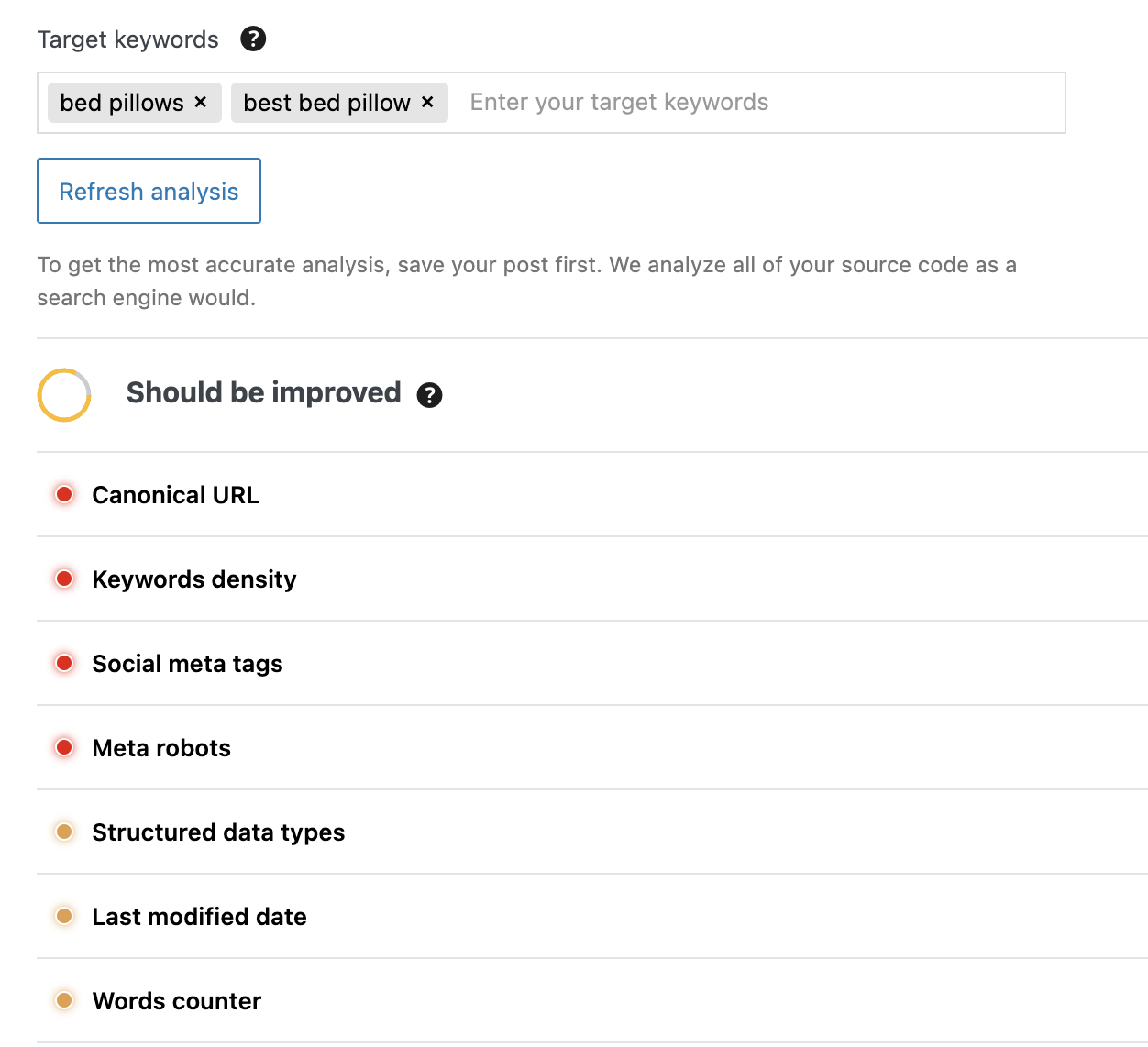 If your bullets are green, you're likely in the clear.
But don't overthink if that's not the case.
You don't have to optimize your pages for some factors like "keyword density" or "word count."
They are not ranking signals.
Other elements, like canonical URL and structured data, are important. So focus your efforts there.
Key Features
SEOPress has many solid features:
Custom XML sitemap. Create a custom XML sitemap to help search engine bots find and index your pages
Redirect manager. Set up 301, 302, or 307 redirects
Structured data support. Implement different types of structured data on your website
OpenAI integration. Save time andgenerate automatic title tags and meta descriptions with AI
Pricing
SEOPress is a freemium WordPress plugin. The free version provides limited functionality.
The paid version provides additional features and more advanced functionality, such asOpenAI integration, a redirect manager, etc.
Pricing starts at $49 per year.
4. Rank Math
Rank Math is a feature-rich SEO plugin with a user-friendly interface.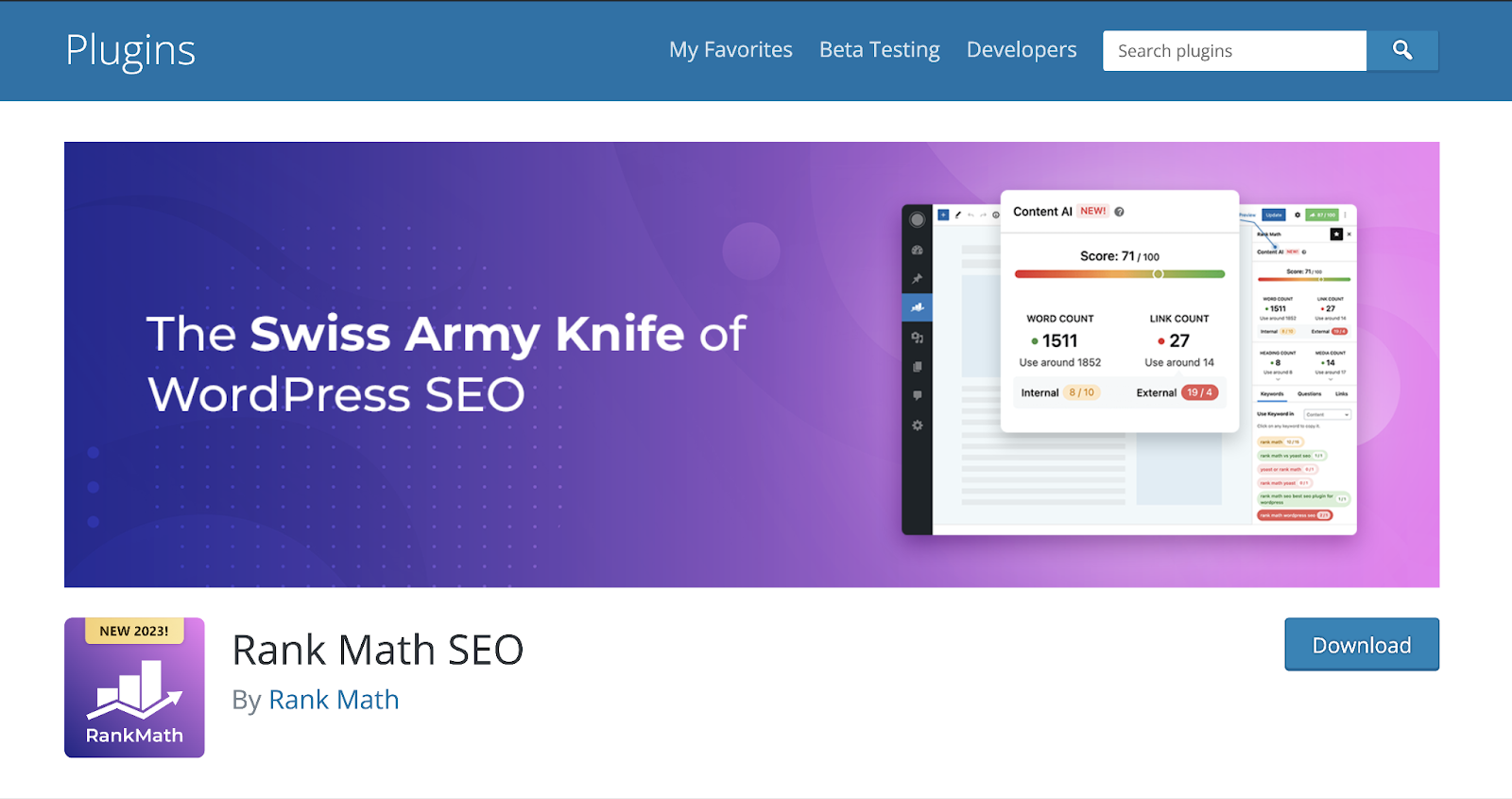 Rank Math makes basic on-page SEO easier. Among other things, it helps you set up title tags and meta descriptions on your pages.
And preview these elements to see how they would appear in search results.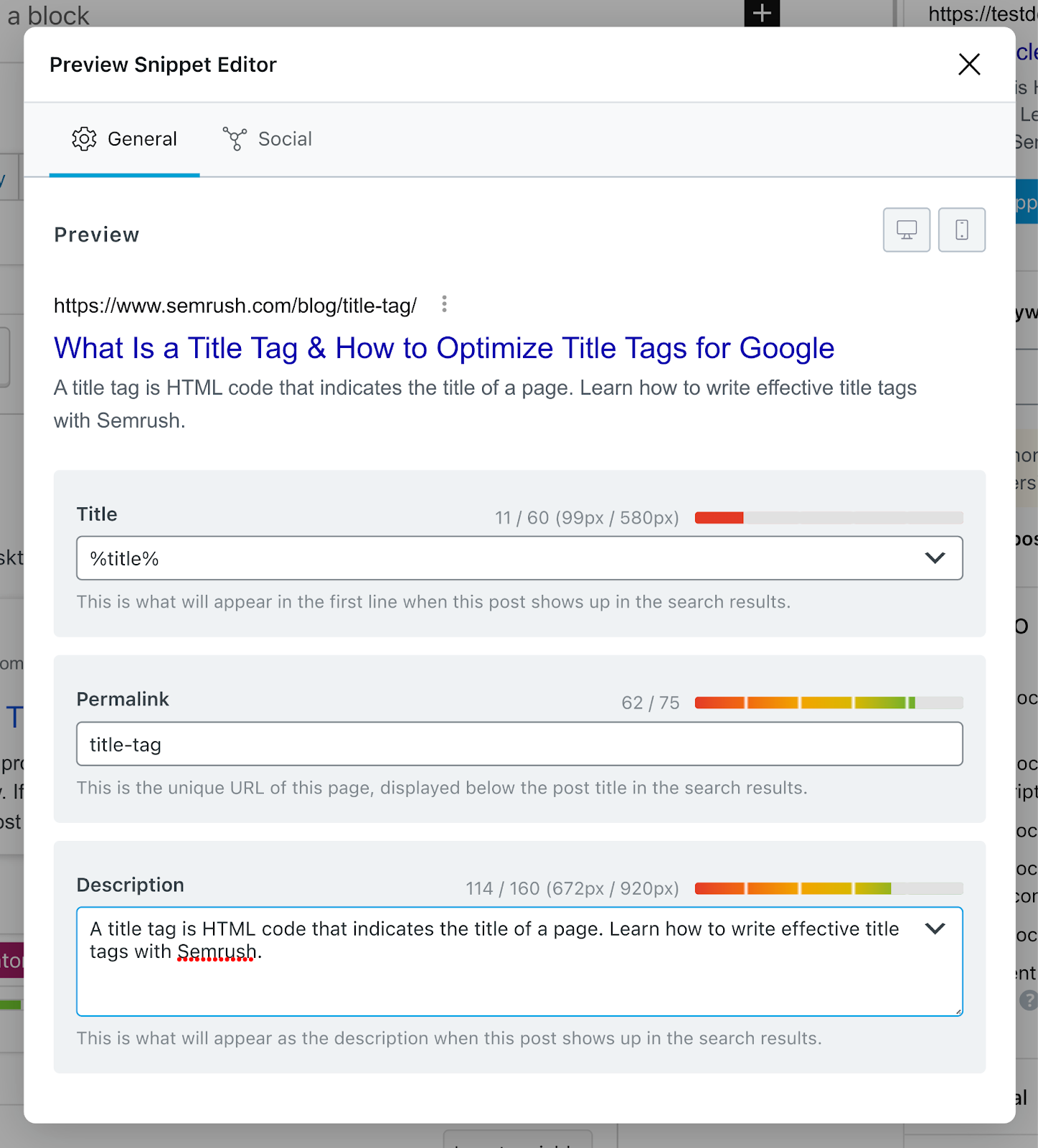 The plugin can also create a robots.txt file and sitemap. Both of which are important to control search engines' crawling behavior on your website.
Rank Math comes with tons of features and tools that give you full control over your website's SEO. Making it one of the chief plugins to have on your WordPress site. 
Key Features
Easy setup wizard. Rank Math's easy-to-follow setup wizard guides users through the essential SEO settings and configures them automatically
Google Analytics and Google Search Console integration. Rank Math's Google Analytics and Search Console integrations save time by displaying important information about your website within the WordPress interface
404 monitoring. Rank Math monitors your website for 404 errors so you can resolve them and create a better user experience
Structured data implementation. Rank Math helps you add different types of structured data to your website. So you can win rich snippets
Pricing
Rank Math is a freemium SEO plugin. You can use it for free with basic features. 
For more advanced features (Google Analytics integration, 404 monitoring, etc.), you can upgrade to the pro version for $59 per year.
5. All In One SEO (AIOSEO)
All In One SEO is another plugin that helps you optimize your WordPress website for SEO.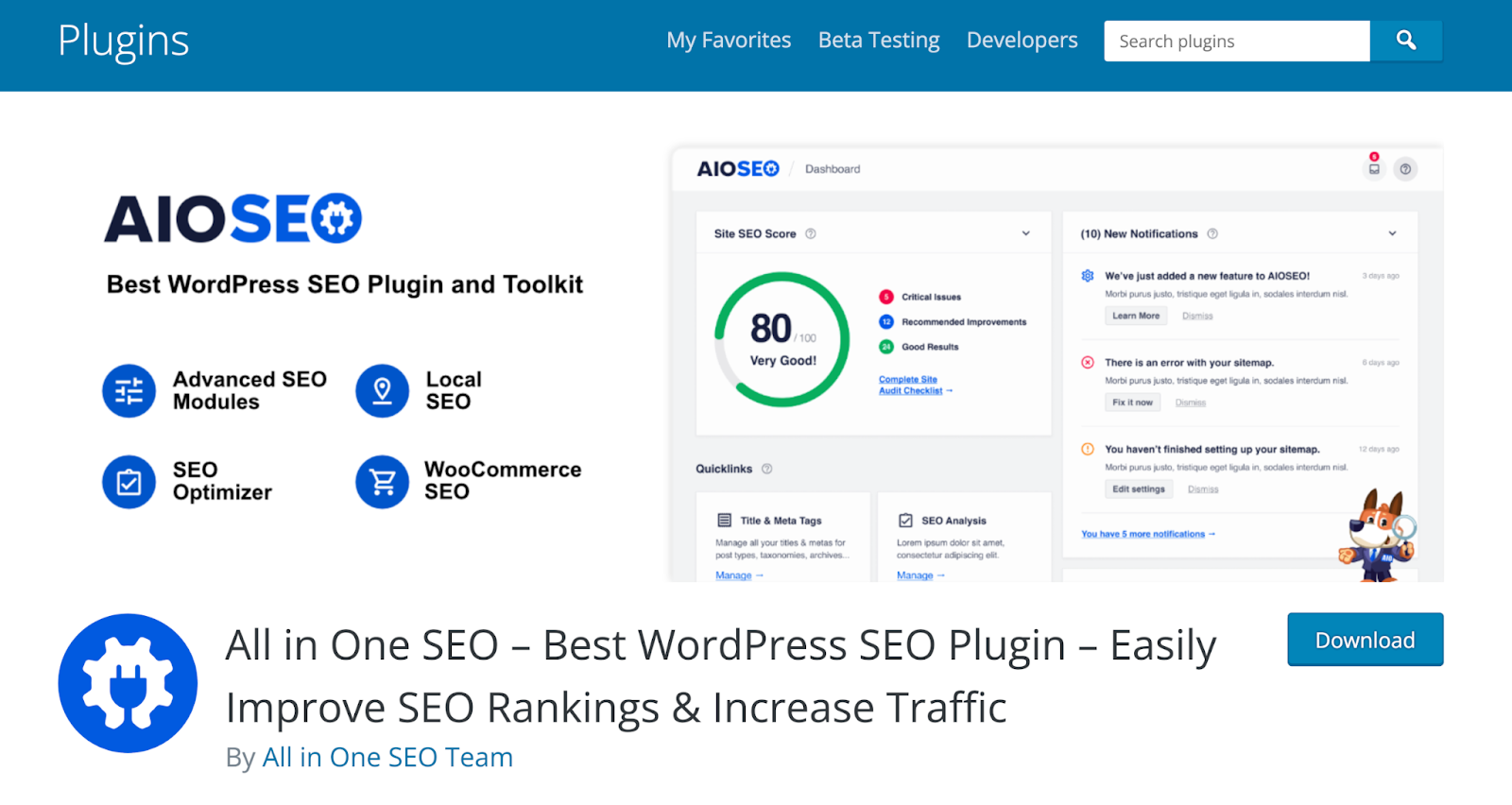 Functionality-wise, many features are similar to Yoast, Rank Math, and SEOPress.
When you install the plugin, the setup wizard takes you through a step-by-step process and configures the necessary SEO settings for you.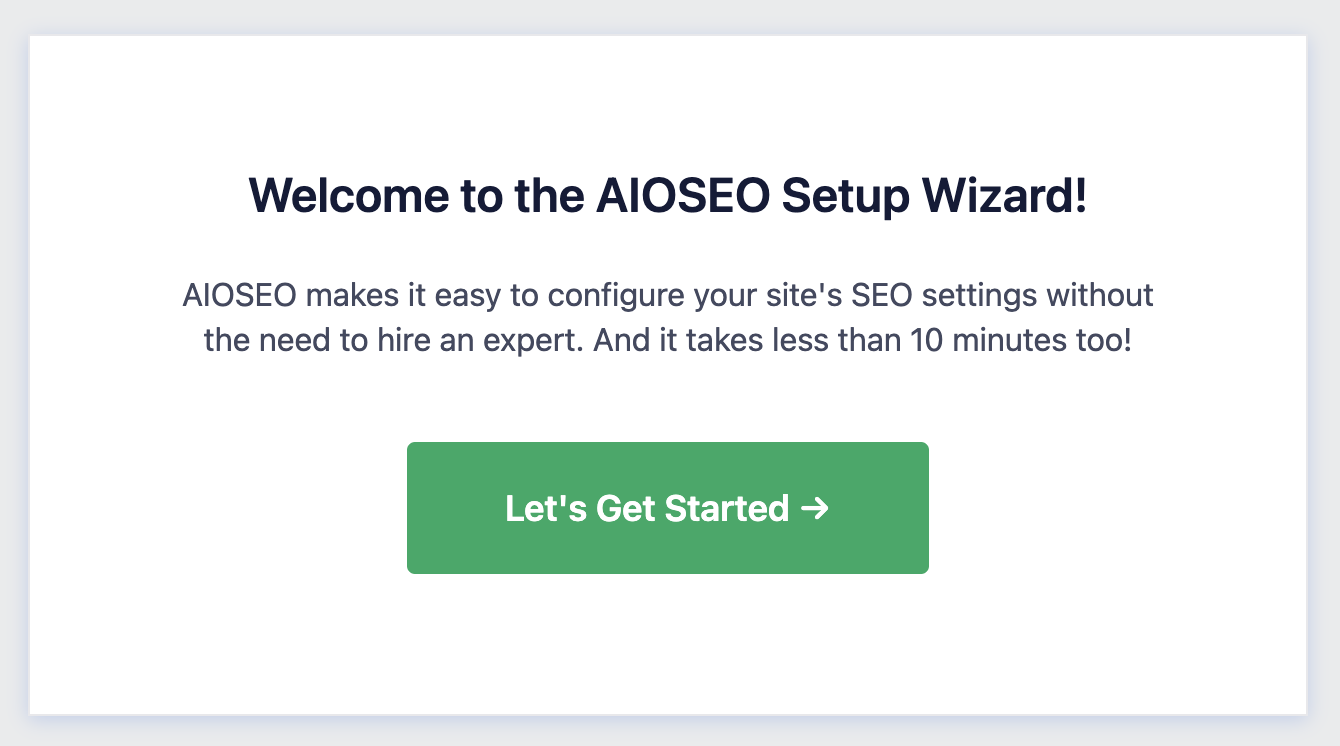 You can do a lot of things with All In One SEO plugin:
Add title tags, meta descriptions, Open Graph tags, and robots meta tags
Create an XML sitemap
Edit your robots.txt file
Manage redirects
Add breadcrumb navigation
Implement structured data
It's one of the most comprehensive SEO plugins on the market.
Key Features
Google Search Console Integration. See your Google Search Console data (clicks, impressions, average position, etc.) inside your WordPress dashboard
Link Assistant. Get suggestions for internal linking opportunities
Image SEO. Automatically set image alt text and title attributes for your images
Local SEO. Get a local knowledge graph and higher rankings in Google Maps by implementing local business structured data
Pricing
The All In One SEO plugin comes with both a free and paid version. The pricing for the paid version depends on the plan you choose.The most basic paid plan costs $49 per year.
6. WP Rocket
WP Rocket is a web performance plugin built to boost your site speed.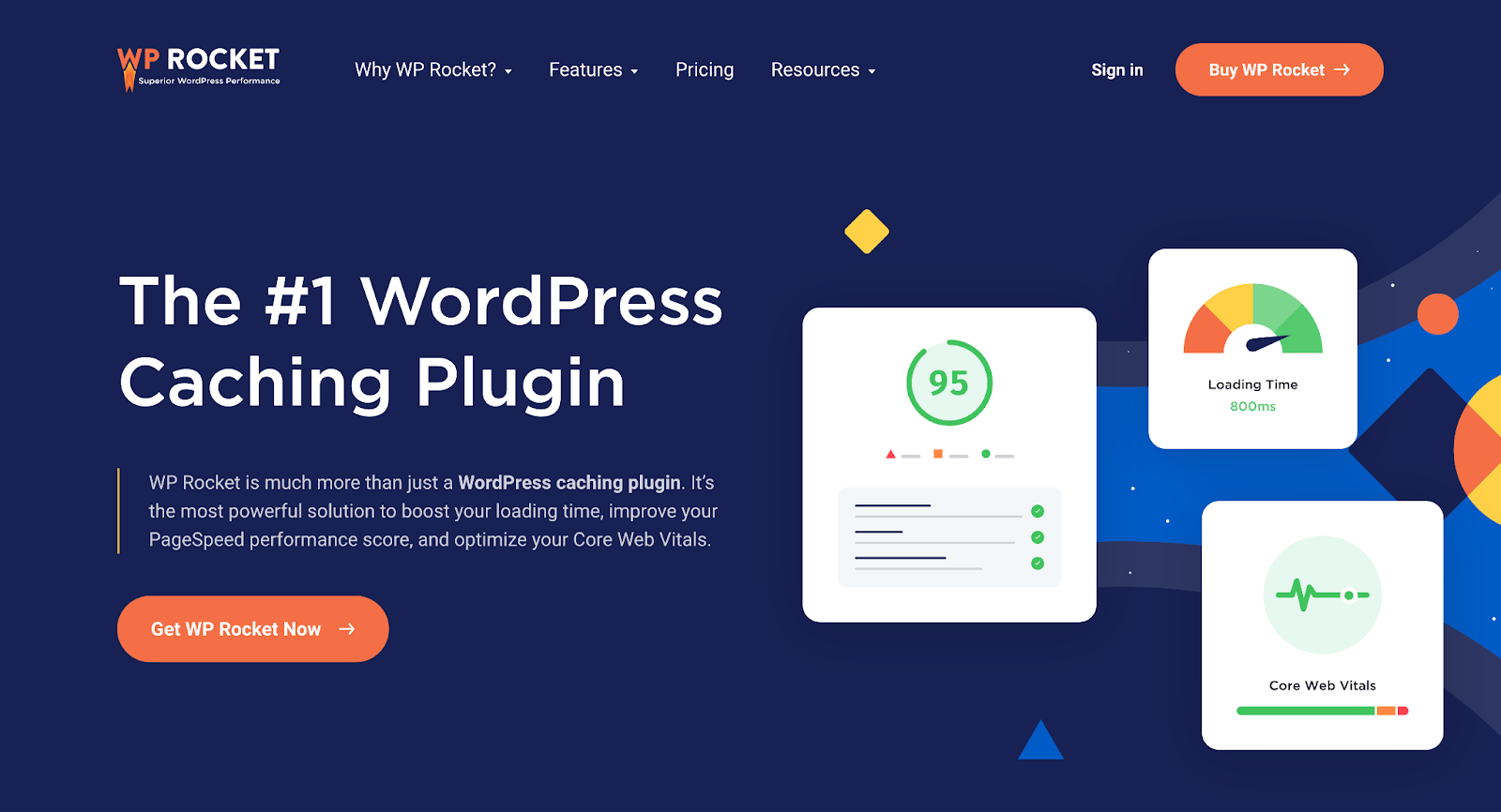 Site speed is a Google-confirmed ranking factor.
To improve site speed, this plugin can help you make some useful optimizations. Including browser and server caching.
The two types of caching work to improve user experience :
Browser caching saves common files directly on users' devices so they don't have to reload them the next time they visit your site
Server caching saves static versions of your pages on your server so they're always ready whenever users request them
Besides caching, WP Rocket comes with other features to speed up your website.
Key Features
Lazy loading. Improve site speed by deferring the loading of images until users need them
Minification. Minify CSS and JavaScript files and reduce the load time
Cache preloading. Ensure your visitors get faster access to your pages
Content delivery networks (CDNs). Reduce latency by delivering images from the server closest to your users
Pricing
WP Rocket is not a free plugin. Pricing starts at $59 per year.
7. NitroPack
NitroPack is a simple plugin for improving site speed.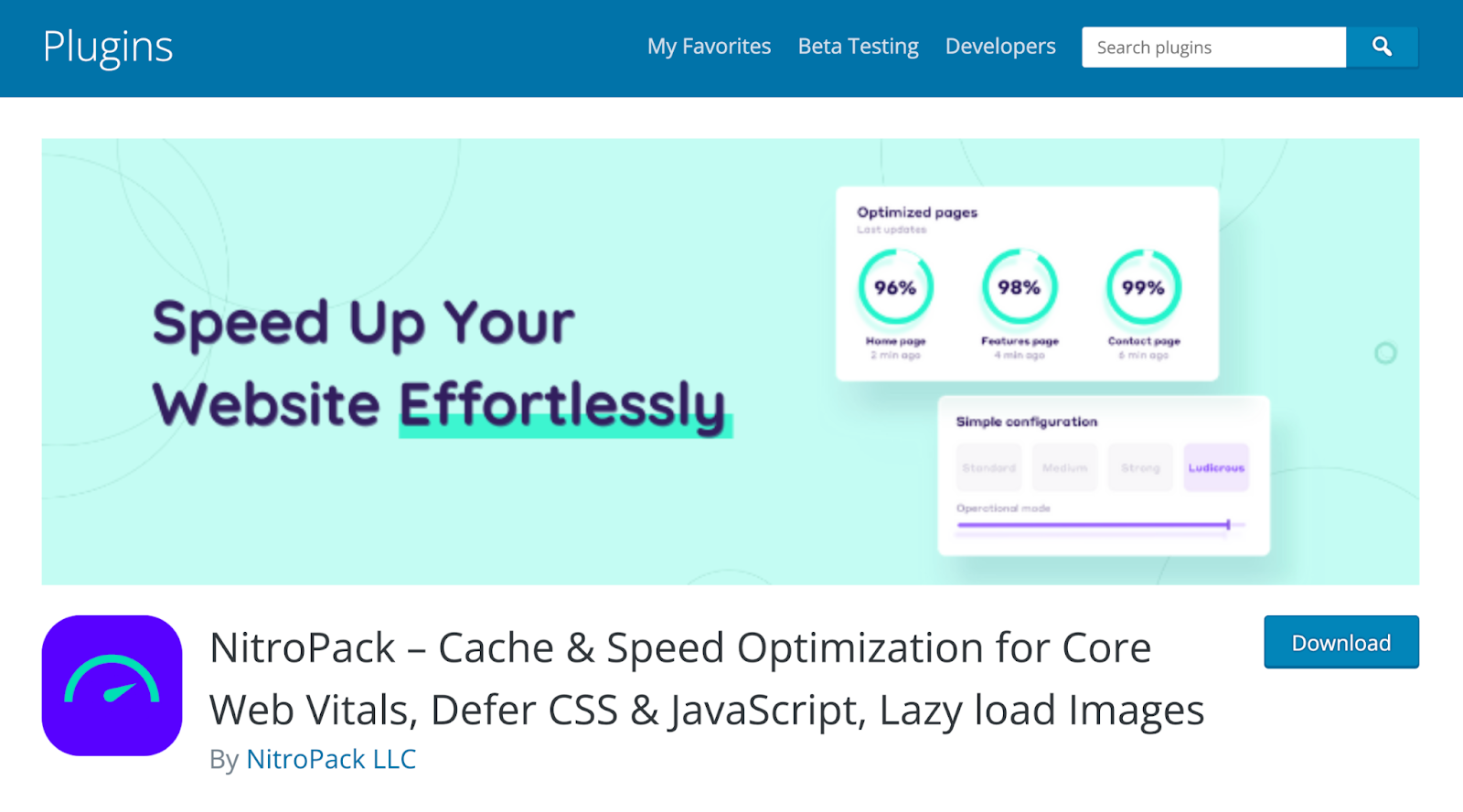 It has many of the same features as WP Rocket, including:
Browser and server caching
Lazy loading
Minification of CSS and JavaScript files
Content delivery networks
If you're looking for a solid alternative to WP Rocket, NitroPack is your best option.
Key Features
User-friendly interface. NitroPack has a user-friendly interface that makes it easy to configure optimization settings
Image optimization. Convert all your images to WebP format, which is a modern image format that provides high-quality images with smaller file sizes
Cloudflare CDN. The plugin integrates with a popular CDN based on Cloudflare, which enables you to serve content from multiple locations around the world
Pricing
NitroPack offers both free and paid versions of the plugin. The pricing of the paid version starts at $17.50 per month. 
8. ShortPixel
ShortPixel is an image optimization plugin that compresses the images on your WordPress site.
It reduces the image file size without compromising quality. 
The result?
Your images load faster for your visitors, improving your site speed overall. Which, to reiterate, is a ranking factor.
To optimize your images, go to your Media Library. Select the images that you want to optimize. 
Then click on the "Bulk actions" > "Optimize with ShortPixel." And hit "Apply."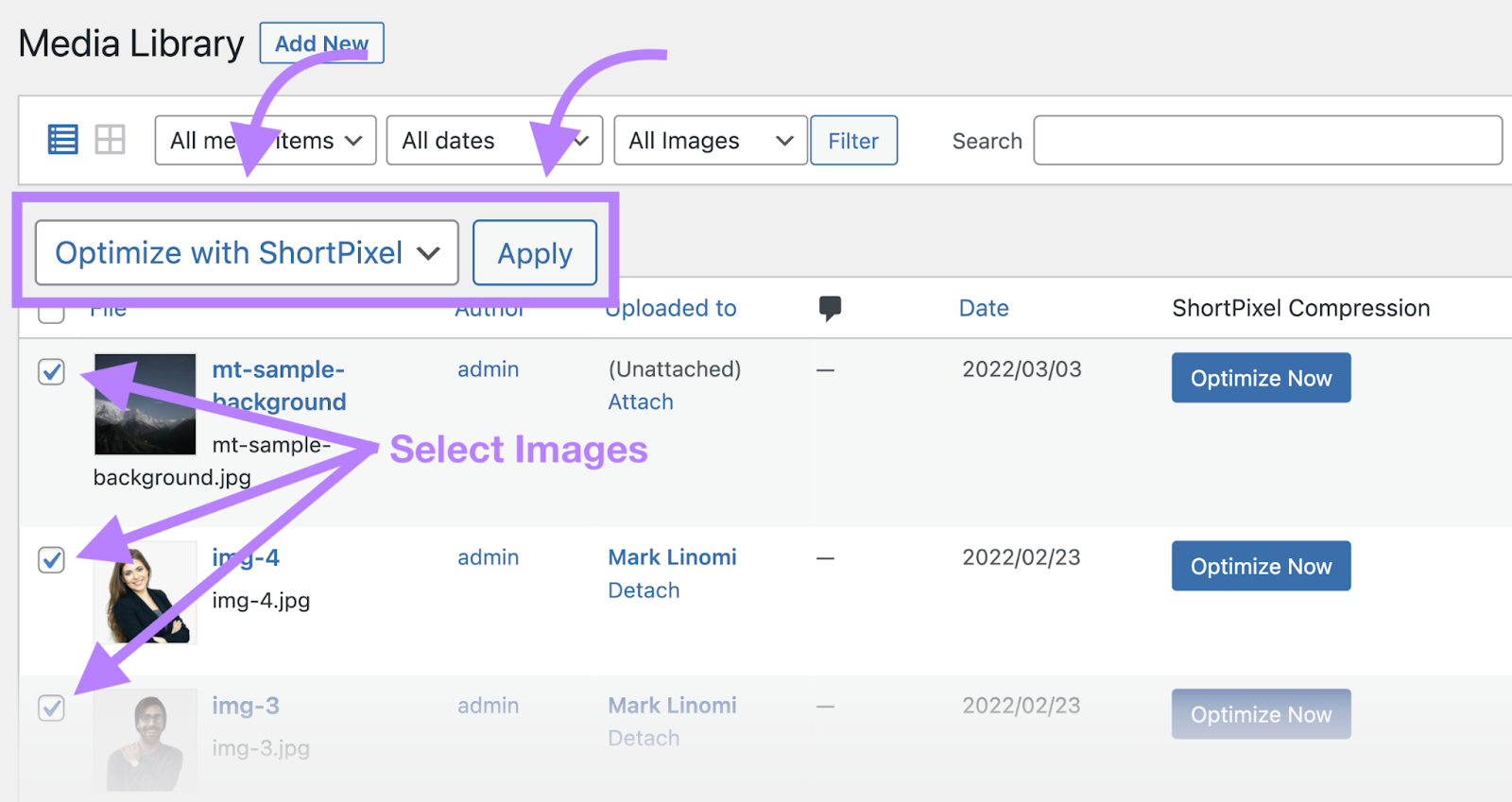 You can also click on the "Optimize Now" button found in each row to optimize images individually. 
Key Features
Different compression options, such as lossy, glossy, and lossless
No file size limit. Can compress images of any size.
Optimization report with image details and stats
Works with all image formats, such as JPG, PNG, and WebP
Pricing
ShortPixel is a freemium plugin. You can compress up to 100 images per month for free.
If you want to compress more, you'll need to sign up for a paid plan or buy additional credits.
Prices start at $3.99 per month. 
9. Smush
Smush is an image compression plugin that optimizes images on your WordPress site.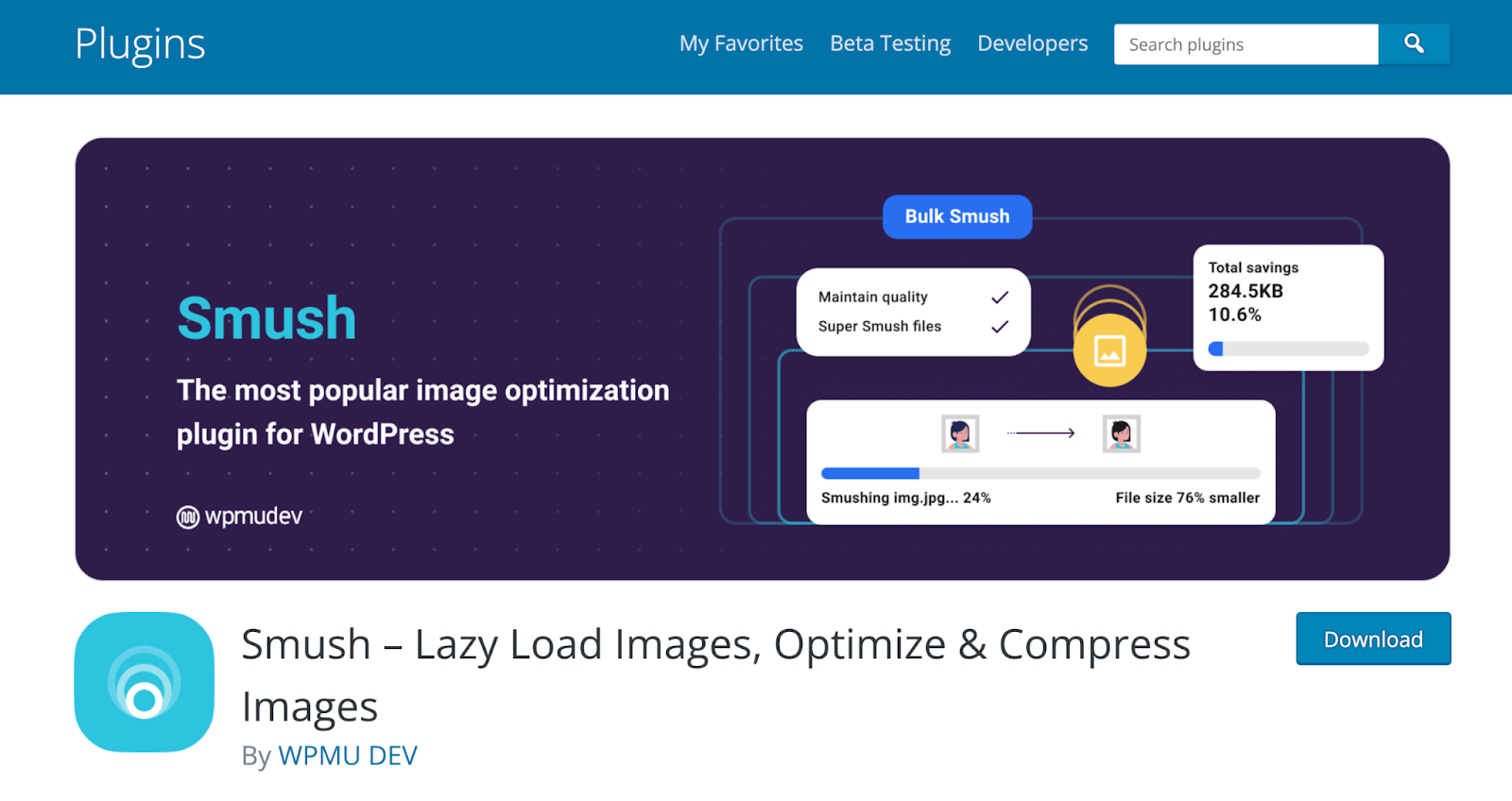 It's an alternative to ShortPixel.
Like ShortPixel, it can optimize images in bulk. Just hit "Smush" > "Bulk Smush" 
You can also resize large images by defining custom widths and heights.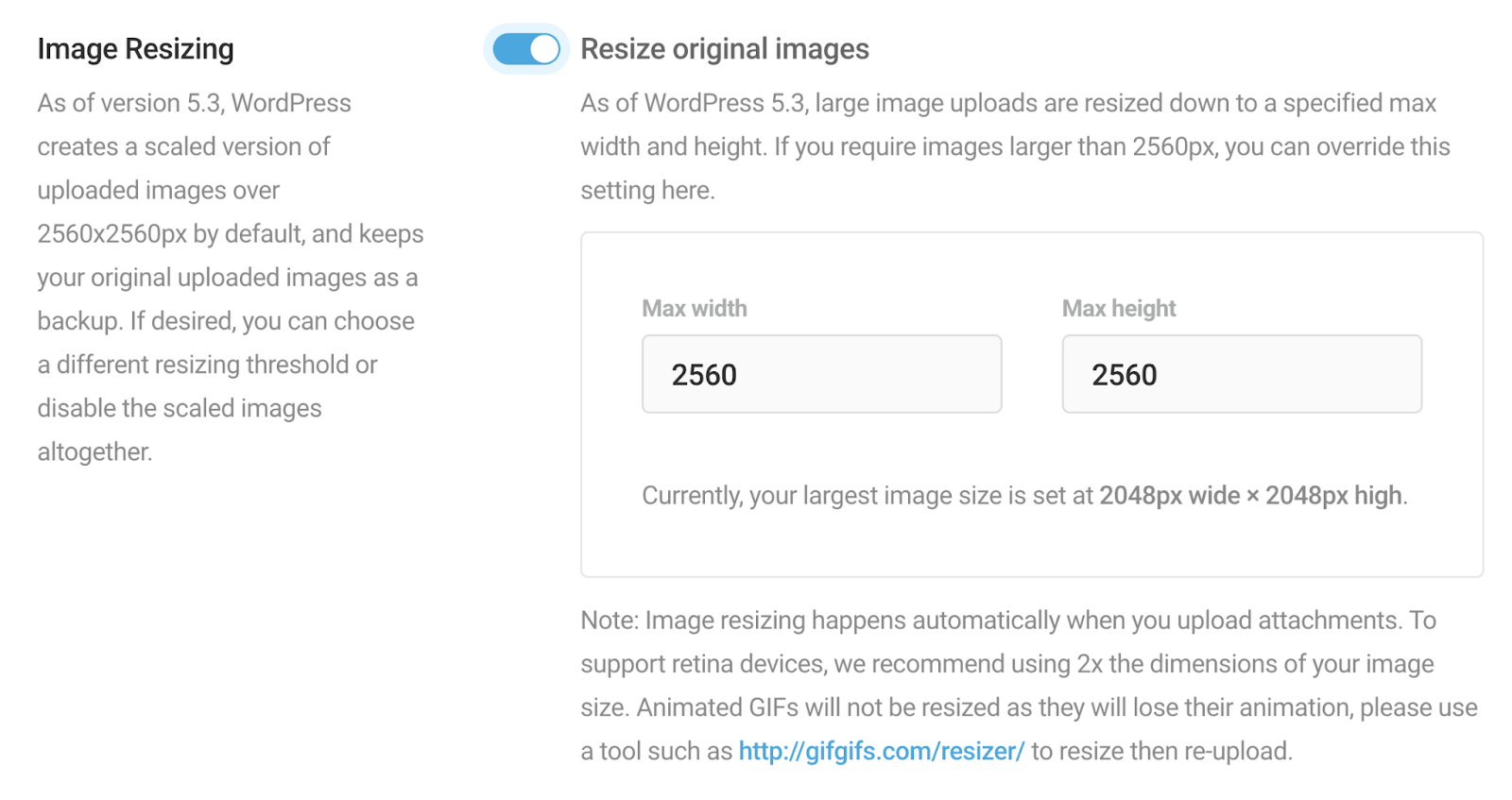 This is helpful when you want to scale down large images. So you're not storing any oversized images on your server. Thereby improving your load times.
Key Features
Lazy loading. Defer image loading on webpages until the images need to be shown
Lossless compression. Compress images without sacrificing their quality
Bulk optimization. Optimize all images in one click
CDN. Deliver images from the server that's closer to users
Pricing
Smush is a freemium WordPress plugin. The free version offers limited functionality and features. 
With a paid version, you get full access to all the features, including CDN and bulk optimization, starting at $90 per year.
10. Easy Table of Contents
Easy Table of Contents is a WordPres plugin that automatically creates a table of contents for your blog posts.
Like this: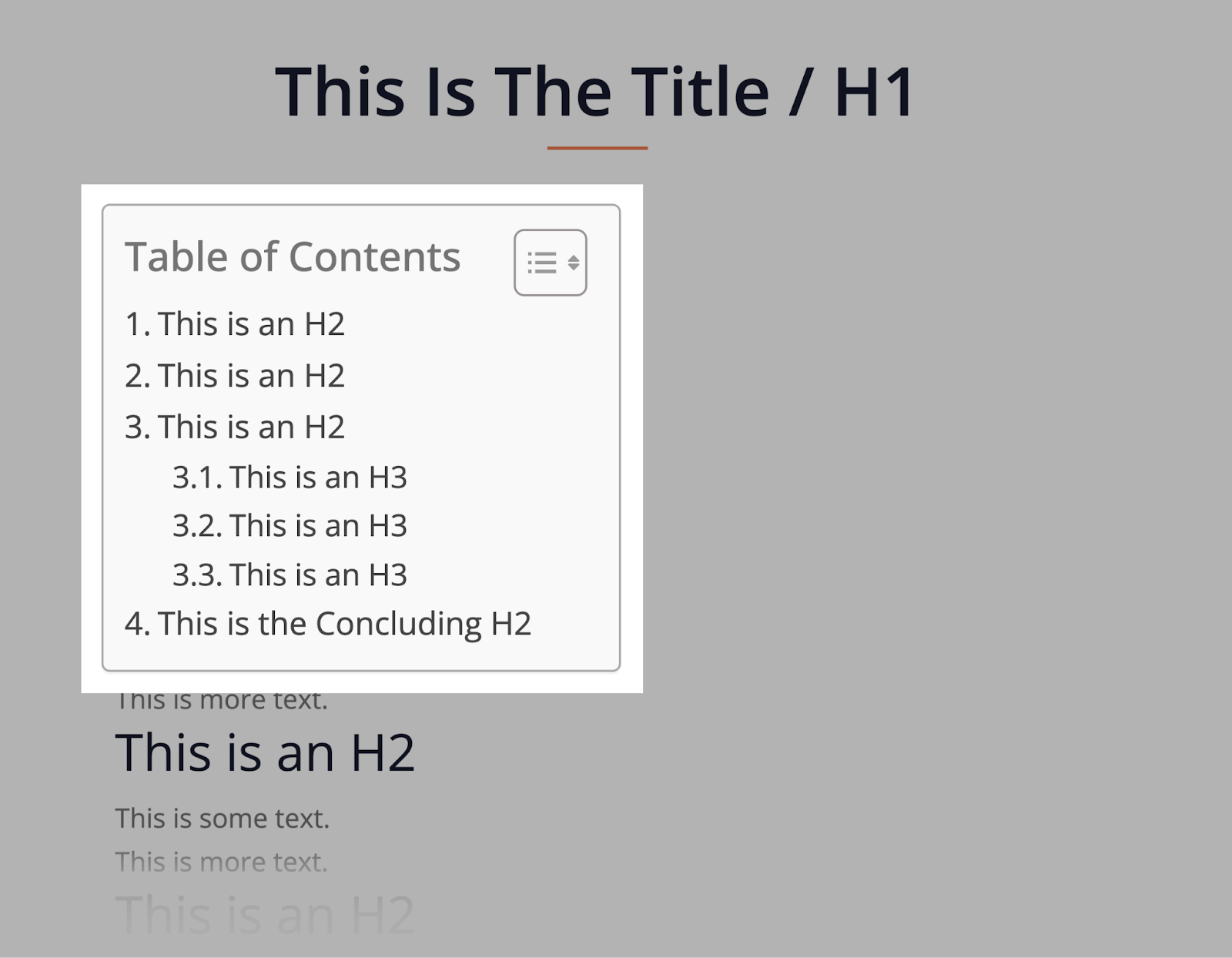 A table of contents makes it easier for readers to navigate to sections of your blog posts.
So it improves the user experience on your site. And your SEO as a result.
After installing the Easy Table of Contents plugin, you can quickly and easily add a table of contents to your blog posts without editing a single line of code.
Key Features
Responsive design that adapts to different screen sizes and devices
Customization options for appearance, including font size, color, and placement on the page
Ability to choose the types of headers (H2, H3, etc.) to use within a table of contents
Ability to exclude specific headings
Pricing
Easy Table of Contents is a freemium plugin. Paid plans start at $49 per year.
11. Redirection
Redirection is a simple plugin for implementing redirects on your WordPress website.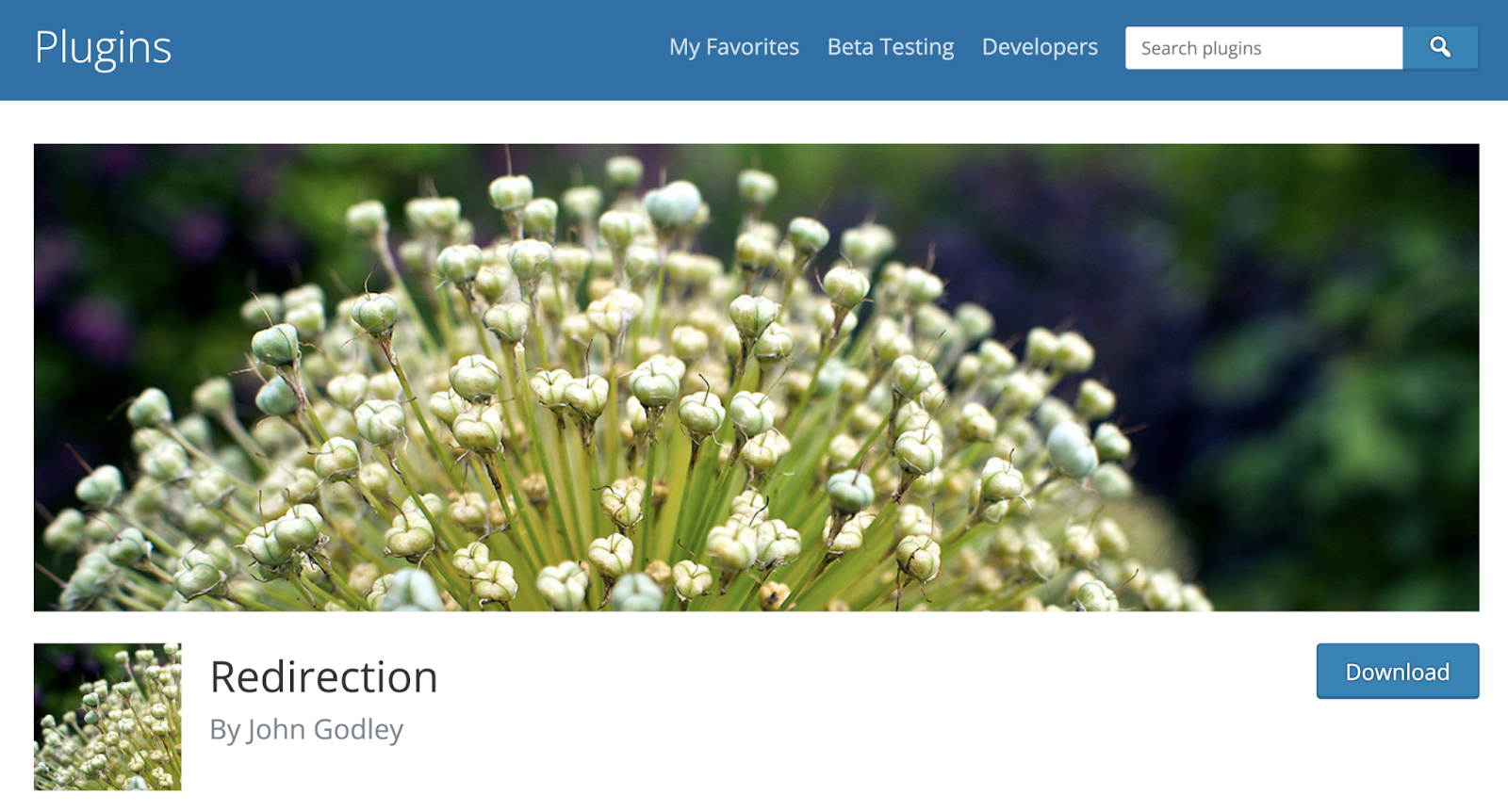 Redirects are necessary when:
Changing the URL structure. If you change the URL structure of your website, you'll need to implement redirects so visitors who try to access the old URLs are automatically redirected to new URLs
Consolidating multiple pages. If you have multiple pages on your website with similar content, you may want to consolidate them into a single page with redirects
Deleting pages. If you're removing content from your website, redirect the URL to a relevant, similar page where possible
The Redirection plugin is easy to use. Enter the source URL and target URL. Then click "Add Redirect."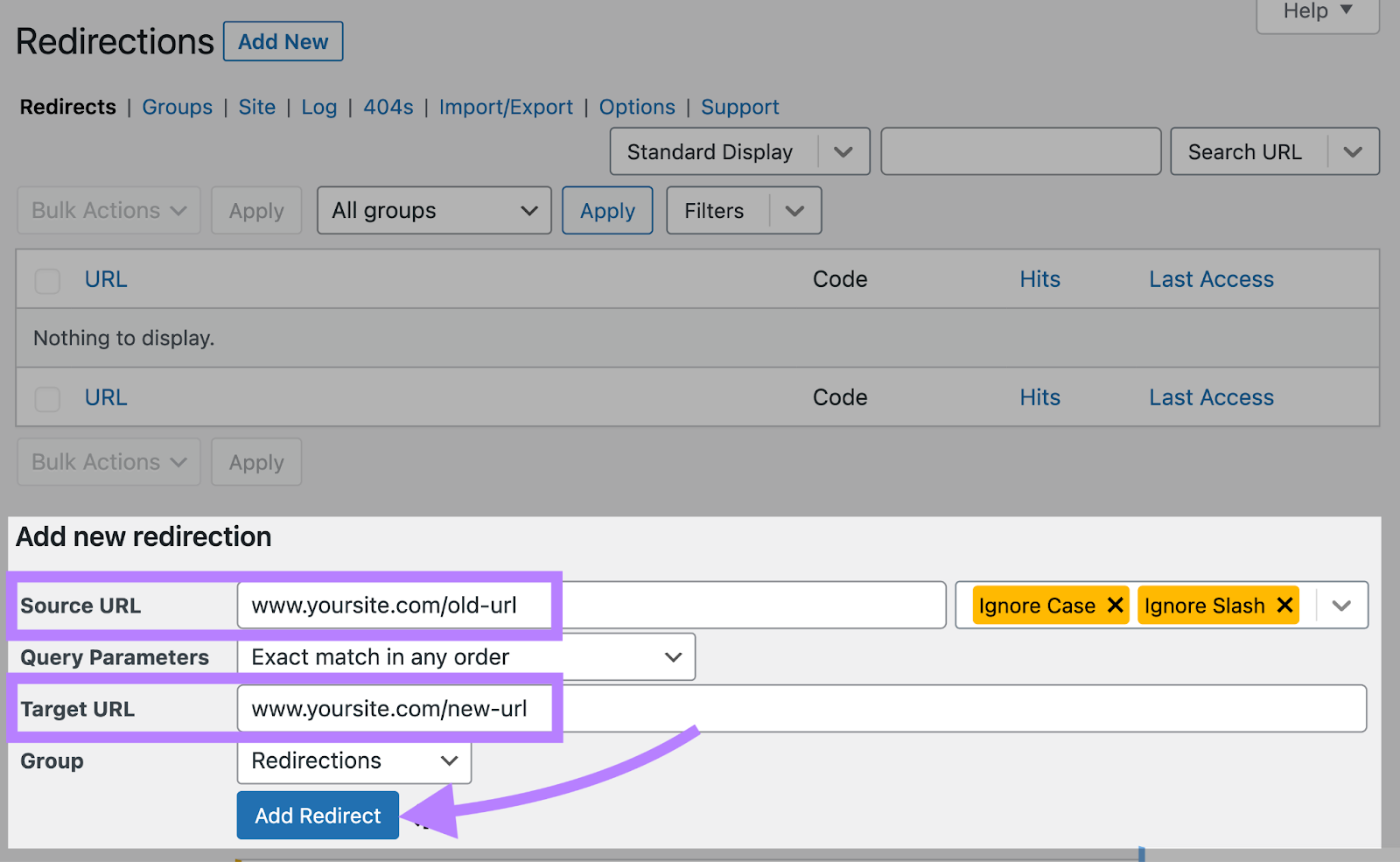 The plugin supports all 3xx redirect types.

For experienced users, there's an option to use regular expression (regex) matching for redirects. This is especially useful when you need to redirect a large number of URLs in bulk.
Key Features
User-friendly interface that makes it easy to manage redirects
Suitable for both large and small websites
The plugin monitors your site for 404 errors. So you can fix them as soon as they pop up.
Automatically import and implement redirects from a CSV file
Pricing
The redirection plugin is free. 
12. Broken Link Checker
The Broken Link Checker plugin helps you find and fix broken links on your website—both internal and external.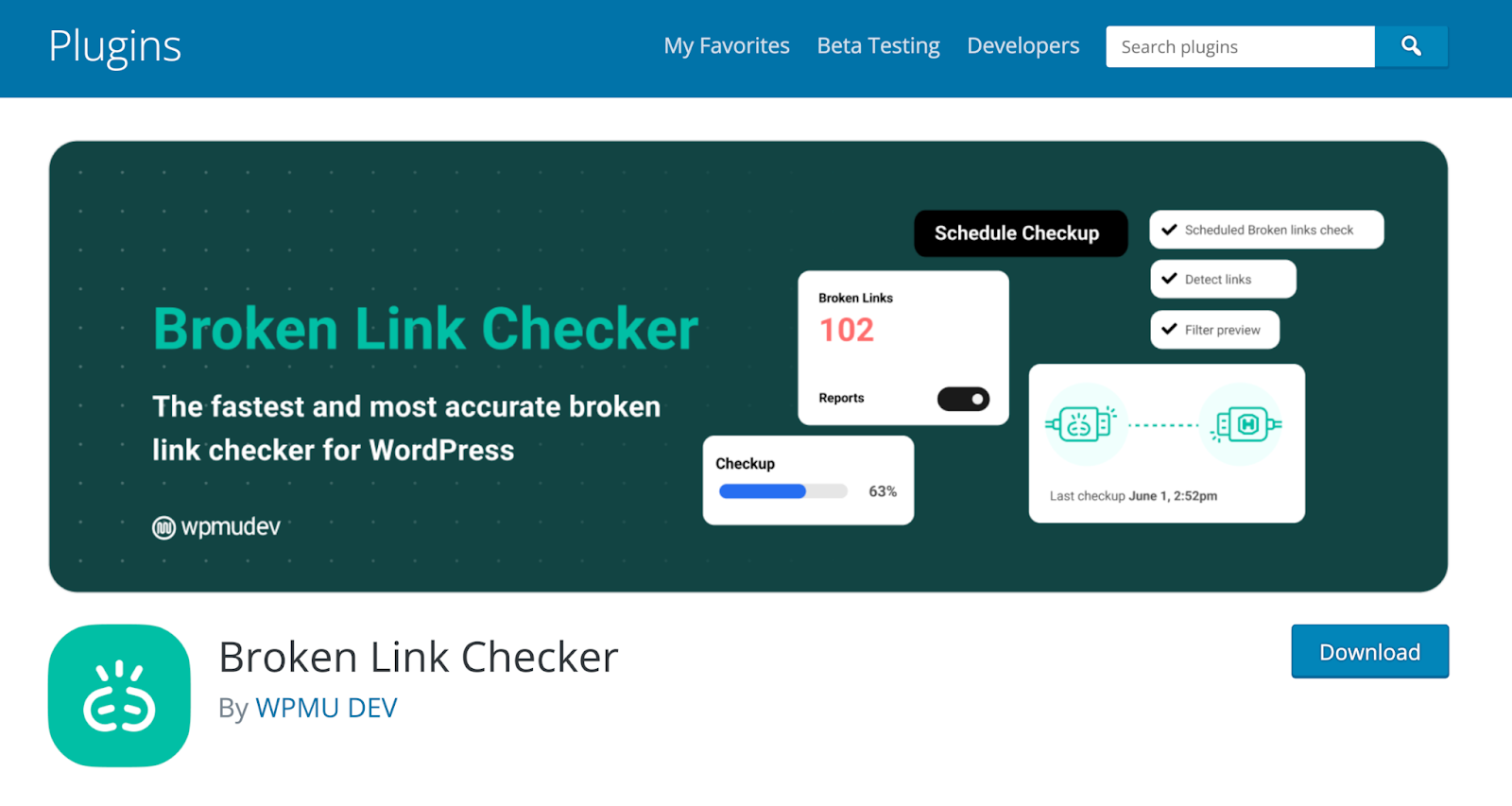 Broken links are links that no longer work. When users click on them, they get an error.
Having broken links on your website can harm the user experience, which can negatively affect your search engine rankings.
Luckily, the Broken Link Checker plugin can help fix this issue.
When the plugin detects broken links, it shows the URL of the broken link, HTTP status code (404, 410, etc.), anchor text, and the page on which the broken link is present.
You can also fix links easily. 
Just hover over the link and click the "Unlink" button to remove the broken link. Or click the "Edit URL" option to replace a link with the working alternative.
Key Features
Scans your website for broken links in posts, pages, and comments
Provides an option to edit or remove broken links directly from the plugin's interface. So you don't have to update each post manually.
Notifies you via email when broken links are found
Provides automatic suggestions with replacement links
Pricing
Broken Link Checker is 100% free. There is no paid version. 
13. Really Simple SSL
Really Simple SSL is a WordPress plugin that makes it easy to switch your website from HTTP (Hypertext Transfer Protocol) to HTTPS (HTTP Secure).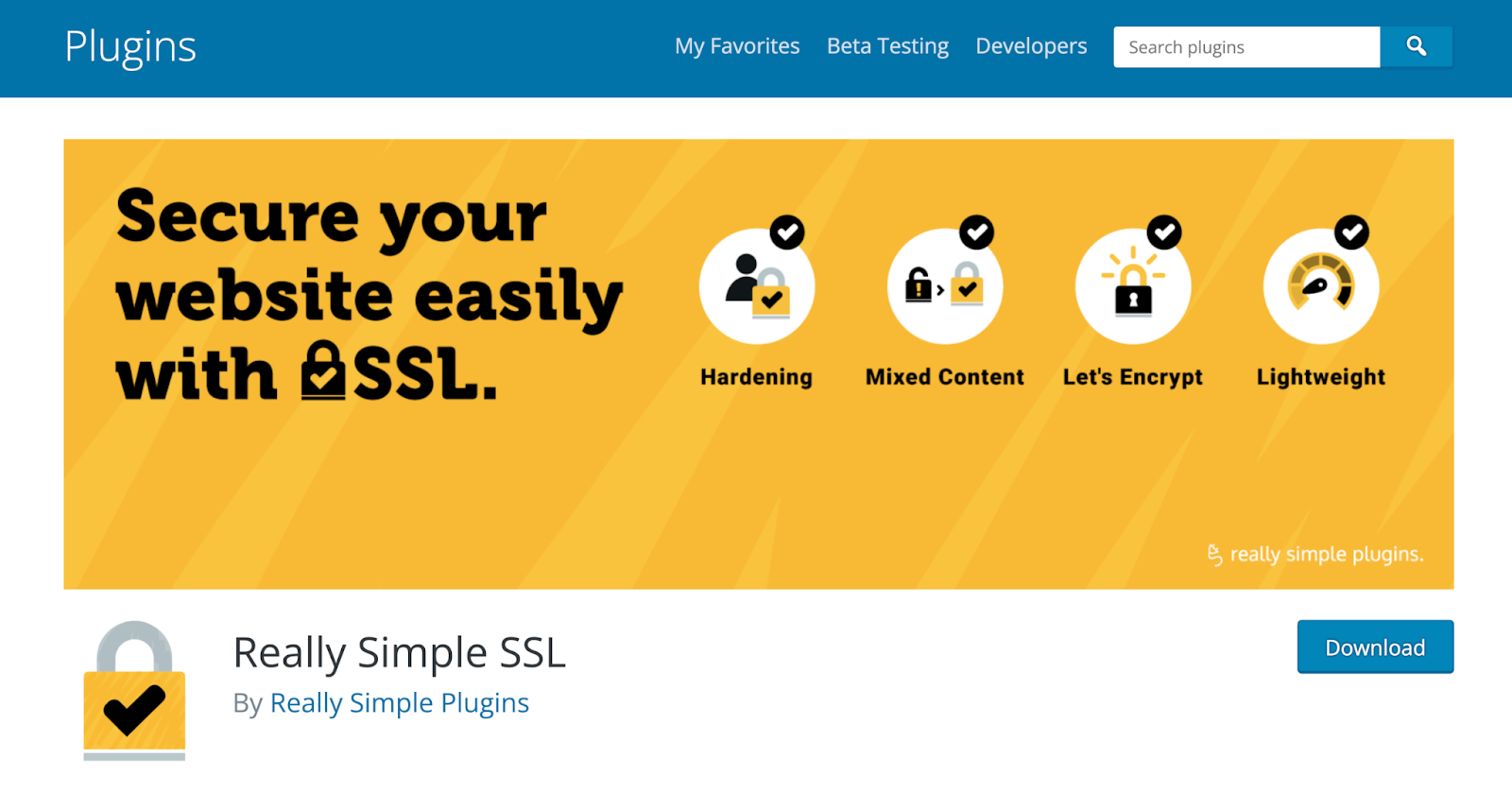 Websites using HTTPS are encrypted and safer for visitors. And that's a confirmed Google ranking factor.
To use HTTPS, you need to install an SSL (Secure Sockets Layer) certificate.
Your hosting provider (GoDaddy, HostGator, etc.) should help you install that.
The Really Simple SSL plugin checks whether you have an SSL certificate on your site. If you don't have one, the plugin can help you install one with Let's Encrypt.
Once installed, the plugin can also help you redirect traffic from HTTP to HTTPS. So your content can always load over a secure version—i.e., HTTPS.
All you have to do is check a box in the settings.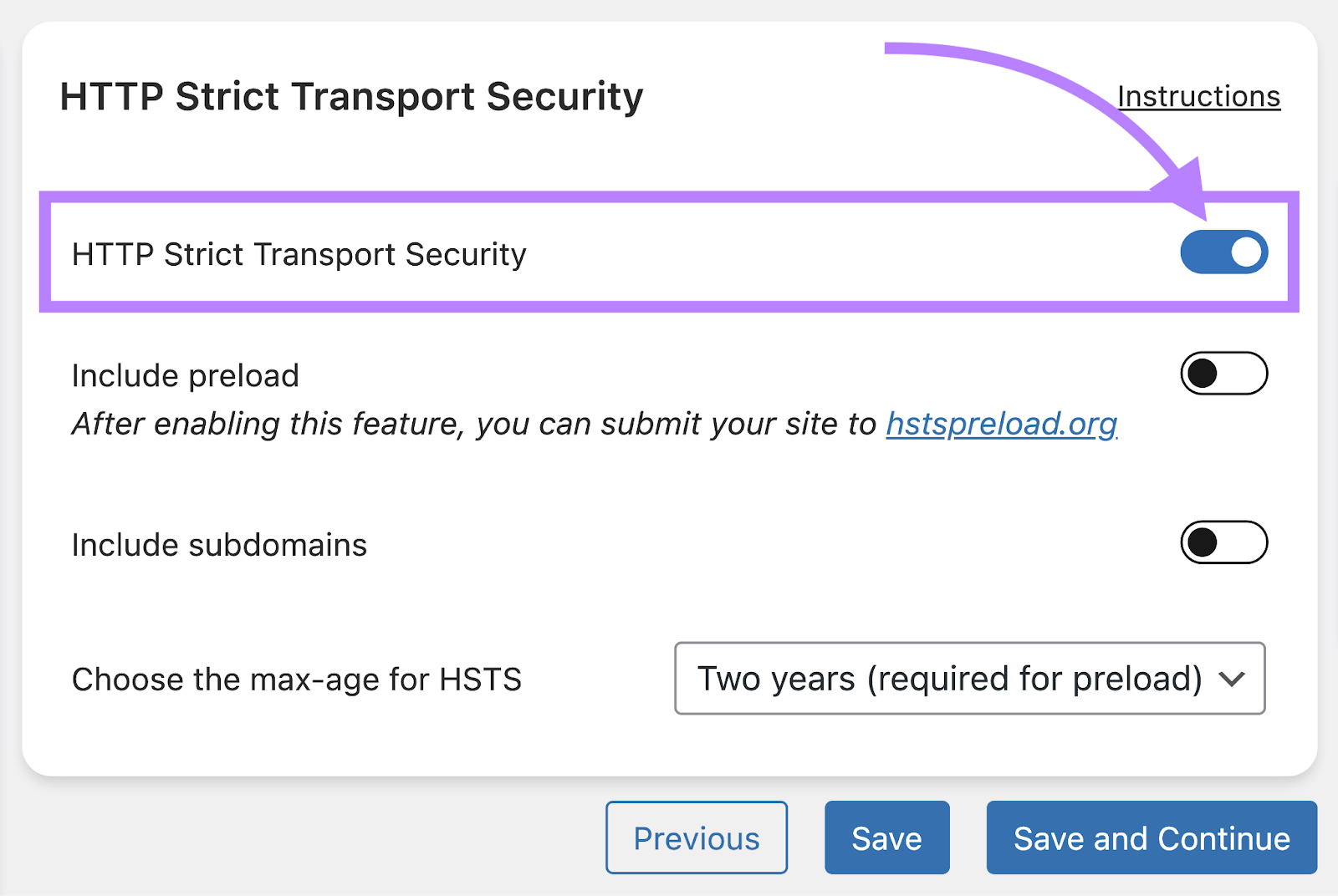 Key Features
Some of the key features of Really Simple SSL include the following:
Automatic redirect of all HTTP traffic to HTTPS
Automated checks for mixed content issues—i.e., both secure (HTTP) and non-secure (HTTPS) content is loaded
Extra hardening features to secure your website from hackers
Pricing
Really Simple SSL is a freemium plugin. Pricing starts at $39 per year. For more information, check out the pricing page.
Take a Step Further
When it comes to optimizing your WordPress site for SEO, plugins are your friend. Think of them as WordPress SEO tools. 
They can help you set up a good base for SEO.
But you need to do other things to fully optimize your WordPress site for SEO. Such as:
Semrush can help you do all of that. Sign up for a free account to see how.