Did you know that Marvel character Thanos reins as thee number-one most-searched-for keyword, with over 21 million average searches?
From global elections and mid-terms to United Nations assemblies, Brexit, album and movie releases, and major world sports events, 2019 has been a year full of surprises. But a few select people, events, and items were the most popular to global audiences this year, according to trends data provider SEMrush.
Pulling the most-searched-for artists, politicians, new releases, fashion trends, sporting events, and more, SEMrush has created the ultimate guide to understanding what the world cared about most in 2019.
Keywords
Memorable moments of any year can be defined by what we have searched for most, and 2019 is no exception. Entertainment-related topics (i.e., new movies and tv shows) took up 40% of the top 10 trending items list, followed by notable people of 2019 (30%), sports events (20%), and new tech products (10%).
Where were you when The Snap happened?
The Marvel Cinematic Universe (MCU) took the world by storm in 2019 with Thanos listed as the world's favorite topic of conversation, with over 21 million average searches this year and a 12,300% increase in average searches—the second-highest growth spike of the year.
The release of Avengers: Endgame added another notch for Marvel on the top 10 list, sitting at number four, with 16.75 million average searches. The world's affinity for superheroes (or rather, villains) doesn't stop there, with the release of DC Comic's Joker sneaking in as the ninth most-searched-for topic of 2019. Both new releases saw growth of just under 1,930%. 
The Women's World Cup 2019 was the second most-searched-for topic of the year, with the largest spike in growth in 2019, rising in searches by just under 558,459%!
Rise to Fame
After recently receiving a Billboard Live Music Award naming her 'Woman of the Year,' singer/songwriter Billie Eilish proved she is not actually the "bad guy," topping the charts with a skyrocket to fame comparing average search volume and growth compared to 2018. Average searches for Billie Eilish were almost 223% higher than the next leading person of interest, Joaquin Phoenix. 
Though most names to top the list are of actors and artists, two additional names stand out from the crowd: Greta Thunberg saw an average search increase of 2,918%, highlighting the significance of her global environmental advocacy, and British Prime Minister Boris Johnson, who saw a spike of almost 2,384% as a result of the 2019 UK election and his work to 'Get Brexit Done'.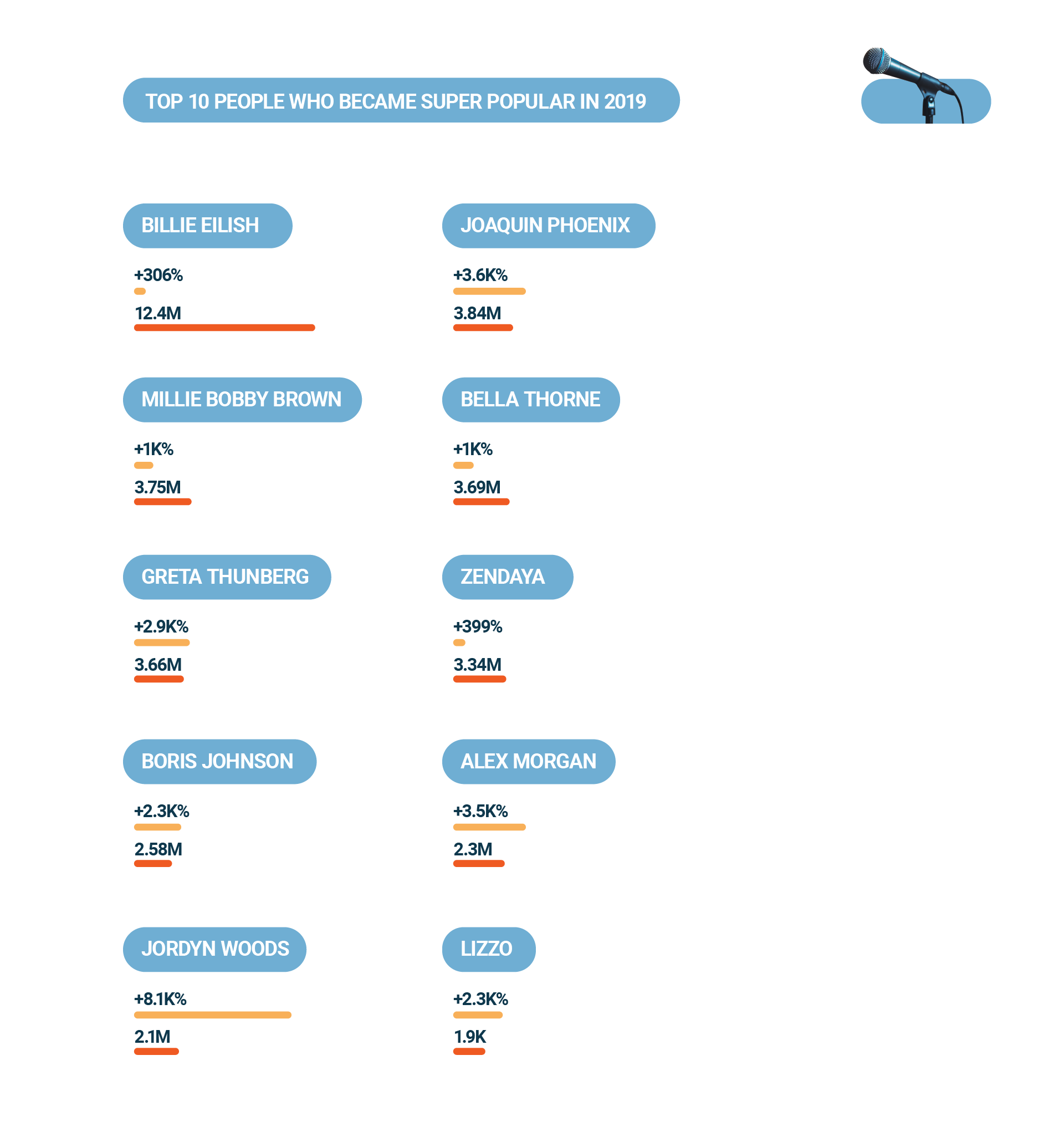 Comparing overall growth in search volume, U.S. White House press secretary Stephanie Grisham experienced the most significant spike in popularity with 82,200% more average searches than last year, followed by Austrian Chancellor Brigitte Bierlein (50,917%), American actress Halle Bailey (18,369%) and Ukrainian President Volodymyr Zelensky (15,275%).
Celebrity Events
Babies, weddings and albums, oh my! 81% of celebrity event searches in 2019 reference new beginnings, the most exciting of which being the introduction of the newest member of the royal family, baby Archie, with average searches for the Duke and Duchess of Sussex's son totaling 803,790. The global average for searches related to President Trump's impeachment also tops the list with 685,300 queries.
Talked-about Celebrity Appearances
The most remarkable celebrity fashion statements in 2019 covered a broad mix of items—from dresses to coats, to even a bathrobe—with 40% of searches for notable items where male celebrities took the spotlight. The most notable search occurred after star football/soccer player Alex Morgan posed for Sports Illustrated's Swimsuit 2019 issue, resulting in 173% more searches than the next celeb fashion statement, Lady Gaga's 128-Carat Tiffany Diamond necklace, worn at the 2019 Oscars.
Sports Events / Top Players
Though cheering for different sports teams may divide us, sporting events draw the world closer together, with tennis and football (or soccer, depending on where you are from) being the greatest glue—30% of the most popular major sports events searched in 2019 involved either a little yellow ball, or a black and white one, but both featured some incredible, world-famous players. Football remains the favorite global sport, with major tournaments taking the top two most-searched-for events. Average searches for the 2019 Women's World Cup, Champions League, and Copa America outperformed the Cricket World Cup by 153%, 152%, and 47%, respectively.
Despite the global interest in football events in 2019, the most-searched-for athletes of this year during their respective major sporting events are stars of tennis and basketball. Swiss tennis player Roger Federer aced the list with 22% more searches than former Golden State Warriors power forward Kevin Durant, who received 13.6 million searches as a major player during the 2019 NBA Finals. Tennis stars Rafael Nadal, and Serena Williams tied for fifth with 7,480,000 average searches each, meaning tennis pros served up 50% of the top five most searched-for players.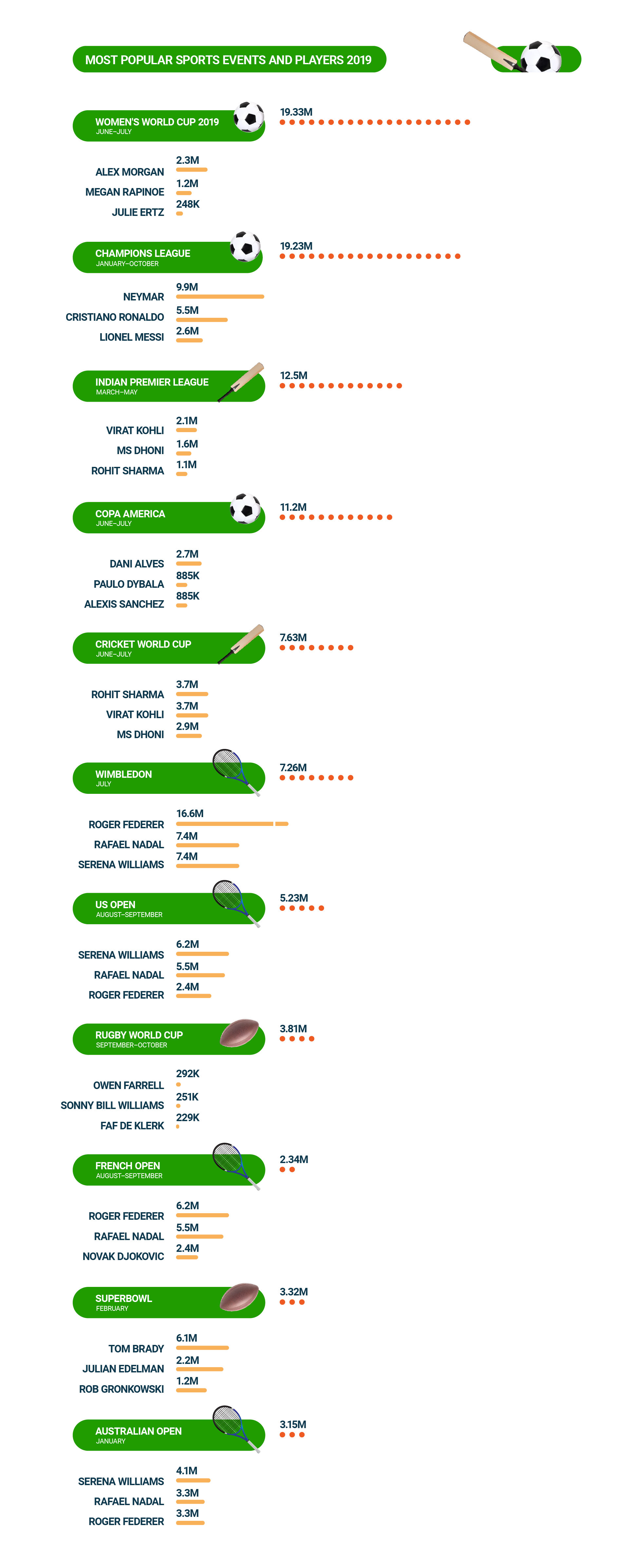 Politics
U.S. politicians captured global attention in 2019, with 70% of the most-searched-for politicians serving within the government of the United States of America. U.K., Indian, and Venezuelan politicians also topped the list, despite average searches for U.S. President Donald Trump being over 266% higher than the second most popular political leader, UK Prime Minister Boris Johnson.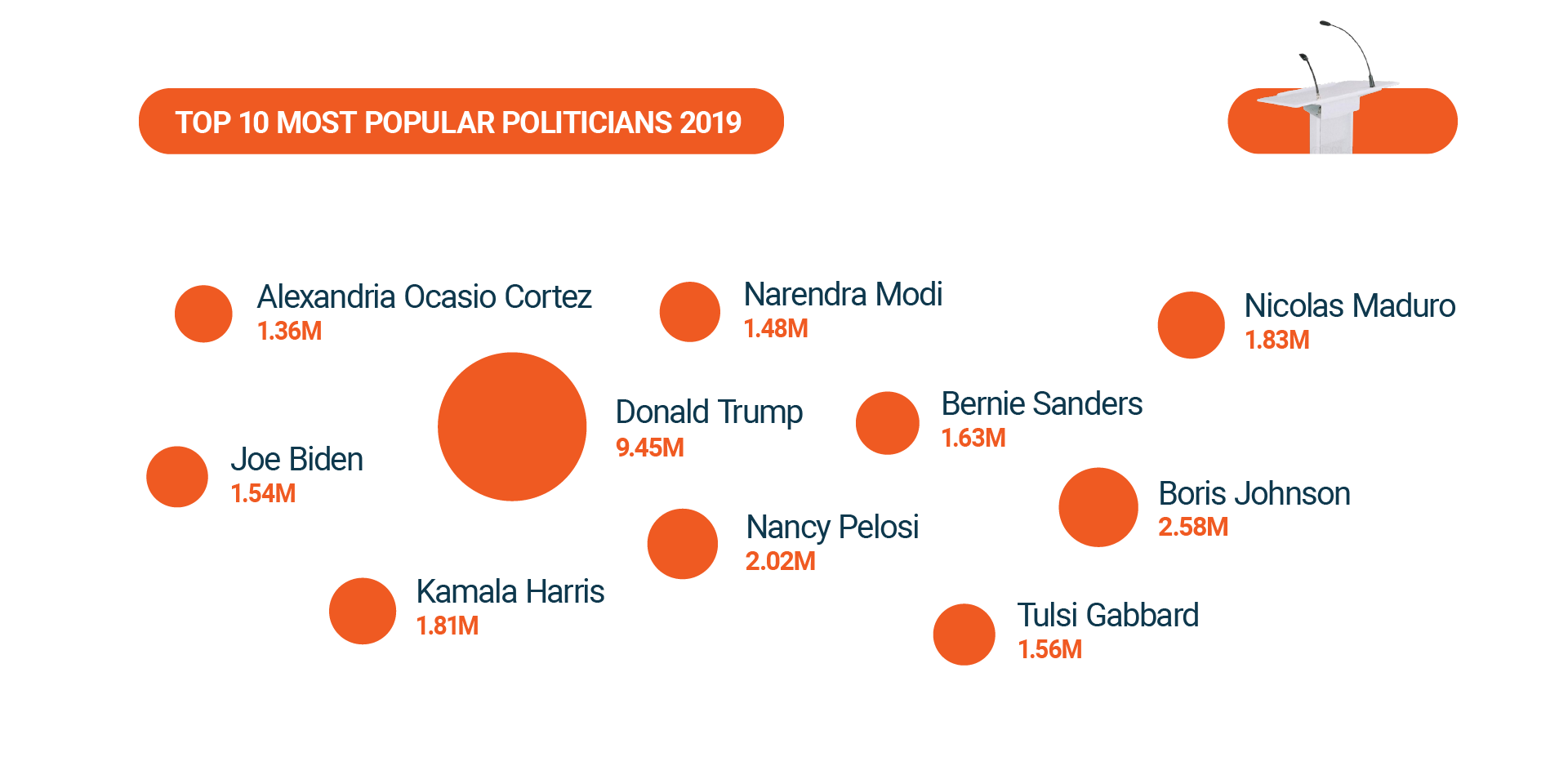 News Topics / Events
Despite the global interest in President Trump and his actions, political issues in Venezuela and Syria proved to be among the most significant topics to the world in 2019, according to the analysis of the largest news media outlets. Global eyes were also set on watching the 2019 UK election and plans for changes to its status as a European Union member, with both issues taking the third and fourth spot for most popular searches.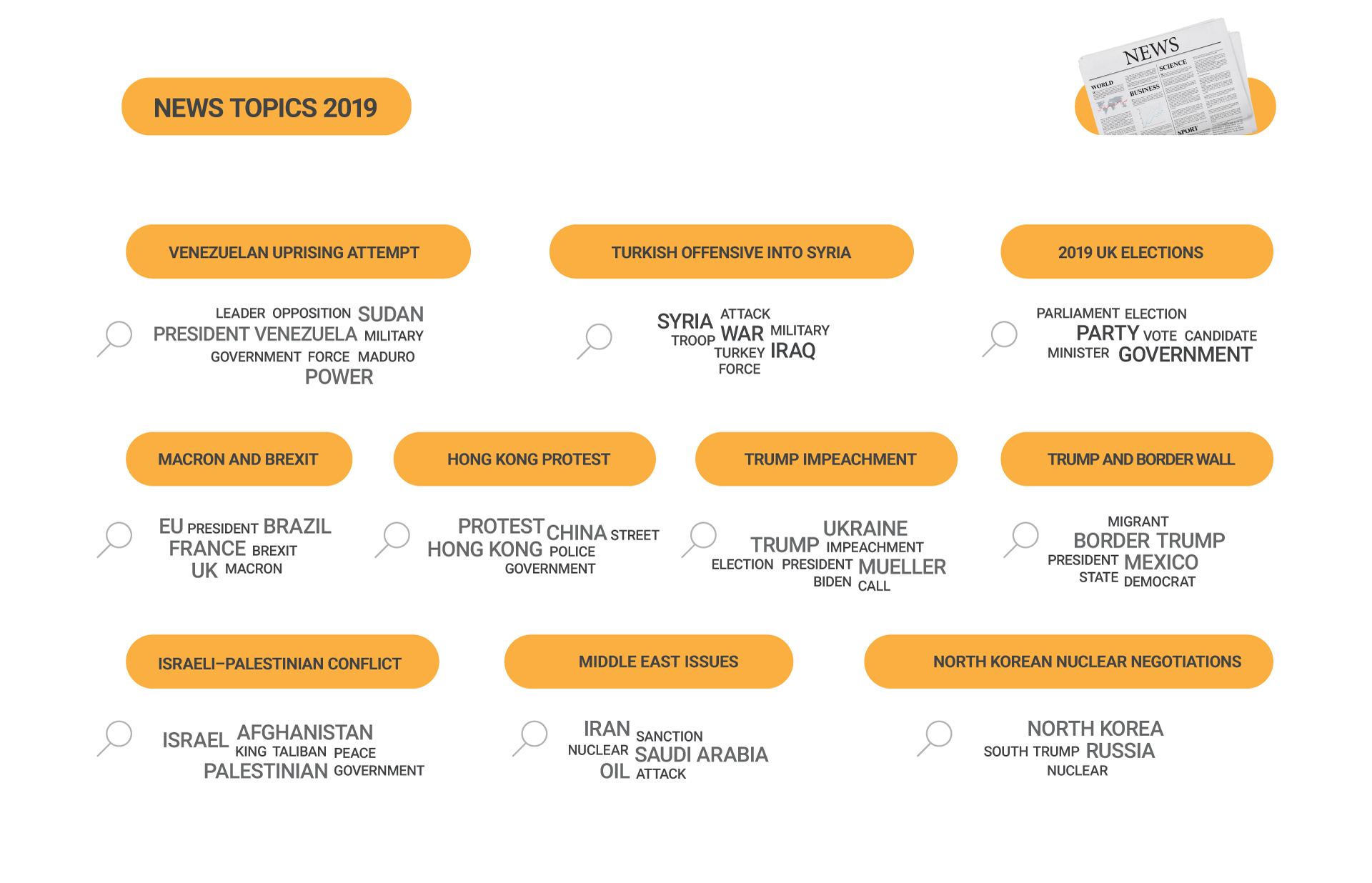 Top Music Albums
The sweet sounds of 2019 took global audiences from pop and rap to heavy metal and electronic, with several major artists releasing new albums. Taylor Swift's Lover, released in August, tops the charts with over 49% more searches than the singer/songwriter's public nemesis, Kanye West, with his album release of Jesus is King in October.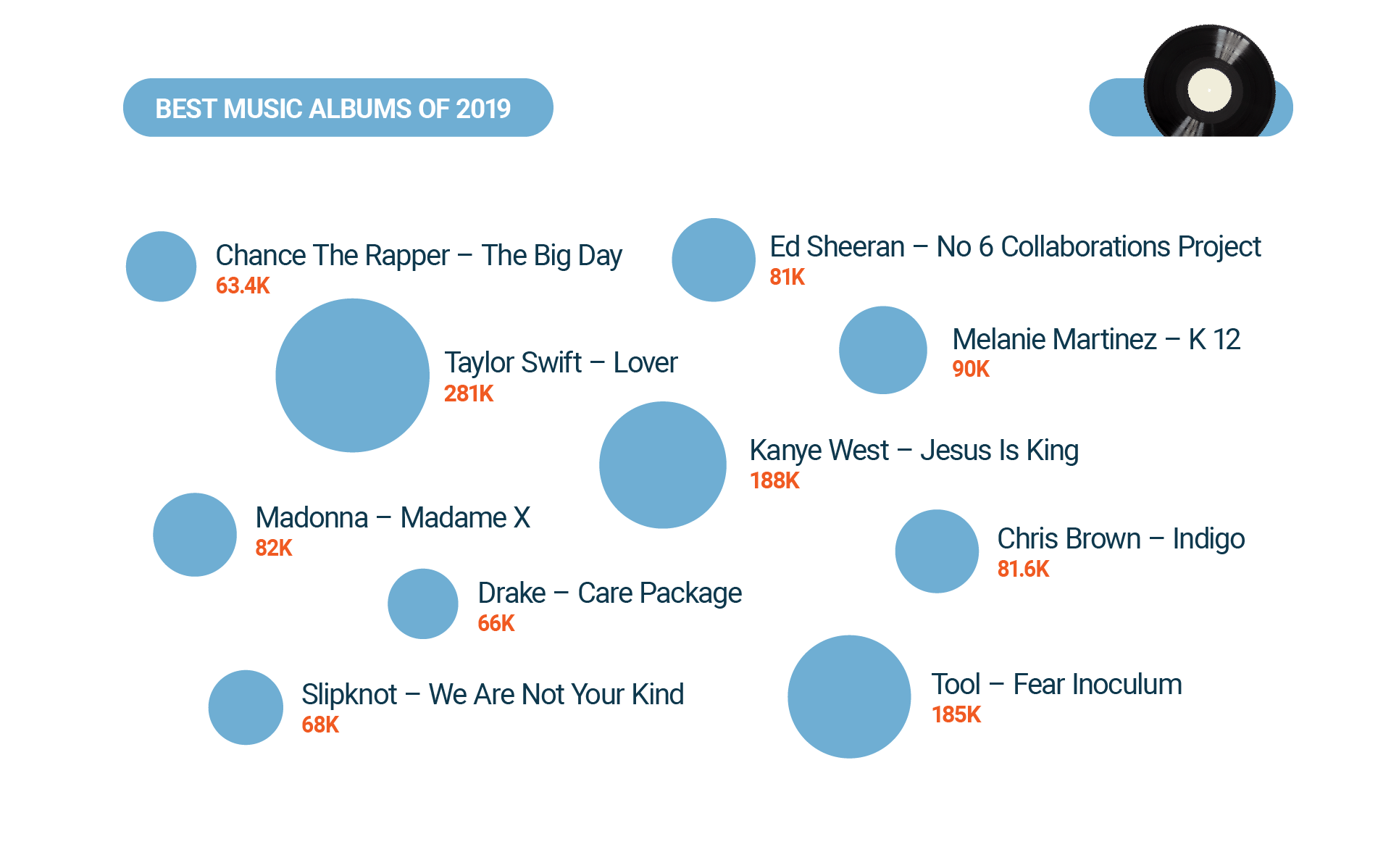 Top TV Series
Binge-watching TV series has become a favorite activity for global audiences since the debut of streaming services such as Netflix and Crave, but there is one clear winner that takes the 'crown' for most-searched-for series of 2019 — Game of Thrones. With almost double the amount of searches (94% higher) than the next most-searched-for series, Stranger Things, the series finale of the fan-favorite show united the globe — from Essos to Westeros—to watch. 
Though newer TV shows top the chart, now-canceled shows make up 30% of the top 10 list, with the fourth-highest search streaming ahead, despite being almost 20 years old—24's Jack Bauer proves to be even more popular than the beloved TV show FRIENDS, which celebrated its 25th anniversary in 2019.
Top Movies
2019 was a MARVELous year for movies with 30% of the top 10 most-searched-for flicks taking place within the MCU. Avengers: Endgame was the most popular movie, raking in 20% more searches than Joker and shattered box office records by becoming the highest-grossing film of all time. 
Disney captivated audiences in 2019, with its titles (including those from the MCU) holding 50% of the top 10 list; rival studio Warner Bros. Pictures took 20% with its DC Comics titles Joker and Shazam.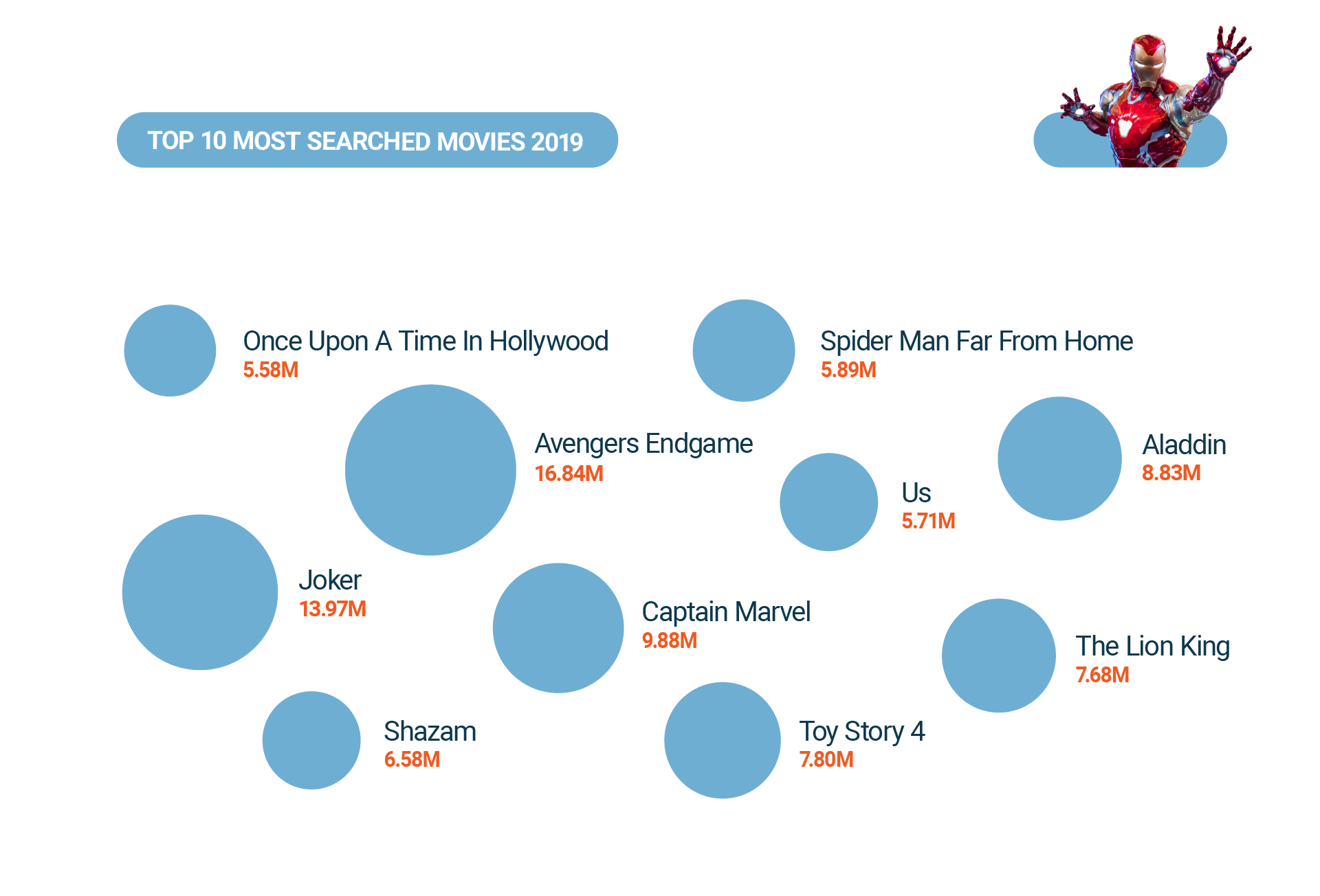 Top Fashion Ecommerce
The largest Russian online retailer, Wildberries, was a cut above the rest of the fashion e-commerce stores, with 17% more web traffic than H&M, the second most-visited website. Showing style is universal; 50% of the top e-commerce sites originated from varied countries, including Spain, Sweden, Japan, and Italy, with the other half rising from the United States' desire for fast fashion. Fashion retailers also stitched themselves into 30% of the top 10 list, proving their popularity against shopping directly from major brand labels.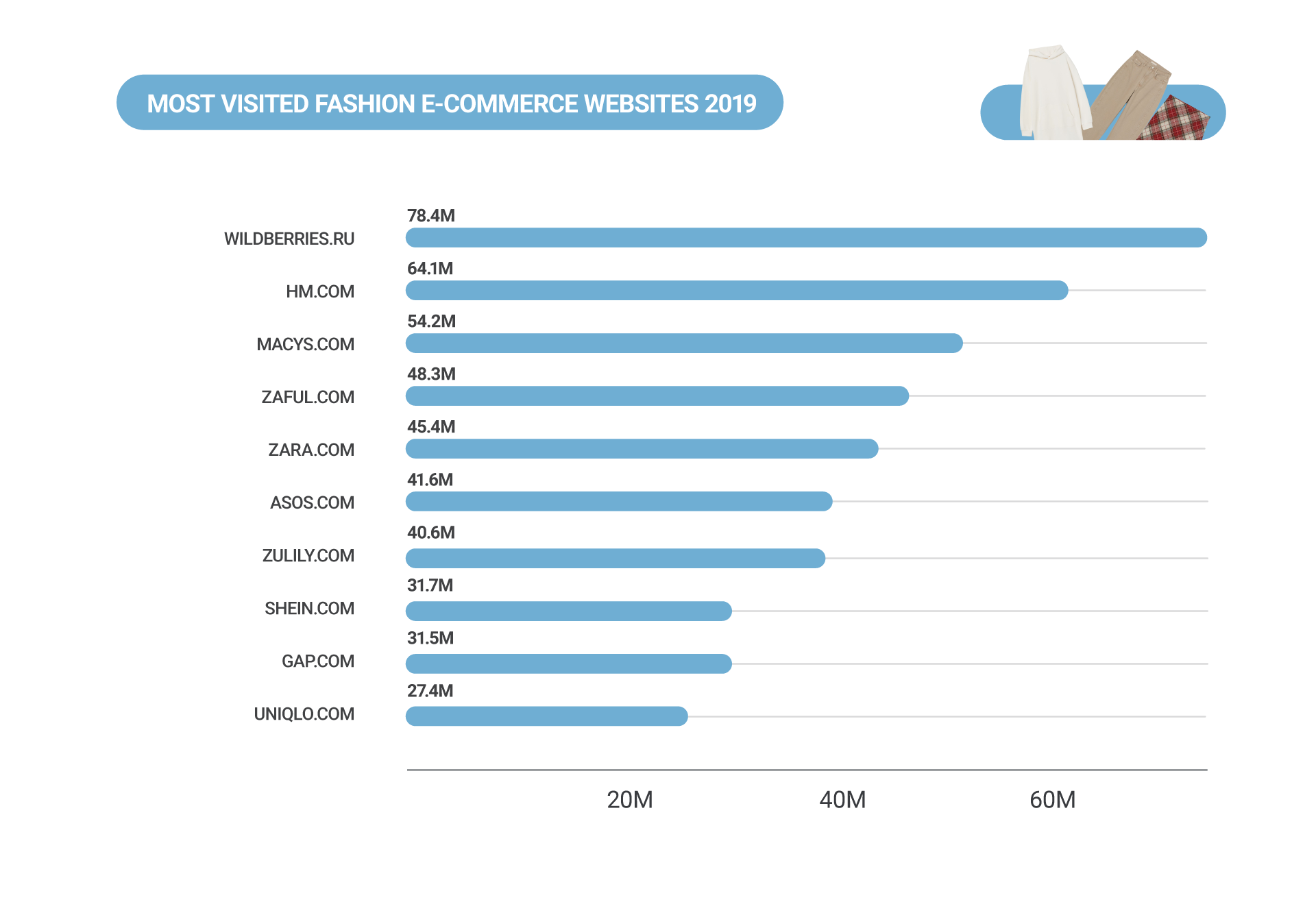 Top Fashion Items
Some styles can be classic, and some may change with the season, but the trendiest items of 2019 were highly coveted. Oversized sweaters experienced the most growth when comparing yearly average searches, with a 400% increase in global popularity. Tied for the second trendiest items, leather trench coats and linen blazers — fantastic additions to any wardrobe, no matter the climate — both with a 236% increase in growth in 2019. 
Interestingly, despite an 82% growth in global searches in 2019 for vegan-friendly clothing options, animal-based fabrics make up almost 43% of the top five most trendy fashion items.
Top Investments by Country
Of 11 major markets studied, 54% of countries included real estate as one of their top three investments of 2019, as well as investments in gold. 72% prioritized the stock market and Bitcoin as one of their top three portfolios, with 36% of countries including one or the other as their number-one investment. 
Though most countries prioritize a variance of real estate, gold, stock market, and Bitcoin investments, several countries chose unique areas to invest in as well: France's investments in wine, Germany and the UK's investments in start-ups, Japan's prioritization of 'green investments' and India's investments in mutual funds all helped to grow diverse industries in 2019.
Top IPO
Of the several companies that underwent an IPO in 2019, there are only a few that stand out amongst the crowd. After having grown in popularity since its debut 10 years ago, multinational ride-hailing company Uber was the most-searched-for company that took itself public this year, with 81% more searches than the runner-up, and competitor, Lyft. 
Despite being the youngest company to reach an IPO this year, Slack — founded in 2013 — was the third most-searched-for company with 55,670 average searches.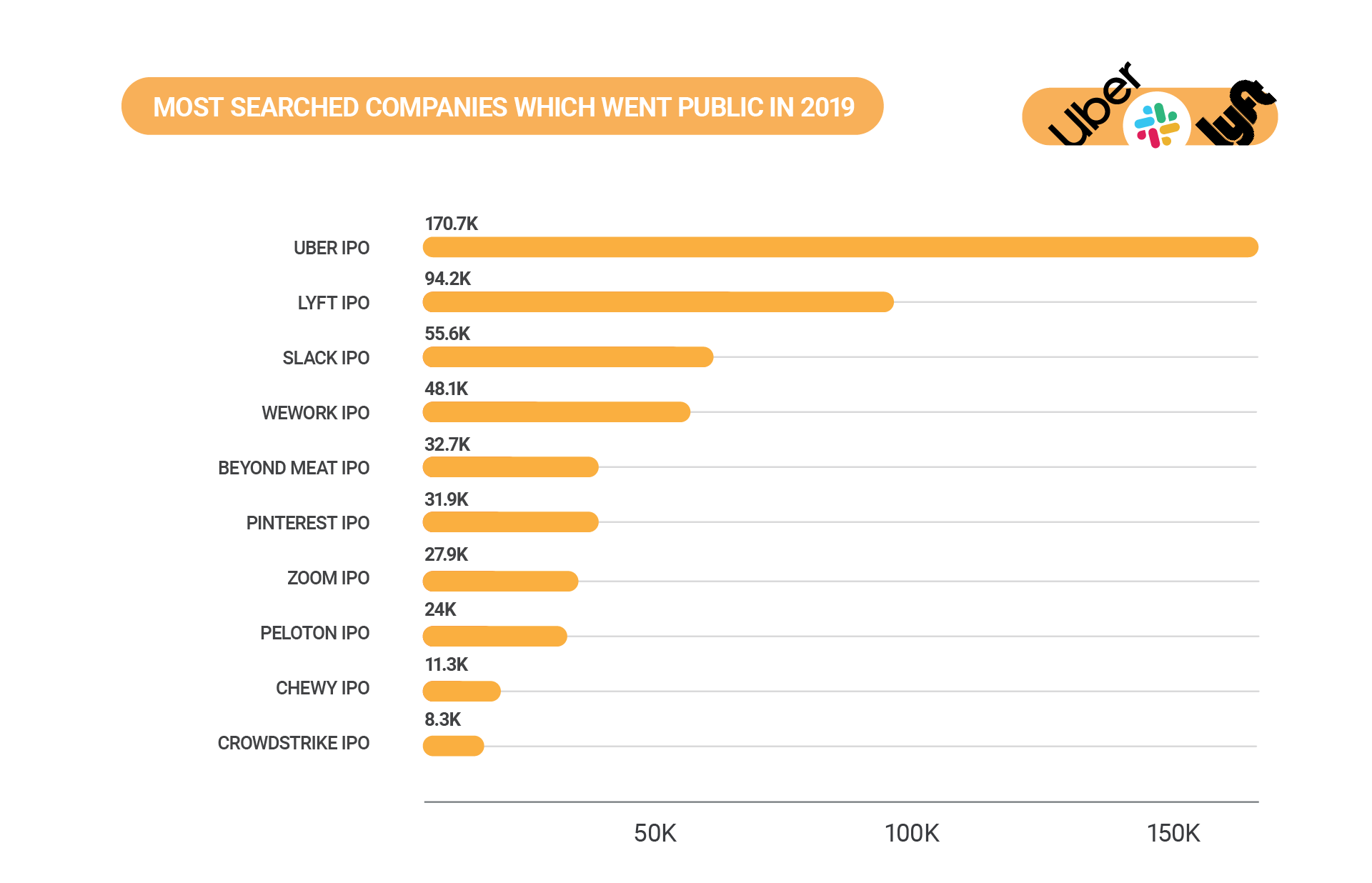 We hope you enjoyed reading this study as much as we enjoyed collecting the data for it!