This year was supposed to be the world's chance to reset, with 2020 seeing unprecedented use of the words "bandwidth", "pivot" and "push-up challenge" — 2021 was undoubtedly about Netflix series, sporting events, and cryptocurrencies. 
The digitalisation that unfolded in 2020 was echoed in 2021, as people found their groove in remote working, flexible hours and surviving another virtual meeting. While everyone might have grown used to working from home, they're still spending more time than ever online — clicking search when they need a quick answer, seeking guidance on an unknown topic, and submitting a query to the global advice column known as Dr Google.
2021 was a chance for the world to get back to normal (sort of) with in-person events on the calendar such as the Tokyo Olympics, Marvel's latest film releases and people residing in Western countries realising that non-English TV shows are actually worth a watch. But Coronavirus couldn't resist coming back into the spotlight this year, with the infamous Delta variant reminding us we haven't quite seen the last of it yet.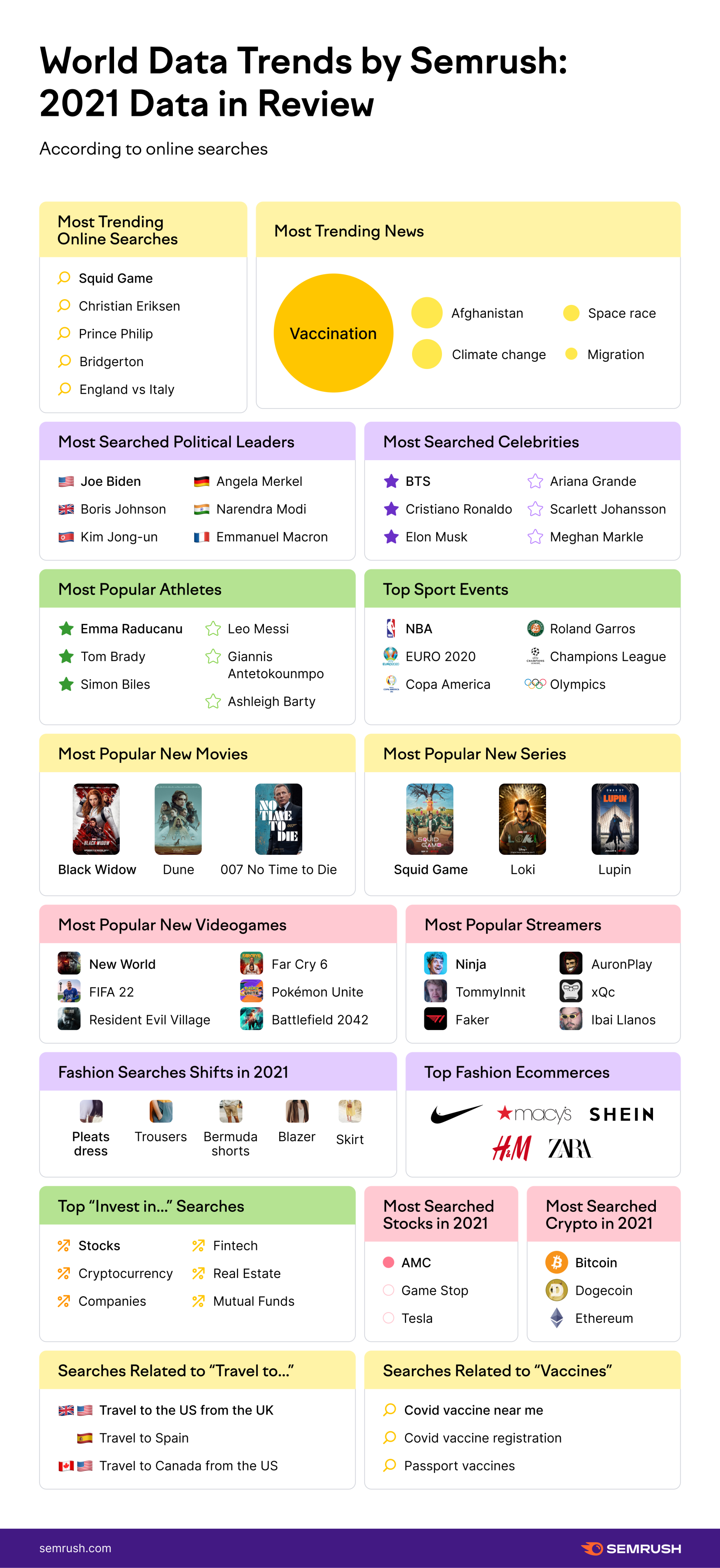 The Curious, Bizarre and Unexpected
On average each month, 622,900 people didn't know that Tokyo wasn't in China when searching for the location of the Olympics. 
This year, major global news broadcasters CNN and BBC reported more stories on vaccinations than the other nine trending stories combined, including hot topics such as climate change, the Tokyo Olympics and global supply chain issues. 
Netflix outshines all other streaming services with monthly searches for Netflix 156% higher than any other streamer.
Squid Game received more than 101 million searches in the month of October alone.
The most searched movie this year was Marvel's Black Widow with an average of 8.2 million searches per month.
Searches for dog food were 62% higher than searches for cat food.
On average, there were 32x more searches for Bitcoin than there were for the Dollar.
Spotify remains the reigning champion of music streaming, topping the charts with 133% more average monthly searches than the next leading platform, Soundcloud.
iTunes and Apple Music paled in comparison, with 21 million less average monthly searches than Spotify, and 5 million less searches than YouTube Music.
Gaming searches across the board increased significantly YoY. FIFA 22 received the most searches at its release in September, with more than 11 million searches during the month alone.
Esports TV website Ginx.TV experienced the largest growth YoY, with web traffic increasing 380%.
The most visited websites were global marketplaces and budget stores. Amazon remained the most visited site in the world with more than 3.3 billion visits on average each month.
Despite only being released in October, Adele's album 30, was the 15th most searched album for 2021.
Searches for investing in cryptocurrencies were 3x that of real estate, and 19x that of gold. 
Dutch fashion website Zalando.nl experienced the highest online growth of all fashion ecommerce sites, with a YoY traffic increase of 81%. Fast-fashion retailer Shein was the third most visited fashion site globally with a YoY increase of 134%.
The most searched travel locations were Spain and France.
General News
Trends That Were the Talk of the Town for 2021
Sporting events were among the most searched events of 2021 with Euro 2021 and the NBA receiving some of the highest search volumes globally during 2021. 
After it's postponement in 2020, it's no surprise that the TokyoOlympics were a hot topic, up 36.9 million % YoY. Tennis sensation Emma Raducanu was also among the top trending topics as the 18-year-old became the first British woman in 44 years to win a tennis Grand Slam singles title. She received more than 16.6 million searches in September alone following the US Open victory. 
The Royals were making headlines for all the wrong reasons this year, with the sad passing of Prince Philip, as well as Harry and Meghan's explosive Oprah interview, topping the search charts. 
Interestingly, with the rise of Korean TV phenomenon Squid Game, many seem to have forgotten that we started off the year obsessed with another show, Bridgerton. While this period drama did not reach the peaks of Squid Game's 101 million monthly searches, Bridgerton still deserves an honorable mention and should expect a resurgence in the trends when season 2 is finally released (even though there will be no Duke).
However, it was the shooting of 13-year-old Latino American Adam Toledo by a Chicago police officer that caused massive search spikes online at 40.9 million % peaking in April as the biggest increase in search volume for 2021.
Other trending stories that saw people around the world taking to Google to uncover more details about included the murder of YouTuber Gabby Petito and the death of her boyfriend Brian Laundrie. The two names received more than 120 million searches across September and October. The murder of Sarah Everard by a former UK policeman reignited the global #MeToo movement, with protests and calls to arms for women's safety from countries across the world.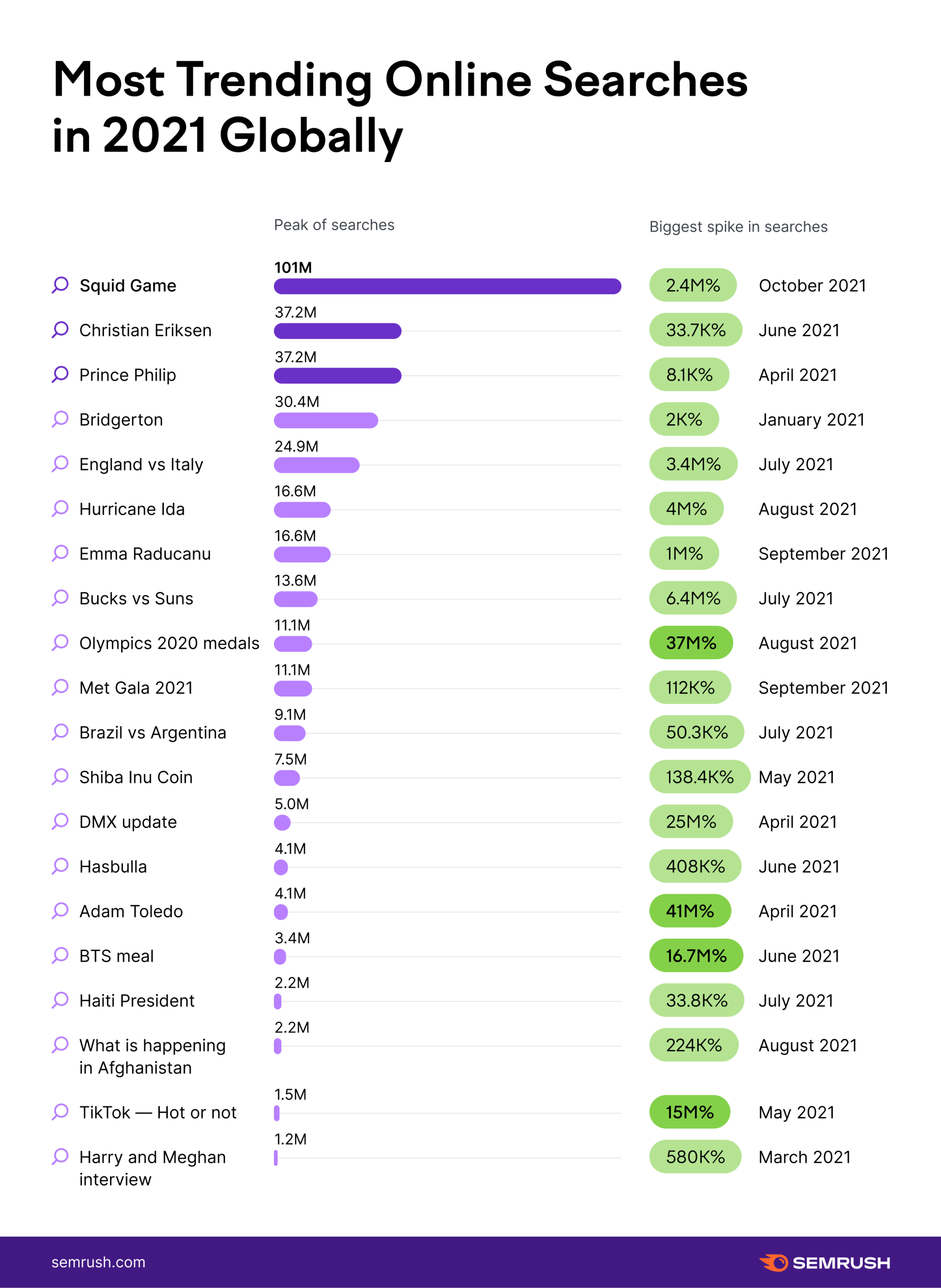 Making News Headlines in 2021
Analyzing news articles from over the year from major global news sites BBC and CNN, Semrush found several topics that gained major media traction. Unsurprisingly, vaccinations were a top news story this year, however, what you may not realise is that they received 4.5X the number of media mentions compared to other global topics such as climate change.
Tech billionaires were making headlines not just for their ripper financial gains but rather for a different type of business venture — a space race. Elon Musk and Jeff Bezos' race to space received 155% more mentions than that of the Tokyo Olympics. 
In Other News...
As the world began to reopen borders, searches for "covid vaccine near me" became one of the most searched related terms for 2021. This query increased 837% MoM from July to August 2021, with more than 159.7 million searches in August alone. 
Top vaccine-related questions included "which covid vaccine is best?" and "how to register for covid vaccine?". Unsurprisingly, there was also a large increase in searches for "do you have to be vaccinated to travel?", up 43,900% in 2021.
Restrictions and an ever-changing list of eligible countries set the tone for traveling in 2021, with "travel to the US from the UK" the most searched travel query for the year experiencing an 808% growth YoY. 
For non-specific travel plans, Spain was the top country that people around the world were hoping to travel to with more that 78,000 searches on average each month. Interestingly, Mexico seemed to be off the bucket list in 2021, with searches declining 45% YoY.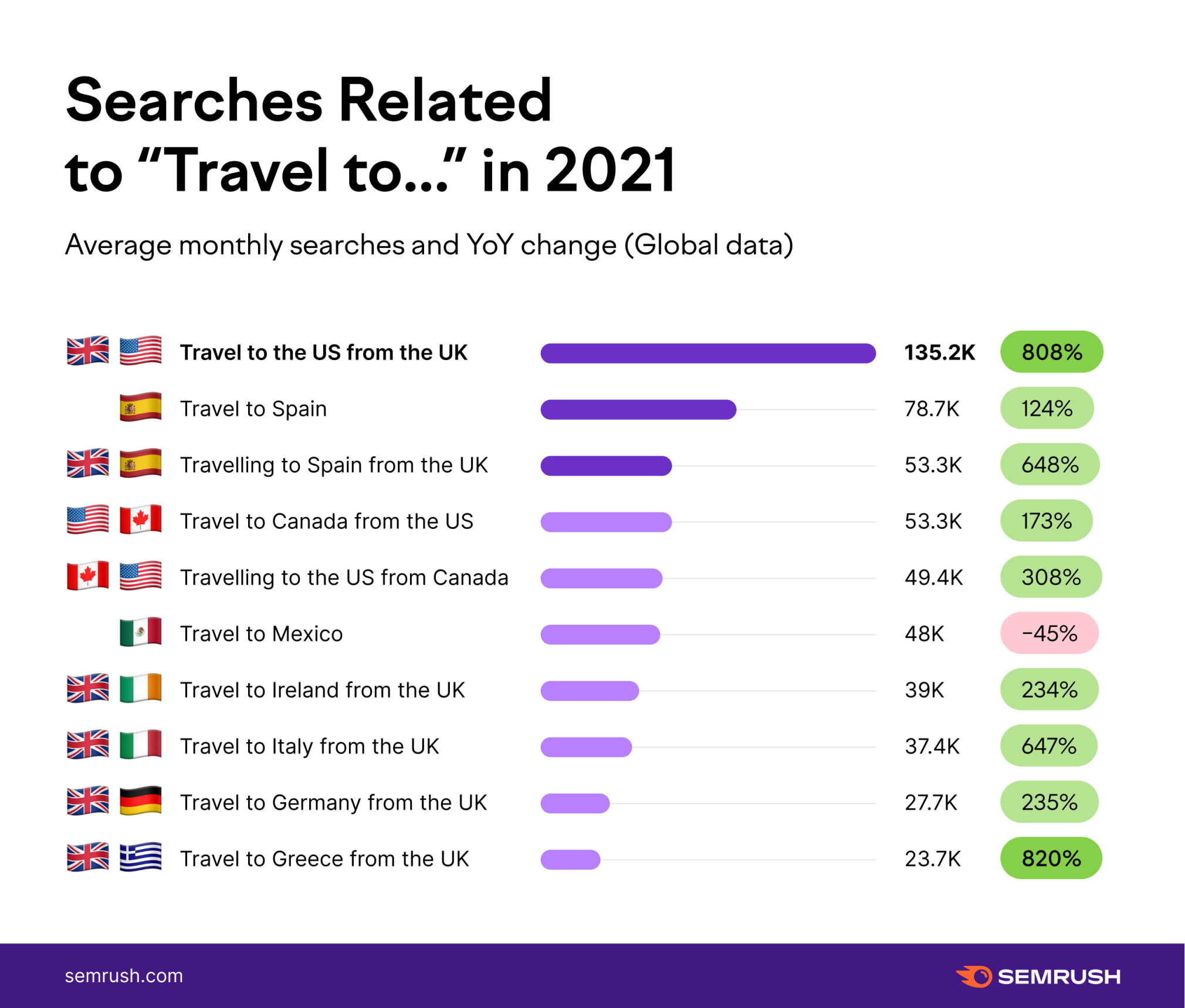 People
Most Searched Politicians in 2021
The top three most searched political figures were all from the US, with Donald Trump remaining the most searched political leader with an average of 7 million searches each month. This is actually a significant decline compared to 2020, with a decrease of 59% YoY. 
Current US President Joe Biden was just shy of Trump, missing out on top spot with an average 24,000 less searches a month than the former Republican President. US Vice President Kamala Harris was in third spot, and was also the most searched female political leader. 
The first female Chancellor of Germany Angela Merkel came in at sixth spot as her 16-year consecutive reign came to an end in 2021, while reigning monarch Queen Elizabeth saw a surge in searches, up 322% YoY.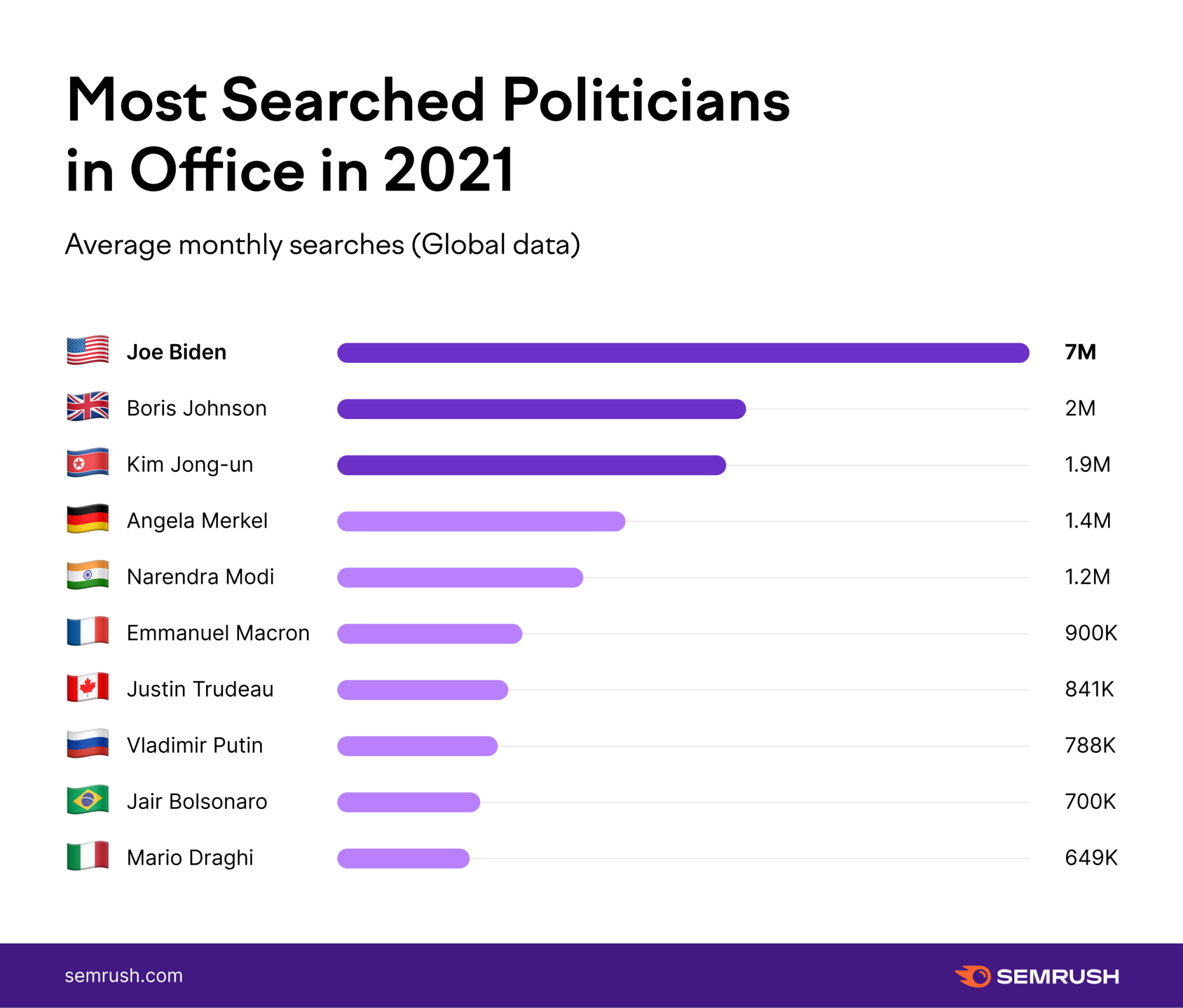 Most Trending Celebrities in 2021
It was girl power in 2021, with seven out of the top 10 most searched celebs all female including Ariana Grande, Scarlett Johansson and Meghan Markle. However it was K-Pop phenomenon turned global sensational BTS that topped the searches as the most talked about in the world. 
The iconic South Korean pop group made international headlines for its mainstream collab with fast food chain McDonalds, which featured a McNuggets meal covered with limited-time suitcases chosen by BTS group members. 
Interestingly, Megan Fox has seen a massive increase in searches, up 232% following her very public romance with rocker Machine Gun Kelly, not to mention numerous double dates with Kravis (Kourtney Kardashian and Travis Barker).
The #freebritney movement saw searches for the 'Oops I Did It Again' star skyrocket, up 386% this year. This global movement gained huge interest and popularity, and followed Britney Spears' fight for freedom and eventually resulted in the end of her 13-year conservatorship.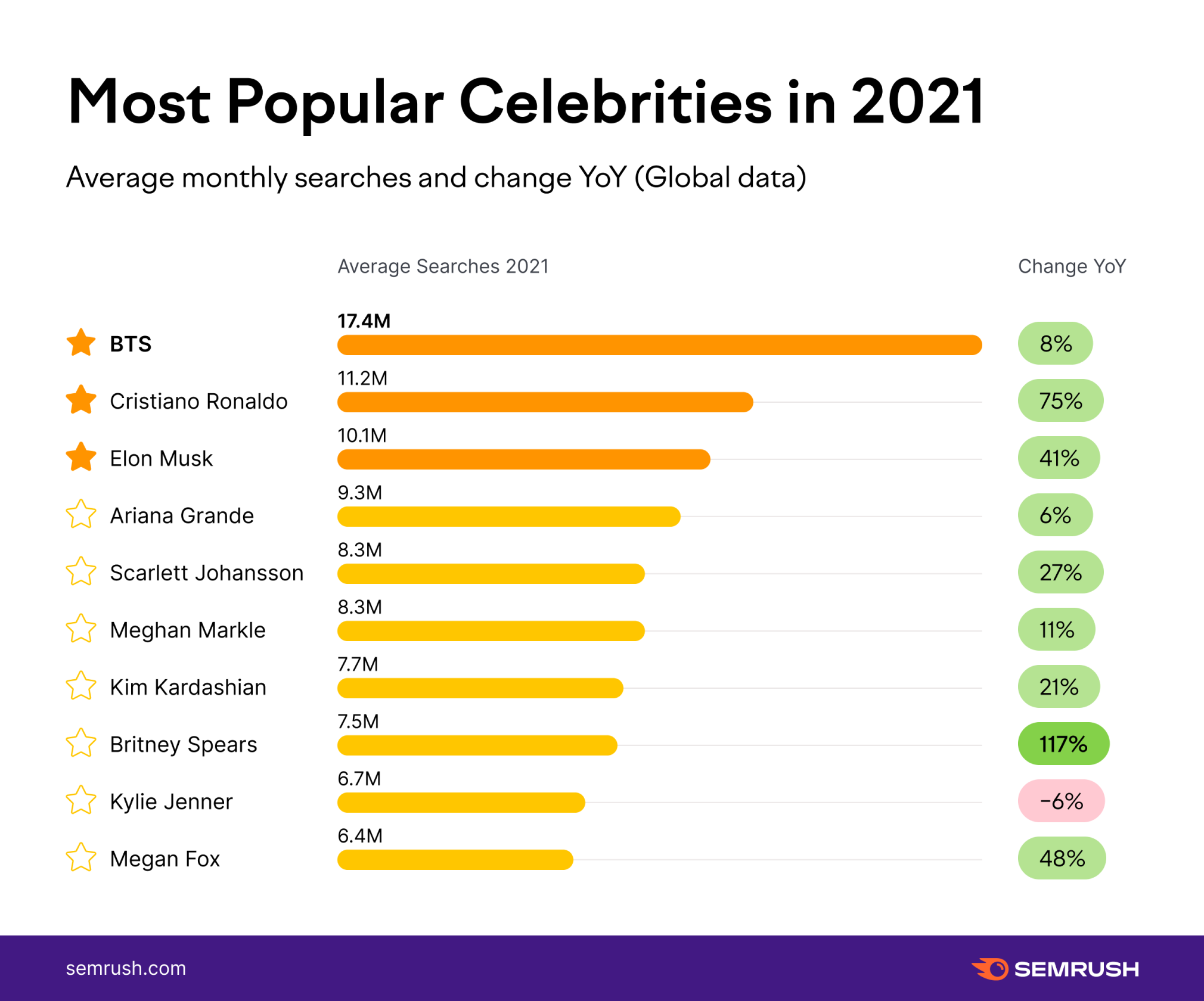 Sports
Top Sports Events of 2021 and Their Top Athletes
This year, the NBA hit a slam dunk when it came to sporting competitors, raking in the highest number of searches of all sporting competitions at 185 million, 22% more searches than second placed UEFA Champions League.
Interestingly, both the Tokyo Olympics and the Paralympics were similarly popular events as both received the same amount of maximum searches at 30.4 million searches apiece.
And out of the tennis finals, Wimbledon was the most searched event with more than 55.6 million searches ahead of the US Open and Australian Open.
Semrush has also uncovered the most popular athletes from the top sporting events of the year: Cristiano Ronaldo (also one of the most searched celebrities worldwide), Christian Eriksen, Lionel Messi, Emma Raducanu and Novak Djokovic. Olympic gymnast Simone Biles also was among the top searched athletes for the year for her controversial withdrawal from the Olympic finals.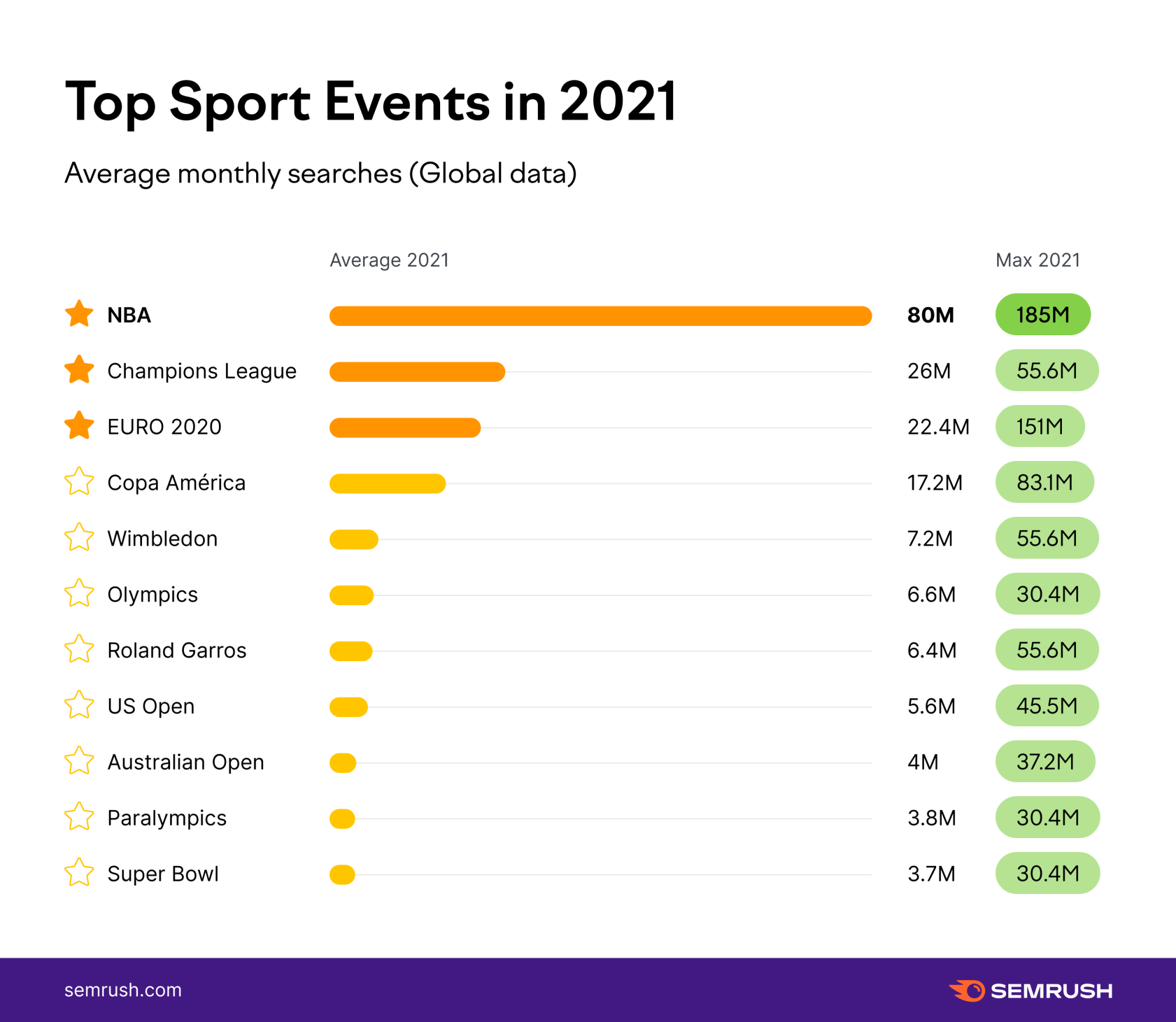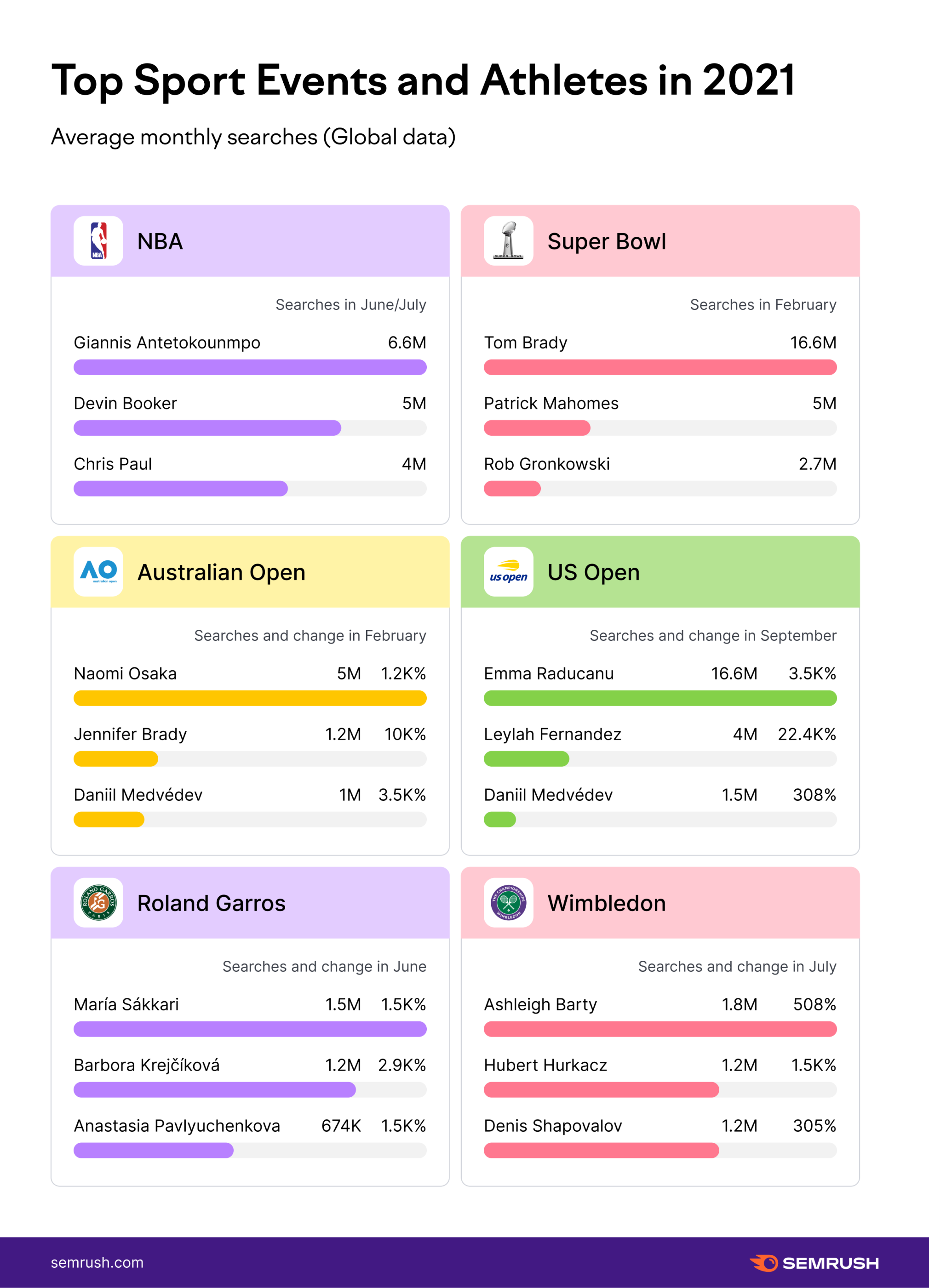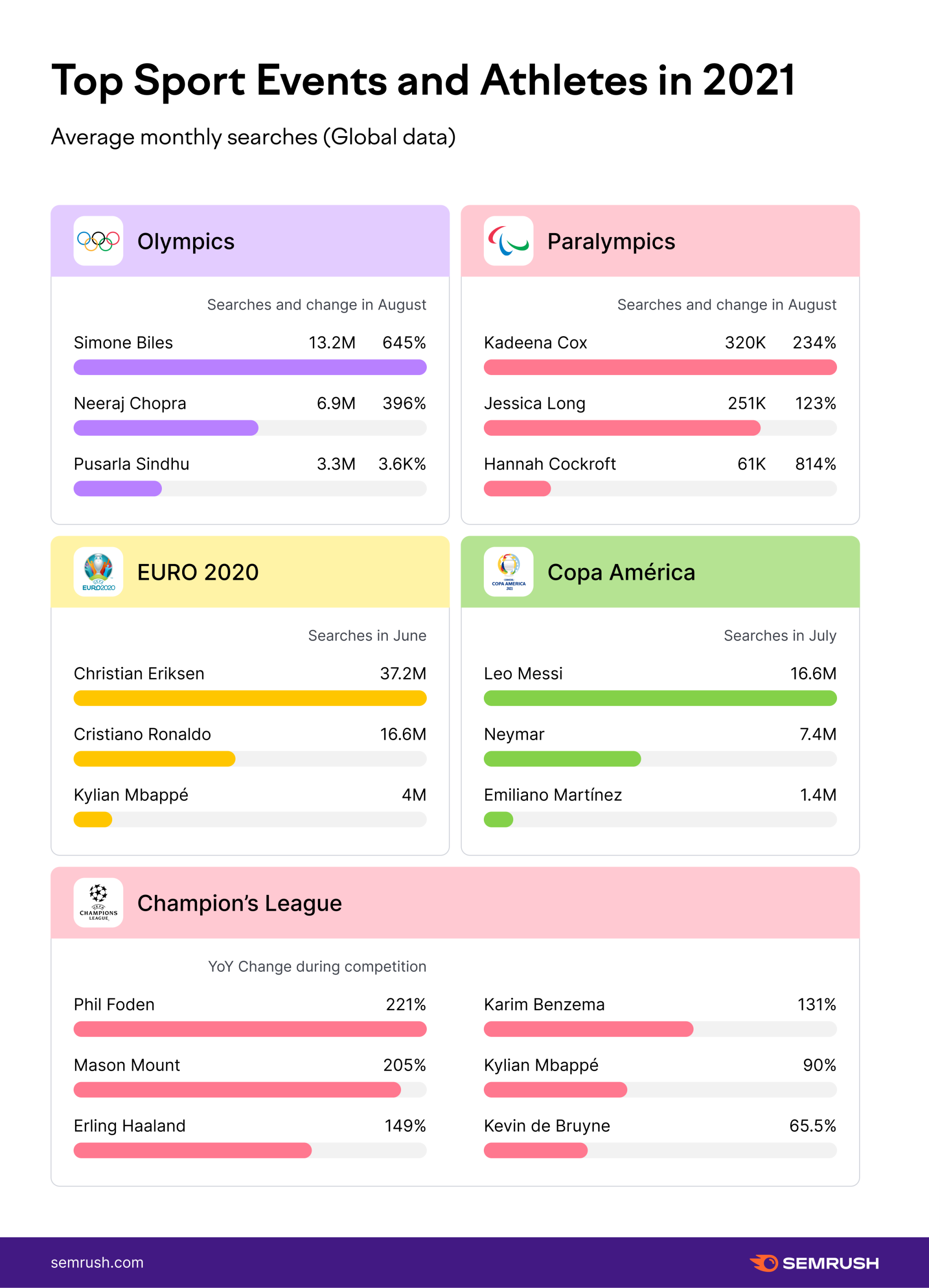 Entertainment
Top Music Albums of 2021
During 2021 it seemed the world decided it was going to stop being Sour, and instead start the FearlessVoyage to become Happier Than Ever… well, according to these chart toppers it was. 
This year's most searched albums featured many blasts from the past with two features from pop royalty Taylor Swift with the re-released versions of her popular studio albums Red and Fearless. 
A surprising entry into the top 10 was Swedish pop group ABBA's first album in 40 years, with a mix of old and new music. And no, you haven't time warped, there's another unexpected addition charting in the top 10 this year, English heavy metal band Iron Maiden with their album Senjutsu, the band's first album after a six year hiatus. 
Marketed heavily via the Kardashian-Jenner clan's social media was the most searched album of the year, Ye'sDonda,  from the rapper formerly known as Kanye West.
Unlike fellow Old Town Road singer Billy Ray Cyrus, rapper Lil Nas X proved he wasn't a one hit wonder with his debut album MONTERO, which has been nominated for the highly contested Album of the year Grammy award, and has helped catapult LGBTQ+ narratives to the highest level of achievement in the music industry.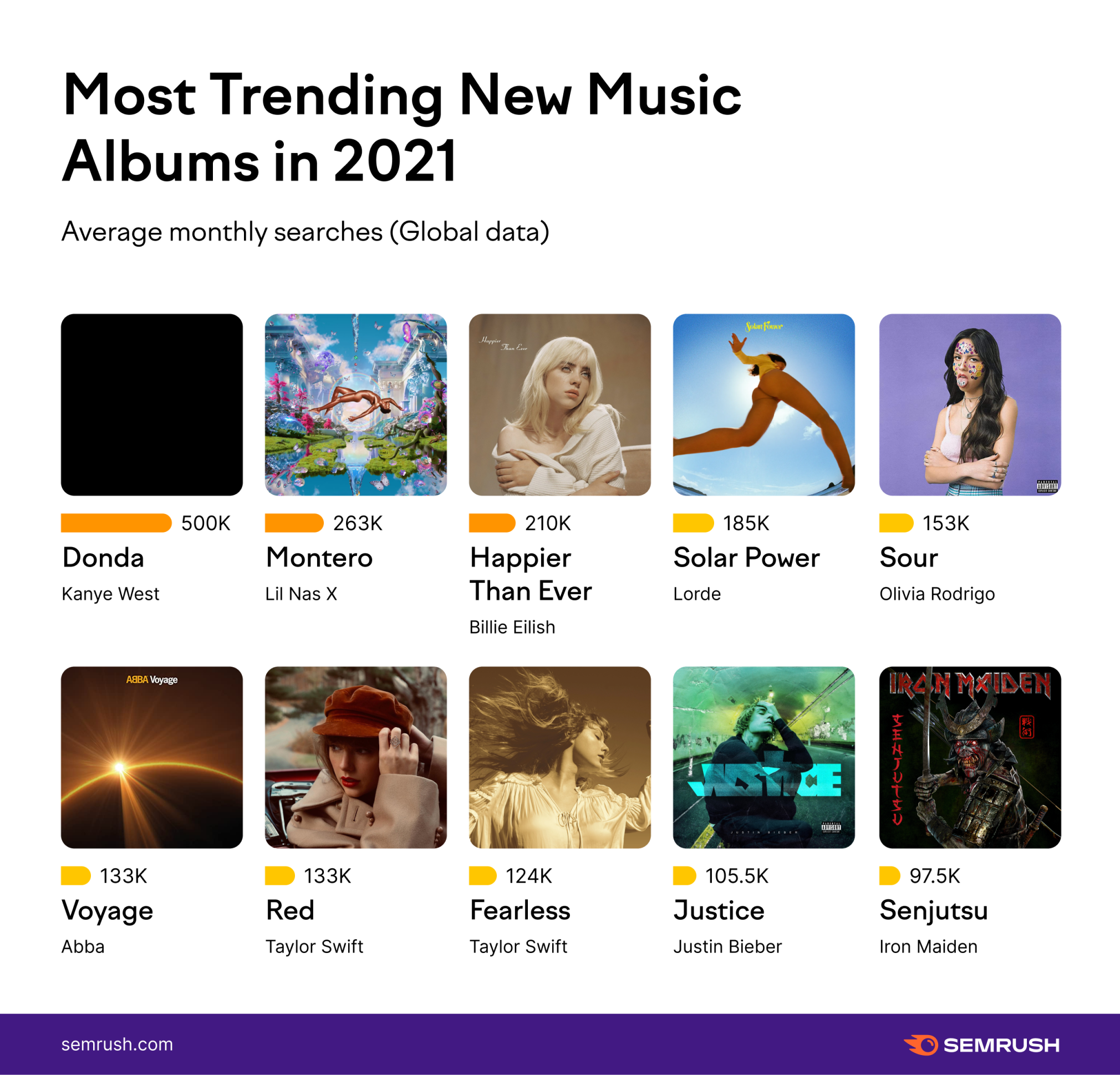 Most Popular Streaming Services (Video) in 2021
When it comes to the familiar question "Are you still watching?" — the answer is a universal yes! Streaming giant Netflix continued to reign supreme as king of the streamers for another year running, with 129.4 million average monthly searches. It was followed in a far from close second by Amazon Prime Video, which received an average of 50.5 million searches each month. 
Thanks to the introduction of the Marvel miniseries featuring spinoffs with characters from the billion-dollar universe franchise, Disney+ experienced a 31% increase YoY in monthly searches. One year post launch, HBO Max had the highest growth YoY of all streamers, up 272%.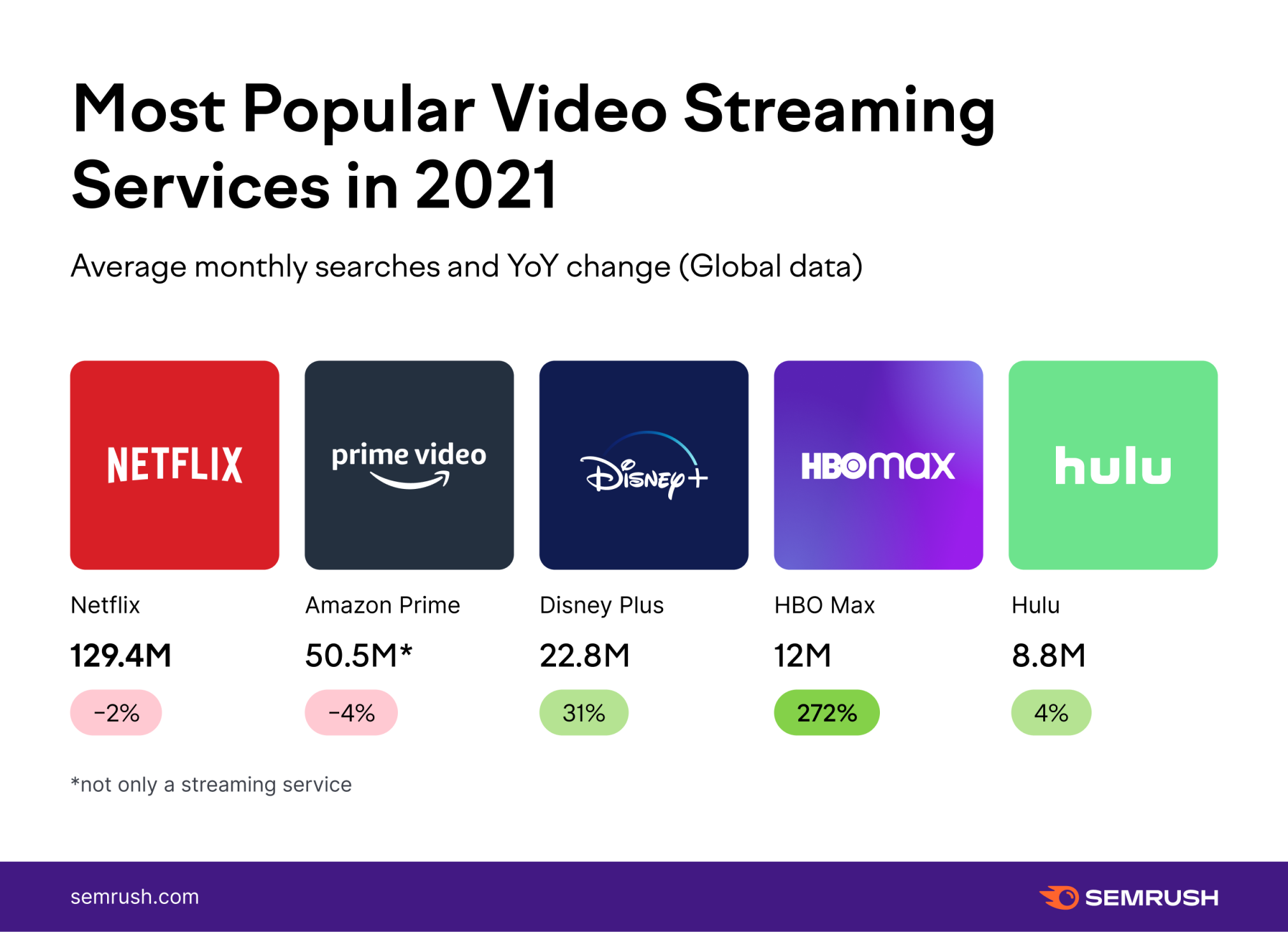 Most Trending TV Series in 2021
Netflix Original series made up 60% of the top 10 most searched TV shows for 2021, and it should come as no surprise that the most searched series of 2021 (if not all time) has been Korean dystopian game show drama Squid Game. The series experienced it's highest volume of searches in October 2021, at a whopping 101 million searches for the month. 
The second most searched show, Loki, paled in comparison with a peak of 16.6 million searches in June and July 2021. Interestingly, Japanese comic-book manga series Tokyo Revengers made it into the top 10 series, which signaled that niche-genre forms are becoming more popular amongst mainstream audiences.
| | | |
| --- | --- | --- |
| Ranking | TV Series | Max Searches in 2021 |
| 1 | Squid Game | 101M |
| 2 | Loki | 16,6M |
| 3 | Lupin | 11,1M |
| 4 | Sweet Tooth | 11,1M |
| 5 | Invincible | 9,1M |
| 6 | Firefly Lane | 9,1M |
| 7 | Jupiter's Legacy | 9,1M |
| 8 | Tokyo Revengers | 7,4M |
| 9 | Shadow and Bone | 7,4M |
| 10 | Chucky | 6,1M |
Most Popular Movies in 2021
The most popular movie releases in 2021 were neck and neck between a female assassin and a giant gorilla. That's right, Marvel's Black Widow and Godzilla vs Kong were the most searched movies of the year.
Popular Disney remake Cruella, received on average five million searches each month, with searches spiking to 16.6 million for the month of June.
The true story of the investigation into suspected 9/11 terrorist called, The Mauritanian, experienced a 5.3 million % increase over the course of the year. Interestingly, Christina Milian rom-com Resort to Love increased from 2,900 searches to 450,000 from June and July 2021, and then a further 1 million month to month consecutively. 
Other honourable mentions was the last James Bond film 007's No Time to Die, and the new heavily-hyped Marvel movie, Spiderman No Way Home. 
| | | | |
| --- | --- | --- | --- |
| Ranking | Movie | Average Searches in 2021 | Max Searches in 2021 |
| 1 | Godzilla vs Kong | 8,44M | 24,9M |
| 2 | Black Widow | 8,2M | 37,2M |
| 3 | Dune | 5,4M | 30,4M |
| 4 | Cruella | 5M | 16,6M |
| 5 | Luca | 4,9M | 11,1M |
| 6 | Mortal Kombat | 4,8M | 20,4M |
| 7 | Spider-Man No Way Home | 4,5M | 13,6M |
| 8 | Free Guy | 4M | 16,6M |
| 9 | 007 — No Time to Die | 3,1M | 20,4M |
| 10 | Jungle Cruise | 3M | 13,6M |
Most Popular Music Streaming Services in 2021
According to Semrush's data results, Spotify topped the charts with 133% more average monthly searches than the next leading platform, Soundcloud. Spotify was the market leader by a significant margin, with 13 million more searches than second placed Soundcloud.
Soundcloud, Pandora and iTunes all decreased in the number of searches year on year. Interestingly, Apple Music increased in average monthly searches by 27%. 
| | | | |
| --- | --- | --- | --- |
| Ranking | Music Streaming Service | Average Monthly Searches in 2021 | YoY change |
| 1 | Spotify | 27,6M | 3% |
| 2 | SoundCloud | 11,8M | -13% |
| 3 | Pandora | 11,4M | -17% |
| 4 | YouTube Music | 11,1M | 3% |
| 5 | iTunes | 4,5M | -15% |
| 6 | Deezer | 2M | -22% |
| 7 | Amazon Music | 1,9M | -15% |
| 8 | Sirius XM | 1,6M | -2% |
| 9 | Apple Music | 1,6M | 27% |
| 10 | iHeartRadio | 1,2M | -5% |
Most Trending Video Games in 2021
Overall, searches for games globally saw a significant decrease in monthly search volumes compared to 2020, with the highest being for FIFA 22, peaking at 11.1 million searches in September. This is 57 million lower than 2020's most popular game Among Us. 
Gamers around the world seem to have been holding out for more than a year for New World, and no, we're not talking about a global reset pre-pandemic. This is a massive multiplayer online role-playing game that was previously scheduled to release in May 2020, then delayed until August 2021, before eventually being made public at the end of September 2021. 
Interestingly, the initial buzz leading up to its intended delayed release date, saw searches for New World increase by 512% from June to July 2021, however, following its further delay, gaming fans lost interest, with searches plummeting in August by more than four million searches. 
And the quest to "catch em all" was back thanks to Pokémon Unite, also making an appearance in the top 10. The game saw an incredible 506% increase in searches from May to June, with searches for the game peaking in July at more than 6.1 million for the month. 
| | | |
| --- | --- | --- |
| Ranking | Game | Average Searches in 2021 |
| 1 | FIFA 22 | 2,7M |
| 2 | New World | 2,7M |
| 3 | Resident Evil Village | 2M |
| 4 | Far Cry 6 | 1,9M |
| 5 | Pokémon Unite | 1,5M |
| 6 | Battlefield 2042 | 1,3M |
| 7 | It Takes Two | 1M |
| 8 | Outriders | 1M |
| 9 | Back 4 Blood | 990,2K |
| 10 | PUBG New State | 982,9K |
According to a report by gaming software provider Streamlabs, viewers spent 8.21 billion hours watching gaming content across platforms Twitch, YouTube Gaming and Facebook Gaming, with Twitch holding 70% of the audience. 
Semrush investigated the top streamers globally based on search volume with American Twitch streamer Ninja the most-searched streaming globally for 2021, with an average of 1.4 million searches each month. However, it was second placed Tommyinnit, a popular Minecraft streamer who skyrocketed in searches during 2021, up 908% YoY.
| | | | |
| --- | --- | --- | --- |
| Ranking | Streamer | Average Searches in 2021 | Change YoY |
| 1 | | 1,4M | -25% |
| 2 | | 1,2M | 908% |
| 3 | | 656,5K | -3% |
| 4 | | 373,7K | -17% |
| 5 | | 373,7K | 44% |
| 6 | | 289,6K | 162% |
| 7 | | 265,7K | -45% |
| 8 | | 226,1K | -8% |
| 9 | | 223,5K | 2% |
| 10 | | 190,5K | 25% |
Fashion
Top Fashion Ecommerce Websites of 2021
2020 changed the way we shopped forever, with online shopping skeptics forced into the ecommerce era, birthing a new way of shopping and a boom in sales for digital retailers. Thanks to the growth in athleisure wear as a fashion statement, Nike has continued to outperform its competitors with 120 million average monthly website visits for the year. Interestingly, visits to Nike's website spiked significantly in August, with more than 11 million visits above the monthly average, coinciding with the brand's annual Nike SNKRS Day event on August 8.
Interestingly, fast-fashion website Shein has seen a 72% growth in web traffic YoY, with an average increase of 40 million monthly visits. The only other fashion website in the top 10 that experienced a noticeable increase was American luxury department store chain Nordstrom, up 29% YoY.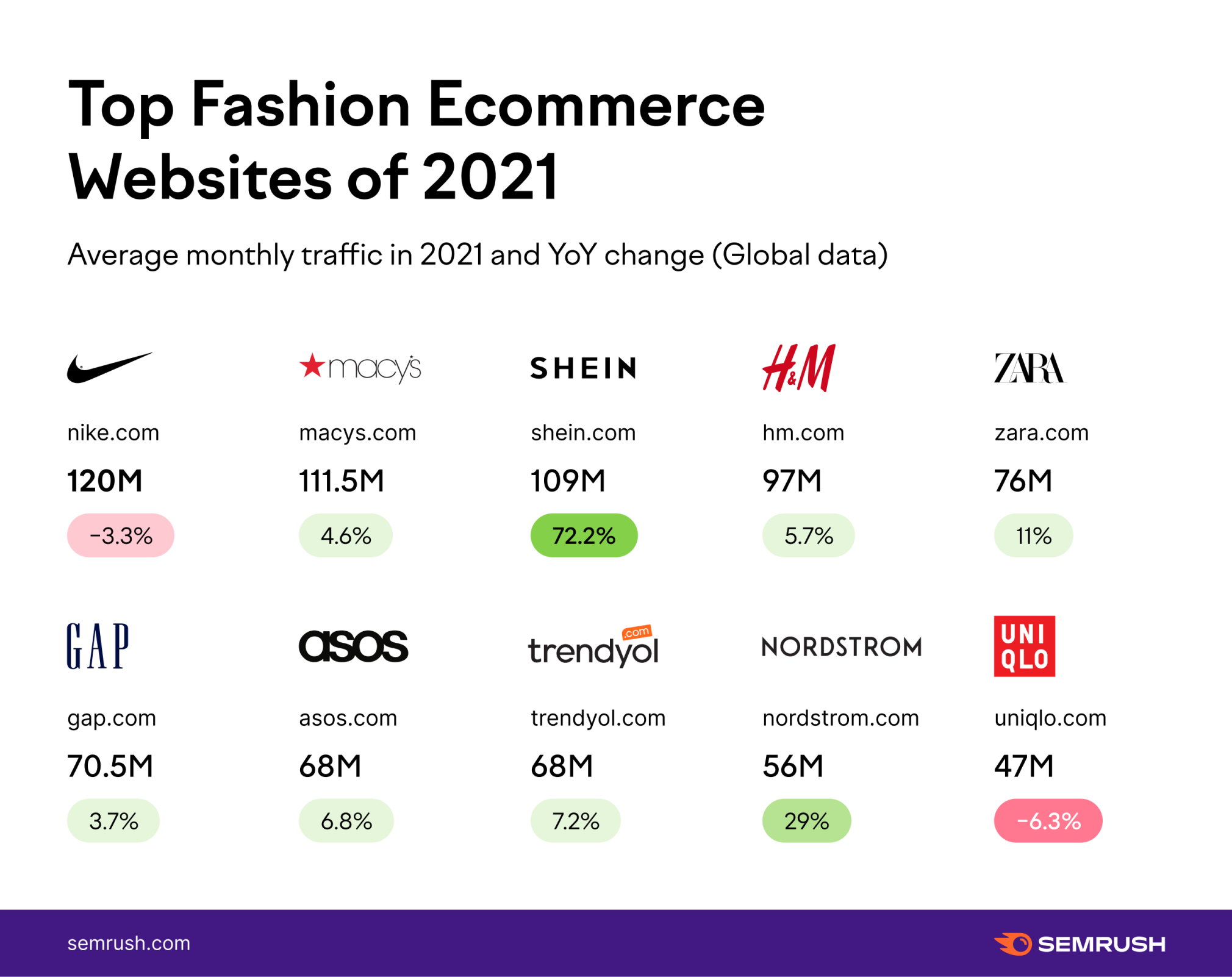 Most Trending Fashion Items in 2021
Fashion trends can be some of the most difficult to track, as what is considered to be "trendy" will vary from market to market. To find this year's fashion-forward moments, Semrush has focused on the items with the highest growth numbers and strongest average search volumes.
This year's searches show indoor staples, such as sweatpants that were popular in 2020, have been spring cleaned from the searches in 2021. Instead, traditional workwear and occasionwear were back in vogue, with searches for wardrobe staples such as trousers, blazers and skirts on the rise. Eventwear classics such as fascinators increased in searches by 58% YoY, based on average monthly searches. 
Yet, the number one trend of the year was pleats dress, which is reminiscent of the popular 1920s pleated skirt and dress shirt combo. Searches for this fashion trend increased by a whopping 85% YoY based on average monthly searches. 
However, casual comfort wear isn't being retired completely with bra tops and bermuda shorts increasing by 64% and 51% YoY respectively, based on average searches. This is in stark contrast to more casual items such as sweatpants and leggings which have seen negative growth.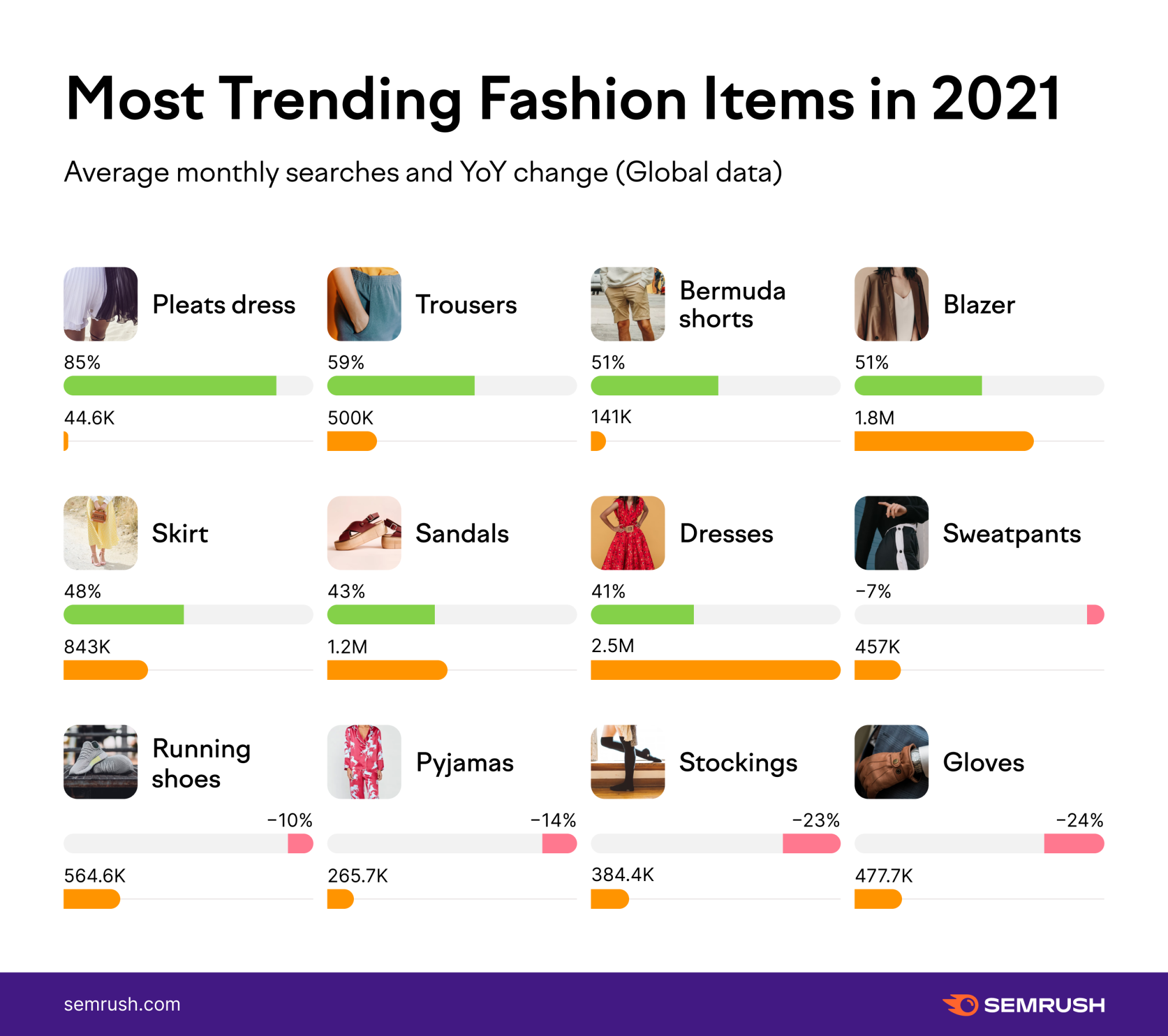 Business and Finance
Top Commercials in 2021 
The top two commercials for 2021 danced their way to the top. It was American restaurant chain Applebee's fancy commercial skills that took it from humble bar and grill to internet sensation. The catchy commercial uses Walker Hayes' song "Fancy Like" which references the restaurant and its once famous Oreo Shake that, at the time, was discontinued from the menu. 
Thanks to a clever collab between the chain and the country singer, the shake is now back on the menu at Applebee's and Hayes has a 1# hit song. Tapping into viral content at its best, it turns out everyone wants to be "fancy like Applebees on a date night", as searches for the restaurant went from less than 1,000 to over 110,000 when the commercial and hit song were officially released in August 2021. 
In second spot was Grubhub's delivery dance commercial which spiked to 225% above its month average in January 2021. 
Other noteworthy mentions rose in popularity thanks to the 2021 Super Bowl, with Jeep engaging superstar Bruce Springstein and Cheetos using Mila Kunis' starpower to drive searches.
| | | |
| --- | --- | --- |
| Ranking | Commercial | Max Searches in 2021 |
| 1 | | 110K  |
| 2 | | 90,5K |
| 3 | | 90,5K |
| 4 | | 74K |
| 5 | | 74K |
| 6 | | 40,5K |
| 7 | | 40,5K |
| 8 | | 40,5K |
| 9 | | 27,1K |
| 10 | | 22,2K |
Top Ecommerce Websites of 2021
According to Semrush's research, this year, technology and global marketplaces continued to dominate the ecommerce space. Amazon cemented its position as a true ecommerce giant with more than 3.3 billion visits on average each month. This was more than 2 billion more visits on average to second placed eBay. 
Interestingly, the top 10 was filled with a number of international sellers including Japanese cash-back site Rakuten, Chinese electronic marketplace AliExpress, and Swedish furniture giant Ikea. 
Amazon and Ebay received more monthly average website visits than the rest of the top 10 websites combined.
| | | | |
| --- | --- | --- | --- |
| Ranking | Website | Average Monthly Traffic | Change YoY |
| 1 | | 3,315B | -2% |
| 2 | | 1,165B | 2% |
| 3 | | 789,1M | 12% |
| 4 | | 488,6M | -9% |
| 5 | | 424,9M | 23% |
| 6 | | 388M | 3% |
| 7 | | 335,8M | 7% |
| 8 | | 319,1M | 0% |
| 9 | | 262,9M | 16% |
| 10 | | 251,5M | 17% |
Top Directions for Investing Money in 2021
Financial markets around the world have been rocked by the effects of the pandemic, with some investments being revealed as a safe haven while others have been decimated by growing market uncertainty. Semrush looked into key search phrases related to investment categories to determine the most sought-after investment options for 2021. Overall, searches for "invest in stocks" plummeted 64% YoY.
Cryptocurrencies have been increasing in popularity, receiving more searches on average each month than real estate, mutual funds and "safe haven" gold. The search term "best cryptocurrency to invest in" has also experienced significant growth, up 233% for the year.
Interestingly, searches related to fintech companies to invest in have skyrocketed based on the global digitalization trend. Searches for investment into this sector have increased by 261,805% YoY.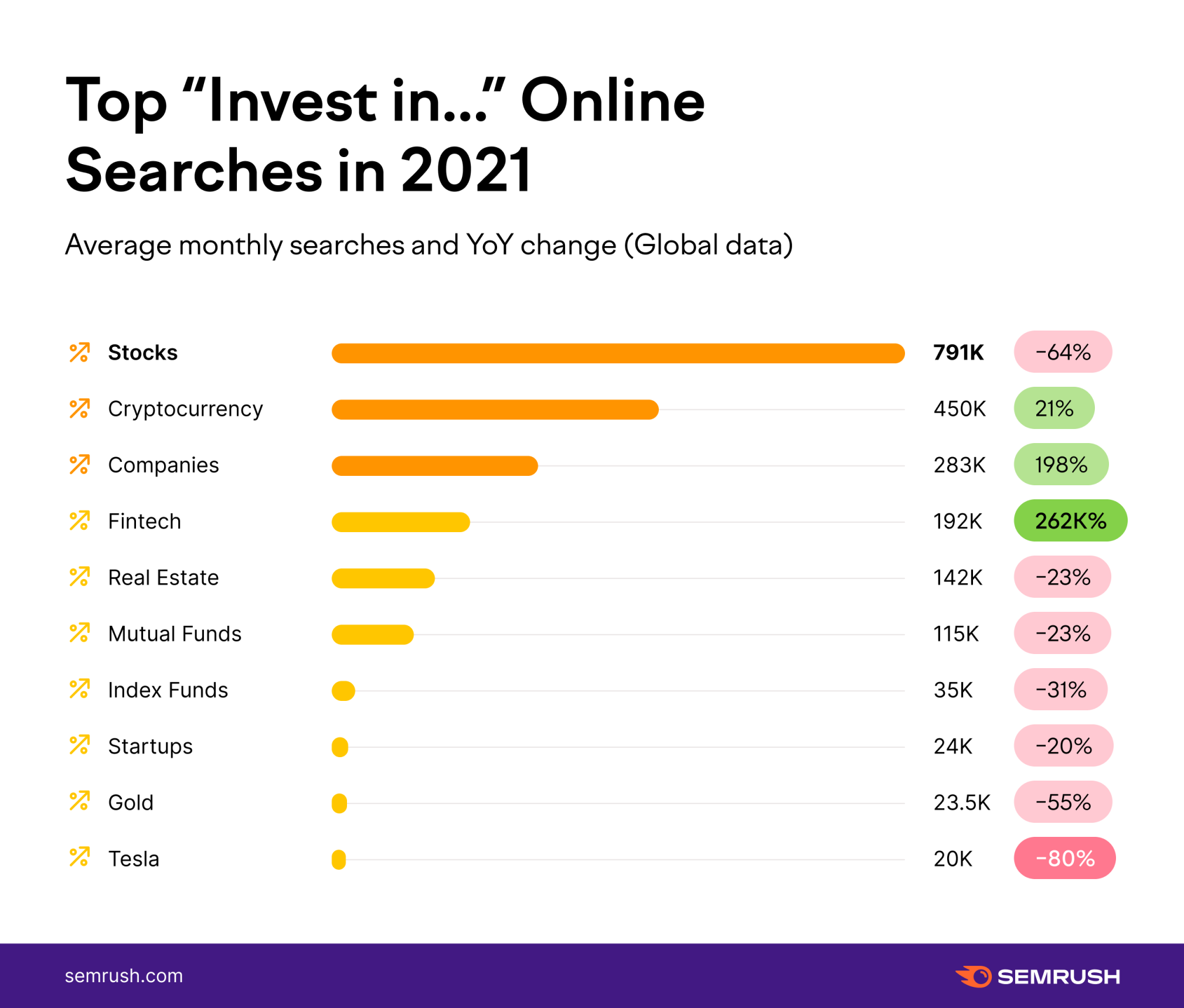 Top Stocks to Invest in 2021
2021 appears to be the year of the underdog as non-traditional stocks have taken the lead over well known market players.
Seen in the searches is the power of organised chaos, where popular investment Reddit thread Wallstreetbets decided to mount an attack on Wall Street throwing the financial markets into a spin. As a result, searches for AMC Entertainment and GameStop were among the top searches for the year, with searches for AMC reaching record levels in January surpassing 72 million searches for the month, this is three times the monthly average. 
| | | |
| --- | --- | --- |
| Ranking | Stock | Average Monthly Searches in 2021 |
| 1 | AMC | 23M |
| 2 | GME | 22,9M |
| 3 | TSLA | 15,8M |
| 4 | NIO | 8,3M |
| 5 | AAPL | 7,5M |
| 6 | AMZN | 4,6M |
| 7 | PLTR | 3,4M |
| 8 | MRNA | 2,7M |
| 9 | FB | 2,7M |
| 10 | AMD | 2,4M |
However, it was the most controversial currency that topped the stocks, with searches for Bitcoin surpassing even that of AMC and GME, with an average of 25 million searches each month. This is reflective of the significant growth the cryptocurrency has seen during 2021, up from USD$19,000 at the start of the year to hit an all time price high of USD$68,521 in November. 
Interestingly, crypto unicorn story Dogecoin has seen a greater number of average monthly searches that interest in stocks for Facebook, Amazon and Moderna. 
| | | |
| --- | --- | --- |
| Ranking | Crypto | Average Monthly Searches in 2021 |
| 1 | Bitcoin | 38,5M |
| 2 | Dogecoin | 13,3M |
| 3 | Ethereum | 4,6M |
| 4 | XRP | 2,2M |
| 5 | Cardano | 2,2M |
| 6 | Litecoin | 1,2M |
| 7 | Polkadot | 685,3K |
| 8 | Dash | 599,2K |
| 9 | Tron | 500,9K |
| 10 | Tether | 420,8K |
What's Next?
Sometimes when you want to see what the future holds, it's easier to type into your search bar than to consult a crystal ball. And, according to Google, the world seems a lot more at peace with the uncertainty of the future than it did last year.
In 2020, searches for "what will happen in 2021" and "when will 2020 end" saw huge search spikes over the course of the year. However, when Semrush conducted the same analysis for "what will happen in 2022" and "when will 2021 end" the searches were negligible. 
Could this be an indication that the world is more interested in focusing on the now, than the future? We'll have to wait until 2022's trend results to find out.