Before you start: what do you know about SEO split-testing? If you're unfamiliar with the principles of statistical SEO split-testing and how SplitSignal works, we're suggesting you start here or request a demo of SplitSignal. 
---
First, we asked our Twitter followers to vote: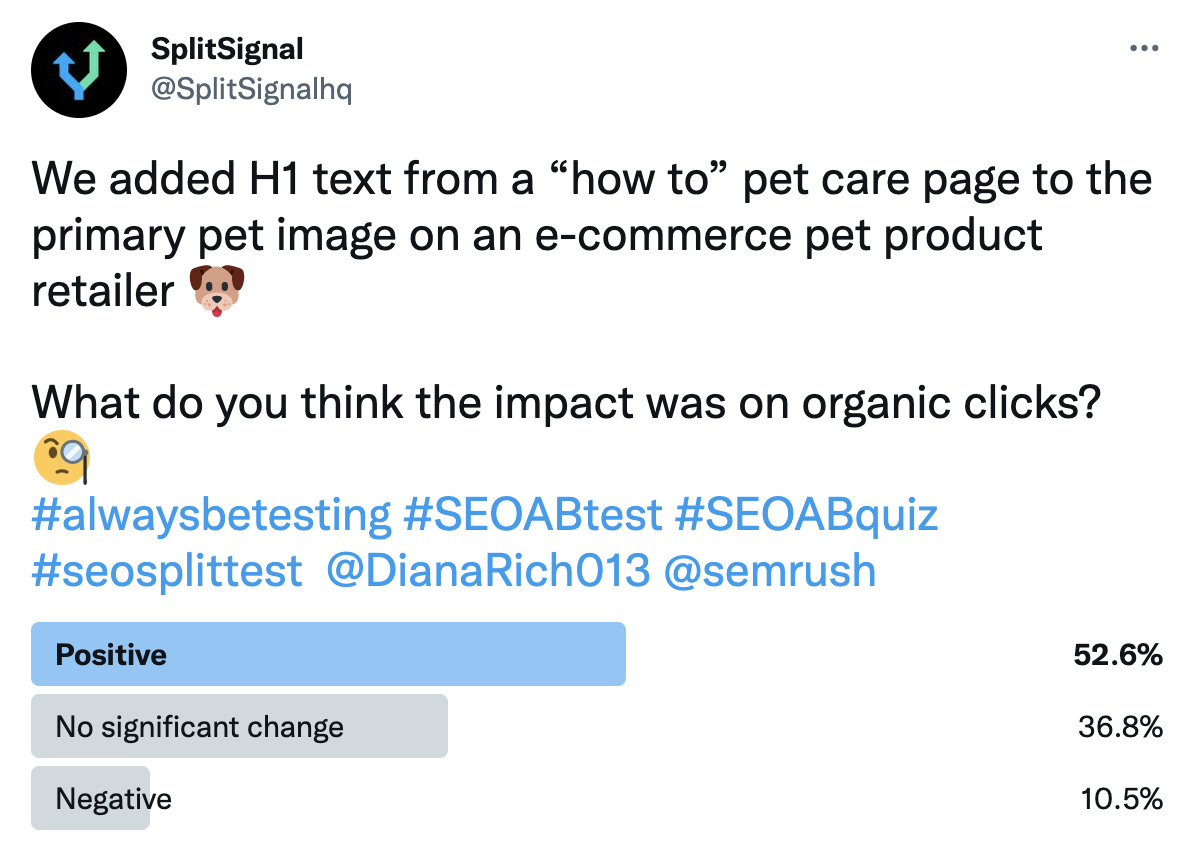 The majority of our followers guessed it right! The test result was POSITIVE.
The Case
Greetings fellow SEO professionals, are you ready to take a look at another test result?
Award-winning writer, producer, director, and actor Kenya Barris is quoted as saying "To write is to rewrite."
And while he was obviously not talking about Google, rewriting is a part of what we, and Google, are undertaking on a regular basis.
For today's test review, we're looking at an ecommerce pet product retailer that has an extensive section of their website on caring for your pets, where we'll be running our tests.
Hypothesis
We hypothesized, by adding the primary H1 from a pet care page, to the primary image of the pet at the top of the page, would increase clicks to the test pages.
The Test
The SEO experiment was set up and configured using our SEO testing tool, SplitSignal. fifteen of the pet care pages were selected for the test, with eight as the test variant, and seven selected as the control group. 
We captured the primary H1 from the top of each page and appended it to the primary image at the top of the page. Note: this was not a "hero" image, but rather a photograph of the pet being featured on the page.
The test ran for 21 days with 99% of the variant pages being crawled by Google during that time.
Join our mail list and receive the most interesting test results in your inbox once a month.
The Result
After three weeks, we observed a statistically significant, POSITIVE result for the website.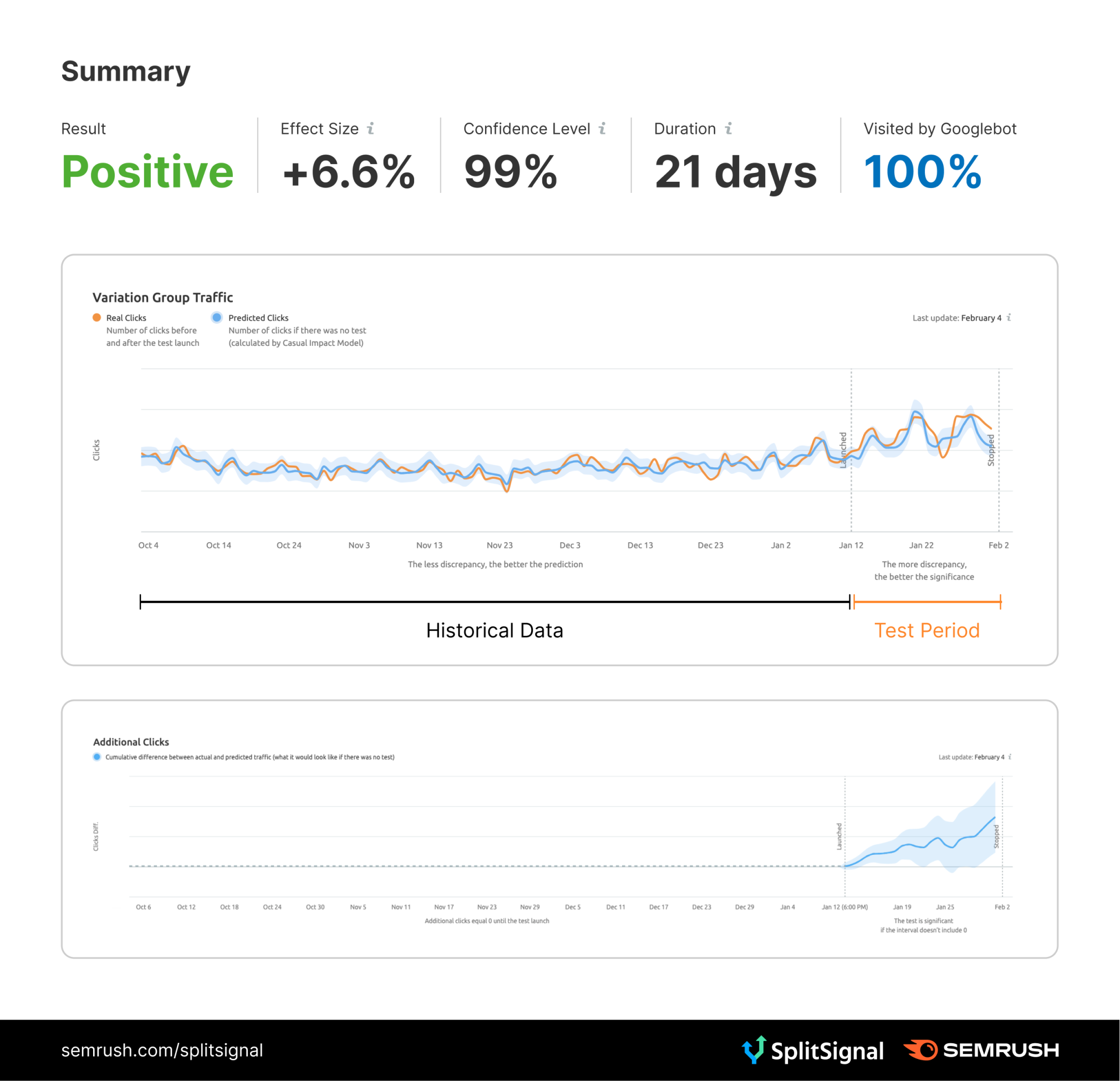 Pause here and give yourself a moment to form a hypothesis as to why that's the case? Our expert SEO agency below has an opinion, but we'd love to hear your opinion in the comments.
Overall, the test pages received 6.6% more clicks during the test period, a gain of 827 clicks.
You've heard our opinion on a lot of case studies if you've been following these case study breakdowns. As Brian mentioned above, we'd love to hear more of what you think. We'd love to hear in the comments why you think this was a positive result?
Sometimes it's the simplest things we overlook, like a blank image alt element.
In this instance, the H1 on the page appeared almost directly above the primary pet image on the page. As it is such a prominent image on the rendered page, and its placement in proximity to the primary H1, it's our opinion adding the H1 text to the alt tag of the image, reinforced the overall topic of the page for Google's algorithm, resulting in a slight ranking boost (observed in Google Search Console data) which resulted in higher clicks.
The overall percentage of clicks at 6.6% (827 total clicks) isn't overly large, however, if this tactic were applied on much higher traffic pages, such as e-commerce pages, and tested out to also be true, this would be a significant win for his client.
Topical authority and cohesiveness should be an important element of every SEO strategy, and in this instance, as pointed out, improvements to authority and cohesiveness return real dividends.
What could you test on your site today to improve topical authority for a page, or group of pages?
Have your next SEO split-test analyzed by the technical SEO experts at LOCOMOTIVE Agency.