They say you always remember your first time. I did not even notice mine. It was only the second time when I noticed something was different. It took me a moment, but then it hit me — I was searching Yahoo, not Google.
Firefox had updated my default search engine.
I knew this day would come. I spend enough time keeping up with the Web that I knew Firefox was ending its 10-year marriage to Google in the USA and eloping with Yahoo for US-based searching (no divorce in Europe — the Internet makes strange bedfellows). I just didn't know that it would affect my default settings.
So the deal means that not only will all new Firefox downloads come with Yahoo as the default search engine, but so will all current Firefox installations. Or does it? There seems to be some disagreement on this point.
Just how much of an advantage does this give Yahoo? Well, that is somewhere around 10% of the market. It is not a lot, but it is not a little either.
Consider that Yahoo's share of the US search market in August was reportedly 10%. The implications of this deal are that Yahoo's share of the search market should possibly double, depending on how much overlap there already was between Yahoo searchers and Firefox users.
How many Firefox users will switch back their default to Google is anyone's guess. For that, we will have to wait for January numbers to come out. Unfortunately, there is no data available since December 3 on this Google search. And if I do the same search on Yahoo ... well, good luck.
My bet is that most people won't switch back because most people are not all that web savvy, and Yahoo gives good enough results. People tend to stick with defaults unless the default fails them.
Does that mean Yahoo will revert to crawling the web again, something that it stopped doing when it agreed to show Bing-sourced results in 2010? It sounds like that is not in the cards, and it is only likely if Yahoo CEO Marissa Mayer sees a profit in such a move.
For those of us who run websites, this is huge news. Google has held a near monopoly on search for most of the past decade. That has allowed it to grow careless about all that "Don't be evil" ideology, leaving webmasters with not many options for search traffic. If Yahoo can push its market share to 20%, and Bing retains its 20% share, Google will still be the boss … but at least it will look a little less like a monopoly.
The question is, how is all this playing out on the ground? I took a look at the traffic data in Google Analytics. In theory, all our Yahoo traffic should be on the rise. I took a look at four sites I have access to in Google Analytics, from October 1 through December 30: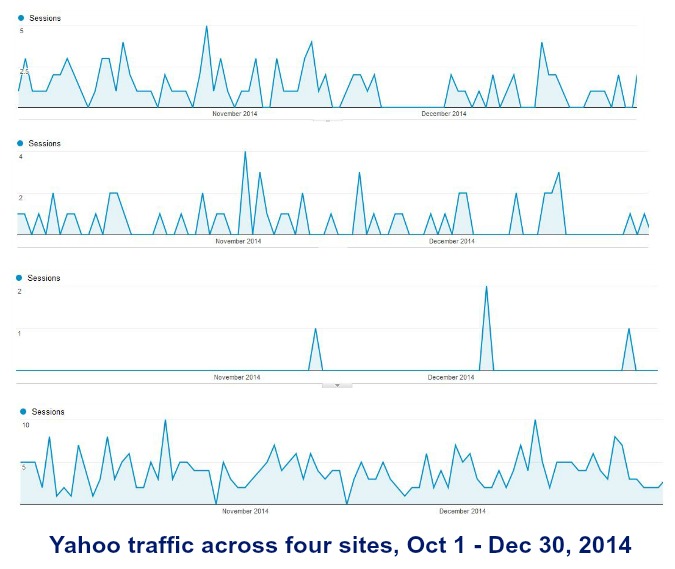 What do your analytics show? If they confirm what I am seeing, I would love to know. If your Yahoo visits are increasing, I would be even more excited to know.
No matter, Marissa Mayer will still be smiling. Last year she conquered Tumblr by buying it. This year she knocked Google off Firefox. What might she have planned for 2015? Only her dog-walker knows.