Many of today's popular websites are fat, slow and littered with ads.
Because advertising is the primary source of revenue for websites, it makes sense that they're loaded with ads. But it's unforgivable how much these sites have suffered in overall quality because of how these ads are presented.
Sites are slow, the ads are ugly and intrusive, and users are avoiding them altogether by turning to ad blocking.
The use of ad blockers is rising globally, and it's already costing publishers a great chunk of revenue. In 2014, Google alone reportedly lost $6.6 billion in revenue because of ad blocking, according to PageFair, and a joint study between Adobe and PageFair predicts that the global costs will grow to more than $40 billion in 2016.
On top of that, Apple announced it's introducing ad blocking to its Safari browser — another reason for publishers to freak out. It won't be long before nearly every Internet browser uses an ad blocker of some sort.
How Did We Get Here?
Traditional ad servers have made life easier for publishers in terms of integration and ad operations, but they work on an overly simplified and archaic philosophy. They allocate impressions instead of completely relying on real-time bidding.
Here's what a typical one looks like: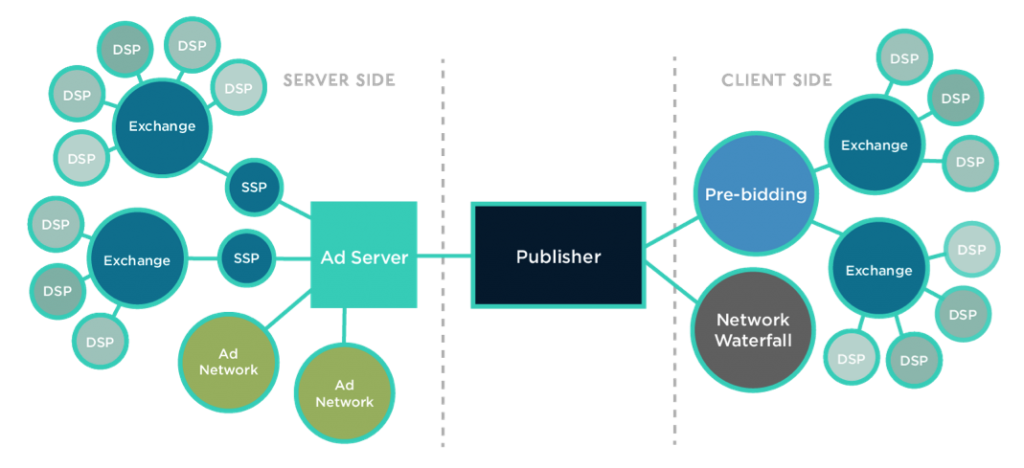 This has spawned a number of hacky solutions that end up slowing down the user experience to unacceptable speeds. One example is a technique called header bidding, which enables exchanges to conduct bidding with their demand-side platforms before the page load. In theory, this may seem like a suitable solution. In reality, the user stares at a blank screen while the process occurs and ends up feeling frustrated.
Here's the kicker: This slow, messy and involved process results in substandard banner and box ads that users are increasingly training themselves to ignore. In addition to ad blockers, these users are turning to news reader apps such as Flipboard, Pocket, and Safari's Reading List for a simplified, ad-free reading experience.
Readers are turning to ad-free solutions. If you currently serve ads on your site, what should you do? #PPC Click to Tweet
Stubborn publishers will accuse consumers of being ungrateful for the free content they receive, but they fail to realize how the ad experience has become profoundly more obtrusive and clunky.
How Do We Fix This?
It won't be easy to clean up the amassed debt in the ad tech space. But the first thing modern publishers need to do is operate as more than content companies; they need to act as tech companies that invest time and resources into revamping their ad stacks. Instead of asking for simple tag integrations and littering clients with up to 50 different tags, they need to seek a better, more robust solution.
Here are two better options they should pursue:
Implement server-to-server integration. The ideal approach is to begin thinking about ad stacks as single S2S integrations with modern-day ad servers. Any engineer will attest that this will drastically improve site performance. Granted, the industry isn't ready for such integration, but I predict it will soon move in that direction. Here's what it could look like: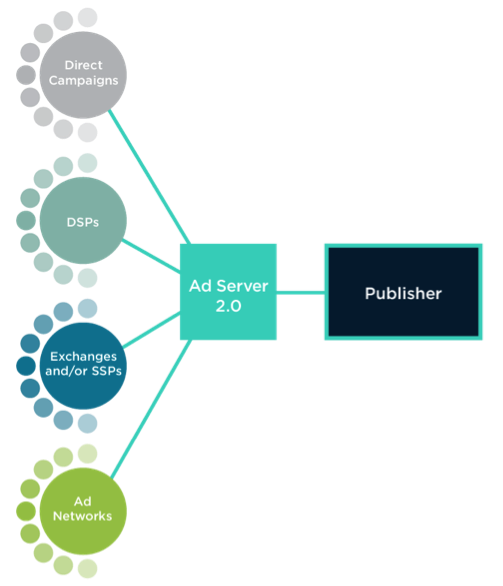 If publishers begin investing in technology and opt for a better overall solution, the rest of the ad industry will start thinking beyond mere tags. Ideally, it'd be something of an "Ad Server 2.0" that is based on an open philosophy and can conduct a quick, single auction by connecting all the demand sources. This, combined with the recent push of OpenRTB 2.3, will allow publishers to start dictating their own tailored formats. They can deliver mostly rendered ads rather than have to bluntly render script tags.
Today's industry has most of the pieces in place to go in this direction. But first, publishers need to climb aboard.
Go native. If we really want to overcome ad blockers and news readers, we have to start focusing on native ads. They provide an integrated user experience and a technologically integrated solution. By placing the ad stack tightly within the content management system, native ads are pre-rendered and seamlessly incorporated within the site's content, thus avoiding the wrath of ad blockers.
If we begin integrating native ad experiences within sites or apps and focus on user experience, it will be a boon to all parties involved. Advertisers and publishers will profit, and users will have a smoother browsing experience, no longer feeling compelled to block ads. Publishers such as BuzzFeed, Quartz and Politico have already set examples by coupling sponsored content with their content management systems.
This is the future of the ad stack, and it holds the key to boosting revenue and fixing websites' bloated, unattractive appearances. The first wave of publishers who invested in these new options are reaping major benefits.
Internet users across the globe have turned a blind eye to traditional advertising, and more will follow suit as long as ads continue to detract from the overall user experience.
How do you think the industry will solve the advertising delivery problem?