Maybe you're a newbie to Twitter and haven't really gotten the hang of it yet, or you're a Twitter addict who has just never gotten into the whole Twitter chat thing.
Well, here's your guide to stepping up your social media game and diving into Twitter chats, whether you're an agency, brand, or individual user.
Twitter chats are a great way to make new connections (that's what social media is all about, after all!), engage with industry experts, share knowledge and resources, and stay on top of trending topics.
If you're especially interested in SEO and digital marketing, we've included a roundup of the best chats you should be participating in, plus a few basics and pointers.
How Does a Twitter Chat Work?
Twitter chats are basically public conversations around a certain theme and hashtag that happen at a designated date and time on Twitter. Twitter chats are usually recurring and focus on one industry or category, but topics can vary each time. The chat host or moderator will pose questions to the group, which participants then respond to to start an organic conversation. Typical Twitter chats run for about an hour.
Join #SEOTalk Tonight with @MalharBarai & @JaydipParikh at 8.30pm! They are going to discuss about #Content Creation. pic.twitter.com/GsJmrLnRu9

— Amit Panchal (@AmitHPanchal) July 20, 2015
Why Should I Care About Twitter Chats?
Twitter chats are similar to an industry networking event, or grabbing a (virtual) cup of coffee with a professional acquaintance. It's a great way to get involved in industry discussions and connect with others, share tips and resources, and showcase your expertise or build your personal brand. 7 Quick Tips for Participating in a Twitter Chat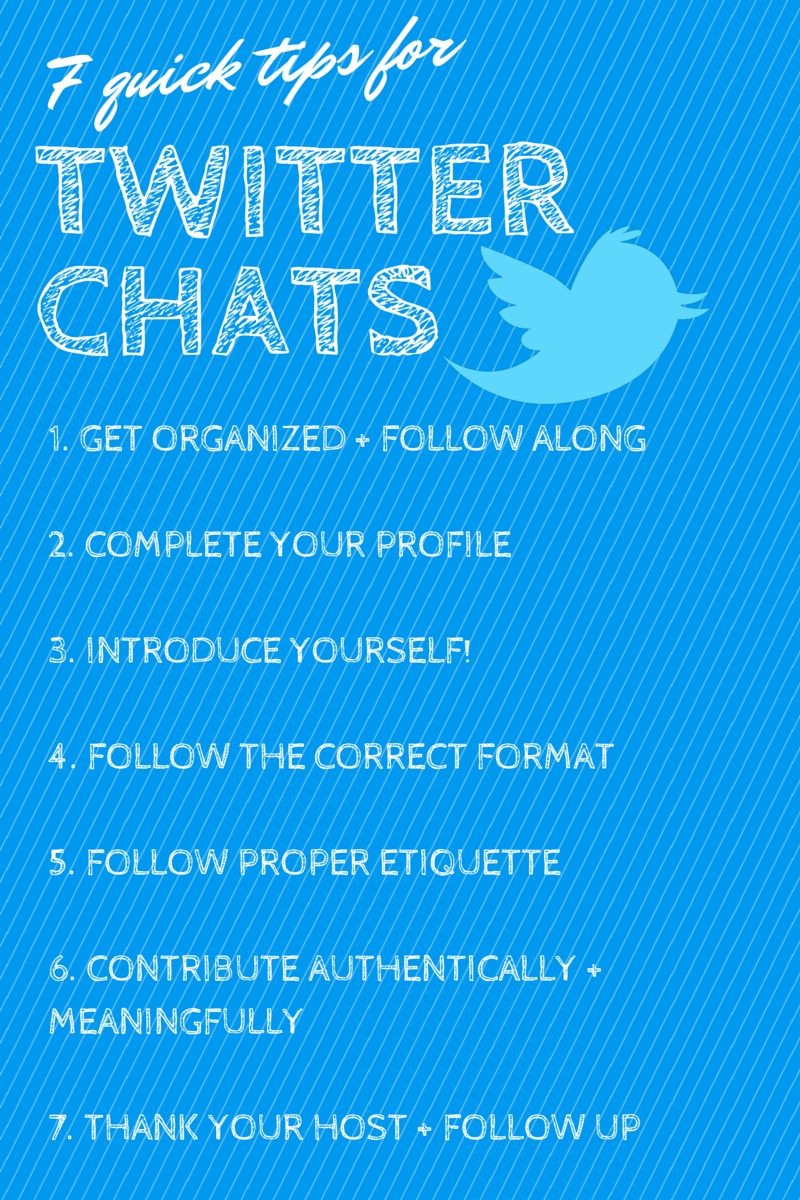 Get Organized, Follow Along
Twitter chats can sometimes be hectic to follow along with, especially when there are a lot of participants or when the conversation really gets going. You can follow along natively on Twitter (I usually have multiple tabs open - one which I use to search the hashtag and follow along with the live conversation, and another for tweeting my answers). But luckily, there are also a number of great tools that can keep you organized. Here are a few helpful tools for easier chatting:
Fill Out Your Twitter Profile
If you're using twitter chats as a networking opportunity, make sure your profile reads how you'd like to appear to the group. Think of it as your name tag or business card at a networking event – you wouldn't take part without it!
Announce Yourself!
Being personable is important during a Twitter chat, so announce yourself at the beginning of a chat. Remember, you're chatting with real people, so make time to say hello and say something nice.
Follow the Correct Format
Twitter chats follow a question and answer format. For example, the host will ask a series of questions by using Q1, Q2, Q3, etc. before their question, and participants respond to questions using A1, A2, A3 and so on. It can be a bit tricky at first, but you'll soon get the hang of it. For example: 
Q1 Let's begin with relationship between SEO and content marketing: what connects the two? Are there any key distinctions? #SEOchat — Andrea Lehr (@AndreaMLehr) July 23, 2015
A1: They go hand-in-hand. Content marketing can lead to links to improve SEO. #seochat

— Netvantage Marketing (@netvantage) July 23, 2015
Also make sure you use the specific hashtag in your answers to ensure your tweet is seen by the moderator and group. If you're directing a tweet to a specific participant in response to something they tweeted, include their twitter handle to clarify that you're addressing them directly.
Follow Proper Twitter Chat Etiquette
Nobody likes that one person who interrupts the flow of a conversation or tries to take it over, so make sure you're following proper etiquette. Here are some pointers:
If you come late, pick up at the most recent question – don't try to catch up on questions or conversations already discussed. Be mindful of everyone's time.
Be polite (duh) – disagreements may happen, but should be handled in a professional way and should never become an argument.
It's okay to be funny or snarky, but don't insult others or shift a chat away from the posed questions.
Contribute Authentically and Meaningfully
If you're a brand or a consultant, don't take over a twitter chat with shameless plugs for your company or service. The purpose of Twitter chats is to learn and connect, not advertise.
Sometimes providing links to articles or resources is valuable, as long as it's very relevant to the conversation and isn't in the interest of self-promotion.
Thank Your Host and Follow Up
Twitter chats are often guest hosted, so it's a great way to connect with new people each time that have different expertise and perspectives. It's also a lot of work to wrangle in a Twitter chat, so make sure to thank your host! Much like when you announced your presence at the beginning of the chat, provide a quick goodbye to the group as well. You can also follow up with new connections for one-on-one conversations to build relationships and collaborate outside of Twitter chats.
Top SEO-Related Twitter Chats
#SEOchat
Thursdays at 1 p.m. EST
Hosted by:
@Dan_Patterson
@AshBuckles
@Matt_Siltala
@shuey03
Details: A weekly chat focusing on all things SEO and digital marketing.
#SEOtalk
Mondays at 3 p.m. EST
Hosted by:
Details: A chat about best practices in SEO, search marketing and social media marketing.
#SEOpub
Wednesdays at 3 p.m.EST
Hosted by:
Details: A weekly community chat for innovative SEOs.
#SEMrushchat
Wednesdays at 11 a.m. EST
Hosted by:
Details: A weekly chat for digital marketing professionals covering SEO, social media marketing, content and more, often featuring special guest hosts.
#SEOprochat
Bi-monthly on Tuesdays at 12 p.m. EST
Hosted by:
@mysiteauditor
Details: A chat held every other week discussing SEO best practices, trends, tools and other digital marketing topics.
Interested in Twitter chats in other industries? Check out this massive spreadsheet or Tweet report's chat schedule.
Let's Get Chatty!
What other tips do you have for participating in Twitter chats? What tools do you use? What is your favorite thing about participating in Twitter chats? Share with us in the comments!