Any experienced digital marketer will tell you keyword research is at the foundation of everything: Choosing keywords for organic SEO, using keywords for content titles, choosing keywords for PPC campaigns, using keywords for persona and psychographic research, and much more. The current landscape for paid tools is limited in the types of data they provide, and almost always rely on Google AdWords data.
The Semrush Keyword Difficulty Tool offers marketers an alternative. Forget wasting time and money optimizing for the wrong keywords because the research was incorrect. Now you can review over 100 keywords at a time, quickly see the site's ranking and get an aggregate score so you can figure out if and whether you can compete.
Here's a step-by-step guide on how to master the Semrush Keyword Difficulty Tool.
A Simple, 4-Step Process
Underneath the keyword input, Semrush outlines the process for using this tool:
Choose Keywords
Estimate Keyword Difficulty
See Analyzed Domains
Export Data
If you follow these steps, you can gain insights into valuable keywords to use for your SEO and PPC campaigns.
Step 1. Choose Keywords
The Keyword Difficulty Tool's user interface is pretty intuitive. You can add and compare up to 100 keywords at a time.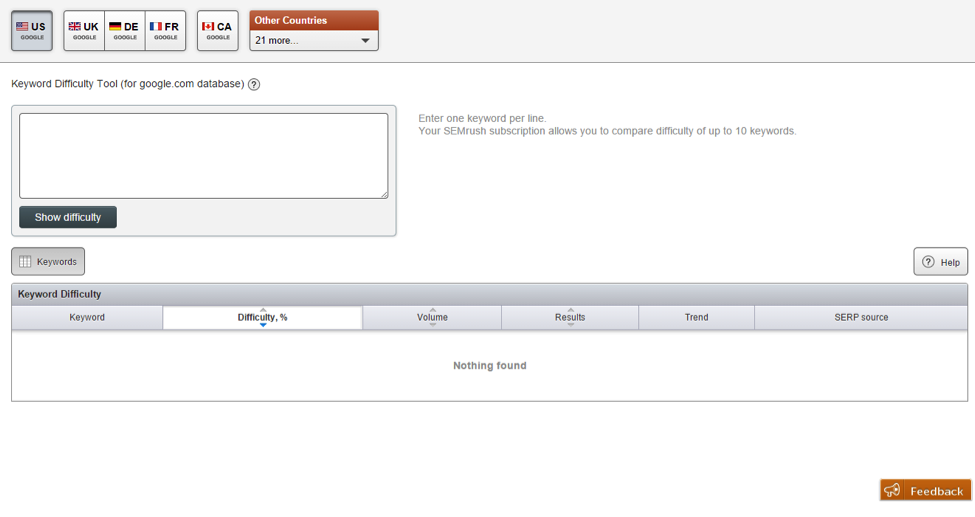 Before you start inputting your keywords, you're going to want to select your location settings. This is simply done via the large buttons at the top of the page.
The tool does not allow for multiple locations to be selected, so if you are researching keyword difficulty in multiple locations it's necessary to repeat the process multiple times with different location settings.
The keyword tool can analyze 100 keywords at a time. All you have to do is input or paste your ten keywords into this box and click on Show difficulty.

To come up with a seed set of keywords, you can start by using Google's Keyword Planner tool, looking at competitors' sites and meta tags, and using Q&A sites and forums. After you enter your seed set of keywords, you should now see this: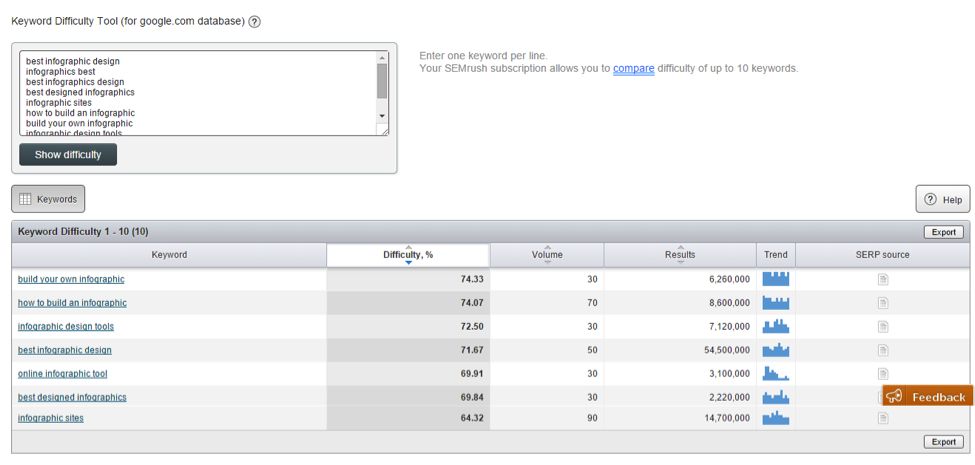 Occasionally, instead of getting data returned, you will get this message:

This means Semrush doesn't have the information for that keyword. It's possible they will add that info into their database later, but for now you won't be able to get data for that specific keyword.
Step 2: Estimate Keyword Difficulty
Let's breakdown the data that is returned if the keyword is in the database.
The first column lists your keywords.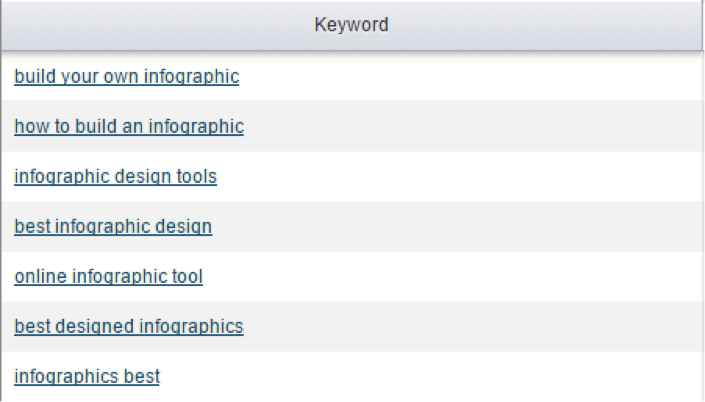 You'll notice the keywords are clickable. The keywords link to Semrush's overview of the keyword which includes summary, trend and top 20 organic results from that keyword.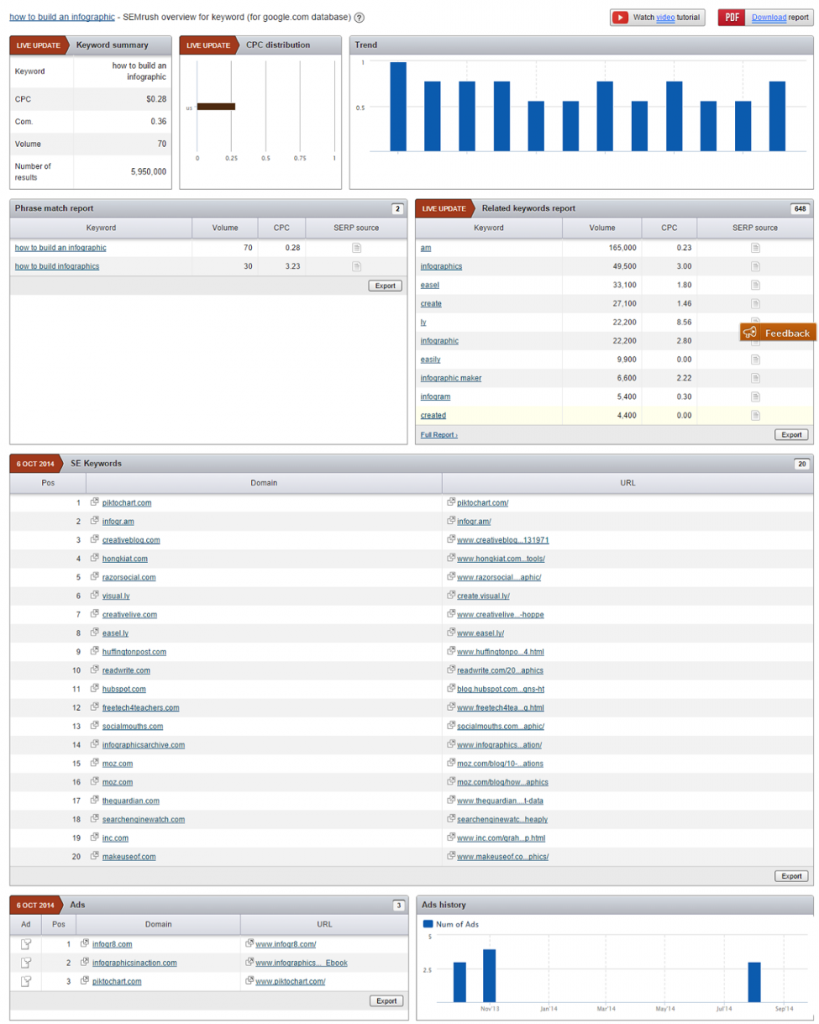 A few amazing ways to use this report include: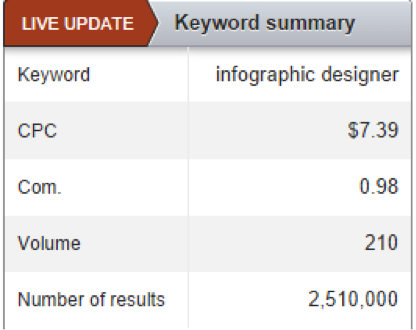 Summary: Get an idea of the average CPC to bid on that keyword. Also, look at the amount of time that keyword is searched per month, as well as how many results Google returns. This will give you a general idea of competition and traffic to expect.
Trend: Is demand for this keyword growing? If you do see a high increase, you might want to focus more efforts on this keyword, by either increasing your PPC bids or by creating organic content and links.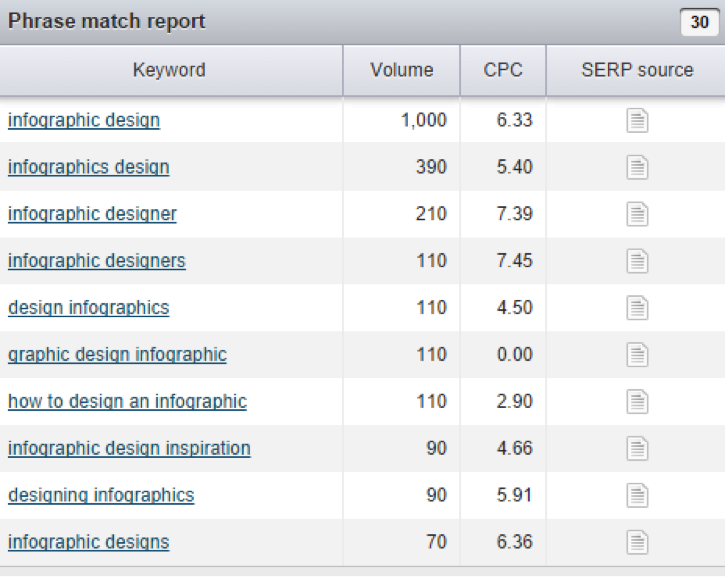 Phrase match report: Here you can get a summary of other keywords you can add to your seed set to expand your words. In addition, you can see the volume and average CPC to help you find opportunities in both the organic and PPC worlds.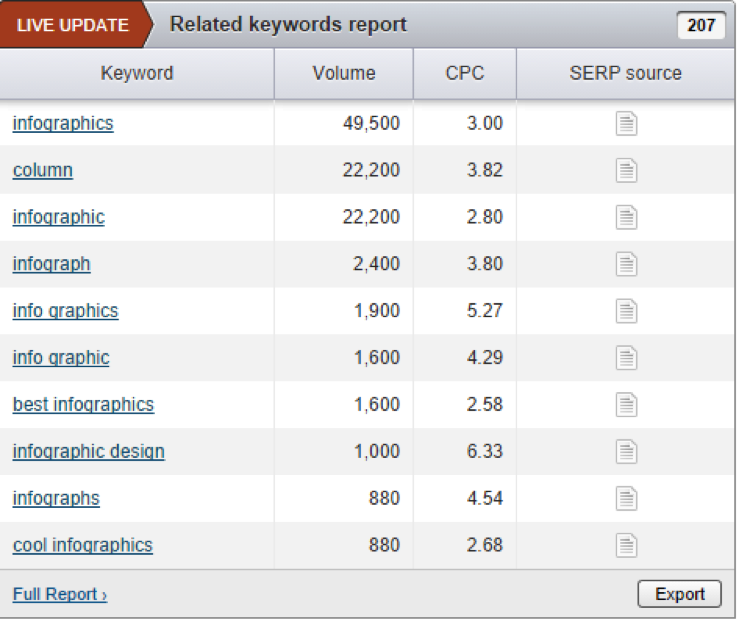 Related keywords report: This report allows you to go beyond specific phrases and look for broader keywords to advertise for. With these, you can actually cast a wider net in your keyword search.

SE Keywords: Here you can see the top sites ranking for the keyword, which can help in your competitive analysis. Are these sites that have too much authority, or can you compete?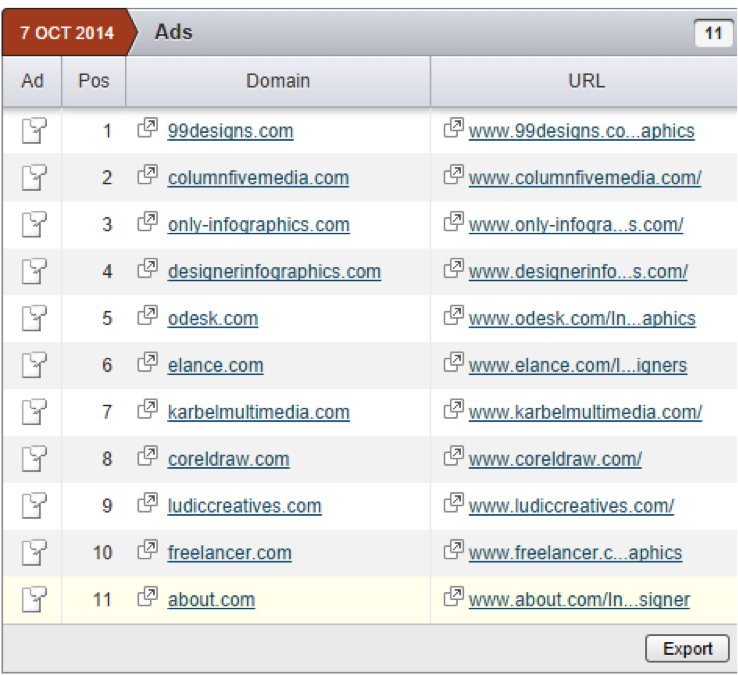 Ads: What ads are running for this keywords? What are the landing pages? Use this when performing competitive research for your PPC campaigns.
Ads History: Here you can see a summary of the total number of ads running for that keyword, and if you click through on any of the months, you can get a history of the actual ads that were running. This is a great way to get ideas for ad creatives and copy writing. Here's what it looks like:

How Difficult Is It To Rank For A Specific Keyword?
The next column is Difficulty, %.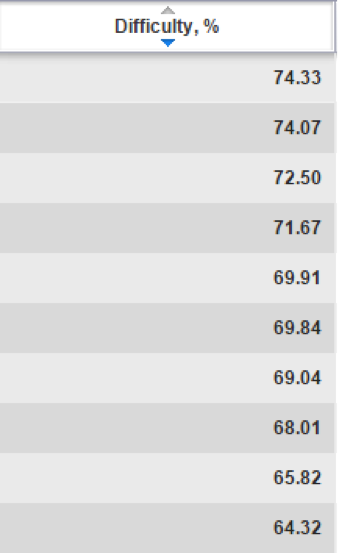 This is an estimation on how difficult it will be to overtake competitors' positions in organic search for that particular keyword. The difficulty is measured by percentage (1–100). According to Semrush, here's how this score is calculated:
"We take the list of domains that are ranking in Google or Bing top 20 organic search results for the given keyword. Based on each website's SEMrush Rank, we calculate their domain strength, and define the average number range, from 1 to 100 percent. The higher the percentage, the more effort you'll need to outrank your competition for targeted keywords."
If you click on a particular keyword, you can see the pages ranking for that keyword, including their Semrush Domain Strength: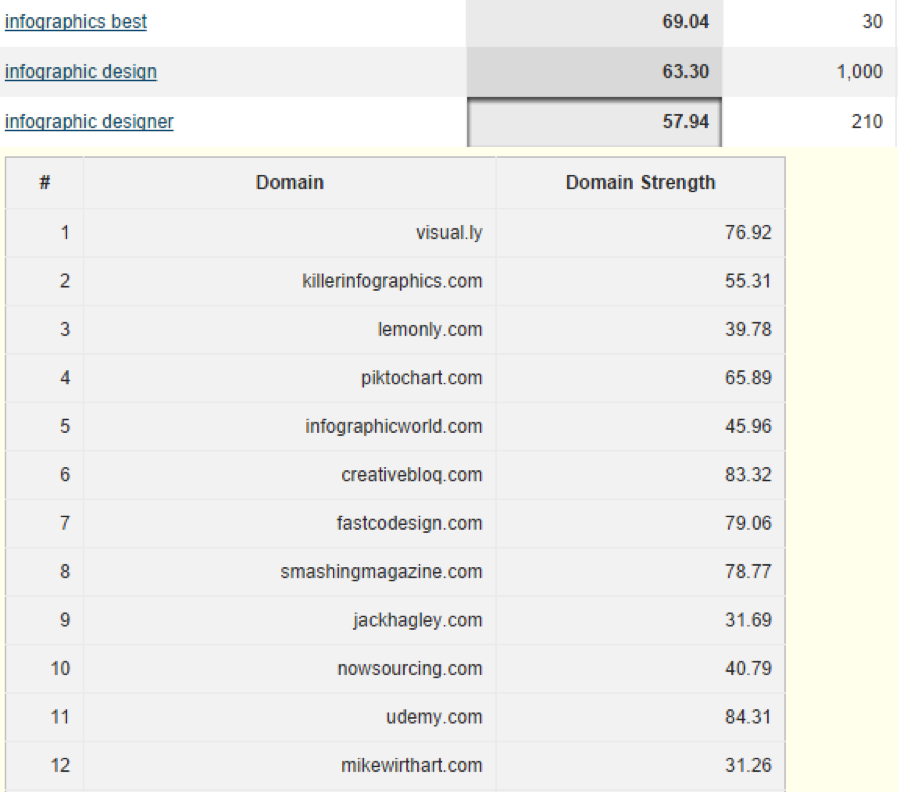 Then you can drill down and be a lot more granular in your research, instead of simply using an aggregate score.
For example, looking at the keyword above, you can see that lemonly.com only has a domain strength of 39.78. If your site has a similar domain strength, then it's possible to compete for that keyword!
How Many Times Is That Keyword Searched For Every Month?
The next column is Volume.
This column shows the number of monthly search queries for the given keyword. You can click on the arrows above and below Volume to sort by ascending or descending order.
How Many Pages Does Google Have Indexed For Those Keywords?
The next column is Results.
This displays the number of URLs displayed in the organic search results for the given keyword. Again, you can sort the information by ascending or descending order by clicking on the arrows surrounding Results.
The next column is Trend.
This metric displays the interest of searches for the given keyword in the last 12 months. This metric is based on the changes in the number of queries per month.
The very last column is SERP Source.
You can click anywhere in the box to get the SERP for the keyword: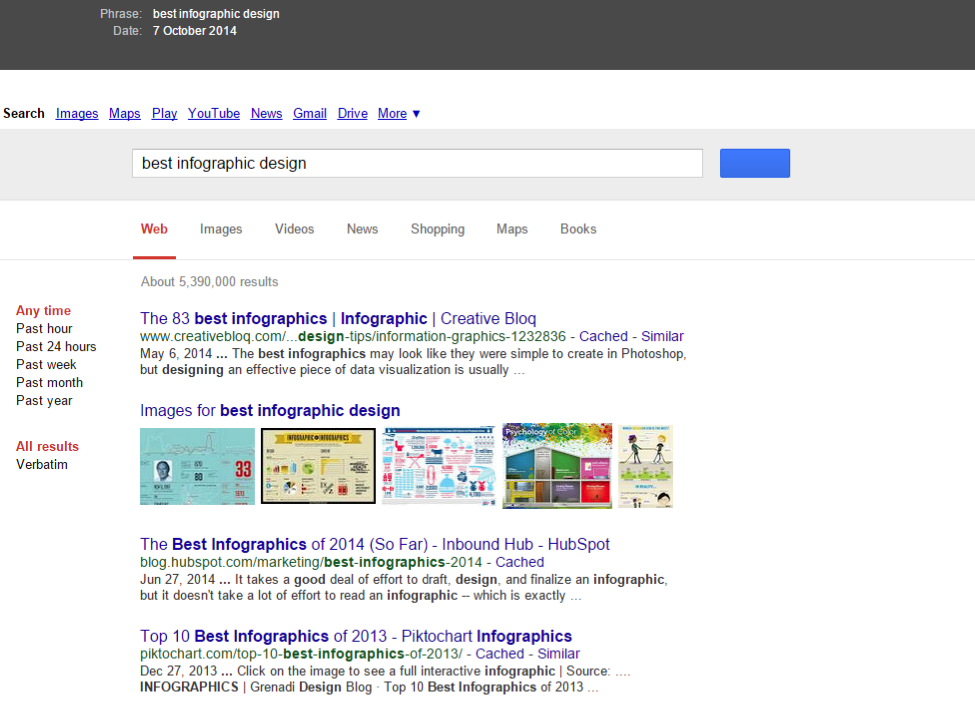 Step 3: See Analyzed Domains
When you click on the difficulty column, a list of the sites ranking for that domain will appear.
Semrush will give you their domain strength, but in order to perform competitive analysis, you should dig deeper into each domain.
Go to the search bar at the top and type in one of the URLs that showed up under the difficulty % column:
Here you can look at various aspects of the domain, such as:
Traffic from search engines
How many keywords have organic rankings
What are some of the keywords they rank for (you can use this to add more keywords back into your search)
Who are some of their competitors
Digging deeper into the sites ranking for the keywords you're targeting will help you become more familiar with the niche, as well as give you insights into keywords and competitors that can be used as part of your organic and PPC campaigns.
Step 4: Export Results
The data in the Keyword Difficulty Tool can be easily exported by choosing your preferred format.
Once you export the data, you can add additional metrics such as Page Authority, Domain Authority, Mozrank, Trustflow and CitationFlow. The ability to export data is very powerful as it allows you to start saving reports, tracking changes over time and to pull in much more comprehensive data.
Conclusion
The Semrush Keyword Difficulty Tool is a powerful tool to add to any marketer's arsenal. The ability to test multiple keywords at once, see the results for the top ranking sites and see their score at a glance is very powerful. This tool will save countless hours of keyword research and help expedite this process significantly.
What are you waiting for? Stop reading and go check it out!