"SEMrush really is the swiss-army knife of SEO tools. I use SEMrush more than I do email — that's how essential it is to our daily operations. With a constant stream of new product developments, this is one tool that you don't have to worry about outgrowing its usefulness."
About Ardent Growth:
Ardent Growth is a web design and SEO agency that works with home services businesses around the United States to grow their revenue and expand operations. As an agency, Ardent Growth's mission is to help SMBs grow their revenue, capture market share, increase their profitability and create more jobs in the local communities. Ardent Growth has built its business using a mixture of creativity, technical acuity, and programmatic automation to provide consistent data-backed results for ambitious growth-focused businesses.
Business Challenge: Develop an SEO optimized website, grow organic traffic, and withstand the uncertainty caused by pandemic
Priddy Chimney Sweeps is a contractor based in the Washington DC area that provides critical services related to the safety, upkeep, and construction of chimneys & fireplaces for both homeowners and B2B partners in the real estate industry.
As a niche-service provider in a market dominated by larger brands with much higher advertising budgets, Priddy needed to maximize the return on their marketing investments. With a new CEO at the helm, charged with growing revenue and maximizing utilization, Priddy engaged Ardent Growth to completely revamp the company's digital marketing strategy.
Two primary challenges presented themselves. The first was immediately known: Priddy needed a modern website that could generate organic visitors from search engines.
The second was something no one could have prepared for: the need for continued growth even amidst pandemic and the havoc it wreaked on small businesses throughout the world.
Using SEMrush's tools, Ardent Growth conducted research to plan an effective site architecture, SEO, and content strategy that could rapidly increase Priddy's topical authority in a sustainable manner.
Solution: Site Audit, Competitive Analysis, Web Development, Keyword Research, Content Marketing, Link Building, and Reporting
Ardent Growth started the campaign by auditing Priddy's outdated website that was only ranking on the first page of Google for little more than a few dozen keywords and converting even fewer.
August 2019
Using SEMrush's Site Audit tool, Ardent Growth realized that a myriad of issues existed for the site that needed to be resolved including:
A poor site architecture

Improper usage of HTML5 semantic structures

Duplicate titles and meta descriptions

Absence of a secure socket layer (SSL) certificate

Lack of authoritative content

Poor site speed

Missed opportunities for internal linking
Identifying a proper site information architecture was critical when rebuilding the website. Using SEMrush's Competitive Analysis Tools and Organic Research tools, Ardent Growth analyzed key competitors to understand industry standards for information architecture and which pages were the most valuable for each competitor.
To do this, Ardent Growth used the Organic Research Report to find the best-performing pages.
"Rather than simply looking at volume, we added the Costs column to the report and sorted by that. In doing so, the agency made sure they prioritized our keyword strategy based on the value they would drive for the business rather than vanity metrics like traffic — which can sometimes be misleading," explains Skyler.
SEMrush Organic Research Report
In doing so, Ardent Growth was able to focus its efforts throughout the campaign on areas of Priddy's website that drive the most ROI.
Using the Keyword Magic Tool to Identify Content Opportunities
"In addition to the Organic Research Reports for key competitors, we used the Keyword Magic Tool to research additional keyword opportunities that the local competition may have completely missed out on," says Skyler.
Start with a seed keyword, like "chimney" in the Keyword Magic Tool, Ardent Growth would then find interesting groups of keywords in the "groups" side panel and add terms from there that aligned with Priddy's service offerings.
SEMrush Keyword Magic Tool
"We added keywords to lists in the Keyword Manager to keep up with keywords as we went through this process. Being able to easily add them from the Keyword Magic Tool is very efficient and far easier than exporting the lists into CSV files to filter first," adds Skyler.
The keywords Ardent Growth adds to Keyword Manager do not automatically make the cut, however. When prioritizing keywords they look at a variety of factors such as:
Trend

Cost per click (CPC)

Click Potential

SERP Features
Trend: it's important to look at the trend to understand if there's a seasonality associated with the keyword. It's fine if there is, especially in home services businesses like chimney cleaning and repair, which typically see peaks around the fall and spring. Knowing these trends will help to plan out a content strategy where content gets published, indexed and ranking well ahead of the season.
Cost per Click: important when organizing a search advertising campaign, but very helpful for SEO strategies as well. You can usually assume that if a keyword is being bid on in Google Ads auctions, it has direct value to the business. By comparing the relative CPC values of your set of keywords, you'll be able to prioritize which ones are best to use as your "bottom-of-funnel" keywords.
Click Potential: often overlooked, click potential helps you understand what the likelihood that your page will actually generate traffic if it does rank in the top search results. Ardent Growth likes to set a range of 50 or greater when kicking off a campaign to ensure they don't waste their time going after keywords that receive little to no page traffic in the world of zero-click searches.
Setting a Range for Click Potential in Keyword Manager
SERP Features: filter is a secret weapon for local SEO. When conducting keyword research, many Local SEO agencies get too focused on keywords with location modifiers in them like "chimney sweep dc".
While these are most certainly relevant and effective keywords to target, they greatly diminish the potential of your campaign. Many people search for local services without using a location modifier like a city name or "near me".
"The key is to identify if the keyword without a location modifier will still trigger local search results. To do this, you can use the SERP Features filter to only display keywords that include a Local pack," adds Skyler.
Keyword Manager: Keywords that Trigger a Local Pack
When working with larger data sets, Ardent Growth likes to leverage the export functionality of SEMrush so they can work with it in more custom ways. For example, when determining a more granular priority of which keywords to start with first, Ardent Growth exports the data into a CSV, loads it into Google Sheets and then plots that data using a scatter chart in Data Studio.
SEMrush Keyword Data in Data Studio
"In the example above, we found that chimney repair was an excellent keyword to start with as it had a good amount of search volume, a healthy amount of value (as represented by CPC) and a relatively low keyword difficulty score," shares Skyler.
Taking National SEO Strategies and Applying them to Local
Ardent Growth likes to take the same principles used in national SEO campaigns and apply them to local campaigns.
To do that with Priddy Chimney Sweeps, they focused on building out Priddy's topical authority within the chimney and fireplace industries by ranking them for top-of-funnel search phrases at a national level.
"Ranking in the local map pack can be very time-consuming and maddening. Simply changing devices, browsers, physical location, or a myriad of other factors can dramatically change the results. Couple that with the fact that most home services businesses operate in a large service area and you end up with a situation where local SEO isn't focused on map rankings anymore," shares Skyler.
Instead, Ardent Growth decided to focus on the traditional organic search results that are often localized as well.
"Using the Keyword Magic Tool in conjunction with the Topic Research tools available within SEMrush, we found opportunities that would make the most sense for our client," explains Skyler.
In the Keyword Magic Tool they would take the seed keyword and then set the filter to show Questions. Doing so presented them with opportunities for long-form blog content in the form of helpful "how to" guides and list posts perfect for their client.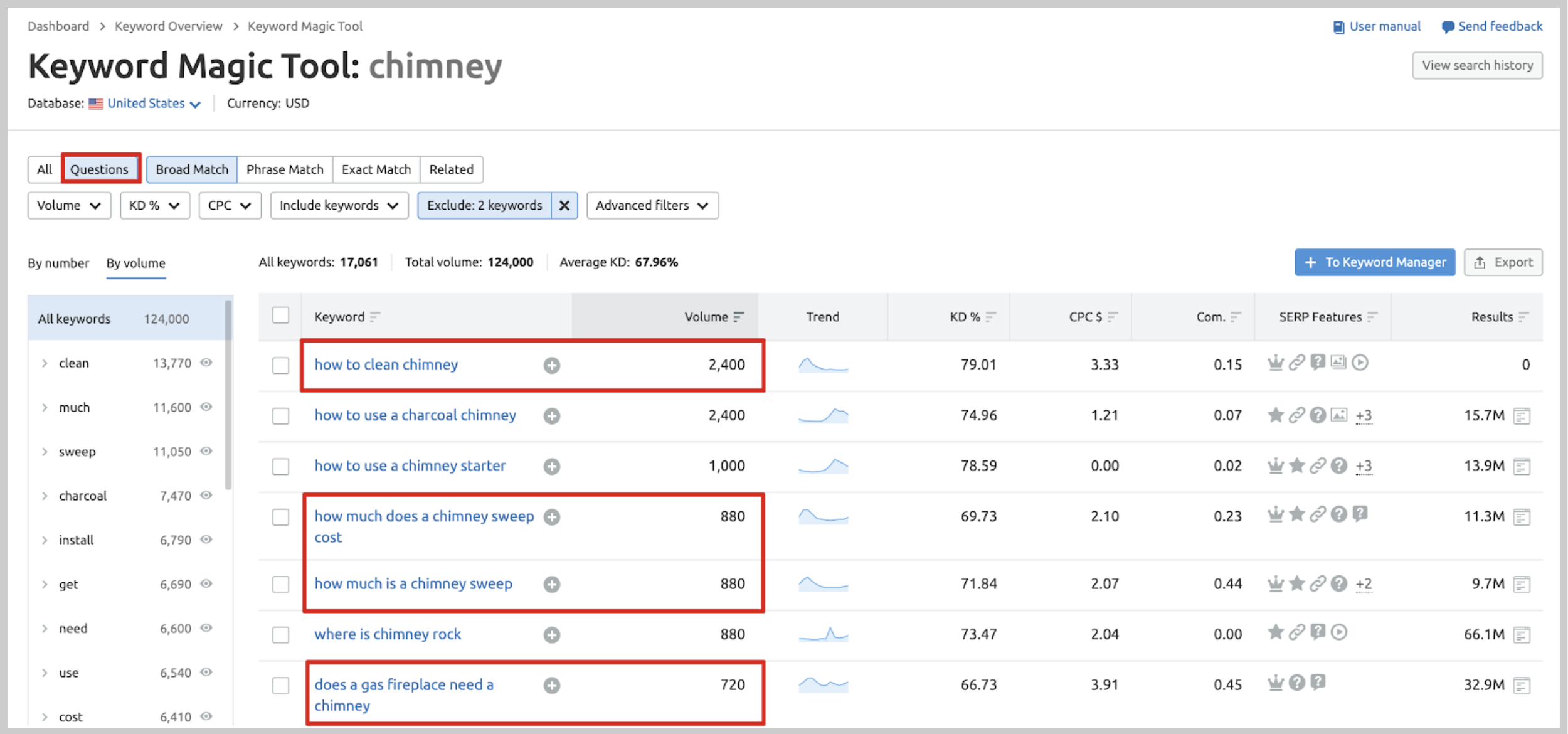 Finding TOFU Content Opportunities with Keyword Magic Tool
"Using the Topic Research tool, we were able to find trending subtopics, headline examples, questions, and related searches all in a single search," adds Skyler.
Content Topic Ideation Using the SEMrush Topic Research Tool
After the client approves the topics using a shared Google Sheet, Ardent Growth would then begin the actual production of these content assets.
Using the SEO Content Template to Create Briefs
"We use a variety of tools when creating content for our clients but we like to use the SEMrush SEO Content Template and SEO Writing Assistant to get the first draft written," shares Skyler.
SEMrush Content Template
With the SEO Content Template they were able to quickly craft detailed briefs that included things like:
Inspiration and recommendations for titles

Recommended word count

Recommended readability level

Semantically related words

Linkbuilding opportunities
Using the Writing Assistant to Write Articles Optimized for Users & Search Engines
Ardent Growth used the SEMrush Writing Assistant to optimize the drafts created by their writers for tone, originality, SEO, and readability.
"The Google Docs extension SEMrush provides for this dramatically increases our own workflow and provides us with a way to get back more optimized first-drafts from our writers that are trained on how to use it," says Skyler.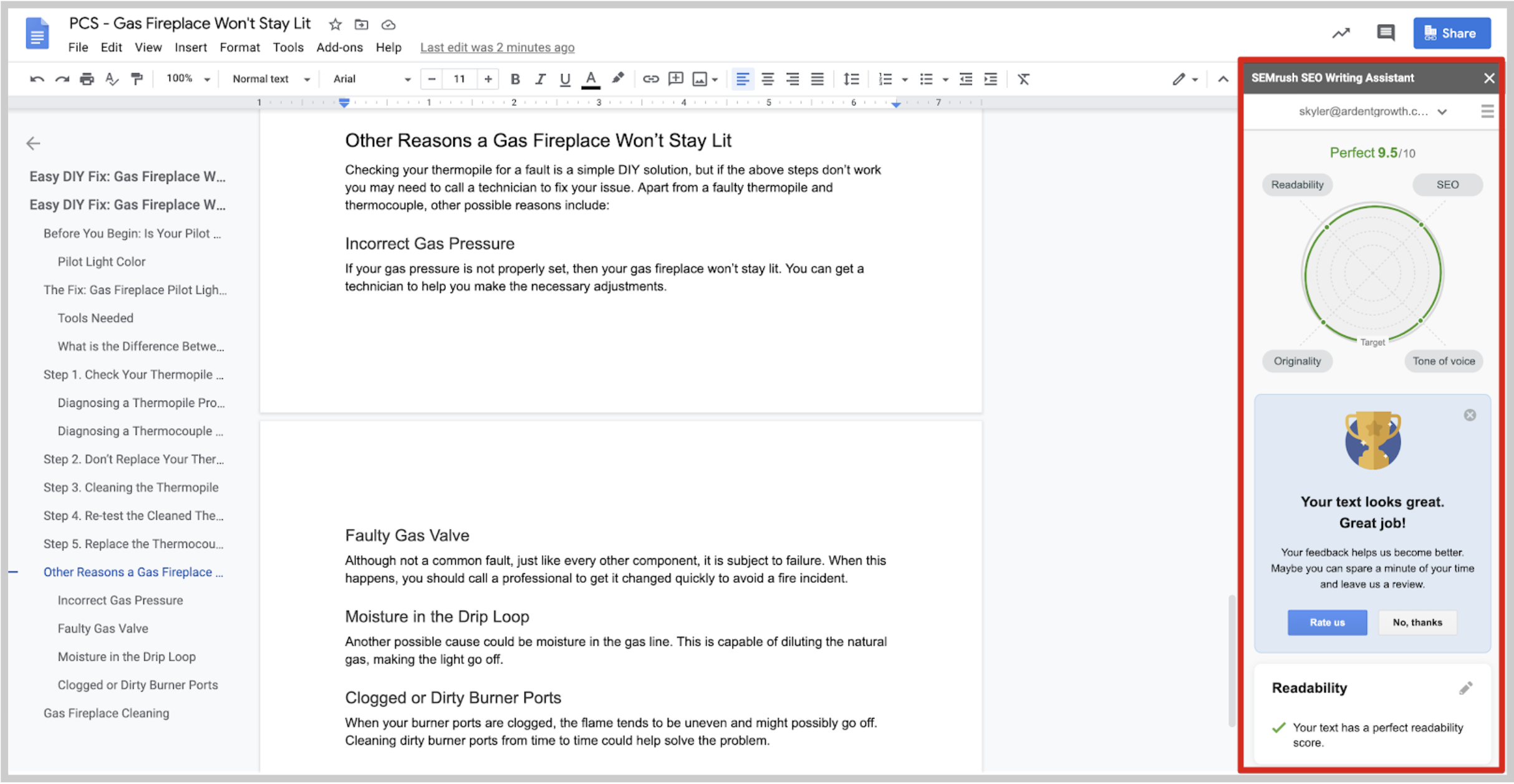 SEMrush Writing Assistant in Google Docs
Finding Link Building Opportunities and Outreach
To find backlink opportunities, Ardent Growth used the Backlink Gap report.
"Even just a few high-quality contextually relevant links can make a dramatic difference at the local level. Rather than prospect for this using Google search operators, it's far easier to just find which sites are linking to more than one competitor, but not linking to us," explains Skyler.
SEMrush Backlink Gap Report
Using Position Tracking to Find Wins & Spot Trouble
"Unlike many other rank trackers, SEMrush has the ability to track mobile & desktop keyword rankings for multiple geographic areas — this is key for service-based businesses that often operate in a service-area instead of a brick and mortar location. The Position Tracking features SEMrush offers are excellent," shares Skyler.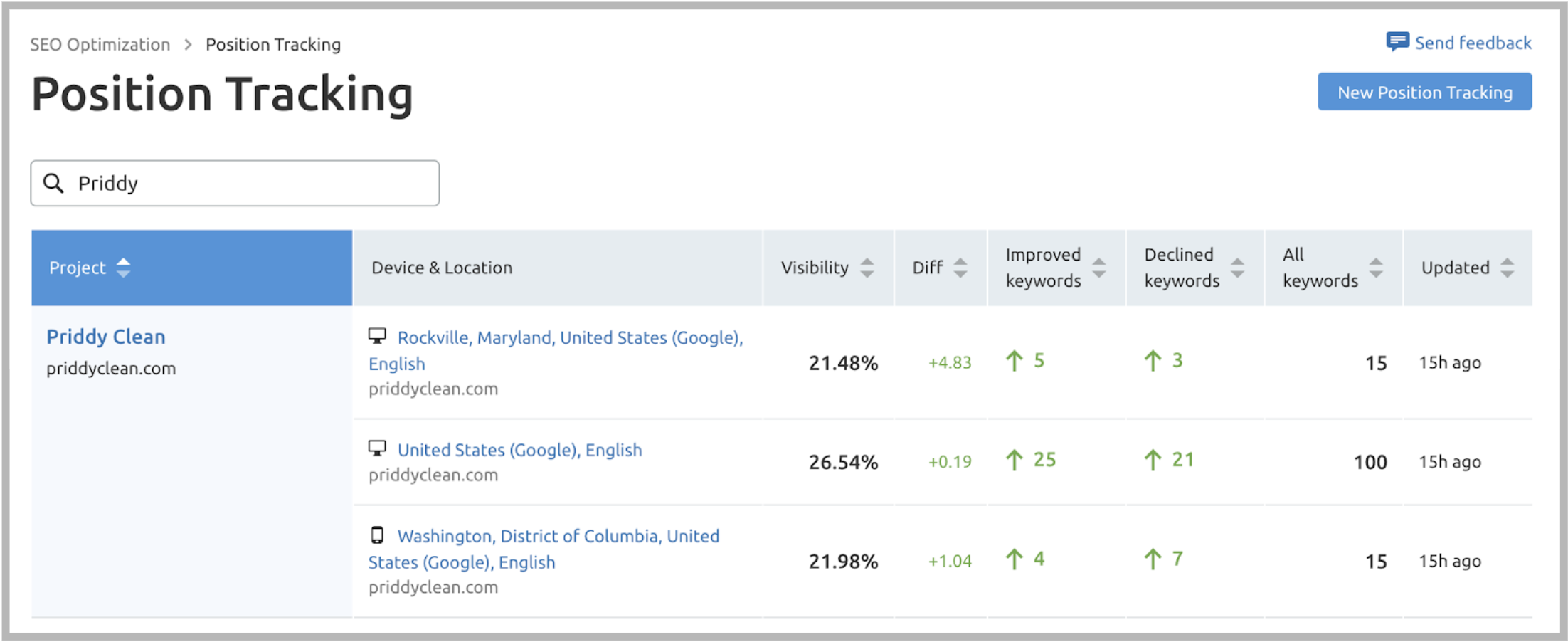 SEMrush Position Tracking
Ardent Growth used keyword tracking internally to keep an eye on how their work was performing throughout the campaign.
Keeping Clients Informed Using the SEMrush Data Studio Connector
"We value transparency at Ardent Growth. We set up Priddy Chimney Sweeps with a custom Data Studio report that pulls in real-time data from SEMrush, Google Analytics, Google Search Console, Google Ads, call tracking, & social media," says Skyler.
Using the SEMrush Data Studio connector, Ardent Growth was able to report keyword ranking trends to their client in an easy to understand way that stayed up to date with data directly from SEMrush.
Data Studio Report Using SEMrush Data
The SEMrush Data Studio connector also allowed Ardent Growth to report on individual keywords and backlink data as well.
Results
When Ardent Growth started their campaign for Priddy Chimney Sweeps in August 2019, no one could have foreseen what was in store for 2020 and the global impact pandemic would have.
"There was some concern when the virus began to spread throughout the world but we sat down with the key stakeholders at Priddy Clean and came to the agreement that this was the time to push forward and claim as much market share as possible. While the competition was slowing down and playing it safe, we would keep charging ahead. When the world is standing still, walking looks like a sprint," says Skyler.
And it paid off.
- First page rankings went from approximately 31 in September of 2019 to over 327 as of October 2020.
Things began to gain a bit of traction in January, staggered a bit as pandemic began to spread, but really began to take off after their commitment in March to continue growth despite the pandemic.
Google Ranking & Search Data from Search Console
- Monthly clicks increased from 126 to 3,973 (from August 2019 to October 2020)
Total clicks: Aug 2019 – Oct 2020 (Search Console)
Rankings in the Search Results
Priddy Chimney Sweeps is located in Rockville, Maryland, about 17 miles outside of Washington DC.
Ardent Growth knew when they started this campaign that they wouldn't be able to rank Priddy in the map pack in Washington DC without a physical address that could be registered with Google My Business.
"One of our goals when we started this campaign was to rank Priddy in the top 3 traditional organic results — placing less emphasis on the maps," says Skyler.
They have. When a user searches for "chimney sweep" in Washington DC, Priddy Clean is ranking #3 behind Angie's List and Yelp.
Ranking #3 for "chimney sweeps" (Localized to Washington DC)
Ranking #1 nationally for "parts of a chimney"
Conversions: The Real KPI
"It is our stance that if you can build a business's authority on a topic at a national level, they will become the de facto authority at the local level," shares Skyler.
With Ardent Growth's effort being put into content marketing and brand building, they increased Priddy Chimney Sweeps ability to rank for their service page keywords in the surrounding service area.
The high season for the chimney cleaning industry occurs between November and December.
"We've already blown their previous record for conversions out of the water — and we did it during their slow season," adds Skyler.
Ardent Growth tracks two key conversions for Priddy: requests for a quote and calls.
Goals Overview: All Users (Aug 2019 – Oct 2020)
- 2055.56% Increase in Users from Organic (from 207 to 4462)
With this increase in traffic and conversions, Priddy Chimney Sweeps revenue has substantially grown and they are preparing to expand, hire more staff to meet the operational demand, and open a new location in downtown Baltimore.