Go to all stories
US agency helps custom curtain shop grow traffic by 308% and beat Etsy and Blinds.com on SERP in 7 months
"When you're a content-driven SEO firm, every strategy is based on actual search trends. What is being searched, how often, and who currently owns those top spots? Semrush helps us answer these questions quickly and expertly."
About ClickGiant:
ClickGiant develops custom content that ranks & gets clicks, improves a brand's exposure online, increases quality traffic to their site, and converts visitors into customers.
Business Challenge: help a boutique curtain shop move on from Etsy and grow business
When Spiffy Spools, an online boutique curtain shop, came to ClickGiant, they had a relatively new domain and Shopify website in an ultra-competitive category. The company owner realized the need to move on from the old Etsy shop and was looking to partner with an agency that knew the ins and outs of a competitive online landscape which included players like Amazon, Blinds.com, Overstock, Ikea, Lowes, and others.
"There may be a few negatives to selling wares long-term under the protective roof of Etsy but there are also some positives, and their traffic is number one. Etsy is ranked for over 17,000 variations of searches that include the keyword 'curtains', " says Jerry Cahalan, ClickGiant's founder and CEO.

ClickGiant set out to help Spiffy Spools fight for a spot amongst these giant competitors by building up the domain authority and crafting a smart content strategy.

Solution: On-Page SEO and content-driven SEO
ClickGiant understood the challenge that lay ahead and knew they needed a solid content strategy if they were to be successful. Where do you start when you're going to build a content-driven SEO strategy?
First, they ran Semrush's Site Audit tool to see where the client stood on the technical and meta side of SEO. The tool crawled the top 100 pages within minutes and provided the team with a lot of important metrics including load speed, crawlability, meta tags, security protocols, internal linking issues, and CSS errors. These elements make up a significant part of Google's ranking algorithm and can't be ignored.
Next, ClickGiant turned to Semrush's organic keyword positions.

Organic SEO Research
Whether they are performing a free SEO audit for a prospect or kicking off a project for a new client, for ClickGiant, the research always starts with the Semrush Organic Research tool: first for the client's domain and then for their competitors.
The goal for Jerry and his team is to see where the client is currently ranked and which search terms are driving traffic to their site. For this data, they'll sort by "Traffic". As you can see below, the highlighted terms make up about 25% of total traffic to the site.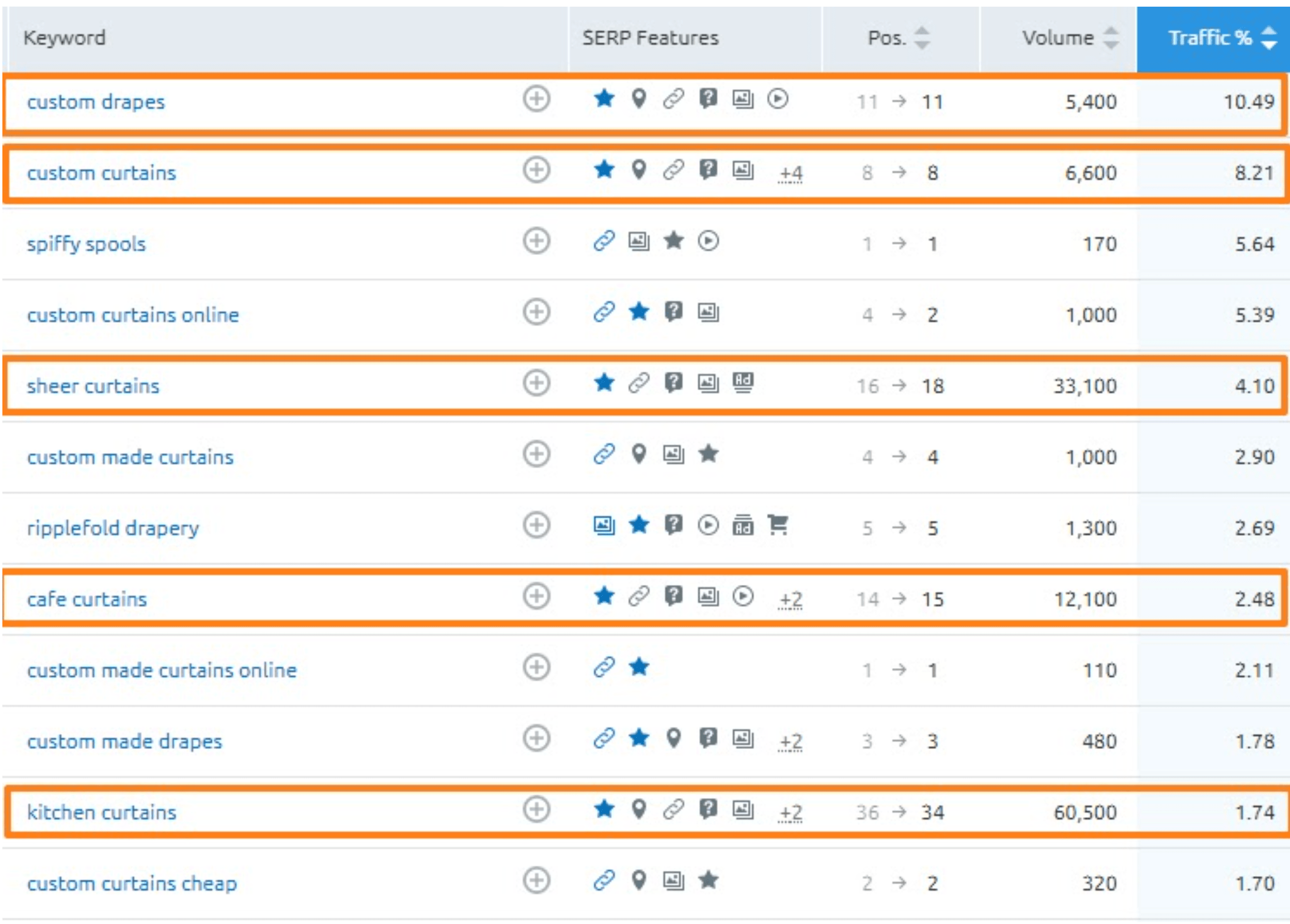 In addition to the keyword rankings, monthly search volume, and traffic percentages, the landing page data can paint a picture of important elements like on-page SEO, URL structure, and keyword cannibalization.
Armed with this data, ClickGiant's SEO & content strategy teams work together to build a spreadsheet of the most valuable keywords based on rankings, volume, client's actual offerings, and the likelihood of success or Keyword Difficulty. For instance, if they were to sort by keywords with the highest monthly volume, they would discover that "curtains" is the top term with over 300,000 searches a month. Is it a good strategy to optimize for that term and risk getting stuck on page 2 or 3 indefinitely, or is a more sound strategy, at least early on, targeting the top spot for "custom curtains"?

Main Organic Competitors – "Show me the Blueprints"
You could use a generic keyword research tool and see some similar keywords and average search volume, or you could just take a look at a live site, see what keywords are driving its traffic and how it got ranked so well, to begin with. In other words, the blueprints to success. ClickGiant prefers the latter.
They're also mining for ideas, insights, keywords, search terms, and landing pages that the client may not have taken advantage of yet. This could be as simple as discovering that "custom drapes" is searched far more often than the client assumed and deserves some more attention, or a periphery topic or category that may not lead directly to a sale but leads to more traffic, authority, and better rankings down the line.
On a competitor's site below, using an advanced filter, ClickGiant is able to focus on which blogs have performed well. Highlighted below, they discovered "how to measure curtains", searched 5,400 times a month and published under /blogs/curtain-guide. Should the new content strategy include building a guide? Should they get more specific in order to increase the chances of ranking high with a phrase like "How to measure for custom curtains"?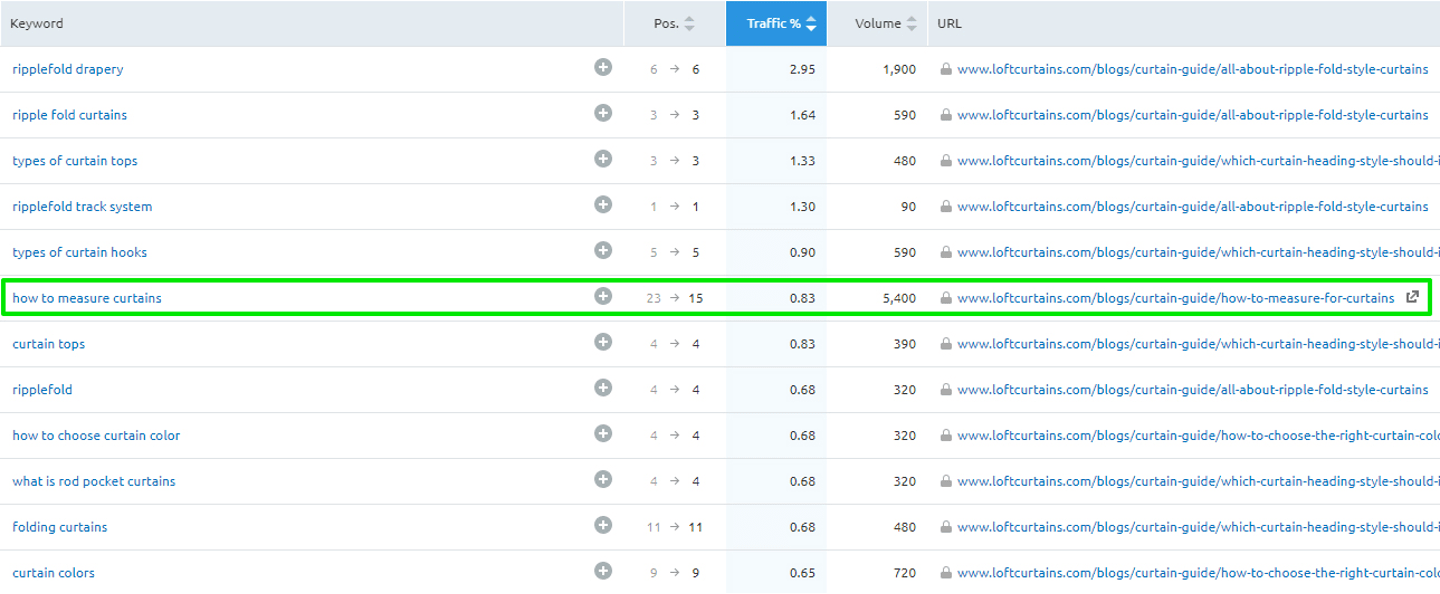 Topic Research
In addition to investigating what's worked for the competition in terms of content ideas, ClickGiant will also use Semrush's Topic Research tool.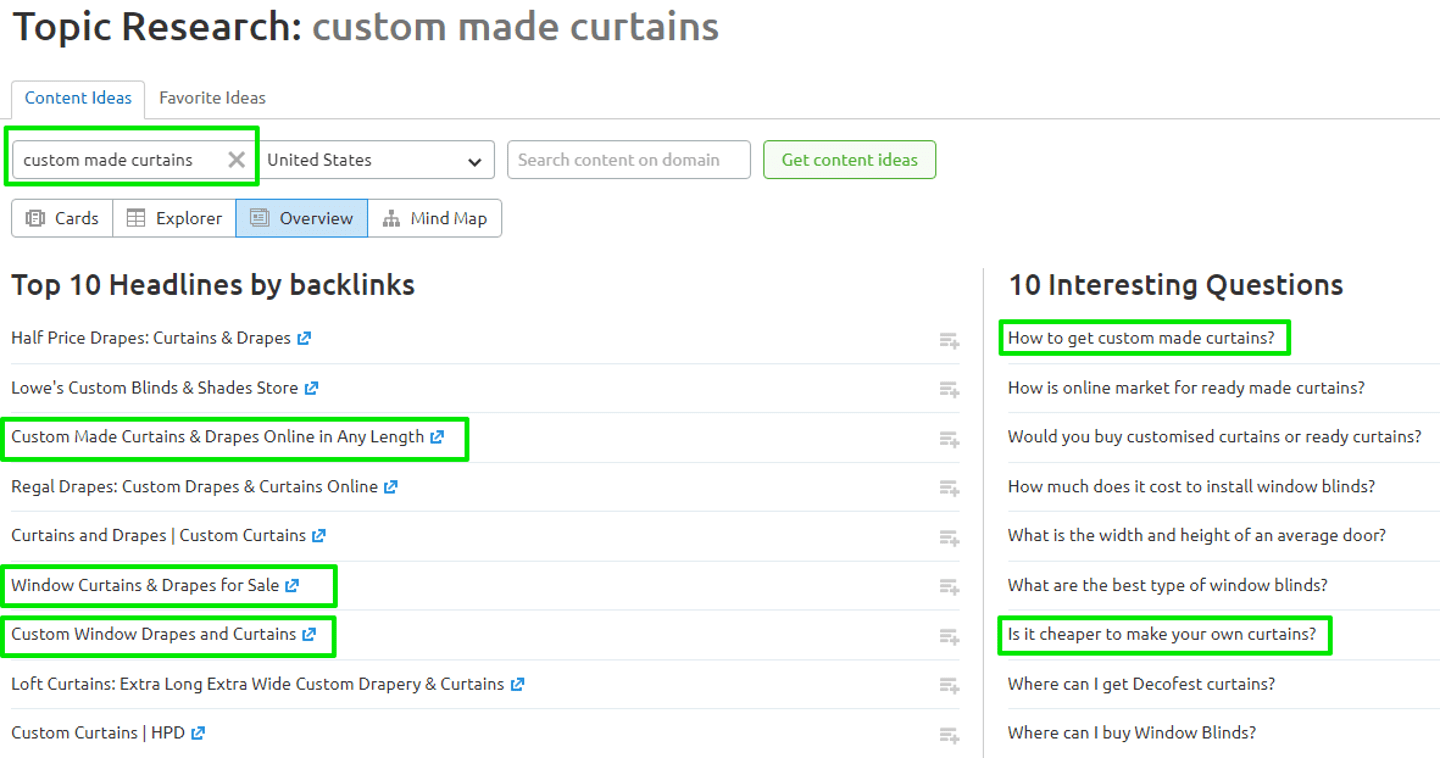 Why are they looking at topics, subtopics, and "interesting questions" being asked online? Because they mean to answer these questions more uniquely and expertly than the competition. It's a way for ClickGiant to bring high-quality traffic to the Spiffy Spools site and raise their domain authority, have the juice "trickle up" to the top category pages which will help them rank higher for the most valuable keywords such as "custom curtains online".
Does that work? See for yourself.

Blog Power
After tightening the URL structure, limiting keyword cannibalization, on-page SEO and a content refresh across the site, the ClickGiant team is ready to start blogging. They are going to use blogs and guides to address the myriad questions surrounding "custom curtains online".
The team uses the Keyword Position tab in the Semrush Organic Research tool filtered to "blogs" in order to track, assess, and report on the success of these blogs in terms of rankings and traffic to the site. If they find one that might have gotten a little too comfortable on page 2, they'll haul it back in, repurpose as needed and send it back out there until it hits the top of page 1.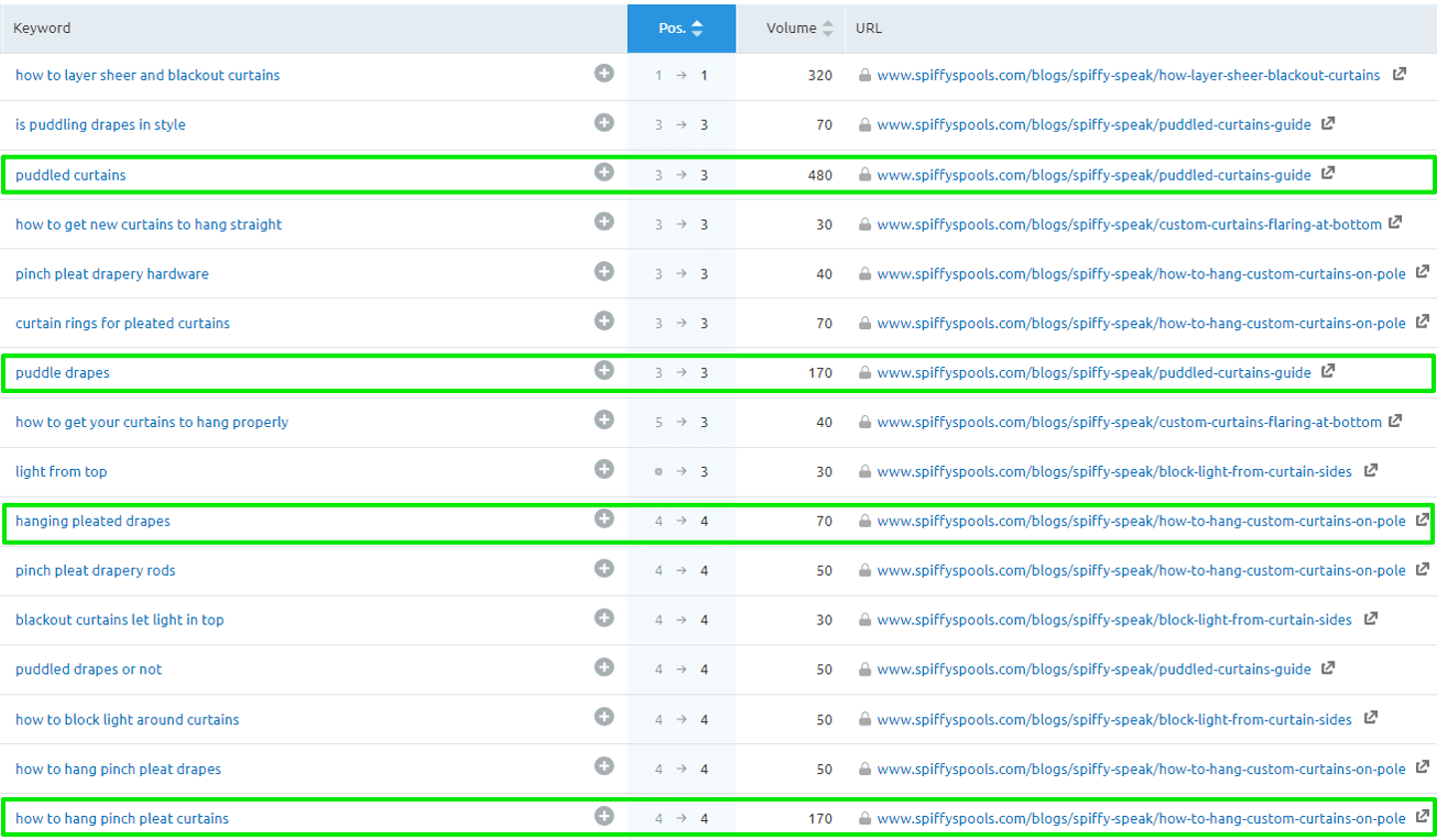 Remember we talked about the challenge ahead and facing competition such as blinds.com and Etsy? After 7 months, dozens of traffic and authority building blogs, it happens: Spiffy Spools is #1 for "custom curtains online", #1 for "custom drapes online", #1 for "custom made curtains", and #2 for "custom curtains".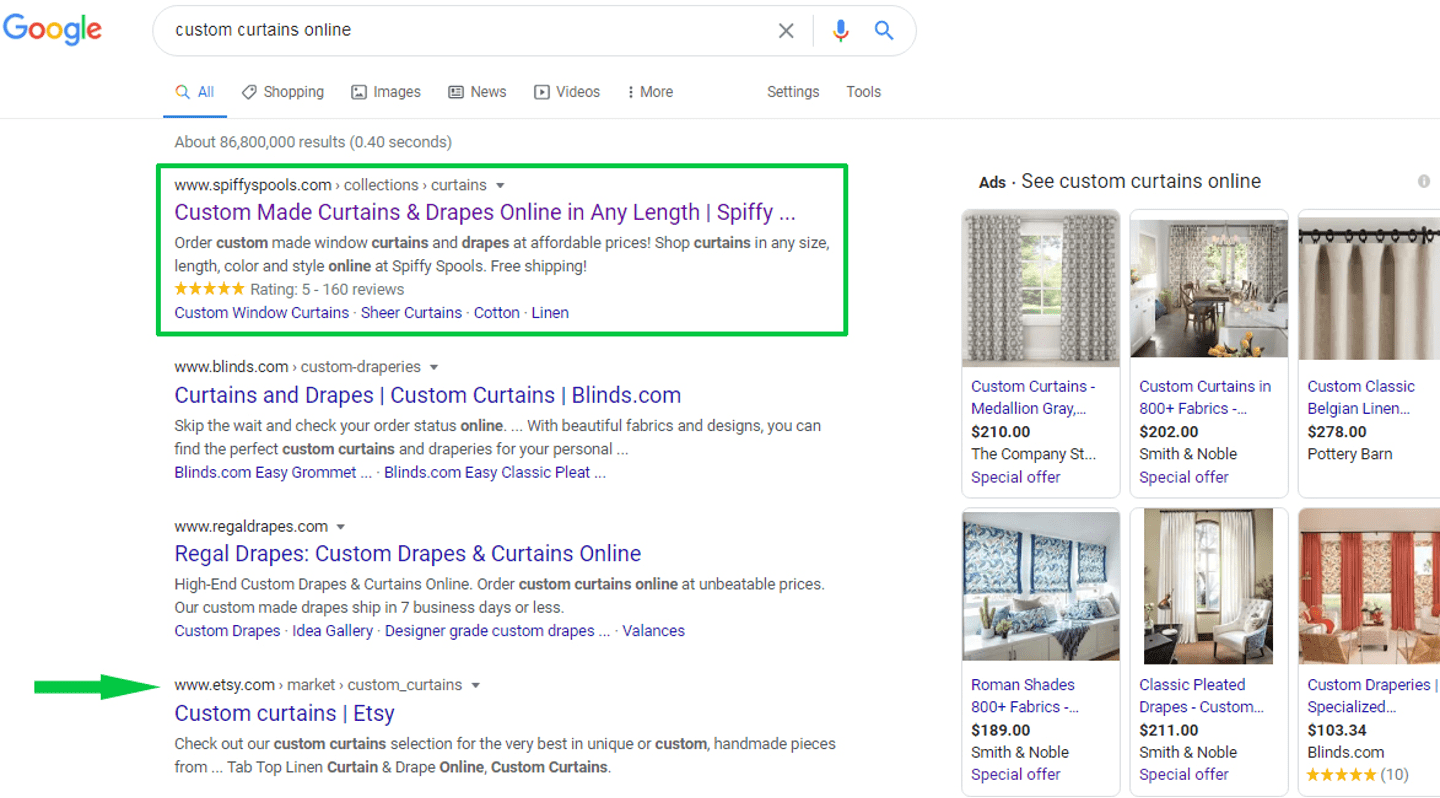 Results
Spiffy Spools' organic traffic is up 308% just 7 months in.

Not only has the traffic tripled due to these new rankings, but it's high-quality traffic. How do we know that? Google Analytics.
—

Bounce rate: down 20%

—

Pages per Session: Up 36%

—

Avg. Session Duration: Up 71%

—

Conversion rate: Up 104%