Go to all stories
How a company with under 10 employees wins traffic from business giants
About GetHuman:
GetHuman offers free consumer tools for solving customer service problems with thousands of major companies. The web service includes maps of company phone systems, shortcuts and tricks, call-backs, and step-by-step solutions to common consumer issues.
Business Challenge:
Founded in 2012 by Paul English, Christian Allen and Jeff Whelpley,
GetHuman
set an ambitious goal: to help customers around the world get in touch with large corporations quickly and painlessly. For the company, it meant competing for traffic with brands like Verizon, Groupon, and Delta Airlines, who invest a lot of marketing dollars and hire big teams.
So, how does GetHuman reach the right users without blowing a very tight budget?
In addition, by 2017 the company had accumulated an extensive database and ran a large homebuilt website that didn't comply with SEO standards and needed maintenance.
Solution:
With fewer than 10 people on his team, GetHuman CEO Christian Allen was looking for an affordable way to do all marketing in-house. Following market research, the company invested in SEMrush and it has been GetHuman's only SEO tool for 2.5 years.
The team started with a meticulous Site Audit: "As soon as we invested in SEMrush, we found errors in hreflang tag implementation on our website. We used SEMrush suggestions, identified the pages it was affecting, and saw an immediate improvement in performance," shares Christian.
Site Audit also uncovered duplicate pages and problems with user-generated content, says Jeff Whelpley, CTO at GetHuman: "Some of our content is driven by users when they enter the details of the issues they have. We leverage the reporting from SEMrush to detect when this content is not the best for SEO, so we can go back and add tags, set the page title and adjust the page URL to make sure it is not a duplicate."
As its database grew to more than 10,000 companies, GetHuman's small team was able to maintain good website health.
GetHuman's traffic growth since starting using SEMrush
"There's so much technical work now that's part of organic marketing," Christian concludes, "It's really nice to have a system that is checking it all for you around the clock and giving reports in an easy-to-digest form."
GetHuman gets over 90% of its traffic from organic search, with direct traffic being residual from organic, so it's crucial for the company to stay in the top 3 positions of Google SERP for highly competitive queries.
"For example, we'd like to rank well for AT&T's phone number. Google will try to display as much of a complete answer as possible to customers, but what people don't realize is that we have some interesting tools they can use, like a robot that waits on hold for you and other nifty gadgets that help them solve a problem faster," says Christian. "We think it would be ideal to be in one of those top spots next to AT&T as an answer to their query."
To make this happen, the GetHuman team turned to SEMrush: "We use the Position Tracking tool a lot – we check it every day,'' says Christian. "It's a very effective way for us to group certain pages that we want to look after, create a cohort of keywords and see how we are doing over time. There are suggestions on how you can improve rankings, topics you could be writing about."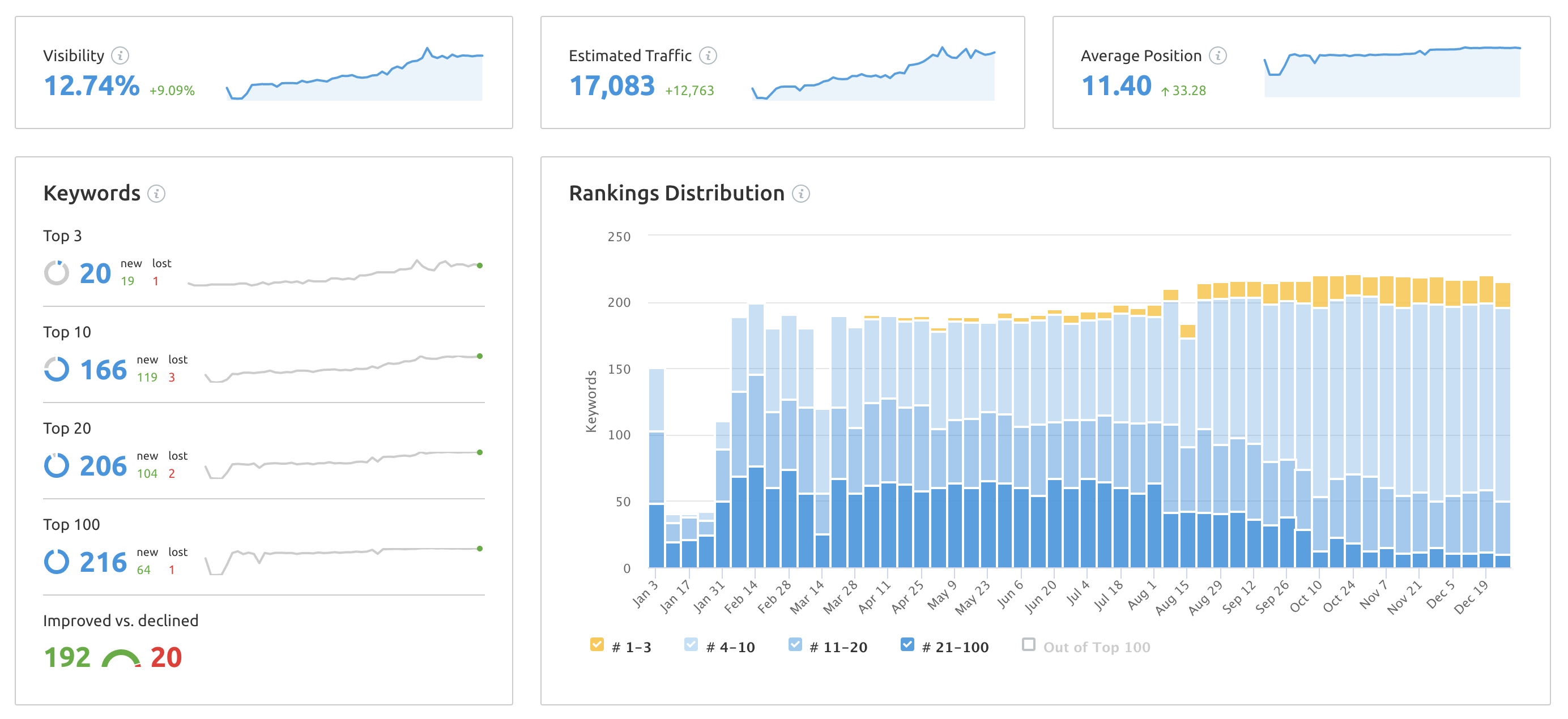 An example of GetHuman's keyword cohort growth in 2018
Results:
GetHuman ranks in the top 3 positions for around 20 major corporations

Thanks to SEMrush Position Tracking tool, GetHuman successfully competes with top US companies.

Multiplied traffic by 3x in the last 2 years

Today, GetHuman sees over 3 million visits per month.

Good website health

With the help of SEMrush Site Audit, GetHuman successfully keeps up with SEO optimization for their extensive database and user-generated content.