Go to all stories
Client management software, HoneyBook, improves SEO strategy to create 7% more visibility for product-focused content
"We needed something that could help our content strategy—from optimizing existing content to generating new ideas. Semrush has the tools to do that in the best way."
About HoneyBook:
HoneyBook is software that helps independent businesses manage their end-to-end business process and create frictionless clientflow from first inquiry to final payment. The platform offers essential tools for lead management, client communication, contracts, and billing all in one place. Their mission is to help service-based businesses like graphic designers and photographers alleviate the burden of admin tasks and spend more time doing the work they love.
Business Challenge: Generate leads with product-focused blog posts
HoneyBook boosted its organic growth in 2018 by offering free online tools like invoice templates, a mission statement generator, a business personality test, and others.
The company's blog is centered around user-generated content and broad business-related topics like mental wellness, finance, business strategy, etc.
While both these strategies were generating traffic, they only served the awareness stage of the customer lifecycle and were detached from HoneyBook's core product. By mid-2021 the company realized it needed a product-focused content hub that would attract a more purchase-ready audience and generate leads.

Solution: Use SEO and a cluster-pillar content strategy to turn the blog into a consistent traffic and lead generator
To implement an SEO and product-focused content strategy, the HoneyBook team decided to adopt the pillar-cluster content model.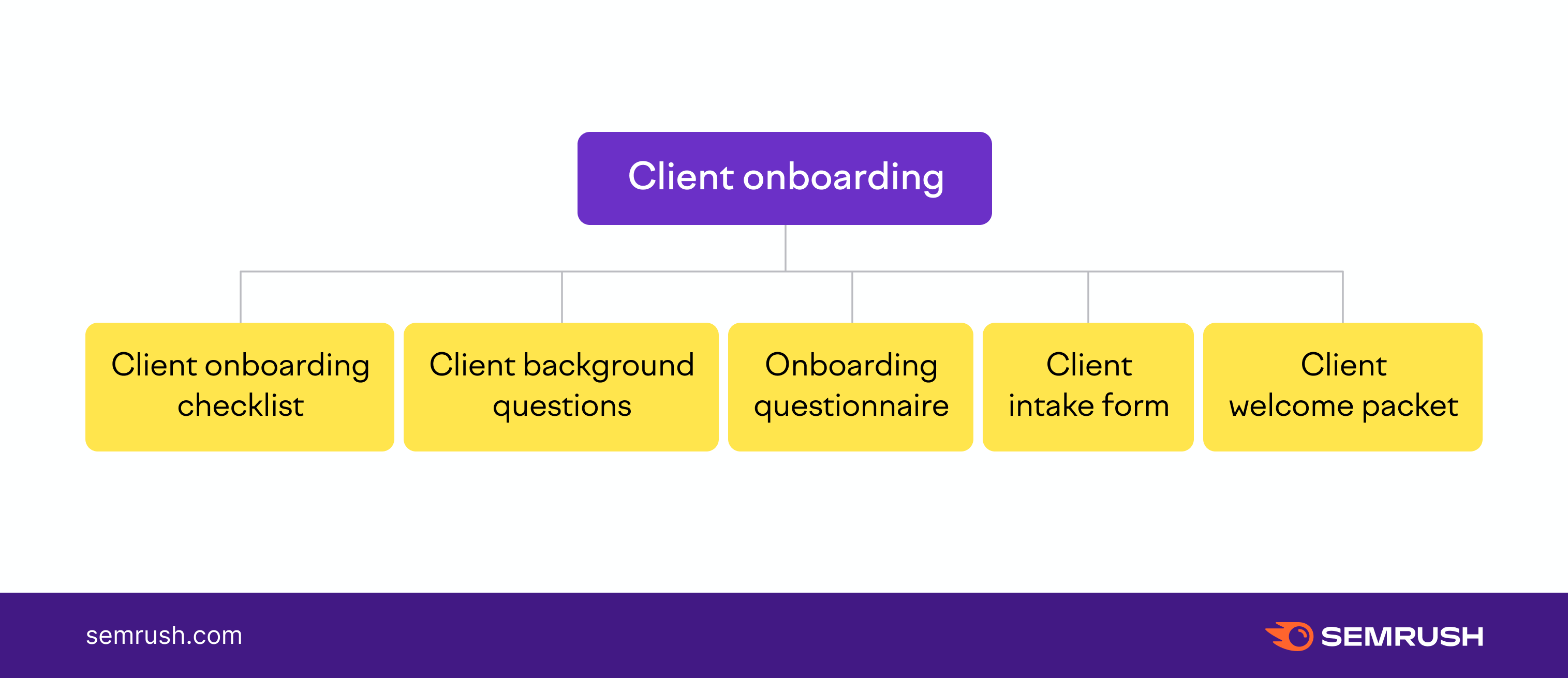 Example of HoneyBook's content cluster
To come up with relevant topic clusters, HoneyBook's Content Marketing Manager Claire Bough dived into keyword research. Here's how it went.
1. Finding the most promising keywords
When researching keywords in the Semrush Keyword Overview tool, Claire paid attention to (in the order of importance):
The keyword difficulty metric which enabled the team to focus their efforts on terms that were relatively easy to rank for. As HoneyBook had a moderate domain authority, they went for easier wins targeting keywords that were below the 70 difficulty mark.
The search volume metric also helped to prioritize HoneyBoook's keyword strategy as it reflected how many visitors they might potentially attract by ranking for a given keyword. Previously, a lot of their high-ranking posts targeted keywords that were too niche and long-tail, thus, having low search popularity. Now, they target queries that have at least 100 searches monthly.
Relevance to the product and offerings and search intent. Since Claire was optimizing the blog, she couldn't simply use HoneyBook's product features as the key target terms. The blog was intended to meet the needs of a potential customer who's still in research mode, so she used the keyword intent feature in the Semrush Keyword Magic Tool to find the informational version of a seed keyword that had commercial intent.

Examples of a product keyword with a transactional intent (T) and its Informational version (I)
When Claire found the optimal keywords, she checked the box next to it and added the term to the chosen list in the Keyword Manager tool. These lists can easily be shared with colleagues or sent to position tracking.
2. Amplifying domain authority to target more competitive keywords
Link-building shortcuts
As a further game plan, the HoneyBook team started building more backlinks that would strengthen their domain authority and allow them to target more high-competition keywords.
At first, the company was not focused on an extensive link-building program. However, Claire found a relatively easy workaround that would still bring them high-quality backlinks.
Using Semrush's Backlink Analytics tool, she explored the websites that link to the website of companies also supporting independent businesses.
Example of a competitor's backlink list in Semrush Backlink Analytics
Using this intel, Claire easily found new potential link-building partners—after all, if they give backlinks to other companies in the small business space, they would be more likely to link back to HoneyBook's site as well.
But there's more.
The number of inbound requests for links that HoneyBook was receiving was increasing rapidly. Claire used Semrush's Domain Overview report to weed out spammy requests and detect valuable link-building partners. They wanted to ensure the website they swapped with would bring mutual value.
All she needed to do is enter the site's URL into the tool and check its domain authority—if it looked sound, she would go for a link or guest post exchange.
Example of a good link-building partner's profile in the Semrish Domain Overview
Removing toxic backlinks
As an additional site health check and a way to maintain a strong backlink profile, Claire made sure to regularly check HoneyBook's backlink portfolio toxicity level through the Semrush Backlink Audit. The tool instantly notifies her whenever it spots a backlink that could potentially harm the website.
Example of backlink overview in the Semrush Backlink Audit tool
After checking the flagged link, Claire exports it for the Google Disavow Tool or whitelists it.
3. Creating SEO-optimized content
Once the keyword list and backlink profiles were well-set, it was time to get to actual content creation and optimization.
SEO-optimized content briefs
As HoneyBook has a number of external writers helping out with its content efforts, these copywriters need actionable content briefs.
For this, Claire uses Semrush's SEO Content Template. After entering the target keywords, the tool analyzes the top-ranking content for them and gives recommendations on:
Semantically related keywords
Readability
Suggested length of the title, meta description, and copy
Relevant domains to get backlinks from, etc.
Post-writing SEO optimization
If the new blog posts came from outside experts who didn't have an actionable brief, Claire simply runs the posts through Semrush's SEO Writing Assistant. The tool gives copy improvement suggestions based on the top-10 performing content pieces for a given keyword, including:
SEO optimization
Tone of voice consistency
Readability
Originality

Semrush SEO Writing Assistant
SEO Writing Assistant came in handy when HoneyBook took to finessing old content for higher rankings.
While Claire made sure to review that content through a human lens—removing outdated assets, the tool helped to put it through an SEO lens as well.

Tracking content performance
Some time after publishing, HoneyBook looks at the post in the Google Search Console to see if it actually ranked for the chosen target keyword. If it's not the case, Claire modifies the article to match another, better-ranking term.
As a side aide, Claire has set up the Semrush Position Tracking tool to monitor HoneyBook's key pages' rank changes for target keywords.
Example of Semrush Position Tracking tool's Landscape view
Claire uses the tool's keyword tagging feature to divide the keywords into batches: blog optimizations, metadata, new content, etc., so she can see how each group is performing over time.
Additionally, Claire receives weekly automated Position Tracking reports with the biggest ranking changes in that period.
Results
Since the start of the blog optimization back in June 2021, HoneyBook published more than 30 new SEO-optimized blog posts and optimized more than 60 existing posts.
Just one year of intensive content efforts later, by June 2022, HoneyBook started seeing incremental growth:
7% increase in visibility for the company's target keywords
Existing blog post optimization led to an average rise in ranks by 10 positions, visibility-wise, that's a 10% spike
New posts now rank on average 30 positions higher than older posts.
In the future, HoneyBook plans to optimize its lead magnet strategy to attract and capture a more high intent "ready to buy" audience who can be nurtured further down the funnel.