Go to all stories
US startup grows organic traffic by 269% in 5 months with limited resources
"Semrush has all the tools I need for SEO purposes, the data is really solid."
About Incredible Health:
Trusted by over 300 hospitals nationwide, Incredible Health helps skilled nurses find their next permanent role, and employers hire permanent, specialized nurses in 20 days or less. Their award winning marketplace technology matches the right nurse with the right role at the right employer. When nurses are happier and hospitals have fewer staff shortages, patients get higher quality care.
Business Challenge: driving relevant and converting organic traffic
Prior to late 2020, Incredible Health was outsourcing SEO but didn't see the desired results: the company was lacking a coherent strategy and vision. As an actively growing yet budget-conscious startup, Incredible Health decided to take SEO in their own hands and hired their first expert in October 2020.
The company's goals for the next six months included:
Growing organic traffic by 150%;
Launching a link-building program to improve domain authority.
Solution: data-backed content strategy
Incredible Health's new Head of Content and SEO John Gower took a content-driven approach to the domain's success on the SERPs. He knew that optimized content with the right search intent would eventually land the site on the first page of Google for most principal terms. The company chose Semrush as the primary tool for executing the strategy.
Site cleanup and improving existing content
First, John had to make sure the site is prepped and ready for new content. He ran a technical site audit to uncover any problems with the inherited content. The Semrush Site Audit tool found multiple pages competing with each other for the same topics - or cannibalizing keywords. This was solved by merging these pages and redirecting traffic from the inferior page to the one with more authority.
The tool also highlighted issues with canonicals, pages that were mistakenly marked as no index, missing meta descriptions and duplicate titles.
The cleanup stage took about a month and provided a clean slate for future work.
Incredible Health's Site health trend (green) and Total errors trend (purple)
Competitor and Keyword Research
By December 2020, John was ready to start new content production. With the help of two freshly hired content creators, John decided to focus on three big categories of keywords for the following three months. He started by looking at the competitive landscape of the sites in the same topic of nursing careers: salaries, resumes, etc.
The competitor and keyword research were conducted simultaneously, using a set of Semrush tools:
1. General Domain Overview
As the first step, John looked up Incredible Health's 10 aspirational competitors in the Domain Overview tool, pulling information on their links and traffic.
A competitor's Semrush Domain Overview profile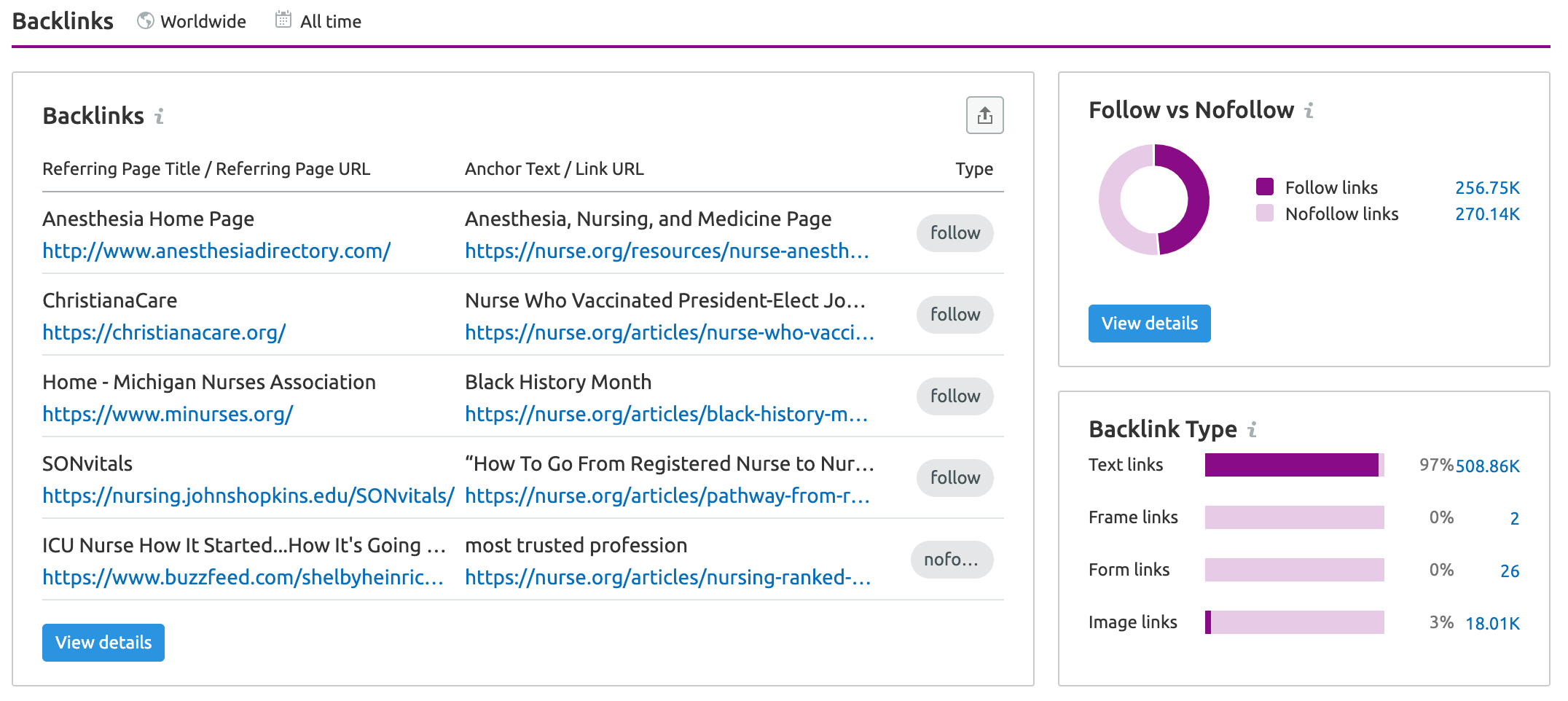 A competitor's backlink profile as seen in the Domain Overview tool
2. Organic Research
The Semrush
Organic Research
tool provided information on the competitors'
top-performing pages
and
keywords
:
Semrush Organic Research data
3. Keyword Gap
While trying to rank for a topic, it's important to consider not only direct competitors but any unobvious domains that can still compete for the same terms. Using the Competitors report within the
Organic Research
tool, John finds
new competitors with a similar keyword profile
he should be looking at. He then compares the identified domains against Incredible Health in the
Keyword Gap tool
and exports the keywords
they rank for but Incredible Health doesn't
. John pays special attention to keywords with high search volume and lower keyword difficulty.
The Keyword Gap helps Incredible Health see how their competitors approach their keyword strategy and learn from them.
4. Keyword Magic Tool
When further exploring seed terms in the
Keyword Magic Tool
, John looks at all their variations and includes any that he's missing. He also makes sure to
filter by questions
. Often it's the questions and creating an FAQ section on a page that bring Incredible Health quick wins.
5. Keyword Overview
Some other Incredible Health's competitors were found through reverse research: the team put the principal terms into the Keyword Overview tool to see who ranks for them at the top of the SERP.
"This expanded our way of thinking: we shouldn't just be looking at nurse-specific sites, these job posting giants and resume builders are among our competitors as well," says John.
Semrush Keyword Overview data
This information helps the Incredible Health team understand the best way to build out their content, so it can successfully compete on the SERPs.
"We realized we can't just post a long-form article about creating a resume. Most of the well-ranking sites also offer some kind of a resume template, so we should probably do something like that," John explains.
6. Competitor URL overview
Next, he inserts two or three top-ranking URLs into the Domain Overview tool to see what other terms this specific content piece is ranking for.
An example of top-ranking keywords for a competitors "nurse salary" URL
This quick hack helps enrich the future content piece with keywords that are proven to work.
All of these steps allowed John to build a list of keyword categories Incredible Health wanted to rank for. Even though the Incredible Health team doesn't have nearly as much capacity as most of their big shot competitors, that didn't scare them away. The team decided to narrow in on a few of the most important topics and started creating pages with similar content but in a slightly different and more in-depth way. Once that strategy worked, they moved on to the next set of topics and now plan to automate and scale the content creation process. By April 2020, the Incredible Health team published over 100 articles that were created internally or outsourced.
Link Building
In parallel with content creation, the team started a link-building campaign to grow the domain authority of the new pages. The Semrush Link Building tool helped them quickly collect backlink prospects from the suggested list of relevant domains.
After that, all they needed to do was send out link requests to those domains via the automated email outreach system within Semrush and track the progress.
Position Tracking and Improvement
Since a lot of Incredible Healths' content is created with templates, when it comes to measuring results, the team likes to track their keywords in batches: all the state salary pages, the continuing education pages, etc. Tracking a category's performance over time is easily done using tags within the Semrush Position Tracking tool. This kind of tracking helps the team see if their templates are working well or need some tweaking.
John set up an automated Organic Positions report that is sent out to the team weekly. The report helps them detect pages that rank for high-volume keywords and could use a bit of improvement: gaining a couple of positions to get to the first page or the top 5. These two groups need a different approach:
If an article is stuck on page two on Google, it's a sign that it's lacking something crucial, so John tries to completely rethink how he is addressing this topic.
"That's an indication that something isn't quite right for this topic. What we've seen so far is that if we really nail the search intent and the content, we turn up on the first page pretty quickly, within two weeks," he says.
If an article is close to the top 5, it only takes a few tweaks: changing a title or adding content for a missing keyword usually helps drive it up.
To identify the best minor changes to implement, the team runs it through the Semrush On Page SEO Checker. The tool suggests optimization ideas such as implementing target and semantically related keywords, backlink and UX ideas.
A little goes a long way: the team usually takes on a couple of such pages a week and has seen great results in position growth.

Results:
After just 5 months of implementing the new SEO strategy, Incredible Health achieved:
+269% organic traffic growth

The number of keywords in the top 3 positions grew by 475%. Incredible Health now ranks #1 for "RN salary in California" - ahead of giants like Salary.com and Indeed.com.

Domain Authority score growth from 38 to 43

Incredible Health is on its way to become search engines' trusted resource.