Go to all stories
Australian agency grows online sales by 348,9% during pandemic for Lash & Brow Supplies
"Semrush really helped us in the creation and implementation of this successful campaign. We use Semrush daily for important activities such as keyword research, site audit, competitor analysis and more. We love how easy and in-depth their tools and reports are. We could not have achieved these outstanding results without the Semrush tools."
About The Creative Collective:
The Creative Collective is an award-winning full-service digital marketing agency. Launched in 2007 by Yvette Adams, today The Creative Collective operates from the fringes of the new Smart City in Maroochydore, Queensland and also has an office and team in Newcastle, New South Wales. The agency works with clients all across Australia, has consultants in all major metro locations; and clients in global locations such as Japan, Korea and Iceland.
Business Challenge: Improve brand Awareness, grow traffic and boost online sales
Lash and Brow Supplies is an Australian business with a wide product range of salon-quality eyelash and eyebrow tools. As an online e-commerce store within an oversaturated market, Lash and Brow Supplies needed to improve brand awareness, grow website traffic, foster online sales, and highlight their unique selling point as a distributor of premium products. The company engaged The Creative Collective to produce an extensive Search Engine Optimisation strategy that met these requirements.
The primary challenge became apparent when consumer spending habits began to evolve in response to the pandemic. Using Semrush's tools, this evolution was apparent to The Creative Collective team when they noticed a change in keyword searches.
They initially identified the target audience as 'Salon Sally', who are 25-50 years old, metropolitan, Beauty school or TAFE educated and small salon owners. While the original SEO strategy for Lash and Brow Supplies had focused on the target market 'Salon Sally', this strategy was shown to no longer hold relevance with current audiences.
Therefore, The Creative Collective advised Lash and Brow Supplies to realign their focus on a new target market, aptly named 'At Home Helena', and commence a Google Ad campaign to capitalise on changing consumer behaviours.
'At Home Helena' are 18 - 25 years old who just finished beauty courses, a new group who emerged during the pandemic, who went looking online for products and have seen the benefit in the products.
Solution: Site Audit, Market Research, Competitive Analysis, Keyword Research, On-page SEO, Link Building and Reporting
The strategy for Lash & Brow Supplies changed throughout the duration of the campaign. Commencing in January 2020, The Creative Collective were mainly aiming to target the 'Salon Sally's'. However, as products became increasingly difficult to source from China during the pandemic lock down, The Creative Collective began to see more At Home Helena's purchasing and noticed a change in keyword searches and traffic behavior via Google Analytics. The agency began to notice more searches and sales coming from a younger demographic (18-25 years old).
Seeing Lash & Brow Supplies' sales increase, the agency advised commencing with Google Ads to saturate the search engines and capitalize on the changing client behavior through the pandemic, and to do as much new customer acquisition as Lash & Brow could which turned out to be a great strategy.
Below is the change in sales behaviour from a younger demographic 'At Home Helena':
Google Analytics, February - July 2020
In January 2020, The Creative Collective put together a six-month SEO campaign as follows:
1. Marketing Strategy session to identify the target audience. After the session, the agency identified clearly the two primary audiences and created buying persona profiles, including demographics, interest, location and customer journey.
2. Competitor Analysis: Based on the strategy session discussion and the Lash & Brow insights regarding their ideal customer, their vision and competition, The Creative Collective identified four main competitors who are also targeting similar demographics and keywords.
Semrush Rankings distribution
3. Keyword research to find relevant keywords: When they started back in January 2020, the site had an organic Visibility of 5.6% with only four keywords ranking in the Top 3 as per below:
Semrush project, January 2020
Based on the above situation, The Creative Collective performed in-depth keyword research using Semrush Keyword Magic Tool to identify more relevant keywords with good search volume, and mapped out their on-page SEO strategy for the next 6 months, optimizing all the key product pages.
After optimizing the important product pages with more relevant keywords, the website began to rank in the Top 10 for priority keywords that were previously not ranking at all.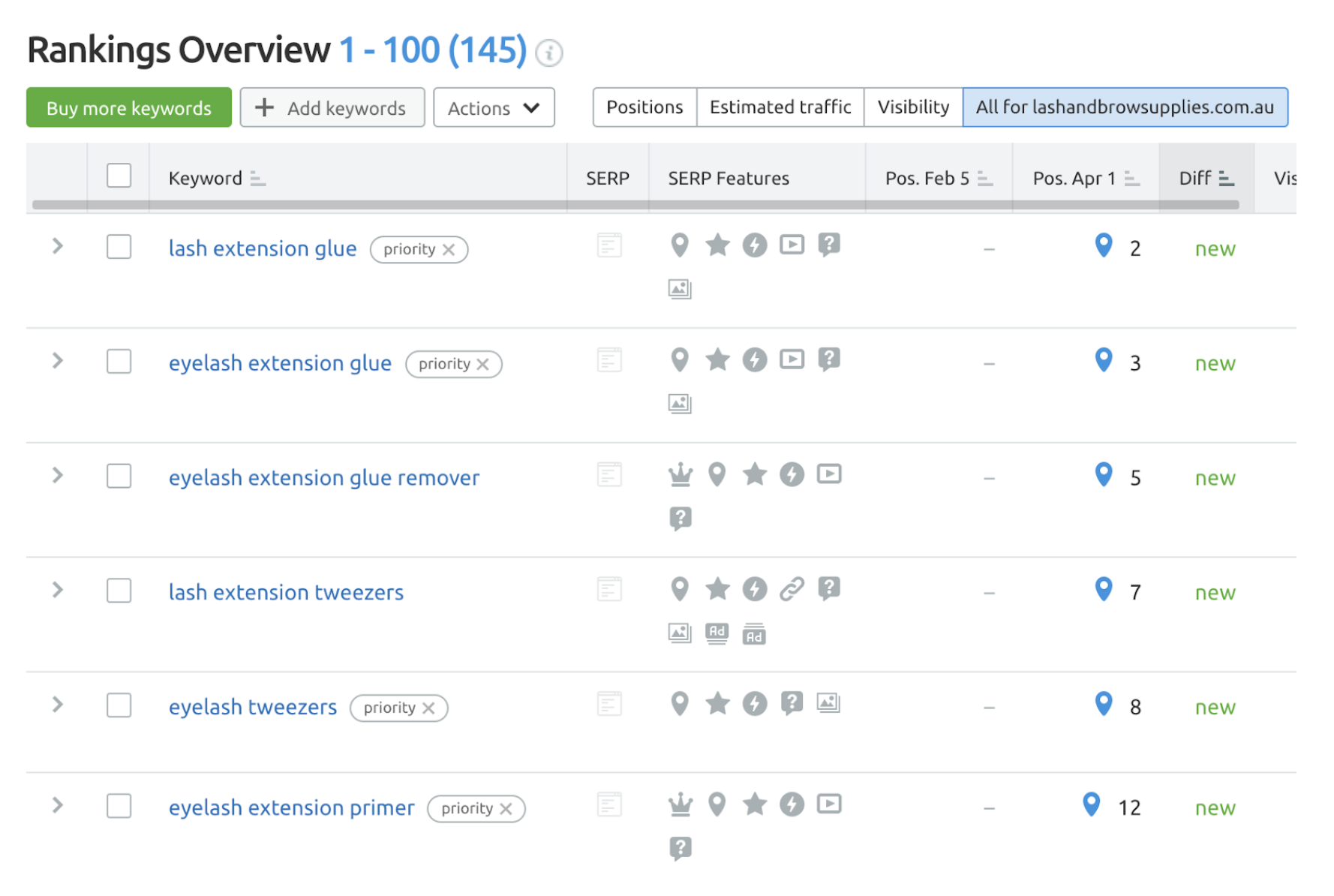 Semrush Rankings Overview, February - April 2020
4. Review the site UX based on the keyword research. The Creative Collective made it easy for visitors to find and purchase products by making the CTA buttons big enough, keeping the site glitch-free, and showing social proof of their most popular products.
5. Focus on technical SEO in the first 2-3 months to help ensure search engines could crawl the site efficiently and quickly find site errors such as redirects, duplicate pages, missing header tags, and so on.
An audit of the website in January 2020 using Semrush's Site Audit tool returned 13 errors and 326 warnings.
Semrush Site Audit, January 2020
The site health was at 91%. Warnings were high and predominantly coming from poor SEO implementation such as duplicate page titles or meta descriptions.
The main SEO errors/warnings which were addressed by The Creative Collective in the first two months of their SEO campaign were:
Changed 12 pages with duplicate meta desciptions;

Resolved there being too much text within the title tags;

Fixed 50 pages not having an H1 heading;

Improved 18 pages which didn't have meta descriptions.
Semrush site audit progress between January - November 2020
6. The website speed. Since The Creative Collective started working on page speed back in February 2020, they have been able to reduce it by 20.44% by compressing image sizes and reducing the HTTP requests.
7. With the help of the Semrush On Page SEO Checker, The Creative Collective were able to implement an on-page SEO strategy through keyword optimization in meta tags and content, including the following:
a. Keyword Optimisation;

b. Internal Linking;

c. Page Content.
8. Local SEO to help drive local organic traffic. By using the Semrush Traffic Analytics - Geo distribution tool, The Creative Collective was able to identify the regions where most of the competitors' site traffic came from. The Creative Collective also optimized the Google My Business Listing to increase their local search visibility.
9. Link Building to help improve the authority of the website. The Creative Collective used the Semrush Backlink Analytics to identify their competitor's backlinks and conduct deep link analysis.
10. Measuring SEO Success with tools like Google Analytics and Semrush Position Tracking.
Results
SEO & Website results (Period from January 1, 2020 to July 21, 2020 is compared to a previous period).
- Online sales went up by 348.9%;
- Online revenue went up 261.9%;
- Web sessions grew 598.7%:
Google Analytics. February 2020 - May 31 2020 compared to the previous period
Google Analytics Organic Traffic Report. February 2020 - May 31 2020 compared to the previous period
- Lash & Brow Supplies now has around 90 keywords ranking in the Top 3 or SERP and around 10 keywords ranking on the first page (top 10 results):

Semrush Ranking distribution
- The Organic Search Visibility went up by 614%:
Semrush Position Ranking. January 20' until April 20'
- Site Health: Currently, the site has a 95% health score and zero errors:
Semrush Site audit - November 2020