Go to all stories
An up-and-coming bike search engine uses smart content strategies to build site authority and gets 200X more website visits in 1 year
"Content-based keywords are King. Human-centric keywords backed up by data are King Kong. Semrush's tools provide us with important insights that enable us to better understand and satisfy user intentions. This allows us to deliver on our brand promise."
About The Cycleverse:
Launched in December 2020, The Cycleverse is now Germany's fastest growing bike search engine. What sets it apart in the market is that alongside bicycles themselves, it features all possible bike products such as equipment, digital services like insurances, etc., clothing, sports supplements, and more. Thanks to numerous buying advice tools, recommendation bots, calculators, and its blog that covers everything from educational pieces to product comparisons to store directories, The Cycleverse is now a one-stop-shop for all things cycling in Germany, Austria and Switzerland (D/A/CH).
Business Challenge: become Germany's #1 hub for all things cycling
D/A/CH's bike search and e-commerce market is very fragmented, with thousands of online stores featuring their own or side products and no clear leader.
The Cycleverse's three founders pinpointed this market gap and wanted to create a hub that would concentrate everything in one place with the ultimate user experience (UX). The aim was to create a place for all things cycling—from product recommendations and reviews to how-to guides and advice for cycling aficionados.
The Cycleverse's vision is more than shopping: it's a gateway to a new connected shopping experience. The adaptive and enjoyable user experience is the main conversion driver.
In December 2020, they launched their website, which serves as a bike search engine, with The Cycleverse's blog ("cycling hacks") as the key growth driver.
As the core of their business model is revenue coming from affiliate partnerships and brand collaborations that offer branding opportunities, exposure, and ad placements, traffic is the key growth driver for The Cycleverse's business.
This means that the Cycleverse team had to come up with creative ways to increase traffic in the shortest time possible to start monetizing their website.
Solution: fast-paced organic traffic growth through competitor research and smart keyword/content strategies
While The Cycleverse did experiment with paid tactics, they realized early on that they should direct all their efforts towards organic growth strategies. How do you get there? Through content, of course.
Within 1 year, they managed to go from 1,000 visits a month to 200,000 visits—all thanks to a well-thought-out content strategy and competitor research.
"If you're new to the world of business or digital, put in the time to research, from keywords, topics, and competitors to business models and potential collaboration partners," says Yannick Van Noy, CMO at The Cycleverse.

Turning your blog into the key traffic and revenue driver
How do you build that initial traction and site authority when launching an ambitious new website? The Cycleverse team went through the journey of trial and error to come up with the perfect recipe:
Building the initial traffic
"Our first objective was to build traffic—no matter the end goal, conversions, or anything else. Because without traffic, you can't create that UX and understand what people like and need."
In a nutshell, The Cycleverse's organic growth journey started with:
Creating key pieces that tailor to the audience and not necessarily to the search engines.
Following the concept of traffic, no matter the conversions. This meant pinpointing the low-hanging keywords that would give an initial boost—all to build site authority and awareness.
By 2021, thanks to the traffic built up, they could start thinking about conversions too and tackle keywords that were harder to rank for.
To get things started, they decided to take a topic-centered approach.

Topics first, keywords later
As The Cycleverse's CMO, Yannick determined some evergreen topics that should be covered straight away. It wasn't about taking a data-driven approach, but rather being user centric, meaning that these topics should be on the blog to benefit users and not the website per se.
The chosen topics were covered in great detail. Typically, the blog posts were 10,000 words long and included videos, reviews, and other sources that would give the article a competitive edge.
This is how they managed to build up an initial audience of 1,000 monthly visitors.
Content for the sake of traffic
Once the blog started seeing some traction, it was time to create content for traffic-driving purposes. That's where keyword research came into play.
While it seemed pretty straightforward (e.g., discount bikes keyword should be featured on a page with best deals, and so on), Yannick turned to tools like Keyword Overview to get data-driven about the choice of keywords.
Now, here's how they decided which keywords were worth the effort:
Check keyword volume: the higher the volume the better. But keyword research doesn't just stop there.
Establish the keyword's rankability. Semrush features a special metric called Keyword Difficulty that reflects how easy/difficult it is to rank for a certain keyword. Take this metric into account when making your choice.
These two factors helped the Cycleverse team determine which keywords have the highest ranking potential and can bring in the largest share of traffic among thousands of search terms.

Taking a human-centric approach that is backed by data
While the previous process helped to define the seed keywords, Yannick used the Semrush Keyword Magic Tool to discover keyword variations.
A lot of SEO copywriters simply integrate these related keywords into the content, but The Cycleverse took a different approach—they used these search terms as a guideline to understand what people are actually looking for and, hence, to understand what else should be mentioned throughout the post. Meaning, they employed Semrush's intel to enrich the content and create content that is more comprehensive than anything else on the SERP.

Using competitive insights to unwrap the best practices
While organic content strategies were already at work, The Cycleverse also focused on gathering competitive insights to discover things that work for their competitors and could potentially accelerate their performance too.
Competitor discovery
The Cycleverse, of course, knew some of the largest competitors on the market.
"But we couldn't just rely on intuition and used additional intel to find more niche rivals that could also teach us a thing or two."
Using the SERP analysis feature within the Keyword Overview tool and the Competitive Positioning Map from the Organic Research tool, they determined a list of top competitors to learn from and began their research.
Example of Semrush Organic Research data
Finding keywords that have the biggest impact for competitors
Using the same Organic Research tool, The Cycleverse revealed which keywords their rivals rank for and which URLs drive what share of traffic—to pinpoint competitors' top-performing pages and understand the ranking potential of their keywords.
Example of Semrush Organic Research data
Discovering potential partners through competitors
With the insights from the Backlink Analytics tool, The Cycleverse unwrapped some of the top websites that link back to their rivals.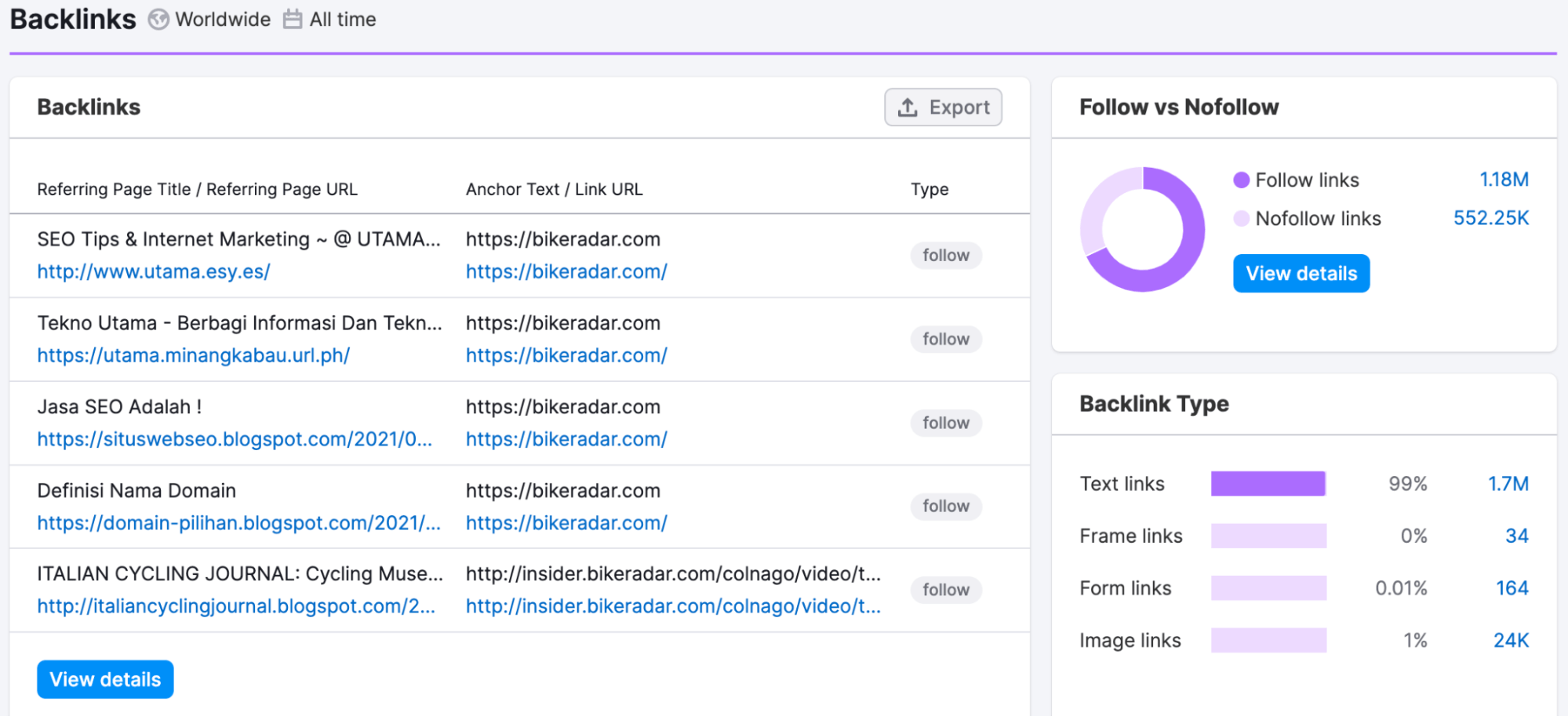 Example of a domain's Semrush backlink data
Why? First of all, those who link to competitors will more likely be willing to link back to you. This gave a boost to Yannick's link-building efforts. And the more traffic they had, the more collaborations they managed to encourage.
And, secondly, their business model depends on the extent of affiliations and collaborations, so these sites could become The Cycleverse's potential partners. To determine whether a site is good partner material, Yannick checks its traffic, as well as organic performance over time.

Making sure your site is healthy and your efforts pay off
A smart content strategy and competitive insights helped The Cycleverse get to the point they are at today—Germany's leading platform on all things cycling.
But all their efforts could come to naught if the website shows unhealthy signs and is penalized by Google. That's where health checks and site audits come into play.
1. Regular site audits
While The Cycleverse has a robust and smartly built website, they still review their site health every now and then (especially when big updates roll out).
"With thousands of pages and an automated change system, there's a lot of scope for mistakes, so we use Semrush's Site Audit tool to check for missed errors (duplicate meta, wrong H2s, etc)—something we can't possibly do manually with such a large website."
After each audit, the team goes through the list of errors and warnings and resolves the most critical issues. The tooltips within Site Audit help them to understand each issue and the ways it can be solved.
2. Monitoring toxic backlinks
"I love Semrush's email notifications for toxic backlinks—it's probably one of the most helpful features within the entire solution."
Yannick set up the Backlink Audit tool for the entire website, so whenever there is a potential threat, he simply checks the link and disavows it.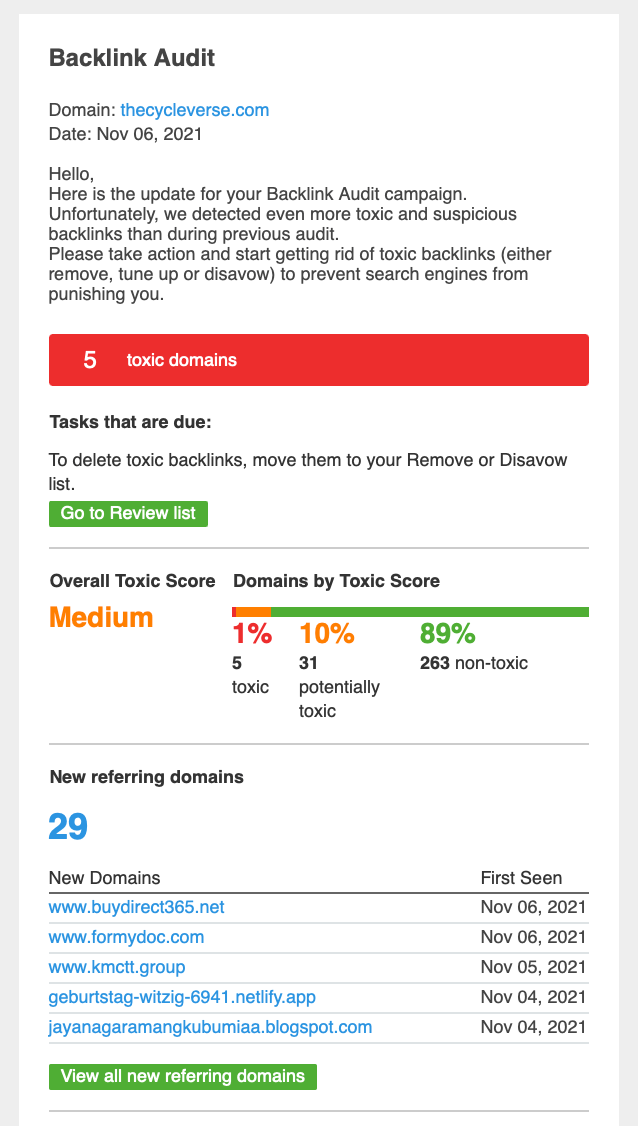 3. Rank tracking
Since almost every piece posted on their blog is backed by a new target keyword, Yannick sets up a rank tracking campaign in Semrush Position Tracking to see if the page performs to the expected standard.
Moreover, multiple campaigns also help to pinpoint some common patterns—if there are rank losses across multiple pages, Yannick checks for category, product, timeframe, or other similarities to establish the underlying cause.

If it's simply a matter of a single page underperforming, Yannick turns to improvement ideas from the Semrush On Page SEO Checker. The tool offers keyword- and even location-specific recommendations for further fine-tuning and optimization of each page.
Results
Through a well-planned SEO campaign with a user-centric content strategy, The Cycleverse has achieved:
200X more website visits in one year (from 1,000 visits in December 2020 to 200,000 in early 2022)
"Our incremental growth is largely based on research. And we couldn't do all the keyword research, position tracking, backlinks audits without the Semrush intel."
Revenue growth of 1,800% in the same period of time
The company's organic search success has resulted in dozens of brand and affiliate partnerships.
Growth projection: 15% traffic growth MoM throughout 2022
"As we plan to keep growing our organic traffic, add a bunch of new features (newsletter, new tools, calculators, partnerships, etc.), and, of course, to increase our revenue, we'll keep coming back to Semrush for more insights that will guide our way."