Go to all stories
A brand new company's blog triples organic traffic and enters featured snippets
"As a new player in a highly competitive market, we knew we had to give our agency a competitive edge by ranking for niche keywords. Luckily for us at Think Little Big, we have Semrush by our side! In a span of 3 months, we topped Google search for both our service and blog keywords with almost 300% of growth!"
About Think Little Big Marketing:
Think Little Big Marketing (TLBM) is a focused digital marketing and design agency that works to help a range of mainly B2B businesses use digital marketing to grow. Founded in November 2019, it has seen consistent growth in the UK for its bespoke service. The team specialises in content marketing, SEO, web design and development, and social media branding.
Business Challenge: Drive organic traffic to a brand new company website and its blog
TLBM launched its website late January 2020. The digital marketing agency sector is highly competitive in the UK, and TLBM were positioning themselves against numerous well-established players. While they had a basic blogging and social media strategy in place, they wanted to strengthen their organic positions to gain visibility and boost inbound website traffic.
Increasing the number of blog posts on the website and guest posting initiatives was definitely a possibility. But with just one content writer and SEO specialist on the team, that did not seem viable at the time. TLBM wanted to allocate their time and resources efficiently.
Using Semrush's tools, TLBM conducted research to build and execute a data-backed content strategy for the target audience, i.e, accountants.
The reason TLBM chose Semrush was because of the number of tools they could use to assist them from an SEO perspective when writing content. The two Semrush tools they focused on were the Keyword Magic Tool and SEO Writing Assistant which powered them to write content that was not only optimized with the most effective keywords but also maintained a high SEO score and originality.
Solution: Semrush content marketing tools for organic traffic growth
Since TLBM was catering to a highly competitive industry, they wanted their content to start creating a buzz at the earliest. After speaking to several accounting clients, they realized that generating leads from marketing was a big challenge for accountants.
Naturally, the focus shifted to writing a blog post on generating leads for accountants to showcase how TLBM could help them. After researching on Google and the Topic Research tool of Semrush, the team found several keywords, accountancy leads, SEO myths and digital marketing trends that were of interest.
Identifying keywords with the Keyword Magic Tool
In the example below, the suggested keyword used is "accountancy leads". The team entered the keyword in the Keyword Magic tool and got all the required data in one simple list.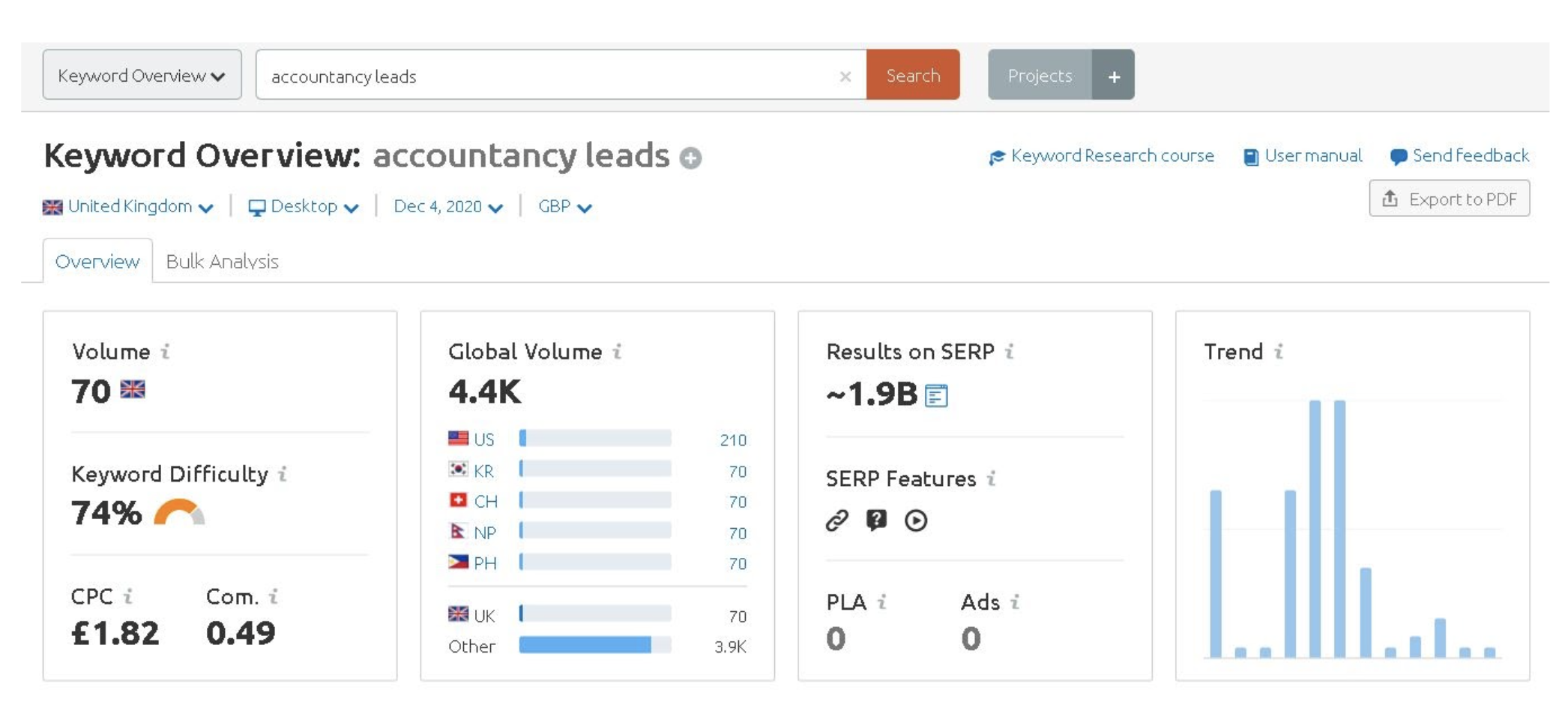 Optimizing content with Semrush SEO Content Template
The key element in article production was Semrush's SEO Content Template, which helped TLBM's writer optimize the article in terms of keywords, readability, and tone of voice on the go, saving time and speeding up content creation.
"With the help of Semrush's SEO Content Template, we improved our content so that it contained all the related keywords (including the semantic ones), matched the desired length and readability, as well as maintained the tone of voice that suited our company," says Jyoti.
"The tool gives a lot of information about the competitors and highlights semantic keywords. It shares the average text length of the competitors' content, their readability scores and backlinks that can be used in the content."
Results
The blog post was published on May 20, 2020. Within one week, it started ranking on the first page of Google, and now it appears as a Google's Featured Snippet for the keyword "generate accountancy leads".
- Organic traffic of the overall blog site has grown by nearly 300% in the past quarter (Sep to Nov compared with June to Aug 2020);
- TLBM saw a 234% increase in new monthly users with 100% organic SEO efforts in Sep to Nov (compared to June - August 2020);
- The total organic web impressions of the published article is 246K in just 6 months.
TLBM has implemented a similar workflow to their clients, reaching the first page of Google within a few months for 70% of them.