According to the Semrush content marketing survey, 78% of marketers stated that their content marketing team consists of only 1-3 specialists, requiring content creation to be outsourced at times.
Indeed content creation is a time-consuming task, and not all the companies have resources and money to write articles on their own.
Even once you decide to outsource content, you'll face another challenge - finding a reliable, professional freelance writer and creating a brief.
Moreover, before you start working with freelancers, you need to sign a contract and deal with other paperwork, like preparing invoices. You also need to control freelancers to make sure they respect deadlines and that your articles match all of the required criteria.
Using Semrush Content Marketplace, you can order traffic-driving content in a few clicks based on your needs.
How can this be done?
First, go to Content Marketplace and choose the article you wish to order.
Click on the 'Order now' button and enter your credit card details to proceed with payment. You don't need to sign any agreements or search for a writer in our base yourself. After payment, we will find a writer that matches with your criteria.
Fill in the brief by using the article form. You don't need to prepare a long brief with the detailed structure of your future article. Providing the writer with the basic information (topic, content goal, target audience, or your competitors) is enough. Even if you don't have a title, you don't need to indicate it in your brief. The writer will suggest several titles with short descriptions for you after you submit it.
If you have any particular requirements, feel free to add as many additional instructions as you want. You can also attach a doc file.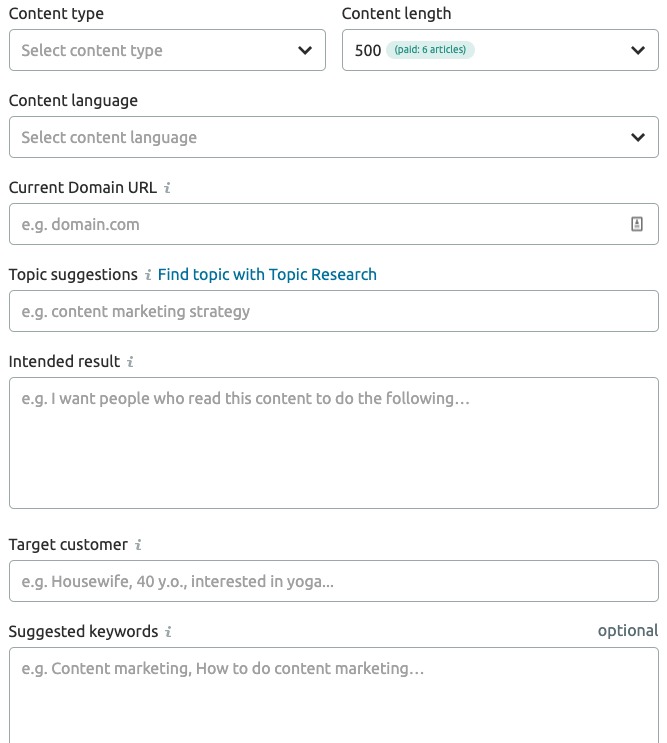 Click on submit and you'll receive a title and meta-description for review within 2 working days. You're free to review the title and meta-description 3 times.
As soon as you approve them, the copywriter will start to create your article and submit it to you for review within 10 working days. You're free to review the article and request changes 3 times.
Next Steps
If you want to make the ordering process even easier, you can use the Premium subscription which comes with the following added features:
Create your own list of writers you'd like to work with: if you like the article, you can add the writer to "Favorites" to send your future requests to this writer.
Create brief templates and group your orders according to the topic, campaign or client. This feature can be particularly useful if you are working on several projects or developing multiple channels.
Share an article with your colleagues or clients via a white-label link to let them directly review it.
If you have an urgent task, once a month you can request to create your article twice as fast as usual.
Request revision of your article an unlimited number of times.
After you receive your article, you can: