Marketing campaigns often require project managers to juggle numerous plans, tasks and resources to deliver unique services, products or results. To make things more difficult on the project manager, a contemporary marketing team usually involves a group of people from different organizations or departments – sometimes spread across multiple geographical locations.
With numerous tasks assigned to different people, it becomes difficult to manage all the moving parts.
Having a tool to organize, prioritize and assign tasks, and monitor the progress of their fulfillment is what you need.
How can this be done?
Go to the Marketing Calendar and create a campaign.
Invite team members via email or a link, assign activities to your colleagues, and track their work progress.
Once your team members start working on their activities, they can assign a status to each of them ("In progress", "Needs approval" and "Done").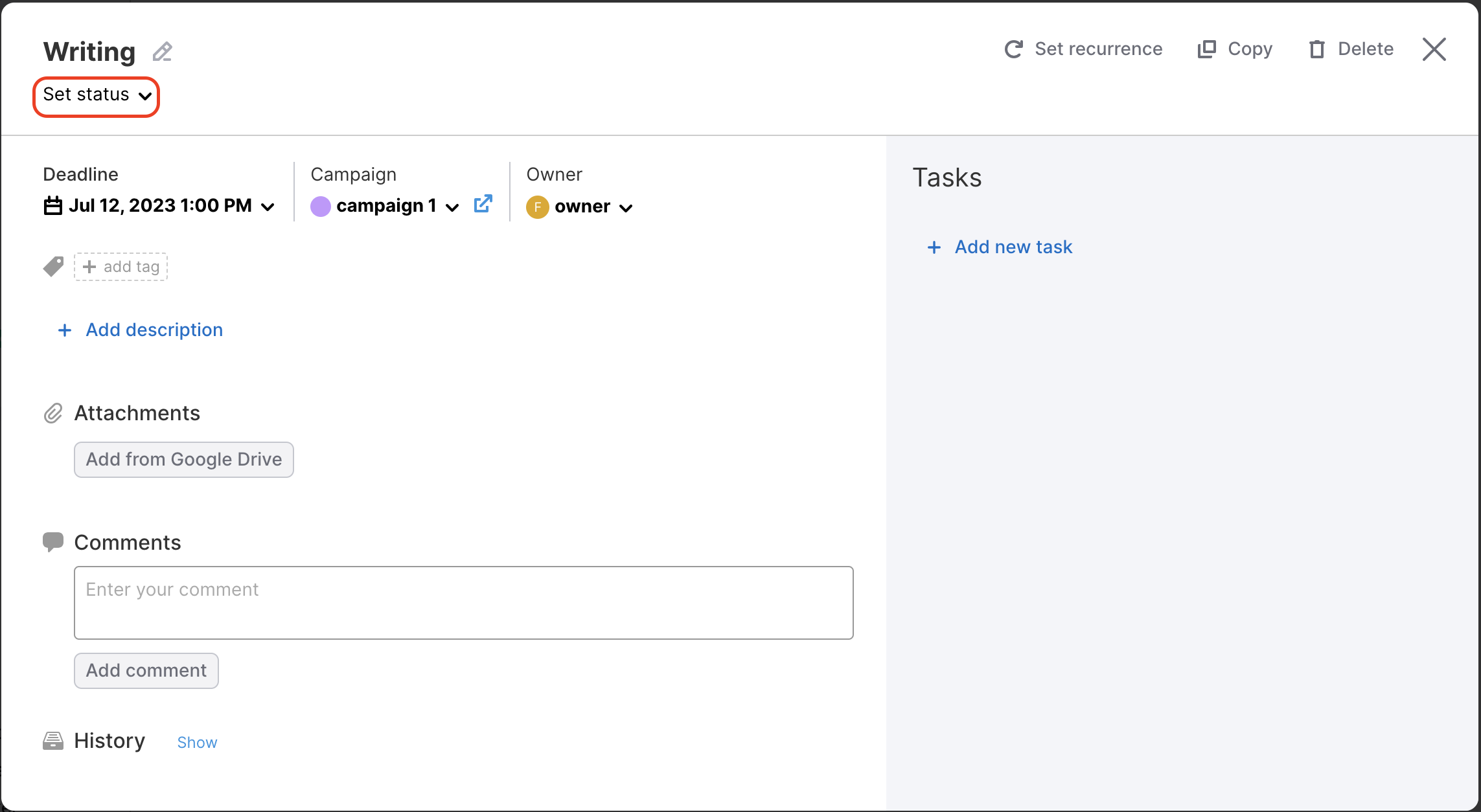 Use filters to find and analyze your activities by owner, campaign, status, or tag. Track how your colleagues are moving forward on each project and reallocate resources if specific activities are stuck.

Next Steps
Thanks to these features, you can manage all of your campaigns in the same place and collaborate with your team members in a more efficient way. When your workflow is properly organized and all the activities have been allocated according to your team members' responsibilities, you need to track your results, improve the efficiency of your campaigns and optimize your working process:
Connect Google Analytics to see the correlation between your team's efforts and campaign results, and reallocate resources accordingly (Please note that Marketing Calendar only supports integration with Universal Google Analytics. You can check here how to identify which property you're trying to connect).
Tag activities, by project stages or any other way to find and group them quicker or turn into recurring ones.
Compare the performance of your recurring activities in different time periods by analyzing Google Analytics data and highlighting best practices for future projects.
Share your calendar in "View only" mode with your senior or your customer to make regular reporting easier (this feature is available for Business plan users only).